The hardest 2D game ever finally reaches the PlayStation 4, and this time is for real. After three years pf pleas, there's a  Cuphead port on the PlayStation Store. And you can play it right now (for money, of course, it's not free).
Cuphead is now on PS4  after developer MDHR announced it on their official Twitter. Hours after the announcement, the game went live on the PlayStation Network Store, apparently by accident.
"Surprise!! Cuphead is coming to PlayStation 4 … TODAY!"
Great news for PS4 gamers. This hazardous run/jum&gun platformer is sure to set your hands-on fire once you get on hands on this…or once you try it for the first time.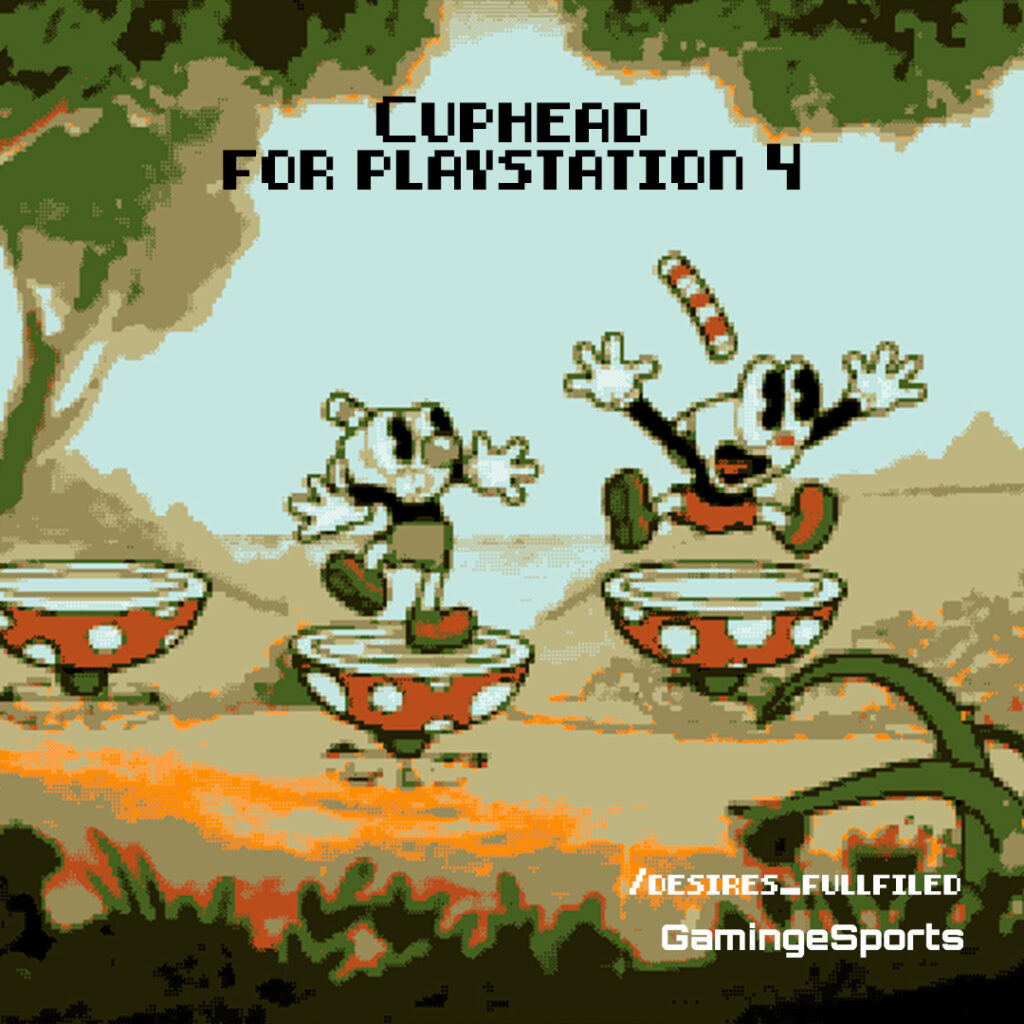 Cuphead is the most successful indie game
Cuphead is more of a cult-following video game. Instead of being massively popular, it's considered as a work of art. That's because of two things: it's incredibly difficult, unforgiving, challenging, and frustrating. And it's incredibly beautiful as its characters and scenarios were drawn by hand. More than that, eveyr frame of animation is hand-drawn by the MDHR team.
Nevertheless, it's popular enough to be the most successful indie game of all time. And after three years in the way, Cuphead landed the PlayStation store. You can buy it right now for 19$. It's exactly the same version currently available for Xbox One and Windows 10 PCs.
The indie studio MDHR launched this platformer bac in 2017 and hasn't released any DLC, expansions, or add-ons yet. MDHR is a small video game studio managed by two brothers (Chad and Jared Moldenhauer) who rose to fame on the video game industry with their debuting title.
Cuphead on PlayStation 4
The news came with a PlayStation 4 launch title explaining how the port is finally ready and live. How crazy it is that it became available on the same day as it was announced (July 28).
The trailer is just like any other Cuphead animation we've seen before. Joyful, creative, full of swing, and evil! Most notably, it uses stop-motion animations for the spot. The game studio collaborated with the Canadian Stop Motion Department to create this unique teaser trailer.
Cuphead is already available for the Xbox One, PC, and the Nintendo Switch. It' also probably going to be available for the Xbox Series X because of backward compatibility. I can say the same for the PlayStation 5 too.
Cuphead Late Review
In case you haven't played it, I have to say what caught my eyes was the cartoonish style of the game. It has a certain aesthetic, a certain touch, particular humor that reminds me of the best and most evil cartoons of the '50s. Like coming out of a well-refined Ren & Stimpy studio.
This particular graphic also takes a hint from the '30s black&white kiddy cartoons. How it looks is what also got people's attention 3 years ago. Most people probably thought it was just going to be a friendly 2D platformer, a happier Rayman for the Xbox.
What a surprise, then, that the second highlight of the game is its difficulty level. It's absurd. It's something only hard-core gamers would like. Nevertheless, winning all of the levels is a spicy, rewarding challenge, especially when it's about facing a level boss.
What we've got here is a 2D "shot 'em up" game when you get to play with some sort of…animated cup? The thing is you can recollect powers, modify your powers, and kill all sorts of creatures coming left and right.
The game's set in four different isles, being the last of the four very properly called "Inkwell Hell."
If you're looking for a train of pain, tears, frustration, sadness, and bliss (in much, much smaller portions), then Cuphead is exactly what you need to play.
If you're wondering what a 2D shot & run game is, you need to think of titles lie Megaman, Contra, and old-school Castlevania.
Is there a plot and does it matter?
Yes, there's a plot, and it's just as evil and simple as the rest of the game. See, there was a time were Cuphead and Mugman (your partner in case you go co-op) were living with their grandpa Elder Kettle.
One unholy day our two heroes decided to enter a particular Casino unaware that the Devil himself was the owner of such an unruly place. As the brothers get lucky and win over and over, the two-horned beast challenges them to the last round.
The Devil promised he would turn the brothers into the new owners of the Casino, otherwise, he shall take their souls. Blinding ambition clouded Cuphead's eyes, but he was mistaken to think he could be more cunning than the monster.
The brothers lost, but still pleaded the Devil for their souls. Their tears managed some sort of deal. Your new mission is going on a crazy adventure to collect the Devil's debts out of other beings. And the journey ends when you go back and face the Devil again.
What did we learn, kids?
"Don't deal with the Devil"
The multiplayer mode
Aside from the single-player, Cuphead has an amazing cooperative mode. It delivers extremely fun gameplay as, for once, it makes it easier to actually survive on this run & mode madness.
You can play as Cuphead and Mugman either online or local with a split-screen situation. If you play it online, your other friends must join at the start of the match.
What's next for Cuphead?
There's an upcoming DLC in the works. The name is "The Delicious Last Course", but it seems like it's going to arrive later than sooner.
However, they promise the DLC is going to rise above everyone's expectations. Plus, the DLC is going to be a multiplatform add-on, so PS4 players will be able to get it on release day. On top of that, it's going to feature cross-play between the Xbox and PC.
Other than that, the last we've seen from this wonderful game is a disappointing cameo in Smash Bros Ultimate DLC as a Mii fighter skin. Why can't we get the full character?!