Next-Gen consoles are debuting around December 2020, and many PC Gamers are already doing their thing. Claiming PCs are better than consoles is a common task, just as common. Yes, the graphics on a modern gaming PC are generally better than what you get from a console. But there's a catch, though: whenever we're thinking about consoles vs gaming PCs, we conveniently forget about the pricing, lifespan, and proprietary tech.
Let me give you my top X reasons why I think both the PlayStation 5 and the Xbox Series X are going to better options for gaming than building or buying a gaming PC.
Here's a rundown of what we're discussing on this article:
AMD's custom CPUs

AMD's Custom GPUs

big companies are better tech builders 

PC parts are too expensive

Console's lifespan vs pc lifespan

The benefits of gaming pcs vs console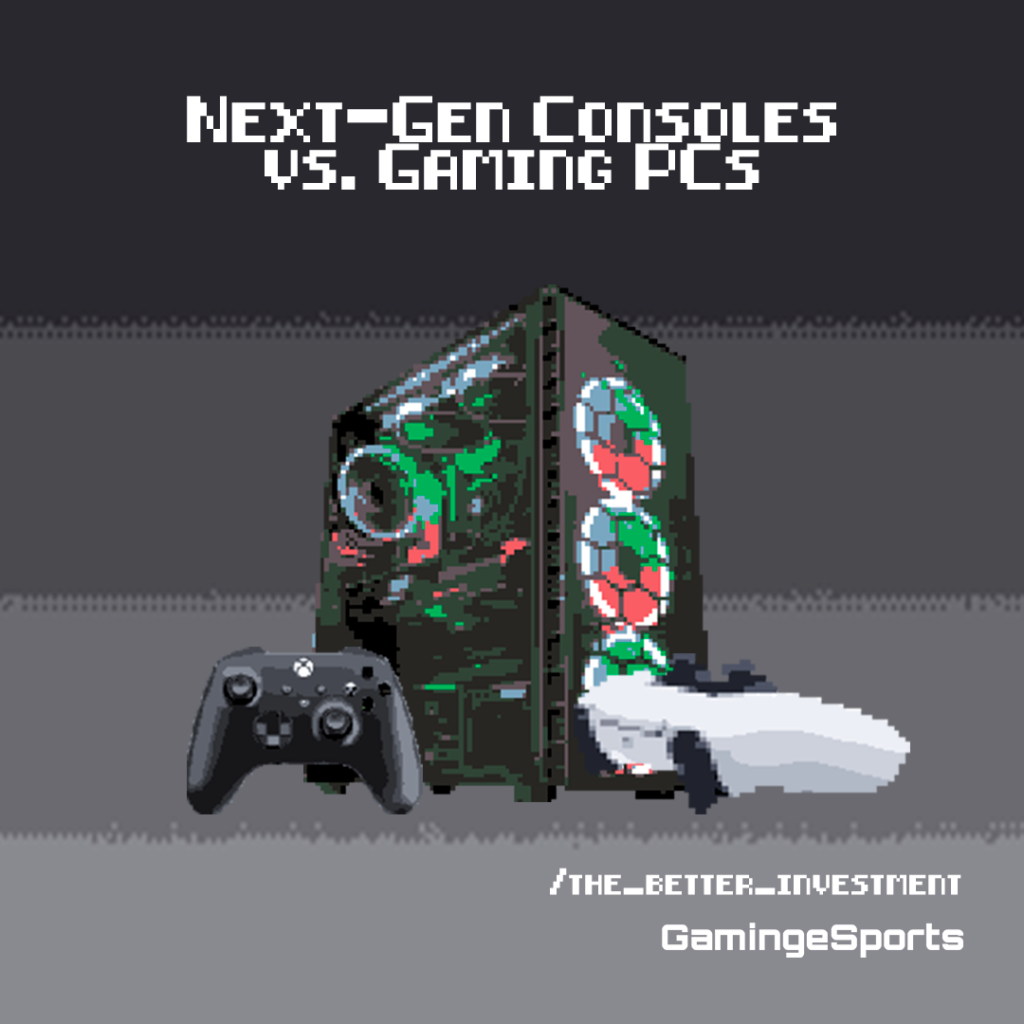 July 24 update: Xbox Series X confirmed upcoming games.
AMD's Zen architecture CPUs on next-gen consoles
Since the launch of the 3rd generation Ryzen processors, it seems like AMD is winning the CPU battle against Intel. In short, 3rd-gen Ryzen processors are not only cheaper than their equivalent Intel processors, but they are also less resource hungry and more effective at high-end processing tasks.
The success of the 3rd gen Ryzen processors is because of AMD's recent Zen-2 architecture, which re-defines what we expect out of a desktop  CPU. Zen blueprints are the absolute evidence of what AMD intends to do with their CPUs, which are value-focused high-end solutions with more cores, more performance, lower power output, and lower pricings than Intel.
Another important factor of Zen CPUs is its size. They are based on AMD's unique 7nm process, which means the whole chiplet measures 7nanometers. Intel is running on a 14m process that draws more power and heat from your PC, as well as more money from your wallet.
On top of that, Intel's pricing policies are quite limiting. They tend to charge for every feature, which allows AMD to offer complete packages to consumer desktop CPUs with the best price-per-performance ratio.
The very same company that was on the verge of bankruptcy about three years ago now has also captured the console market with its latest Zen-2 architecture.
But we're not here to discuss hardware or check how AMD competes against Intel. You can check that info over at Tom's Hardware if you're curious. In the meantime, let's keep going.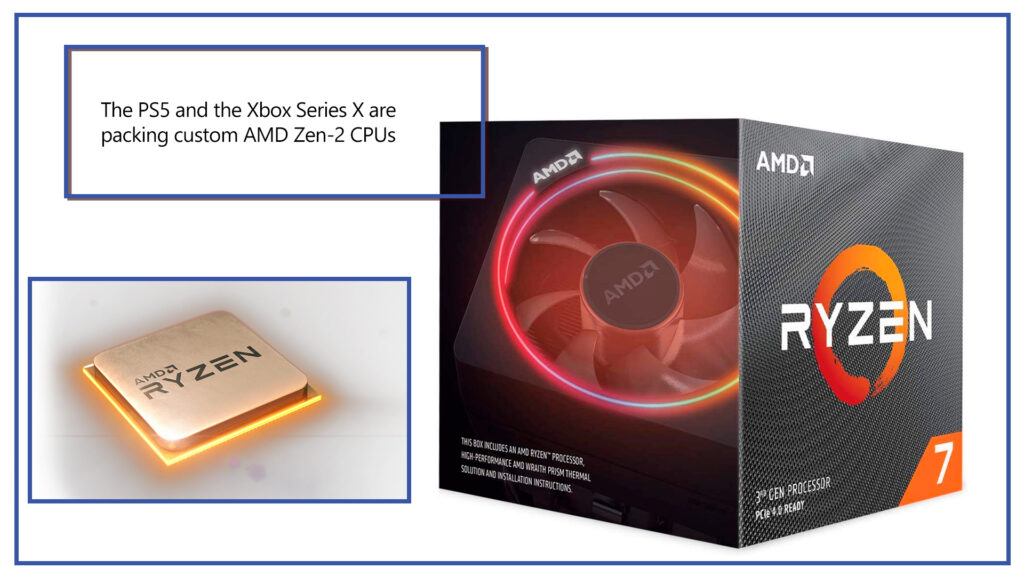 Custom-made CPUs
Both the PlayStation 5 and the Xbox Series X are featuring custom-made AMD CPUs. But these are not the same Zen processors we see in the market. The CPU chips on next-gen consoles are nowhere to be found as they are not part of the current AMD Ryzen 3000 series.
That means that, for the first time in history, a video game console is debuting a processor that hasn't reached the market yet.
Let's see the specs:
PlayStation 5 Zen  CPU

AMD Zen-2 Architecture. 8 cores / 16 threads at  3.5 GHz  (SMT).

Xbox Series X  CPU

AMD Zen-2 Architecture. 8 cores /16 threads at 3.6 GHz (up 3.8 GHz with SMT)
Based on specs alone, we're looking at, at least, a Ryzen 3700X (8/16 – 3.6 GHz up to 4.4 GHz). That single piece sells for around $300, which is at least half the price of either the PlayStation 5 and the Xbox Series X.
However, the Ryzen 3700X is not a CPU made for any specific task in mind. It just boasts overall performance for productivity, video-games, and general computing.
For example, the PS5's CPU can reproduce PS4 games by imitating the architecture of the PS4. The Xbox Series X's CPU doesn't fall behind, as this little piece can upscale any older-gen Xbox game.
Both units feature beefy cooling systems plus the SMT (System Multi-Threading) feature. In essence, the SMT gives the CPU an enhanced understanding of how to use its resources, so it can slow-down and accelerate based on what each game needs.
On the other hand, AMD created new CPUs based on their already successful zen-2 architecture with a specific task in mind, which is gaming. That means they are fine-tuned to handle 4K graphics, ray tracing, ultra settings, 60 frames per second at least, and all of the explosions modern games are bringing to your living room.
There's nothing like it in the market as AMD is not selling these CPUs for consumers.
Here's a reminder of what the PS5′ CPU achieves:
Next-gen consoles pack next-gen GPUs
Box Sony and Microsoft had to cram a lot of performance into a small device. The case of a PS5 is much smaller than a PC case. The Xbox Series X, although a bit bigger, also pales in comparison to mid-towers. That means they had to add a lot of power and heat dissipation features into their hardware.
So, in the GPU department, both Sony and Microsoft took a similar desition.  They both went for nearly identical AMD custom GPUs featuring the company's RDNA 2 Architecture.
PlayStation 5 GPU

AMD RDNA 2 Architecture. 8GB DDR6 VRAM, 10.28 TFLOPS, 36 Cuda Cores at 2.23 GHz (Variable frequency).

Xbox Series X  GPU

AMD RDNA 2 Architecture. 8 GB DDR6 VRAM, 12 TFLOPS, 52 Cuda Cores at 1.825 GHz.
RDNA 2 architecture (also known as "Big Navi") has not even debuted in the market. This is also the first time a console is debuting with a previously unseen  GPU.
RDNA 2 GPUs are the upcoming successor of the Navi lineup. Navi is AMD's take on the mid-level graphic cards market. After the huge failure of their prior and super expensive Vega units, AMD decided to wage war against Nvidia purely on the lower-priced segments.
If you want to match those specs on a GPU on the market, you'd have to go with the ridiculously expensive Nvidia RTX 2080 Ti. And the Nvidia RTX 2080 Ti is not a custom made piece, it's just a consumer GPU. An expensive gear, indeed, but aimed for the general consumer.
RDNA 2 Graphic Cards
Every GPU generation starts its design with a core architecture, and each new architecture offers vasts improvements over the last generation. AMD started their journey into the GPU world back in 2012. RDN2 represents its 7th generation of graphics cards.
The first Navi (RDNA) cards arrived mid-2019 with major improvements on efficiency, performance, and heat management. RDNA (1) doesn't have Ray Tracing features like Nvidia's RTX series, but they are less pricey and feature a better price-per-performance ratio.
For instance, the $400 8GB DDR6 RX 5700 XT is the highest model of the series. It has 40 CUs, 2560 GPU cores, 9.75 TFLOPs, and a 1905 MHz clock speed. It competes versus the over $500 Nvidia RTX 2070 Super. And it's still below the specs of the upcoming Big Navi GPUs, at least the ones we're seeing on the Xbox Series X and the PlayStation 5.
Moreover, we know RDNA 2 GPUs are going to be pricier than the 5700 XT, so they are going to be above $400. Prices simply don't add up.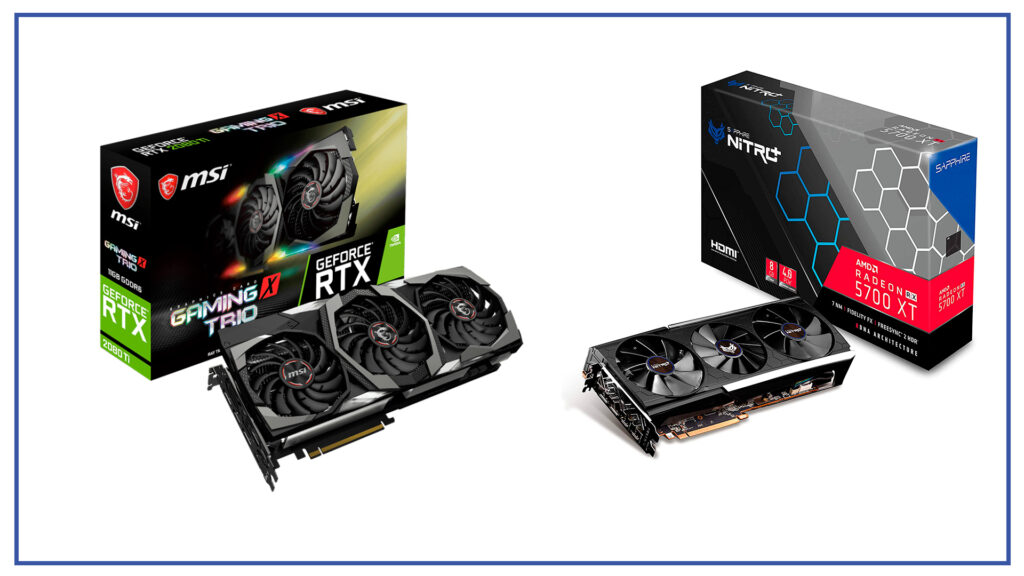 Ray Tracing Support
Another highlight about next-gen GPUs is they feature Ray Tracing support. Ray Tracing is a feature brought by Nvidia's RTX line of graphic cards. This tech can calculate where every source of light is coming from to create realistic lights and shadows.
Whereas Navi cards like the RX 5700 XT don't have Ray Tracing, the upcoming Big Navi cards do. That's something to consider as even the high-end Nvidia 2080 Ti has mediocre Ray Tracing features. So far, it's been a marketing stunt with few real-life results.
Sony and Microsoft are better tech builders
Well, building a PC is very hard, but we're not here to talk about that. What I want you to know is that both Sony and Microsoft probably have some of the best engineers in the world today, so I bet they are better at choosing parts and features than you. Even if you eat 100 YouTube PC Build tutorial videos.
We have already learned that next-gen consoles are packing a CPU and a GPU we can't buy, as they are custom-made, fine-tuned hardware pieces for a gaming console.
That's not all, though. There're other departments where they shine with features we simply can't enjoy by building a PC ourselves.
Before we go on, let me give you a PC build guide, just in case.
Video Memory
The video memory on the Xbox Series X and the PlayStation 5 works faster than your regular desktop or laptop system memory, at least in theory.
| | |
| --- | --- |
| PlayStation 5 RAM Memory | Xbox Series X  Ram Memory |
That's because the 16 GB video memory is GDDR6. We consumers only have access to the DDDR4 generation, and there's a great speed difference between the 6th and the 4th.
Moreover, instead of having a storage memory plus another dedicated RAM, next-gen consoles feature 16 GB of system Ram. That means the video memory is shared with the CPU memory, which makes the OS load faster than ever.
In particular, there're 2.5 GB dedicated to the CPU plus 10 GB dedicated to "graphical tasks." On PC, the OS is over GB and it's always running a bunch of things on the background. It boots and runs on your storage, where you could be running your games as well, which means it adds a heavy load on your drives.
The load of the OS in non-existent on a video-game console. Everything you see on the spec charts is simply made to run the game, whereas a computer is always running a bunch of things, even on idle.
SSD Memory
Next-gen consoles are also featuring super-fast SDDs storage, which we consumers can buy as well…for hefty price tags.
In particular, the PlayStation 5 is using 4th gen SSD storages, which are available thanks to AMD's new AM4 chiplets and because of the 3000 Ryzen processor series.
PlayStation 5 Storage

Custom 825 NVME PCLe 4.0 SSD

Expandable storage: PCLe 4.0 NVMe SSD Slot with over 5.5 GB/s speed

3.0 USB HDD support (up to 8TB)

Xbox Series X  Storage

Custom 825 GB NVME PCLe 3.0 SSD

Expandable storage: custom Seagate 1Tb  SATA SSD

3.2 USB HDD Storage support (up to 8 TB)
PCle 4.0 is about twice as fast as PCle SSD storage. It's also about twice as expensive and rare. For instance, a single 1TB Gen 4 SSD sets you back for about $250. That means most people would opt to increase the storage of the PS5 with a much cheaper HDD, which renders the advantage of this super-fast SDD limited.
On the other hand, Microsoft is going for the more standard Gen-3 SSD, even when the Xbox Series X is running on the same processor series. Plus, they are going for custom SeatGate extra storages, and Seagate is known for affordable, reliable units.
Yes, you can get SSD drives for computers as well, but they are very expensive.
Plus, there's something you can't get. You can't get the OS to boot on the Ram, and so it loads on the HDD or the SDD boot drive, which makes it slower. So, to make the game's load times as fast as they are on next-gen consoles, you'd need to keep your games on a different SSD drive as your OS.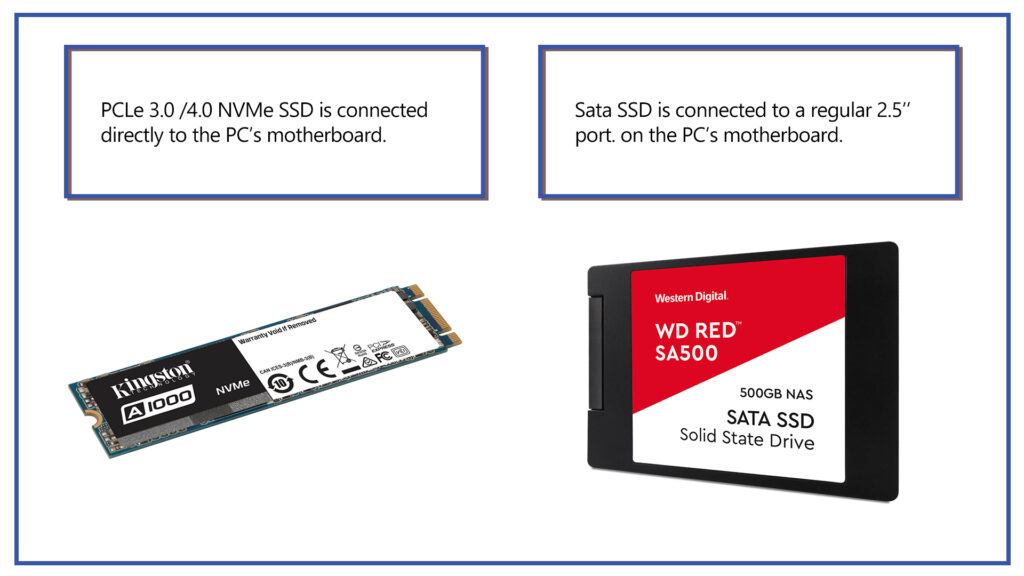 Special tech on next-gen consoles
Let's not forget about the proprietary tech the PlayStation 5 and the Xbox Series X.
For starters, it seems like the PS5 is featuring a 3D audio chip that's capable of creating about 100 sound sources for a 7.1 kind of sound mix. You can enjoy it with a headset or with decent speakers, but probably not with your TV.
You can have that on PC as well, but you would have to buy expensive audio tech from sources like Sony or Dolby Atmos plus the right set of speakers or headsets.
Additionally, the PS5 controllers are going to be highly responsive as it will feature adaptive triggers. Overall, the PS5 is pointing for extra immersion.
On the other hand, the Xbox Series X can play 4 generations of Xbox games whilst delivering better load times and upscaling the graphics to at least HDR. A modern PC can't even play GTA III because of compatibility issues.
PC parts are too expensive
I firmly believe the PC parts market has been inflating prices for so long that we don't even know how consoles can be so "cheap" anymore.
If the PlayStation 5 and the Xbox Series X launch at the $500 price mark we're expecting, that means a similar CPU (The Ryzen 3700X) is about half the price of the whole console. Let that sink in.
If you were to build a "console-killer gaming PC" in 2020, you would have to spend at least $1000. And I'm not even counting the speakers, the monitor, the mouse, the keyboard, and the mousepad.
In essence, here's what you need to get:
A motherboard (where everything is connected)
A CPU
Ram
GPU
Storage (256GB boot plus 1TB HDD storage at least).
Power Supply
PC Case
Extra Fans / AIO Cooler / Aftermarket CPU Coolers (optional)
Extra cables if needed
Between the CPU and the GPU only, you already pass the $500 price mark. And we're talking about AMD's RX 5700 XT GPU, which is not exactly what next-gen consoles are packing. You can check Newegg's PC builder to do it yourself.
Sony and Microsoft can get better deals
As you see, next-gen consoles are using proprietary tech solutions consumers can't get or wouldn't be able to afford.
But they can because we're talking about two of the biggest companies in the world. That means Sony and Microsoft can buy parts for thousands, which means they are cheaper than what you see on your regular Amazon binge. Moreover, big companies can get better deals with their allied retailers.
The lifespan of consoles vs gaming PCs
Here's a short word on what you can expect from your console: you can buy the PlayStation 5 or the Xbox Series X and play AAA titles for about 8 years.
That's exactly what happened with the PS4 and the Xbox One. They still play AAA titles with great graphics. And they will go on for a couple of years more as developers will keep launching games for both generations.
Can you say the same for a PC? Unfortunately not. The lifespan of a mid-level PC is about 5 years. Because new CPU and GPU generations coming out each year, your PC grows old rapidly. What you build today is going to lack 4 years of tech by 2024.
And as soon as a new generation of parts comes in, tech builders like Nvidia, AMD, or Intel stop building the older parts. As a result, older GPUs and CPUs become unable to run anything new.
Consoles, though, are different. Developers build their games for consoles first, which means they are fully optimized for the same specs. Even a modest PlayStation 4 Slim (which is slimmer and lighter than the original version) can play The Last of Us Part II and deliver astonishing graphics. Can you say the same of a 7-year old PC?
You're not even forced to buy the mid-gen upgrades and the PS4 Pro and the Xbox One X were not even that successful.
Here's how The Last of Us Part II looks on the original PS4 (be sure to play it on FHD). How can it still look so good after many years?
The benefits of Gaming PCs vs next-gen consoles
There're of course reasons to go for a gaming PC.
First of all, there're PC only games that don't even require much in terms of hardware (like Valorant or League of Legends).
Likewise, you don't need to pay anything to play online on your Windows 10 computer. You could download games like Valorant, Warframe, or Path of Exile, create an account, and enjoy without putting your credit card number anywhere. Sadly, you have to pay some kind of service to play only on the console.
There're also PC-only game genres like RTS (real-time strategy). You can't play something like Age of Empires II HD on your Xbox One. You can't play Starcraft II either.
Lastly, a Gaming PC is nothing more than a very powerful rig (sometimes with silly RGB lights). A great reason to buy a powerful rig is for content creation, 3D work, coding, and similar tasks. You have to know a PC does feature better performance than a similarly priced laptop (don't buy Apple).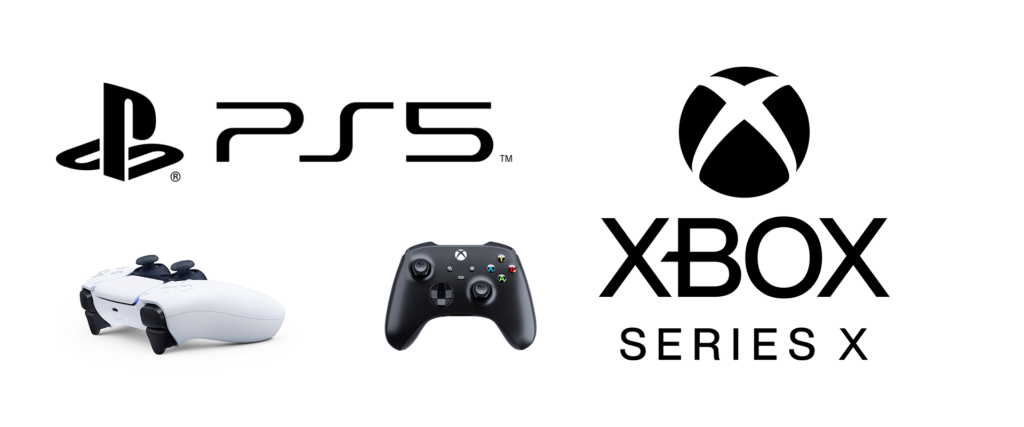 In Summary
If you want to build a Gaming PC that performs better than next-gen consoles, you can't at least not yet and probably not for quite a while. For the first time, we're seeing new hardware families, technologies, and performance solutions debuting on video-game consoles.
Maybe at the end of the year, some of this tech will launch. And maybe you can spend around $3000 to squeeze out some extra FPS at max 4K settings on 2021 but…is that worth it?
We still have to wait and see how the PlayStation 5 and the Xbox Series X truly behave in the real world. So far, though, it seems like they are going to be impressive.
All in all, I name the video game next-gen consoles as a better investment. It's a sure-way to play confidently for years, and it's also a sure way to increase the lifespan of your PC and leave it professional work instead.
What's your take on this? Please, leave your comments below!