Valorant is a friendly and moderately fun game that mixes elements from competitors like Overwatch and Counter-Strike. Otherwise, it's nothing special.
Valorant is the easier CS:GO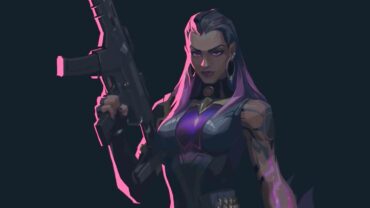 Still, I choose this as one of the best games of 2020 simply because of the amount of hype and players that have revolved around this title. It has all of the ingredients to become big. But it also has all of the ingredients to fade away after one year, just like Apex Legends. But we'll have to wait and see.
The fact is there was a lot of hype surrounding Valorant before its June 2 release date. Its massive success during its closed beta gives Valorant the tools to become the new #1 2020 competitive game.
And the hype still exists. It seems like every gamer and every eSports scenario is talking about Valorant. What's best? This is truly a free-to-paly 5v5 competitive first-person-shooter. There're no hidden fees, no money gateways, no pay-to-win scenarios.
Even with its striking similarities to the already established competitive shooters, do you think Valorant has what it takes to capture the eSports scene?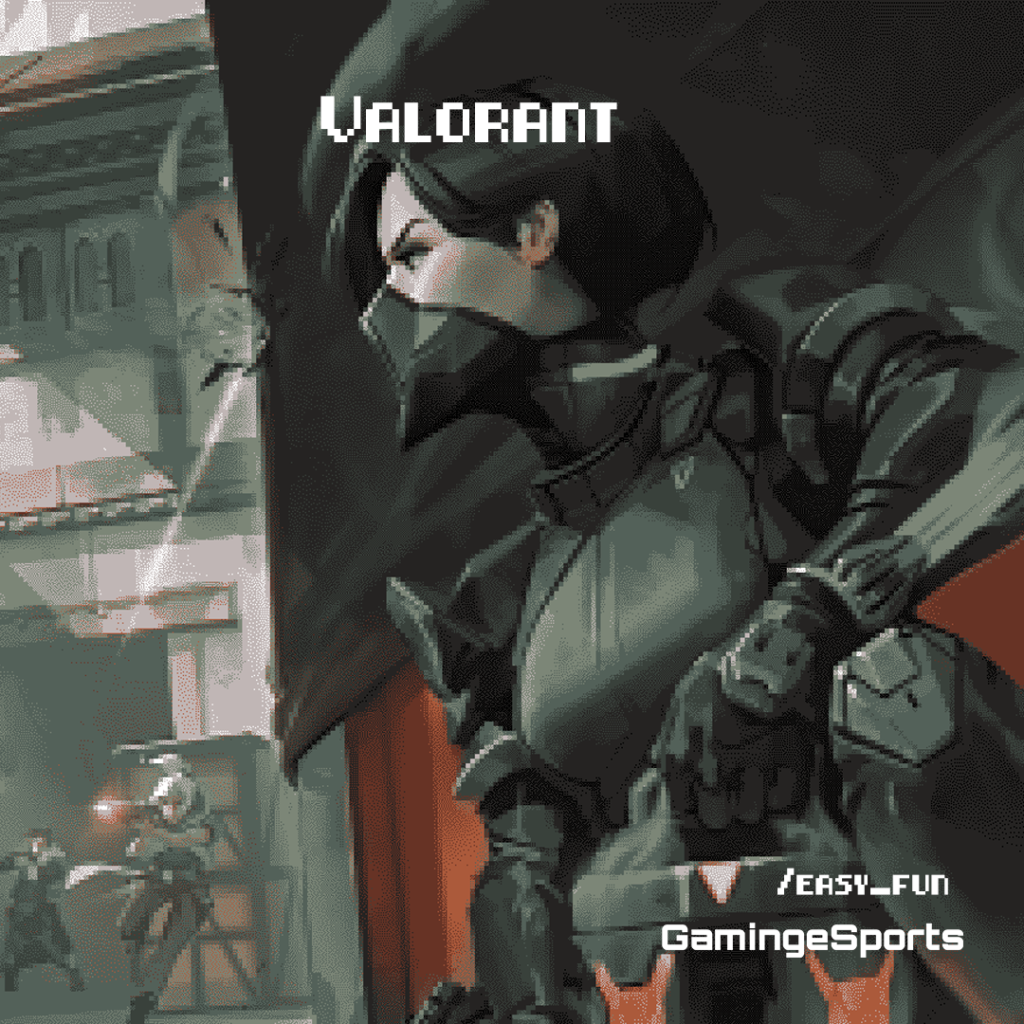 How popular is Valorant?
League of Legend's creators Riot Games released Valorant as a close-call competitor to Counter Strike: Global Offensive (CS: GO). Much like CS.GO, Valorant's gameplay is about fast-paced 5v5 within a fast-growing community that sees about 3 million people connected every day.
I decided to start this review by discussing how popular this game is, as that might be a testament to its quality. However, you should take this with a grain of salt, for this is the age of competitive shooters, and we have seen many come and go.
Valoran'ts closed beta started around April 2020. Maybe it was because of the pandemic, or maybe it was because of the reputation of their creators. The thing is Valorant's closed beta enjoyed unprecedented levels of success.
During those first beta gameplays, it looked like a mix between Overwatch and CS: GO. It has the fast-paced unforgiving gunplay like the Counter Strike series plus the powers and the goofy visuals of Blizzard's game.
Given its apparent lack of true authenticity, one could only wonder how much more popular could this game get after its launch.
So, the question is…what's new, and why was the beta so popular?
What's new in Valorant?
Here's the thing. Valo|rant is a softer approach to 5v5 competitive FPS games. Although it lacks an original character, it does come with a unique element that sets them apart from the rest. The presence of Agents with different personalities, powers, and weaknesses gives players an easier learning curve.
That's how Valorant is providing something new to the fans. And that's why Valorant is a booming game, as both professionals ad amateurs are drawn to this easier, friendlier approach. See, an experienced player can take advantage of the Agent's skills and still take some time to master each one of them. On the other hand, players who are new to the FPS genre or too competitive games are going to have easier than, for example, Overwatch of Fortnite.
So, yes, the game is still as popular as it was during the closed beta stage. It has not disappointed its community. The hype was so real that Valorant's servers overloaded and crashed a few hours after its launch.
How many people are playing Valorant right no?
Riot Games has not released any official number, but maybe we can reach an estimate by some numbers on YouTube ad Twitch.
First of all, though, I have to mention the official results we have, which is the number of people who played the Valorant closed beta, according to Riot Games:
"Nearly three million players logged on each day to play Valorant"
It's important to note that Riot Games gave beta keys to either professional players, famous Twitch streamers. Then, lucky people could get an additional beta key simply by logging into a Twitch stream. If there were 3 million people during the closed beta, we can only guess the numbers have multiplied by now.
Another thing we can check to get in an idea is the Twitch official data. Let's take a look at the number of people watching Valorant streams:

As you see, the number of people watching Valorant streams on Twitch has never been higher than during its first days. It reached over 600 thousand views per hour. However, you need to keep in mind many people were probably looking for a Twitch drop of that coveted beta key. Back then, it was the #1 game on the platform.
Right now, there's an average of 73K people watching Valorant streams every day. It's currently the #4 game on the platform, bellow League of Legends, Call of Duty: Modern Warfare, and Fortnite.
However, when we look at the All-Time viewership average, Valorant currently sits at number one, whereas it sits at the 11th position on all-time views, where it competes against long-time winners like Dota 2, GTA V, PUBG, League of Legends, WoW, and similar.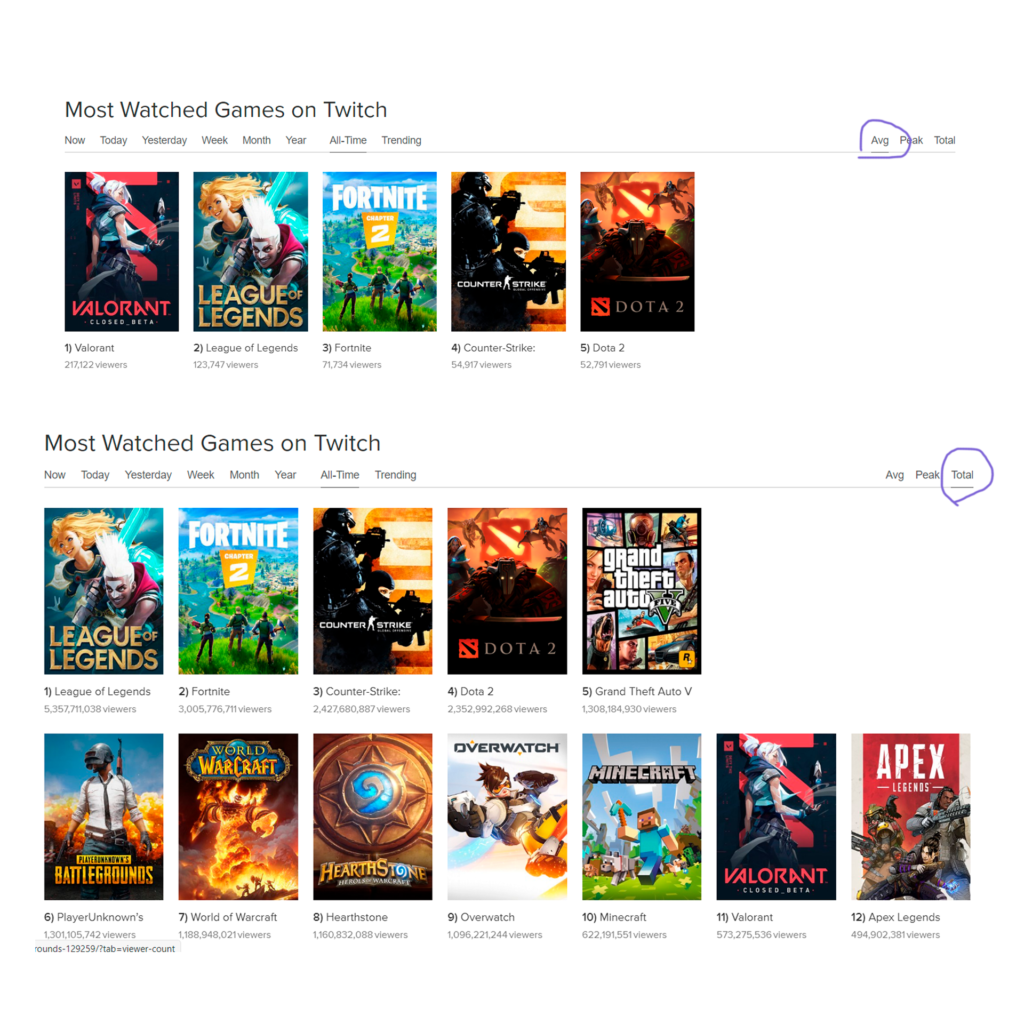 On YouTube, though, Valorant is still way below the levels of popularity as the other games I've mentioned. In particular, the most viewed Valorant video on YouTube was made during closed beta times. It's the one I shared above.
So, whereas the popularity levels don't seem to be as high as it was during the closed beta, I can only assume the player count is still above the million players per day.
What do you think? I have to note, though, that 2019's Apex Legends also enjoy impressive levels of popularity during its beta and around its release date. But a year has passed and it seems like Respawn Entertainment's game is already dying.
There's another number we can pick from the Esports Observer. According to this media, a full-time Valorant player earns about $20K. YOu have to know Valorant Is already amassing over 50K viewers on its professional tournaments. In fact, as soon as Riot Games launched this new title, a flock of pro-players joined the Valorant hype train as well.
But without a clear answer, though, we have to continue this Valorant review with something more obvious…
What is Valorant all about? A tried-and-tested formula
As I said, this game feels rather similar to CS.GO, only with a more cartoonish approach and the presence of powers ad skills.
This is an online 5v5 first-person-shooter. The game is about medium-sized maps where two teams of 5 players need to blow up specific locations on the map before the other team must either defuse the bomb or kill all its enemies. That's an old Counter Strike trademark, but many games have used it as well, like for example Overwatch or Valve's own Team Fortress.
More specifically, it's a 5v5 format that works like this:
The attacking time must place the "spike" on the three designated sites on the map, or eliminate the opposing team;
The defending team must defuse the bomb, or eliminate the others.
There's a buy phase at the beginning of each round for each side. That comes in the form of an in-game menu where players can purchase weapons and abilities for the upcoming match.
Gameplay-wise, Valorant is fast-paced, even if the characters are a bit slow. That's because the character's life bar is lower, the maps are smaller, and the weapons are deadlier. Moreover, the more you kill, the more creds you get to buy abilities and other items. Rounds end quickly and results come faster.
The winner emerges after 25 rounds as a best of 13. And a single head-shot can make you rage quit.
Now, apart from an aggresive shooting combat, the characters (agents) also pack special abilities. Each agent has its combat abilities. You get the agent's Signature Ability for free, but you have to unlock the extra 2 the skills with in-game credits. That's part of the micro-transaction economy of the game.
There's a total of  11 agents so far, each one with its own back story, roles, and powers. You get to select your agent once you enter a game, and you're going to be stuck with the character until the game ends.
As you see, it's nothing original. It mixes some elements we've already seen on games like LoL or Dota 2 with Fortnite aesthetics, Overwatch-like characters, and CSGO gunplay.
Here's a video showcasing the current state of Valorant's gameplay before we discuss further…
The real question is, then, is it any fun? As this is an FPS game, the shooting mechanics itself must be top-notch and above anything else!
The (peek-and-run) shooting
Here's where we find more similarities with CSGO. Each gun works in a spray pattern you can master with plenty of practice. It means that, as you shoot, your gun will tilt upwards rather aggressively.
There's something else about this game that reminds me of Overwatch as well. Unlike professional-oriented shooters like Battlefield, PUBG, or CoD: MW, Valorant makes it harder to shoot an opponent while steady. That means the game expects you to kill your enemies whilst moving around and shooting from the hip. No camping, no hidden snipers!
The accuracy decreases when you fire from the hip and moving around. Furthermore, the agents are faster with their guns lowered or with the knives out. On top of that, the agents move quite slow, which makes the gameplay more tactical and less frenetic like, say, Halo, Unreal Tournament, or Doom.
All in all, it makes for an interesting experience. You need to peek, run, aim carefully, and use your abilities with intelligence. It rewards experience and smart gunplay. It also forgives amateurs for their mistakes with the fast respawn. And it presents a friendly learning curve for players of all levels.
Still, the gunplay feels very similar to CSGO. So similar that Counter Strike veterans can take advantage of this free-to-play FPS.
The animations are not something I like. They look a bit cartoonish, maybe following Fortnite's trend. However, this style has several advantages: it makes the visuals clean, crisp, and fast; it makes the game free, and it lowers the minimum requirements.
Another thing to note is how Riot Games keeps cheaters at bay with an advanced anti-cheat system. Likewise,  developers added a system to make sure that frame-rate drops don't become a problem, as the servers can boost the frame rates of a bad internet connection.
All of that gives you a smooth experience, even if you're playing on your old dad's computer.
That's part of the reason why Valorant is easier and friendlier than Valve's FPS. But it's not what makes it different. What makes it different is its abilities…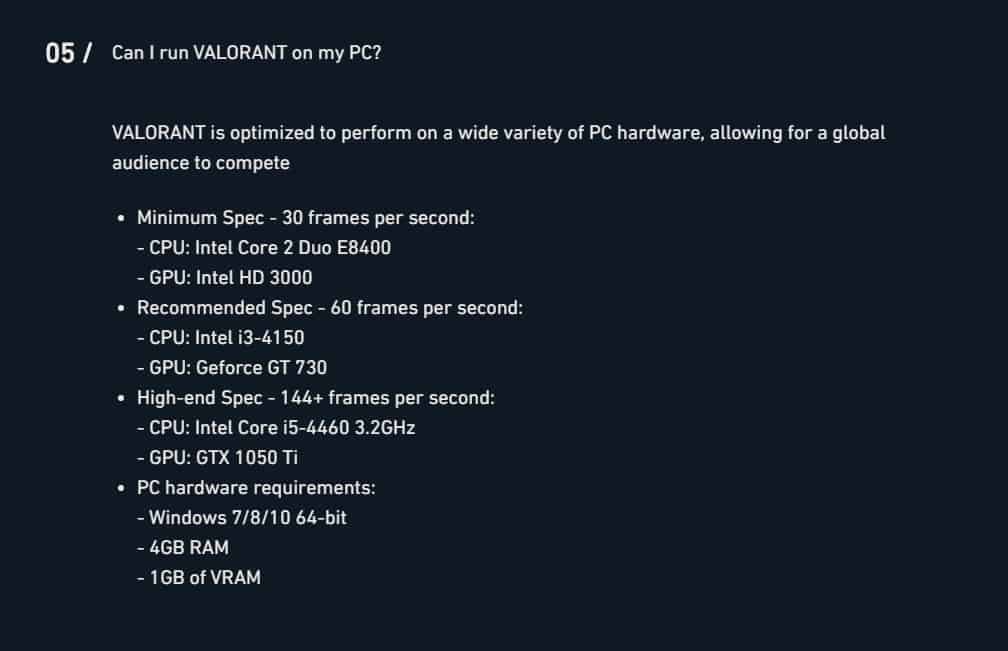 Abilities & characters
Maybe the most exhilarating part about Valorant is its rooster of character and abilities. With 11 different agents and 4 abilities per character, you've got plenty of possibilities to explore.
The best thing about it is how you can browse through all of this on Tracker's web site or with Valorant's app. You can see the characters, the skills, the weapons, video-guides, the maps, and more.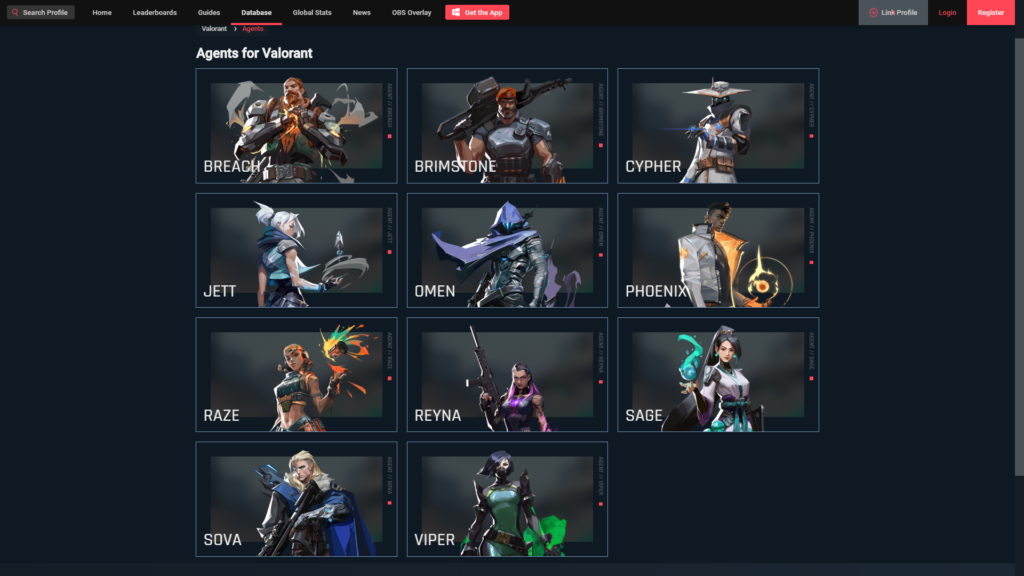 Each character has its own set of abilities plus the classic "ultimate" ability you must change over time. Some of them act as flashbangs, Molotovs, and grenades; others are more magical and can see through walls, heal, teleport, or create ice walls where you can cover.
While the ravaging ultimates are game-changers, the time-to-kill is very short: a single bullet can end you. It creates a lot of tension and forces players to be smart, tactical, and careful. It also creates distant gunfire rather than the Rambo approach of Fortnite, CoD, or Overwatch.
Weapons & shields
The weaponry on a game plays a big role in how fun it is to play. I've found expansive and overly-long games quite dull and boring simply because of its lack of variety. Example? The now infamous Fallout 4, a game that should have been an open-world RPG shooter but became…a sandbox?
I don't know if this is a good game, but Valorant's weaponry is very similar to what you'd find on Valve's franchise with six different weapon categories:
Sidearms
SMGs
Rifles
Sniper
Shotguns
Heavy
There're plenty of similarities with CSGO here, more than we could like. For example, there's a "Sheriff" pistol works just like Counter Strike's famous one-shot-one-kill Desert Eagle.
On top of that, you can also buy shields for extra protection as they act like a Kevlar. Common stuff on most shooters.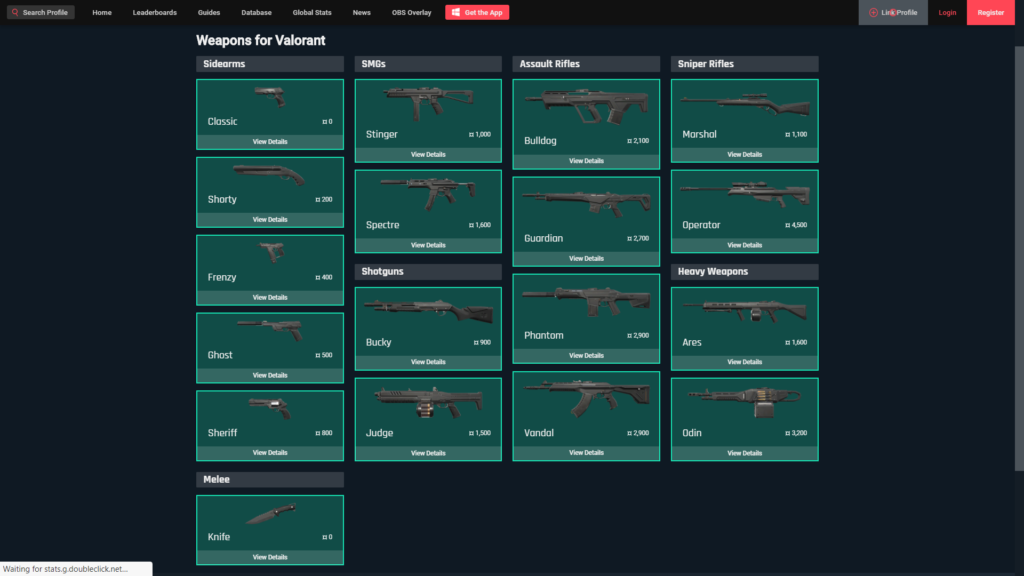 Economy & creds
Every game starts the same, with the "pistol" round, where every character packs the same gun. Here's where you create your initial creds to buy on the next round. Usually, the team that wins the pistol round wins the next round as well.
You get Creds for dying, killing, defusing bombs, planting bombs, or collecting resource nodes. Then, you spend those creds on weapons, shields, and abilities. Keep in mind that abilities are not linked to cool down mechanics (except for the "Ultimate"). Instead, you have to pay for each time you use a specific ability.
The buy phase is at the start of each round, and you can save money to buy the heavier, deadlier weapons on the next.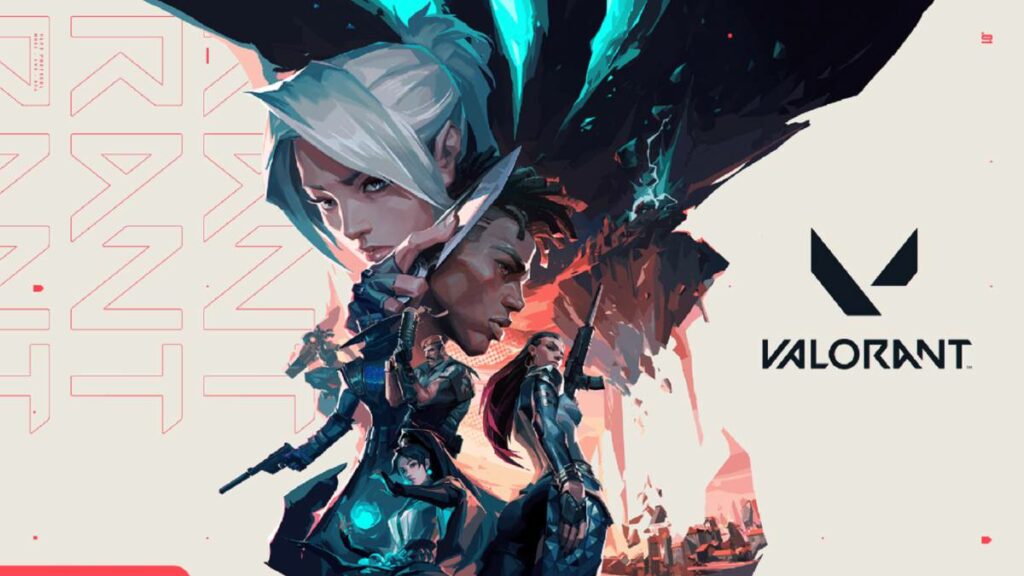 This is part of our ongoing series reviewing the Best games of 2020. I started the series by reviewing The Last Of Us Part II, so go check that out!
In summary: my experience
With all of that said, I think it's clear for you that I'm not very fond of this game. I don't like hype trains of unoriginal stuff. I don't like playing things I've already played before, only made bigger with giant merchandising.
It never hooked me. But, to be honest, I'm not the target demographic of this game.
Valorant is made for two kinds of players: the first is all of those people who have felt disconnected to the gaming world for a very long time simply because they don't have the money to get a decent laptop or PC. Because Valorant's minimum requirements are so low, almost anyone can have a good time with Valorant, for free!
The second kind of public is the professional or enthusiast eSport player looking for something different than CS: GO or CoD: MW. The friendlier approach presented by Valorant might be a great hook for this audience. If you've ever played CS: GO,  Valorant's aggresive rounds will feel familiar, but yet more tactical and flexible.
For the rest of us, it's a matter of personal taste. Valorant does have stellar gunplay plus great use of superpowers. And whilst the learning curve can be tough at first, everything clicks together after a few hours.
Nevertheless is is truly a fre-to-play fps. There's no money gateways and no content restricted for the ones who can't pay. There's not even hardware restrictions as any decent PC or laptop could run it.
In the end, some will find Valorant's tried-and-tested approach difficult to put down. Others, like me, will get tired after a couple of hours.
Valorant is the easier CS:GO
Valorant is a friendly and moderately fun game that mixes elements from games like Overwatch, Fortnite, and Counter Strike.
It's easy to get lost into a couple of Valorant matches, but, if you're not making any money out of this, you're probably not going to find it too special.
Positives
Friendly FPS approach
Unique skill mechanics
Fast-paced matches
Tactical gameplay
Booming community
Free-to-play
Doesn't require much in terms of PC specs
Negatives
Similarities to competitors might deter its value
Only one game mode and 4 maps make it repetitive to the casual player
Weapons and skills are pretty standard
Breakdown
Fun & tactical but unoriginal

4.0

/

5