Riot Games often associate a player's GamerTag or IGN (InGame Name) as Riot ID. It consists of your username followed by a tagline. Eg. Gamingesports#GES. The Riot ID is mainly used to identify or add a player as a friend. 
Although you must create a Riot ID when you launch Valorant for the first time, you don't have to stick with the same ID forever. Riot Games allows players to change their Riot ID (including their Username and Tagline).
You can change your Valorant Tag in the Account Management section in your Account Settings. But first, you'll need to visit Riot Game's Official website and log in to your account.
On your browser, go to Riot Games and click on the Sign in option at the top right corner.
Enter your Username and Password and log in to your account.
Hover on your profile name and hit Settings. You might also need to enter a Login Code for additional verification.
Once you're in, click the Tagline box and enter a new Tagline.
Finally, hit the Save Changes button.
Note: After changing your Tagline, you can only change it again after 30 days.
How to Check Your Riot ID?
If you're trying to add your friends in Valorant, you'll need their ID. There are a few different ways to check your Riot ID. You can view it from the Riot Client Application or via your profile in the game.
Launch the Riot Game Client.
Click on the profile icon on the top left to check your Riot ID.
If you're already in-game, hover/click on your profile icon below the Settings Cog-Wheel icon.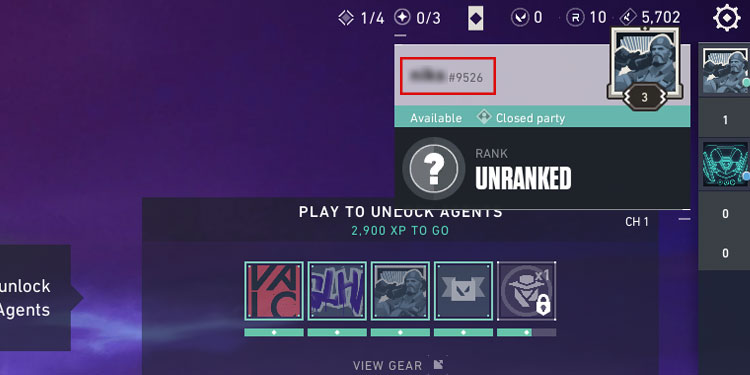 Thing to Consider
Although changing your Tagline is completely free, and there isn't a limit on the number of times you can change it, there are a few things that you need to consider while changing your Tagline.
Your Tagline can have anywhere between 3 to 16 characters, including alphabets, numbers, hyphens, underscore, periods, etc. You can be creative here and make your Tagline interesting and funny.
You cannot change your ID immediately after creating/changing your Riot ID. It is mandatory to wait 30 days before trying it again.
You shouldn't include words or phrases on your Tagline that could offend others.
It's not possible to have the exact Riot ID as other players. If the ID you're looking to use is already taken, you can include some special characters.