Online games are fun, but sometimes they can be annoying and frustrating. If you are a Valorant player, you know that you must win 13 rounds against a team of five with your own to win. So, your team of five must be better than the opponent to win.
But what if one or more of your teammates gets disconnected or leaves the game? What if your teammates are annoying and very bad at playing Valorant, and now you want to quit?
Letting opponents kill you all for 13 rounds will take time. So, what can you do in this situation? Luckily, for these kinds of situations, Valorant lets your team surrender and give the win to the opponents in a matter of seconds. This guide will discuss how you can surrender in Valorant.
How to Surrender in Valorant
When the game was first released, you could leave the game at any moment and face no penalty or consequences. But as players grew and Valorant became more competitive, Valorant started to penalize those who left during mid-game.
This decision is great for fair play. However, those with no option other than to leave the game face a dilemma as the penalty in Valorant is very severe. You can be banned for many days if you leave the game.
But there is a way around it. If you surrender and your teammates agree, you can let the opponents win at once, and you will face no penalty for leaving the game. So how to do it?
Follow these steps to surrender in Valorant:
During the game, press "Enter" to bring up the chat box.
Then, type "/ff", "/forfeit", "/surrender" or "/concede" and press "Enter."
Now, the surrender vote will pop up, where your teammates should vote "Yes" or "No."

For Yes, your teammates should press "F5," and for No, your teammates should press "F6." You can also type "/yes" and "/no" in the chat as per your choice.
So, as you can see, surrendering in Valorant is easy. However, there are some rules that you should remember to surrender. You can only surrender from the start of the fourth round, and the game will end at the start of the fifth round. Also, you can only surrender once a phase, which means you can queue for surrender once in the defender and attacker phases.
Also, if you are playing an Unrated match, 80% of players in one team must choose Yes to surrender. So, among five players, four players must vote "Yes" to successfully surrender the game. For a Competitive match, everyone on the team must vote "Yes" to surrender.
Consequences of Surrender in Valorant
Not all gamers are serious about gaming. Some just want to pass their time and play for fun. However, Valorant is very competitive nowadays. After introducing the Competitive mode and Ranks, Valorant has been strict against leavers.
So, as mentioned above, surrender is a safe bet for players who want to leave the game early. In Unrated Mode, you will have no consequences for surrendering. However, if you are playing in Competitive Mode, you will decrease your MMR and Rank. Other than this, you will have no consequences.
How to Remake in Valorant
Let's say one of your teammates disconnects at the start of the game or buying phase. You will clearly be at a disadvantage. Now, you can surrender like mentioned above or go for another option, i.e., Remake.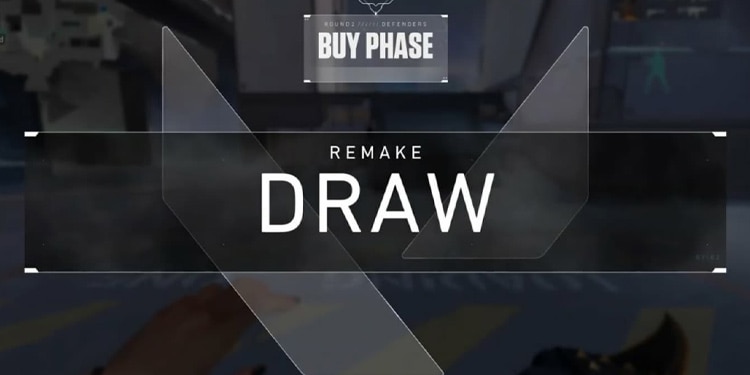 So, how to do it? You just have to type "/remake" in chat, and your remaining teammates should vote "Yes." If even one of the teammates chooses "No," the game will go forward.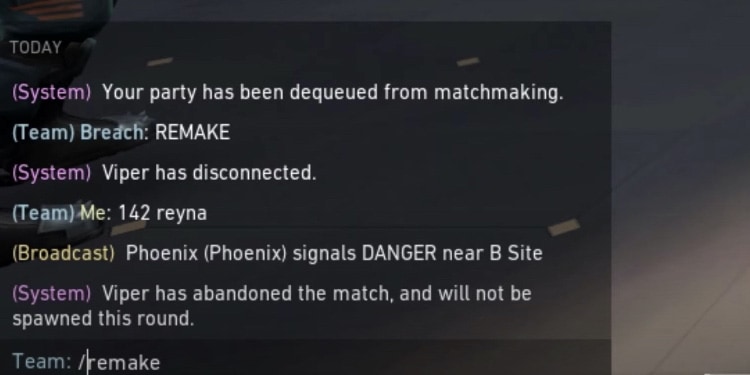 But like in surrender, there is a catch here too. You can only start the remake vote if one or more player disconnects from the beginning or buying phase to the end of the first round. Then, you cahow to surrender in valorant