Minecraft is a massive sandbox game where you can build almost anything! The only limit is your imagination. While you can build anything, the resources you need to collect are from dangerous places, and for that, you need powerful weapons.
The most basic and offensive weapon you can use in the game is the sword. In this case, it would be best if you worked your way up from iron sword to diamond and, finally, the most powerful sword; Netherite Sword. Apply enchantments only to the best sword to further enhance the weapon effects.
Before Enchanting Your Swords(To-do List)
You need to collect various materials and craft them to apply enchantments to your sword. It can be tedious to mine and craft, but the whole game is based on these two primary concepts, and that's what people love about Minecraft.
This article will guide you with collecting and crafting materials needed for enchantment. You can skip to the Enchantments part if you have all the resources and necessary workbench to enchant your sword.
Enchantment Table
The enchantment table is a workbench that applies magical effects to your weapon, armor, tools, and books. You can apply different effects to boost the quality of your arsenal and unlock special abilities from the table block. You will need various materials to create and properly use this enchantment table.
Crafting Enchantment table: Four Obsidian blocks, two diamonds, and One Book. Put them in a crafting table in a pattern shown below, and you will have an Enchantment table.
Bookshelf: Magnifies the power and provides you with additional enchantment properties when enclosed with an Enchantment table.
Lapis Lazuli: They are like fuel for enchantments. You will have to use one to three Lapis Lazuli to embed the effects on your weapons. You also have to spend some amount of your experience points to enchant. The higher your experience points, the better weapons you can enchant.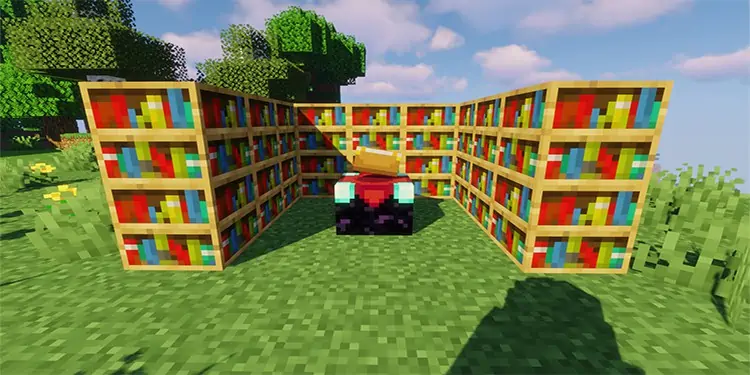 After having the two main resources, please place them near and right-click the enchantment table to apply special effects or powers to your weapons using Lapis Lazuli.
Village Librarian
Do you know you can enchant your books too? Enchantment tables cannot create some specific magical effects on your weapons and can only be obtained from enchanted books. These rare enchanted books are only available from fishing, looting mansions, or Librarian.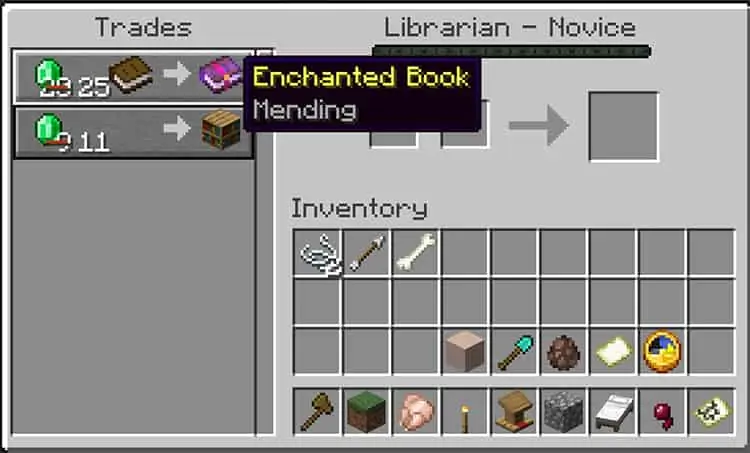 While fishing and Looting might seem monotonous and dangerous, trading stuff with Librarian can be the most effective way to obtain such rare enchanted books. We have already discussed about making a Librarian in Minecraft in our previous article. Please check that out. 
Best Enchantment For Your Sword
Everything is set and ready to fire. The only thing you need now is a diamond sword. Netherite sword is even better if you can get your hands on the materials. Nevertheless, here are the best enchantments you can cast on your sword to make it invincible.
Sharpness
Sharpness increases your base damage dealt with your sword. Sharpness has five levels of enchantment. You need to have more experience to enchant a higher level of Sharpness. While smite and Bane of Arthropods do increase damage to specific mobs, Sharpness deals equal amounts of damage to every mob and opponent player. 
Sharpness is, first and foremost, an enchantment you need to apply to your sword because it is one of the common enhancements when functioning with an Enchantment table.
Unbreaking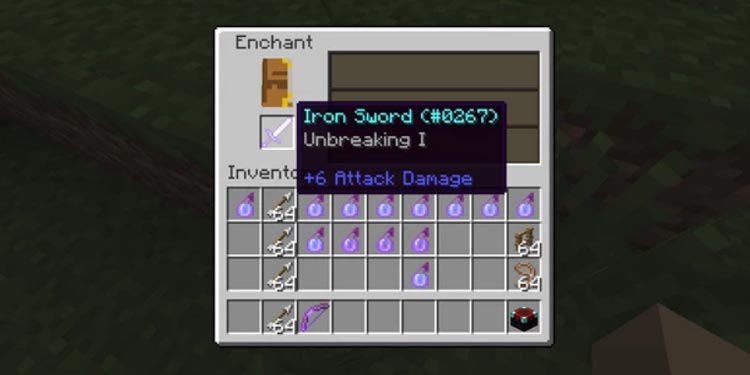 By applying Unbreaking enchantment, your sword durability lasts longer than usual. You know how hard it is to collect materials to craft a Netherite sword, and depleting its durability can be concerning. Using Unbreaking can help solve your problem but make sure to apply the unbreaking of level three to maximize its effect. 
Although you apply Unbreaking III on your sword, slowly but gradually, it will decrease its health bar. There is another Enchantment you can apply to keep your sword shining forever: Mending.
Mending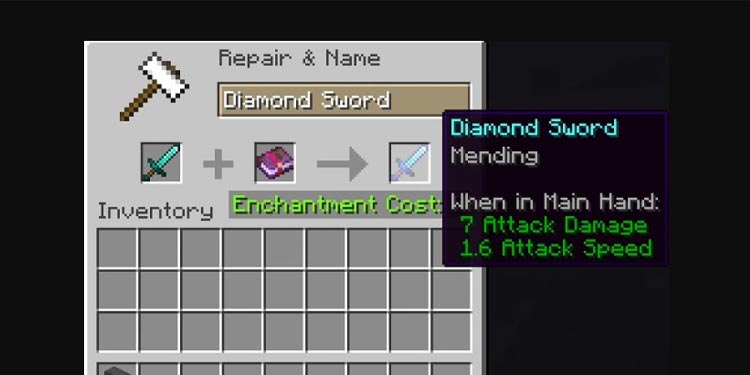 Mending does take a little amount of your experience when you hold giant experience points, but it restores back the health of your weapon. While Unbreaking slows down the diminishing health with each use, using mending effectively makes your sword invulnerable to damage. You can use your sword infinitely with mending as long as you provide experience points for its restoration.
Note: Mending is one of those enchantments that you won't get from the Enchantment table. You need to obtain it from stronghold loot, fishing, or from Librarian.
Looting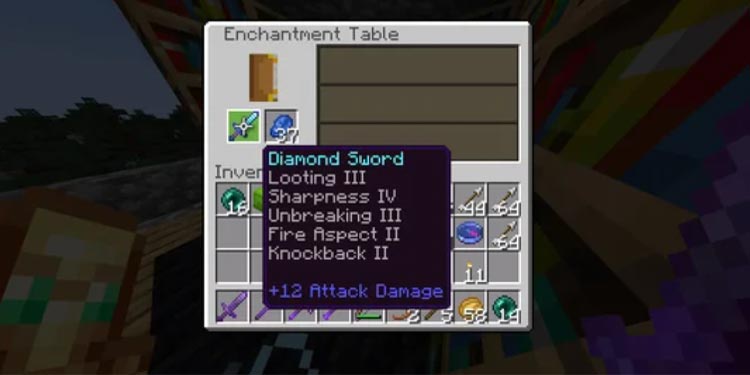 Looting is really effective when you want to double the number of drops from challenging mobs, especially from neither world. You can apply Looting to your sword to increase drop rate and farm rare resources from mobs like Blaze, Ghast, Pillagers, Enderman, and many more.
It is better to cast Looting enchantment on your weapons when you are exploring the Neither realm as you can get better drops and material for brewing potions. You can also easily gather three wither skulls and summon the Wither that drops Nether Star when defeated. 
Sweeping Edge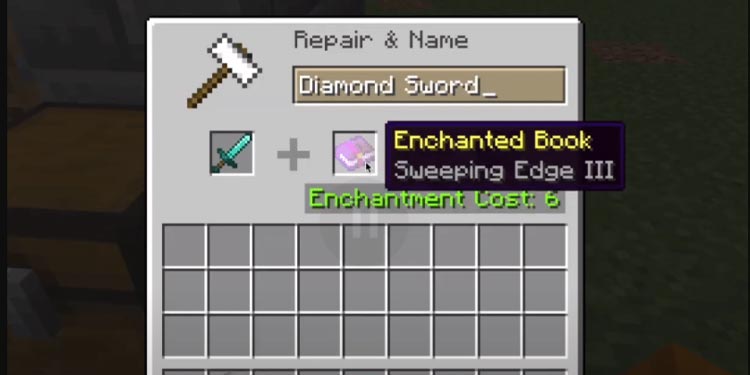 Sweeping Edge enchantment is very useful to get out of sticky situations as the sword hits multiple enemies at once. It can also be very efficient when farming experience points. There are three levels of Sweeping Edge. A higher level of Sweeping Edge increases the amount of damage the sweeping sword attack will do.
Combining Sweeping Edge with other enchantments can greatly benefit the sweeping attack. Appling knockback and fire aspect abilities can not only hit multiple enemies but knock them back, dealing additional fire damage.
Knockback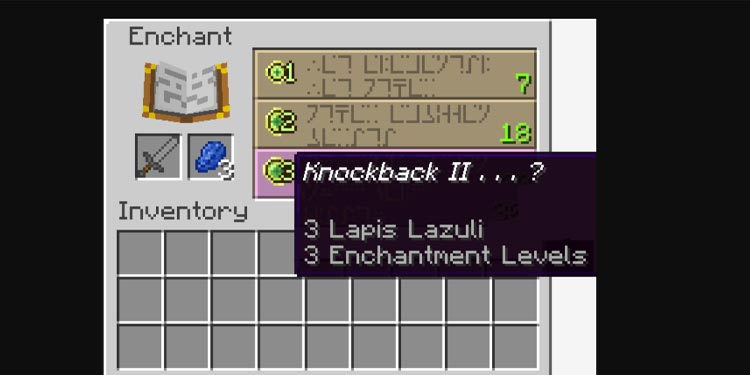 Knockback enchantment does what it says; it knocks back enemies further away from you. It's really effective when you are surrounded by enemy mobs or throw enemies from the edge of the height. 
For those who like to play aggressively, especially in PvP, Knockback can be a little annoying as it launches away from your target. But if your opponent is wearing neither armor, then it does minimize knockback allowing you to land multiple hits.
Fire Aspect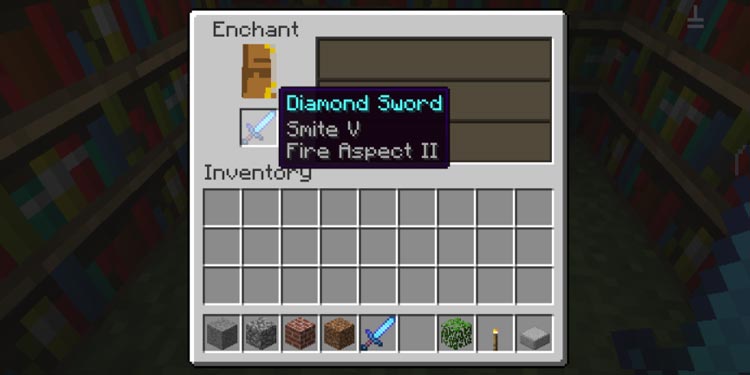 The fire aspect sets any mob or player you hit on fire which can be really useful because they will continue taking damage after being hit. It can be beneficial against other enemy players as the constantly burning fire, and flinching disrupt the flow of combat, blocking one-third of the screen. 
It is also useful in killing animals, since it automatically cooks the meat dropped by the dead animals.