The key to a better aim in any shooter game is mouse movement. Valorant rewards players who value precision by giving them crisp headshots and a faster kill. 
Crosshairs play an equally important role in improving your gameplay and shooting accuracy.  
Here we bring you a compilation of the most used Valorant Crosshairs to help you rise up in ranked matches.
Dot
This simple and deadly crosshair is for anyone who loves using guns that allow 1-shot per kill. So if you are a frequent user of the Sheriff, Guardian or Vandal then this might be the perfect crosshair. 
Crosshair Import Code: 0;p;0;P;h;0;d;1;0b;0;1b;0
Leave every setting except for Center Dot off to achieve the Dot Crosshair. Adjust the value of Center Dot Thickness as per your need.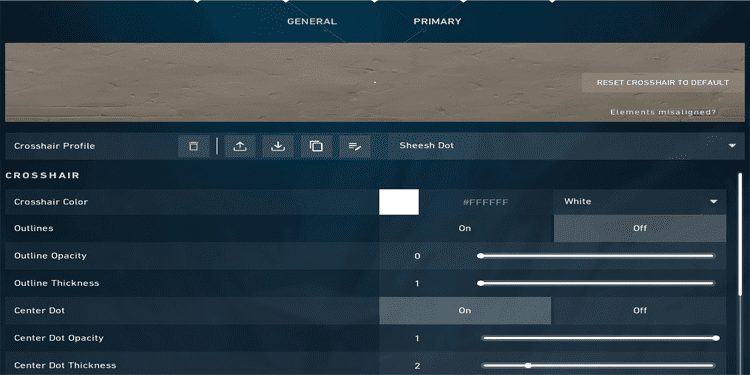 As you can see, you can also change the color of the crosshair so that it can be seen better.
Default
The default crosshair given by Valorant for every new account is not bad at all. It gives a generic idea on how robust the shooting aspect in this game is.
However, this crosshair might need a lot of adjustments from the player themselves to be viable in competitive matches.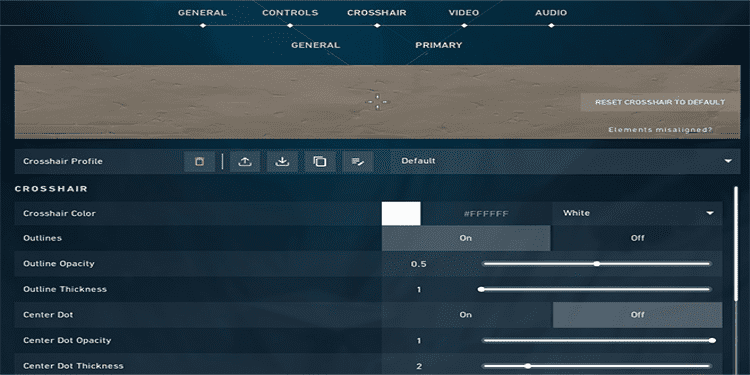 You need to create a New Profile For Default Crosshair
I would recommend everyone using this crosshair setting to at least turn off the Movement Error. This helps to get rid of any unwanted pixels in the screen while you are moving in the map.
Triple Double
This crosshair has 3 unique settings for your Primary, Aim Down Sight(ADS) and Sniper Scope. You can enable these options by turning on Advanced Crosshair Settings.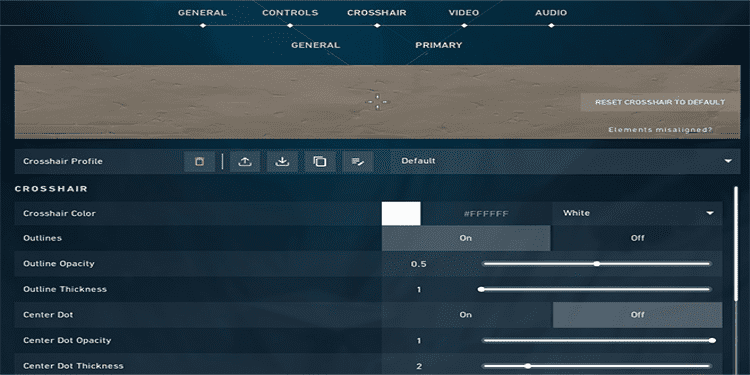 Crosshair Import Code : 0;p;0;s;1;P;c;1;h;0;0t;4;0l;1;0o;1;0a;1;0m;1;0f;0;0s;0.04;1l;4;1o;2;1a;1;1m;0;1f;0;A;c;7;h;0;d;1;0b;0;1b;0
Shuriken
This crosshair looks and feels like a shuriken.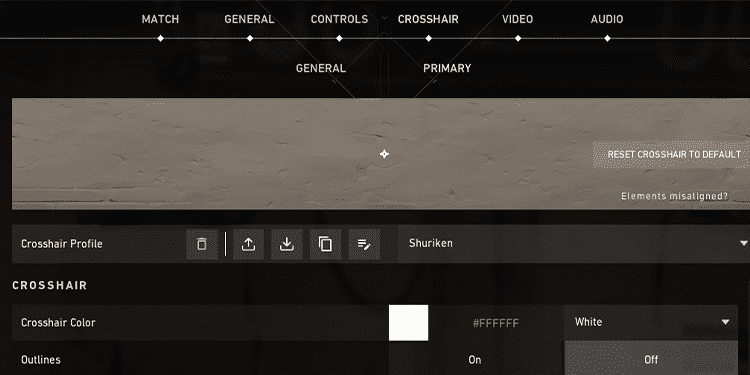 Cross Import Code: 0;P;h;0;0l;4;0o;2;0a;1;0f;0;1t;8;1l;1;1o;1;1a;1;1m;0;1f;0
Cloverleaf
A simple and clean 4 line variation of the default crosshair. This is one of the best crosshairs to start your Valorant experiences as it has been good throughout shooting games history.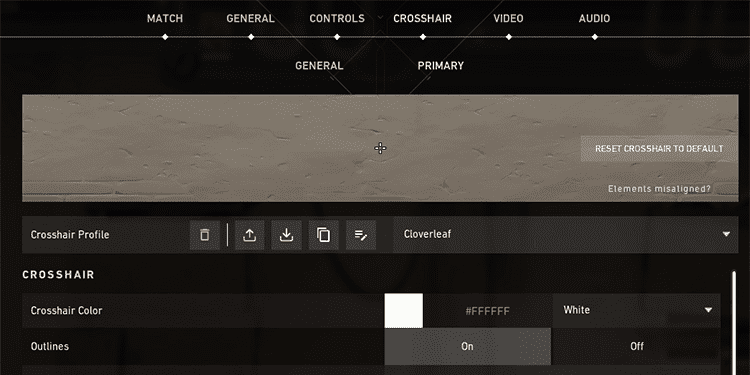 Crosshair Import Code: 0;P;o;1;0l;4;0a;1;0f;0;1b;0
Cloverleaf with Firing Error
This variation of 4 dashes across your screen comes with a firing error turned on. There is a subtle change in your crosshair size every time a shot is fired.
This should help you in your shooting accuracy by actually showing the range of bullet sprays.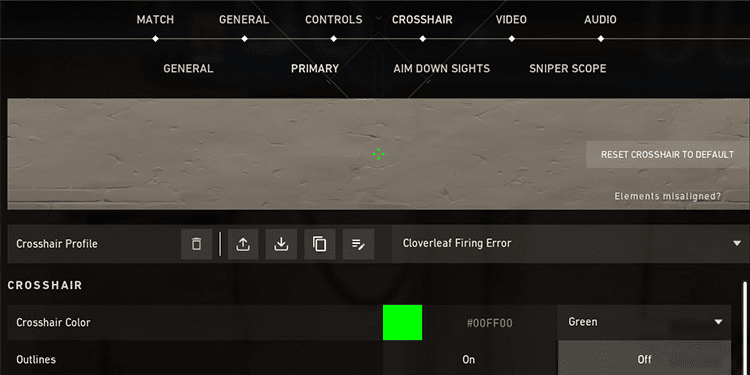 Crosshair Import Code: 0;s;1;P;c;1;h;0;0l;4;0o;0;0a;1;0e;0.555;1b;0
Plus Ultra
If you are a hero academia fan, you might have understood the reference. This simple 2 lines crosshair looks like a Plus (+) sign.
This crosshair works really well if you are a Phantom or Vandal player.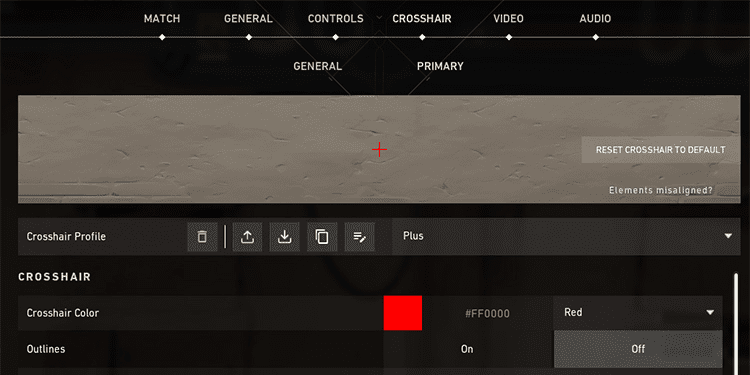 Crosshair Import Code: 0;P;c;7;u;FF0000FF;h;0;0l;10;0o;0;0a;1;0f;0;1b;0
Final Words
There are two types of players in a shooting game; players who look at the game environment and use their crosshair as a bonus mechanic for accuracy .
These players are adept in the flow of a match and can aim at enemies quickly. Cross hairs are only relied upon for those micro-adjustments which rewards players with more damage on their headshots.
On the other hand, there are gamers who keep their eye on their crosshair and shoot at anything that moves across it. These players are good at holding angles by having proper crosshair placement that enables them to 1-tap enemies.
Depending on the type of player you are, your crosshair setting also needs to be adjusted. Some might have an easier time with a Dot Crosshair, while others might need a bigger crosshair to aim better.
Good Game!!