If you ask any Valorant player if skins affect their performance and gameplay then you'll hear a simple answer everytime, "Skins = Wins".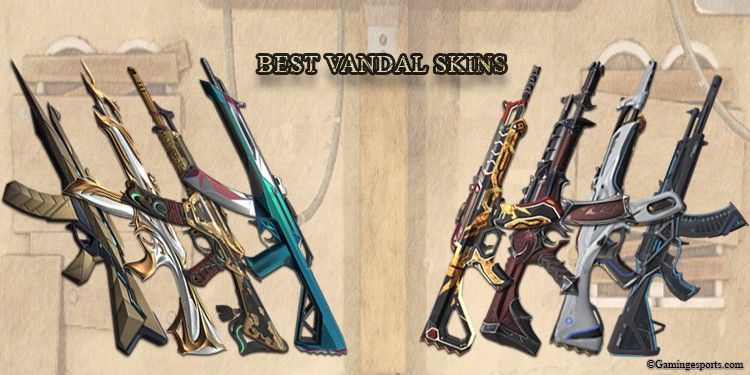 Riot Games has been putting a lot of effort into Valorant in terms of its promotions and skin bundles. Every Act in the game starts with a brand new cinematic and added lore to deepen the storyline.
However, Valorant is not a pay-to-win game. As such, this article is in no way enticing you to spend your dollars on skins. Rather, I recommend you to look for a good deal in the Night Market to buy the skins you desire.
That being said, here is the list of top Vandal skins. This list is in no particular order, and is compiled through a general consensus of players and from my own experience.
Champions 2021

Voted as the best Vandal skin of 2021, this item dropped in the store as a limited time offer. It got included in almost every player's collection, and as such, I would say the skin did very well.
A perfect sound is played upon each headshot and the way "CHAMPIONS" is written on the skin is just fabulous. And on top if you have the most kills in the game, the letters shine with a golden glow.
The stunning music and visuals that accompany the finisher of this Vandal skin have secured it a spot in my top three favorite skins in the game.
ONI EP 6

This skin is also on my top picks for being the best Vandal skin to this date. It has been my favorite purchase in the game, so far.
Coming in with 4 total variants; every version of the skin, apart from its default, is aesthetically pleasing.
Oni Vandal does not have any flashy finisher like the others in this list but it feels one of the best in terms of accurate bullet tracer.
I would definitely recommend this much awaited demon Vandal after a Phantom version was released in 2021.
Reaver
Reaver is the best value to performance skin in the game.
The weapon comes with an eerie looking animation. Its visual appeal remains unparalleled among the four variants available at your disposal.
Having a perfectly balanced headshot sound, which pleases your soul, the Reaver is known by all players for its consistency throughout Valorant history as one of the top choice.
I recommend purchasing this skin as your first investment if you get a cheap deal from Night Market.
Prime

Next on the list is the Prime Vandal. This skin is considered as the perfect combination of sound, accuracy and effects by most players.
Out of the 4 variants that it comes with, Prime Blue is more favored. It is because of being soft to the eye but having a devilish performance.
You can get to see this skin in action by many pro players in tournaments. As such you could say that Prime is actually worth it.
Forsaken

This is another great Vandal skin that gained popularity over time and stayed in the top picks for many players.
Forsaken Vandal is a rare pickup from the store and is one of the best skins in the game.
The skin is mostly favored by players turning pro in this competitive esports.
My personal recommendation is to pick and test it up from your enemies drop. It will give you a good idea on why people consider using this skin in professional matches.
Cryostasis

Cryostasis comes equipped with good VFX and sound effects. There is only 1 version of this weapon with unlocks for its animations.
It also has a freezing effect on the Rifle, which when fired breaks the ice off.
It also comes along with its special finisher of encapsulating the target in ice.
This skin has a longer muzzle, and everyone knows a longer muzzle means a much better range and precision when firing bullets.
Araxys

This skin was introduced before a Valorant Major. Although it did not have a great start initially, but after seeing many pro players use this Vandal skin in the tournament, it got popular.
Personally, I like the Araxys Black variant and its reload animation which looks like a beetle stretching its body parts.
It has a finisher that looks like a portal is being summoned on every fallen enemy body.
Ion Vandal

Other than its clean look, Ion Vandal feels like using a fusion cell with loud thumping sound when fired.
It comes with a finisher that looks like a mini nuclear explosion and feels great for 1-tap kills.
I personally like the default white version of this skin but would rather prefer other skins from this list if available.
Glitchpop 2.0

It is a dystopian type Vandal skin that gives off a cyber punk vibe.
Glitchpop 2.0 is also considered a top pick in terms of Vandal skins because it has good animations and recoil effects.
Vandal fires bullets mixed with laser and gunpowder, Glitchpop 2.0 makes it feel like a product of a hi-tech facility.
As this skin also has a nice finisher effect, we recommend you get your hands on a copy of it for your collection.
Neptune

Neptune's effects within the game matches its name, which is derived from the Roman God of Waters.
Dropped in the store as a bundle when the Pearl map was released, this skin fits really well with the aesthetics.
The best part about this skin is the mini aquarium inside the gun with mini fishes and corals.
Adding to the aquatic theme, the bullets too sounds like popping bubbles.
Consider this gun if you are looking to calm yourself down between intense matches.
RGX 11z

RGX 11z always tops our list whenever we are talking about the best Vandal skins available out there.
This skin produces clean but a very high decibel bullet sound for your headshots.
It also comes with a decent looking finisher, which btw is not its selling point. The highlight is the kill counter that is on the back of the gun.
An overall good looking skin that looks like it was made using a 3D printer, the RGX 11z comes in 4 variants.
Inspecting the gun also switches its color lines between green, red, blue and yellow.
This is one of my favorite guns to play with and to pick up from dead enemies when given a chance.
Honorable Mentions
There will be numerous skins to choose from your collection to customize your loadout.
Sometimes you might not want to go with the best looking Vandal or the latest releases. It depends on you as a player and what you feel comfortable with.
This being said, here are the honorable mentions that look good and also highlight your individuality.
Elderflame

Elderflame, also known as Dragon, was released soon after Valorant came out of its beta phase. The skin has set a standard for future weapon releases.
You are literally handling a mythical beast when it is equipped.
Your Vandal is covered by an animated dragon who sits on top of your gun and shoots bullets through its mouth. If that does not sound badass enough, I have no idea on what might.
There is also an awesome looking reload animation which shows the beast gobbling up your magazines with a finisher that launches a fiery breath
Coming in 4 variants, this skin demands attention by being the most unique releases from back in 2020 and deserves a huge honorable mention.
Gaia's Vengeance

This skin is for all the nature lovers out there.
Gaia converts your Vandal to look like something made out of trees and branches.
The finisher effect spawns a tree from the body of your target which is jaw dropping to say the least.
This skin comes with 4 color variations, each of them having top tier animation and sound effects.
Author's Experience
My first investment, Spectrum Phantom inclined me more towards the game which helped me jump from Iron to Gold within 1 Act.
Next was a Battle Pass(BP) which contained a Velocity Karambit Knife. All while inspecting the knife on each round, I ranked up to Platinum.
Then came the Ion Sheriff from the Night Market which boosted me to Diamond after being stuck for almost a month in the previous rank.
My latest buy is the Oni Bundle with the Oni Vandal and so far I absolutely love the skin.
These commitments have helped me achieve the rank of Ascendant and will keep pushing me forward in my competitive journey.
I wouldn't claim that these skins were responsible for my rank ups. However, these purchases got me to invest on the game and ultimately perform better. This works for me, at least more than it might normally does to others.
Another reason for getting skins in my opinion is the way communications (comms) work. I believe skins are a way to jump-start communicating with teammates. When they go "Anyone got skin?" and you drop them one, it helps to build trust, or so I think.
Good Game!!