Fortnite might be free, but buying V-Bucks and the Battle Pass can be expensive. Perhaps you have reached a breaking point and want some of the money you have spent on Fortnite back. But, is it possible?
In December 2022, the Federal Trade Commission (FTC) forced Epic Games to issue refunds to any players asking for their money back.
The group fined Epic Games 500 million USD in the legal battle against Fortnite because of its addictive quality and how it easily entices younger users to buy cosmetics.
Currently, there're two methods to refund in Fortnite. The first method is the "Refund Tickets," which are available to anyone. These refund the V-Bucks rather than the money, though.
The second method is refunding the entire account. However, the process is currently limited due to FTC regulations.
Use the Refund Tickets
Currently, Fortnite players have access to three "Refund Tickets." You can use these tickets to rewind any purchase for a short time.
On the Lobby, press the menu icon
Select the Gear icon and go to Settings
Go to the last tab in the menu, which is "Account and Privacy."
Select "Return or Cancel Purchases."
If you have made any purchases recently, you'd see them on the next menu. Selecting any item will refund your V-Bucks rather than your actual money.
The process has some limitations, which the picture above clears out.
You can refund purchases you've made in the last 30 days
You can't refund a cosmetic if you've already used it (you equipped it for a match)
You can refund any items you have bought with V-Bucks
You have 3 Refund Tickets. Every time you use one, you must wait up to a year to get a new one.
Occasionally, you will find the option to cancel a purchase through the same menu, which happens whenever Fortnite finds an error with their systems.
In these cases, the cancellation won't spend one of your Refund Tickets, and it will give you the V-Bucks back. Additionally, you may cancel a purchase within the first 24 hours of buying an item.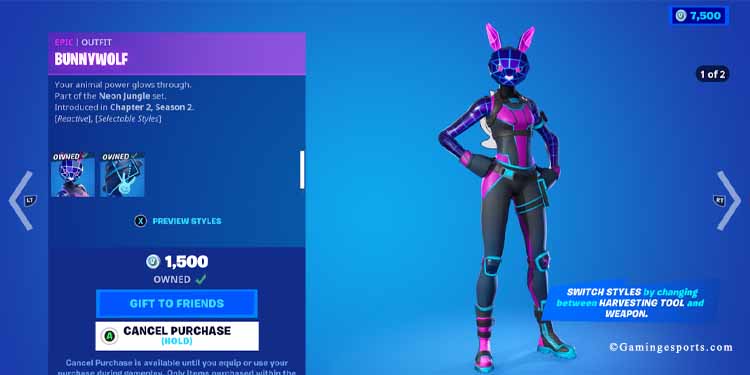 Refund the Fortnite Account
The FTC has the full information on how to refund your Fortnite account. However, there're some requisites you have to meet to possibly get your money back (Yes, money rather than V-Bucks).
You're eligible for a refund if you meet any of these requisites
You're a parent and your children purchased V-Bucks without your authorization between January 2017 and November 2018.
You paid V-Bucks for items you didn't want (like llamas, Battle Passes, or cosmetics) between January 2017 and September 2022.
Epic Games locked your account between January 2017 and September 2022 after disputing charges to your payment methods. 
You live in the USA (obligatory requirement).
If you meet one of these requirements and you live in the USA, you can't do anything at the moment. The FTC will update the information whenever the legal process advances.
Keep tabs on FTC.gov/Fortnite to see if anything changes in the future. 
How to Set Up Parental Controls for Your Children?
For now, you can prevent your children from spending your hard-earned cash on Fortnite hats. You need to access your children's Fortnite account to set some boundaries.
On your kid's Fortnite, go to the Menu
Select the gear icon and go to Parental Controls
Select "Set up Parental Control."
Click on "Change email" to set up your email address as the account manager. Your children may have to use that email to log in to Fortnite on some platforms.
Select a Pin
Customize the settings
Next, open a web browser and go straight to Epic Game's Parental Control settings (sing-in to the page if you have to)
Type your Pin
Enable "Always require a pin for purchases using Epic Games payment service." This is the most important setting, as your kids won't be able to buy anything on Fortnite or the Epic Games Store/launcher without your super secret password.
Here's a video tutorial: