Dota is best enjoyed when you have enabled the most optimal settings and options in the game. Some of these options not only make your gameplay much easier but also increase your efficiency while playing the game.
Most players who have played the game for long enough have these options turned on or even have customized them to suit their playstyle.
If you're ever wondering why your hero is attacking the enemy even when you have not issued any attack command, it might be because the auto-attack feature is enabled on your client.
There are many options like these in Dota that are enabled by default and can really mess up your game if you're not aware of what's causing them.
In this article, we have compiled the list of options that you need to enable/disable to ensure that you are playing the game in the most optimal condition.
Best Dota 2 Options Settings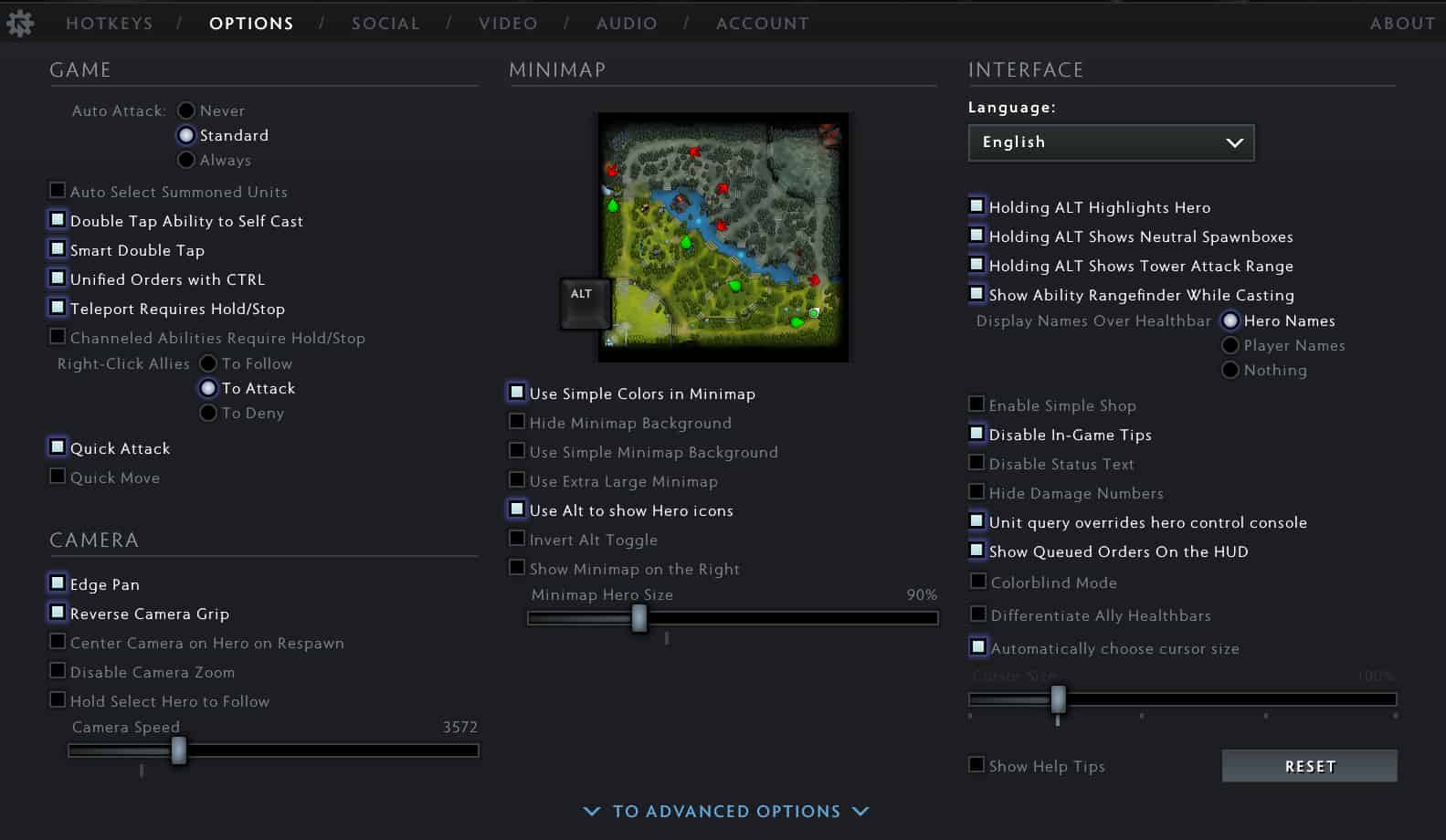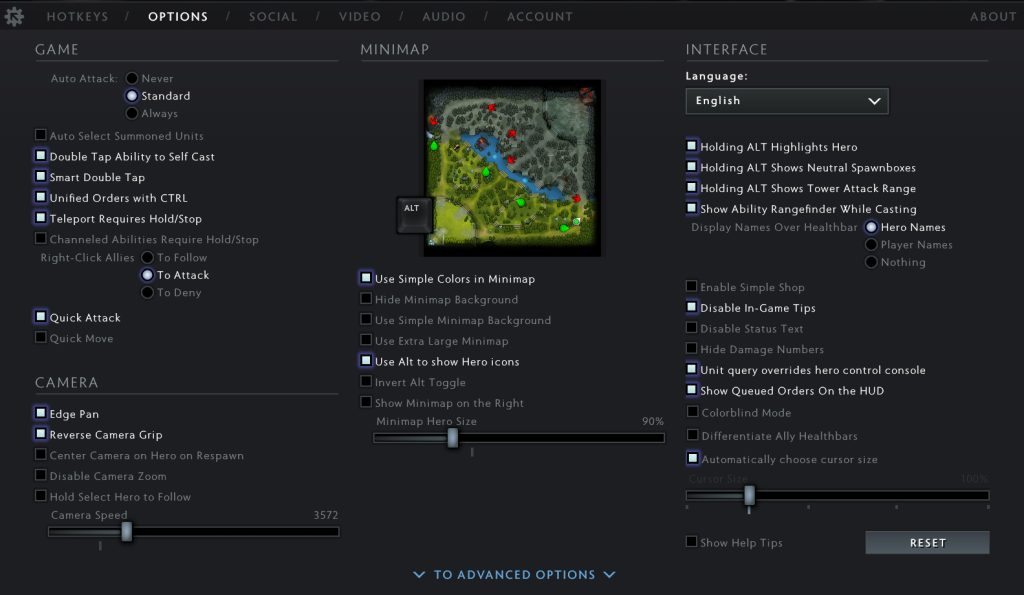 Under GAME Section
Auto Attack: Standard
Auto Select Summoned Units: Disable
Double Tap Ability to Self Cast: Enable
Smart Double Tap: Enable
Unified Orders with CTRL: Enable
Teleport Requires Hold/ Stop: Enable
Channeled Abilities Require Hold/Stop: Enable
Right-Click Allies: To Attack
Quick Attack: Enable
Quick Move: Enable
Under CAMERA Section
Edge Pan: Enable
Reverse Camera Grip: Disable
Center Camera on Hero on Respawn: Disable
Disable Camera Zoom: Enable
Camera Speed: Your Preferred Speed
Under MINIMAP Section
Use Simple Colors on Minimap: Enable
Hide Minimap Background: Disable
Use Simple Minimap Background: Disable
Use Extra Large Minimap: Disable
Use Alt to show Hero icons: Enable
Invert Alt Toggle: Disable
Show Minimap on the Right: Disable
Minimap Hero Size: 90%
Under INTERFACE Section
Holding ALT Highlights Hero: Enable
Holding ALT Shows Neutral Spawnboxes: Enable
Holding ALT Shows Tower Attack Range: Enable
Show Ability Rangefinder While Casting: Enable
Display Names Over Healthbar: Hero Names
Enable Simple Shop: Enable
Disable In-Game Tips: Disable
Disable Status Text: Disable
Hide Damage Numbers: Disable
Unit query overrides hero control console: Enable
Show Queued Orders On the HUD: Enable
Colorblind Mode: Disable
Differentiate Ally Healthbars: Disable
ADVANCED OPTIONS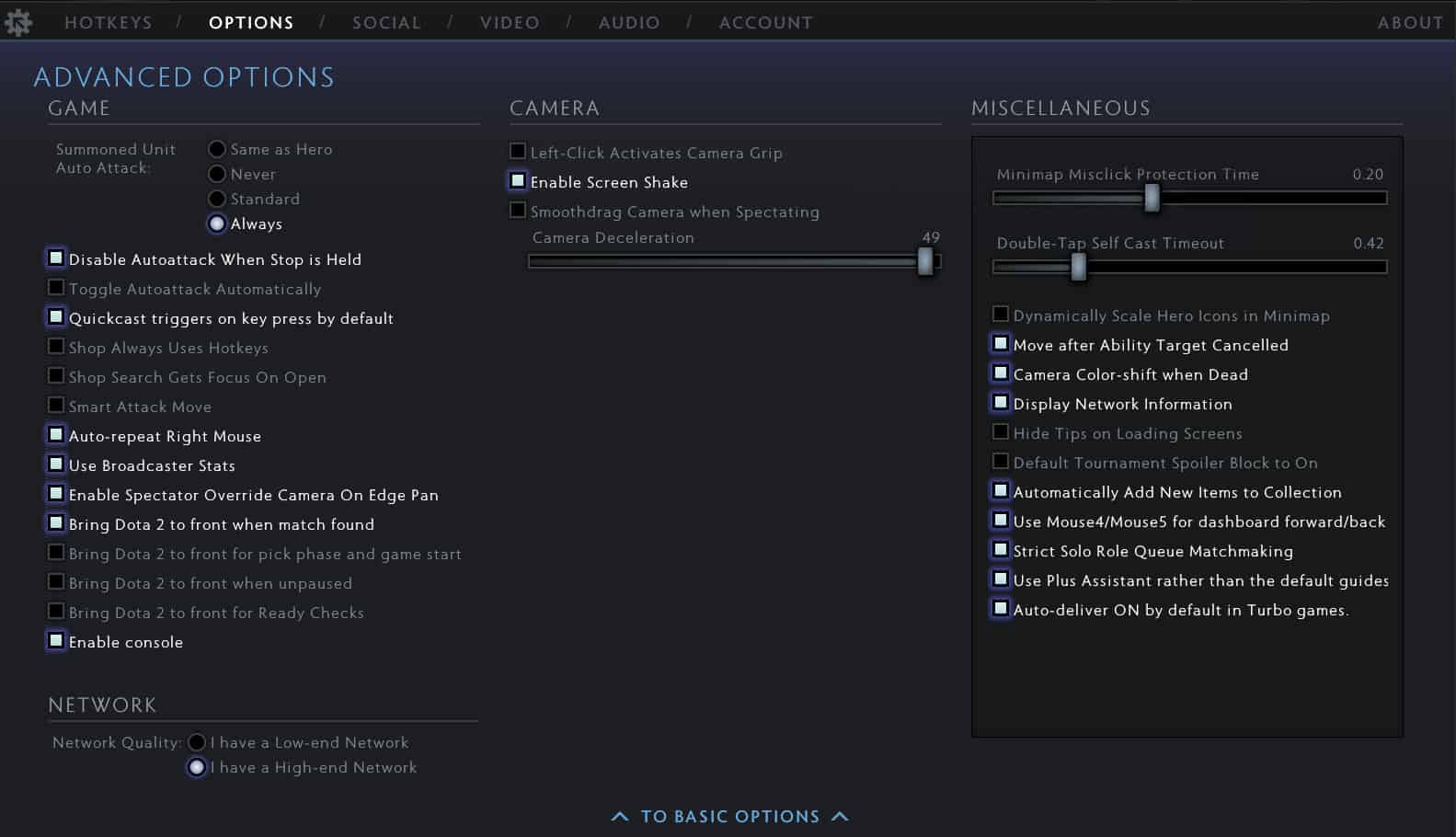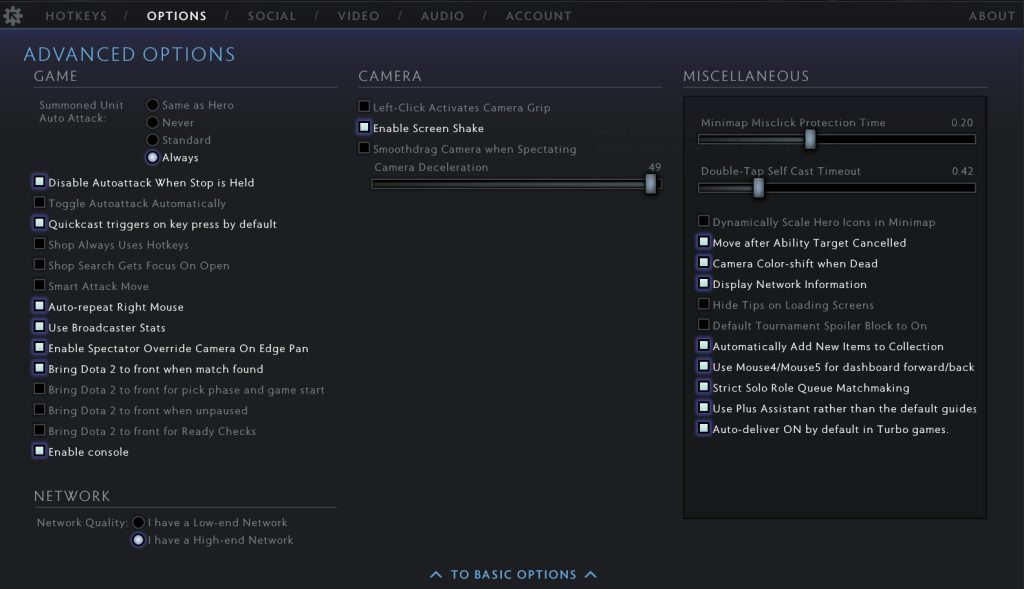 Under GAME Section (Enable)
Disable Autoattack When Stop is Held
Summoned Unit Auto Attack: Always
Quickcast triggers on key press by default
Auto-repeat Right Mouse
Use Broadcaster Stats
Enable Spectator Override Camera On Edge Pan
Bring Dota 2 to front when match found
Enable Console
Under NETWORK Section (Enable)
I have a High-end Network
Under CAMERA Section (Enable)
Under MISCELLANEOUS Section (Enable)
Move after Ability Target Cancelled
Camera Color-shift when Dead
Display Network Information
Automatically Add New Items to Collection
Use Mouse4/Mouse5 for dashboard forward/backward
Strick Solo Role Queue Matchmaking
Use Plus Assistant rather than the default guides
Auto-deliver ON by default in Turbo games.
Best Dota 2 Video Settings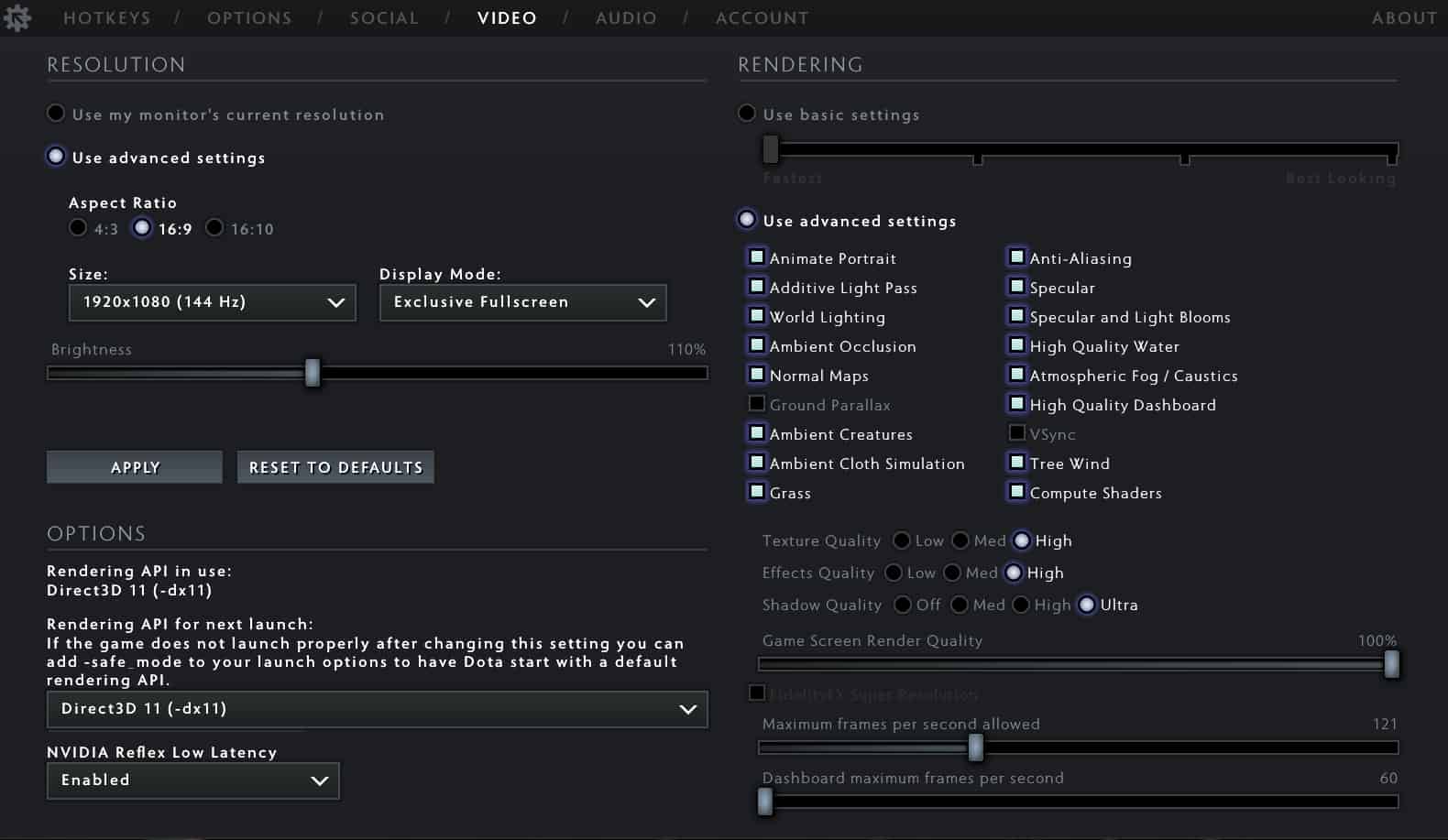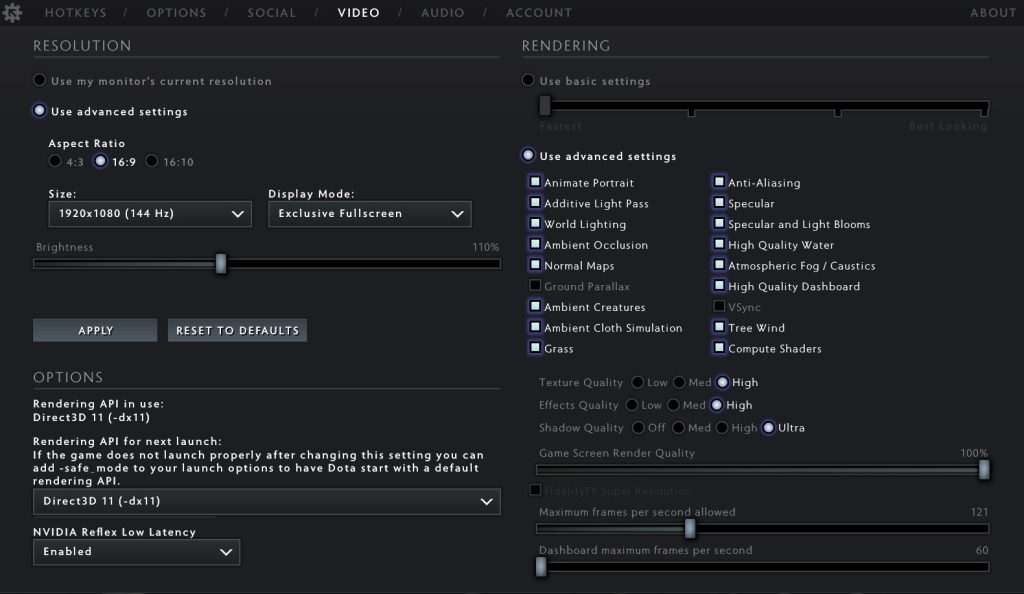 Under RESOLUTION Section
Select Use my monitor's current resolution for best results. You can also tweak your resolution by clicking on Use advanced settings.
Under OPTIONS Section
Select Direct3D 11(-dx11) as the Rendering API.
Select Enabled on NVIDIA Reflex Low Latency
Under RENDERING Section
Select Use basic settings and slide the slider to Fastest if you are playing Dota on a low-end PC.
If you have a decent PC with a decent Graphics Card, select Use advanced settings and check all the options except Ground Parallax and Vsync. Also, put Texture Quality, Effects Quality, and Shadow Quality to High or Ultra.
Best Dota 2 Audio Settings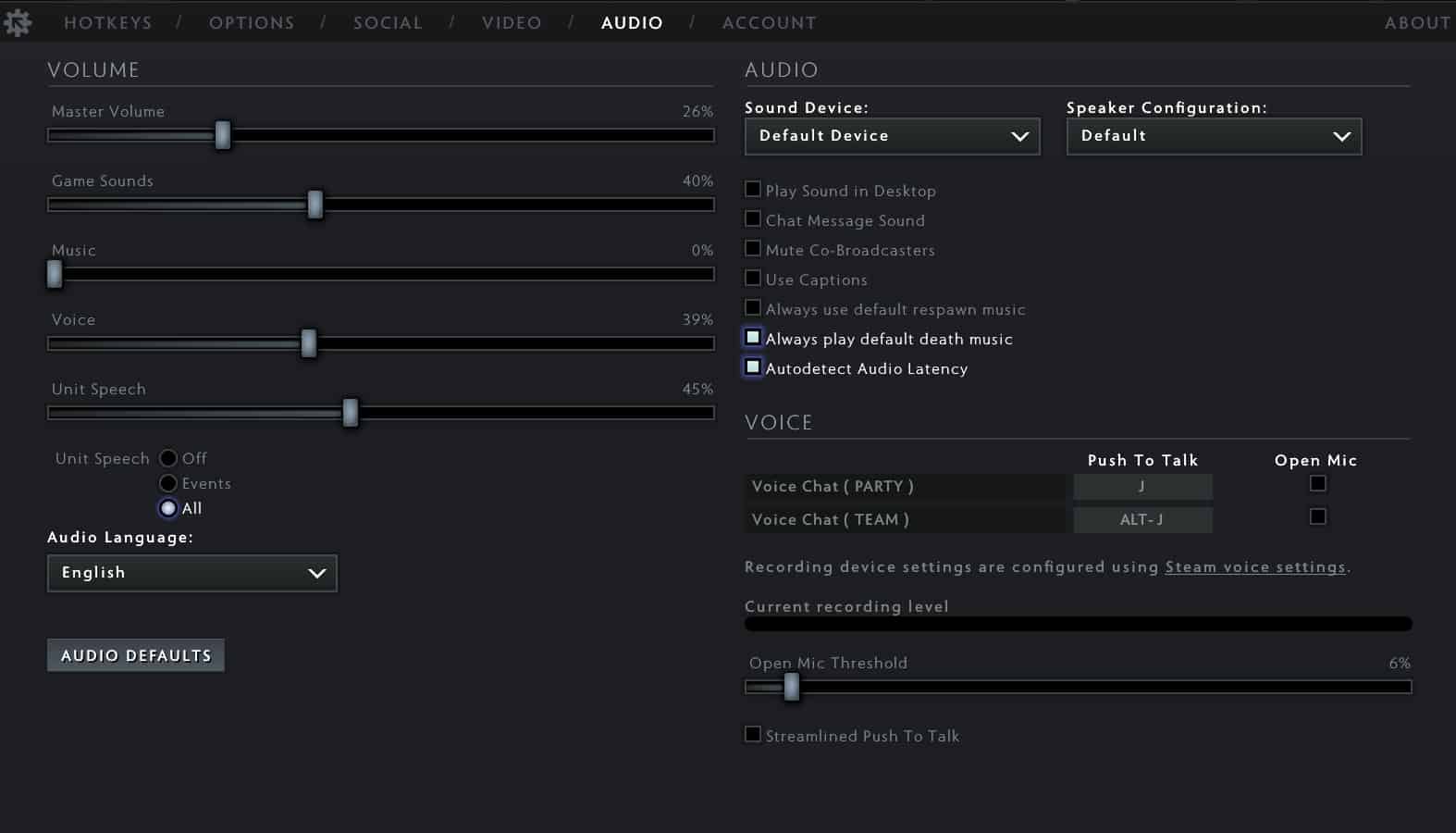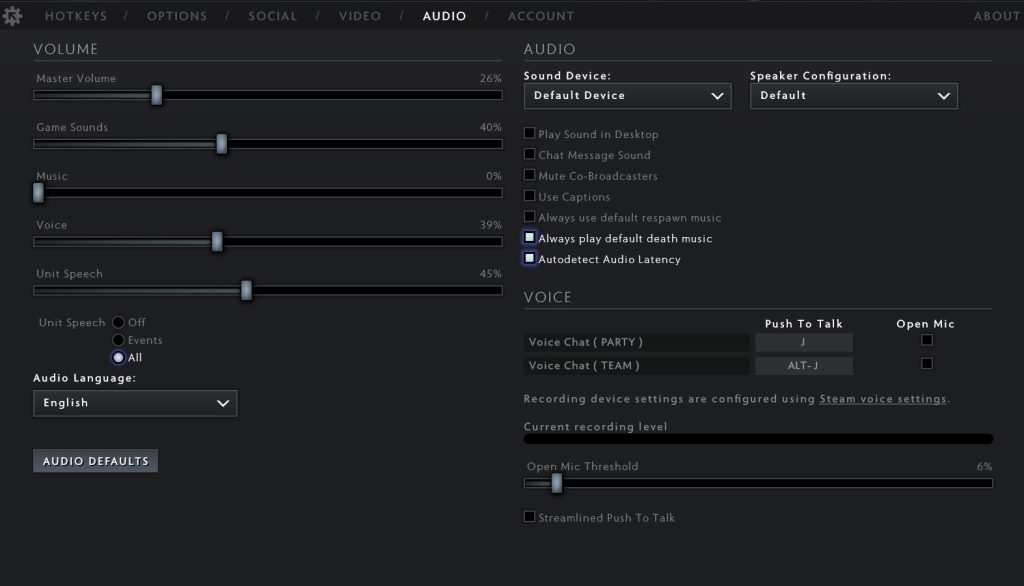 Under VOLUME Section
Adjust all sliders according to your preference. However, I'd suggest that you turn off your music since it just acts as a distraction.
Under AUDIO Section
Select Default Device as the Sound Device. Also, select Always play default death music and Autodetect Audio Latency options.
Keep other options as it is.