DotA has a rating system for every player which essentially gives them a score based on how well they behave and perform in their matches. After every 25 matches, DotA conducts a summary of the player and gives them a rating between 1 and 10,000.
This rating is called the Behavior Score and is used in your matchmaking to match you with people having similar scores as you. In theory, the higher your behavior score, the better teammates you'll get in your matches.
However, at the end of the day, this is just a measuring system and it doesn't guarantee that you'll get good teammates in every game.
If you are looking to check your behavior score, you can do that by going to your profile and clicking on Conduct Summary.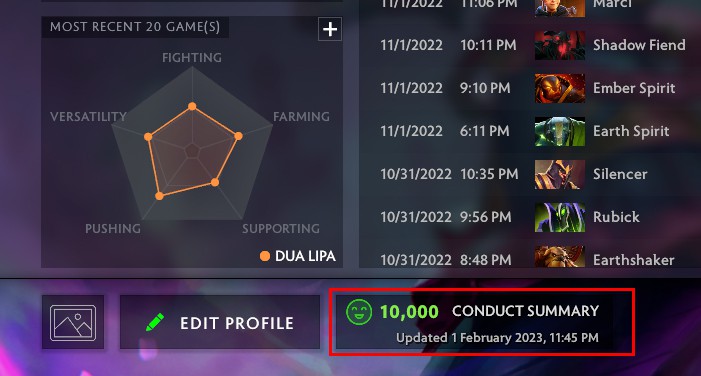 Disadvantages of Having Low Behavior Score
Many people don't believe that their behavior score plays a big role in their matchmaking but that's not actually true.
Having low behavior scores is tied to longer queue time, being paired up with toxic teammates, and even worse, sending players to low-priority mode.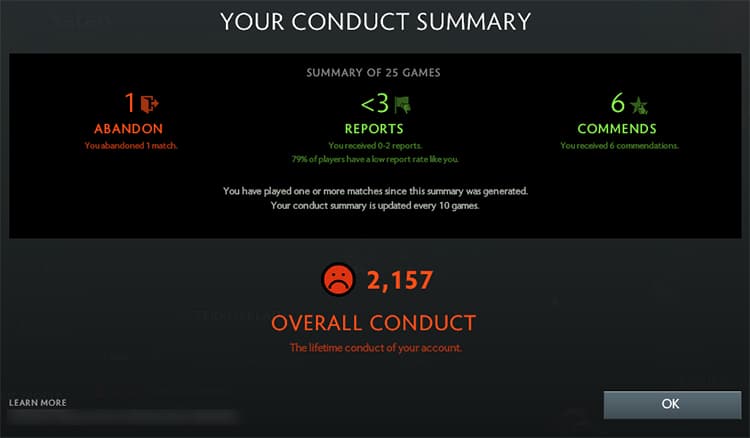 Your behavior score is updated after every 25 games and it is based on how you behave in those games. Players usually get low behavior scores when they receive multiple reports for either being too toxic or abandoning their games.
How to Increase Your Behavior Score?
If you want to increase your behavior score then you should know that it just doesn't happen overnight. It's also not possible to go from having a 1k behavior score to 8k in your next "Conduct Summary."
Given that your gameplay becomes better and sportsmanship increases, your behavior score will gradually start to go up and may soon even reach 10k. Here are all the things that you can do to increase your DotA 2 behavior score:
Mute everyone at the start of the game and don't use the voice chat unless it is very important.
Be nice to everyone in the chat and always try to maintain Positive Mental Attitude(PMA).
Try not to abandon your games no matter how impossible they seem to win.
Invite your friends to your party and search for games in the party queue.
After the game, ask everyone to swap commends.