Lag can be the unexpected element that keeps you out of the Champion's circle at the end of an APEX Legends game. Just a second of unexpected delay before things snap forward can break your concentration and give the enemy the time they need to get you in their crosshairs. However, most problems that create lag in APEX can be fixed with simple changes.
Whether your lag is caused by PC issues, game settings, or internet problems, there should be an approach that works. You know your setup best. Choose which fixes you try based on which issue you think is causing your problem.
Update Your PC and Game
Before you try to fix your settings and make adjustments, ensure that your graphics card, operating system, launcher, and APEX are up to date. Sometimes updates fix problems like lag and help the game run more smoothly.
Network Problems
To address network problems introducing lag to your gameplay, start by trying to restart your computer and network connection. Sometimes that gives you just enough refresh to fix or solve issues in the internet connection you weren't aware of.
Start by flushing your DNS, and then restart your PC and network.
Press the Windows + R keys to open the Run Dialog box.
Type cmd and press Ctrl+Shirt+Enter.

Click Yes to confirm that you want to use the Command Prompt as an administrator.
Type the following commands, one after the other. Press Enter after adding one, and then wait for it to finish before moving on to the next.

ipconfig /flushdns
ipconfig /registerdns
ipconfig /release
ipconfig /renew
netsh winsock reset


Power off the computer once the tasks are complete.
Unplug your modem and router from the wall. If you're using a single combination unit, you can do the same steps but once instead of twice.
Wait for two minutes.
Plug in the modem and wait until the lights indicate the connection is working and transmitting like normal.
Plug in the router and wait until it indicates it's working correctly.
Restart your computer and try APEX again.
If you're still experiencing lag, check your router and consider forwarding some ports to make APEX run more smoothly. Here's how,
Sign into your router administration dashboard. If you haven't done it before, the information may be on the router's label or in the starting documentation. There is a default user ID and password you should change the first time you access the dashboard.
Look for Advanced Options or a Port Forwarding option. Sometimes it will be nested under Advanced or Admin options.
Add the following ports for the PC.

TCP: 1024-1124, 3216, 9960-9969, 18000, 18060, 18120, 27900, 28910, 29900
UDP: 1024-1124, 18000, 29900, 37000-40000

Add the following ports for XBOX.

TCP: 1024-1124, 3074, 3216, 9960-9969, 18000, 18060, 18120, 27900, 28910, 29900
UDP: 88, 500, 1024-1124, 3074, 3544, 4500, 18000, 29900, 37000-40000

Add the following ports for PlayStation.

TCP: 1024-1124, 1935, 3216, 3478-3480, 9960-9969, 18000, 18060, 18120, 27900, 28910, 29900
UDP: 88, 500, 1024-1124, 3074, 3544, 4500, 18000, 29900, 37000-40000

Save your changes and exit the dashboard.
Check to see whether APEX is running better now.
Change Your Location
APEX lets you select which data center you want to connect to when you play. Sometimes swapping to a different one – even if it doesn't seem optimal – will improve how the game works.
If you don't see the Server button on your Home screen, you'll have to make it active.
If you're playing on PC, just wait for two minutes on the Start screen and then press ESC twice.
If you're playing on a console, go to the Start menu and stay there for two minutes. Choose Accessibility settings, and then exit those settings. Use the R3 button on PlayStation or the right thumbstick on XBOX to expose the Data Center menu.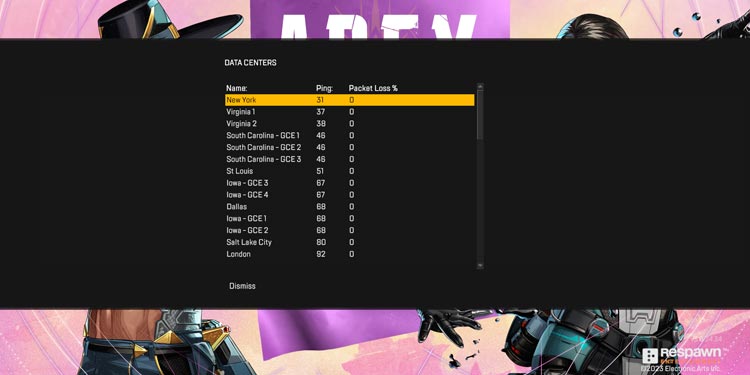 To choose a new data center, look at your connection. Choose ones that look to have a strong connection but isn't the one you're on. Try playing a match to see whether the new servers work better.
Changing APEX Settings
You can also adjust your settings to reduce lag, though it may have a negative impact on the graphics and how well you can see things around you. Here are some settings to adjust that might impact how smooth your gameplay is.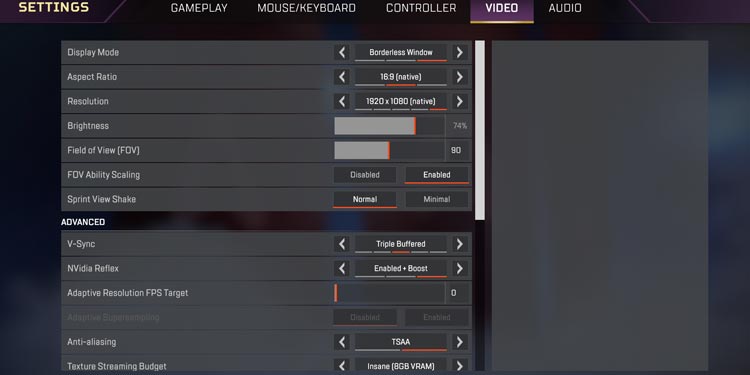 Change your game to run on Fullscreen rather than one of the windowed options.
Turn down the sprint shake selection to Minimal.
Turn on V-Sync. It can help with lag but may worsen the graphics, and you'll see more screen tearing. If you'd rather leave it off in the game, open your Graphics Control Panel on your PC and put V-Sync into fast mode if your computer supports it.
Make sure NVIDIA Reflex is set to Enabled + Boost. If available, you can also turn on Ultra Low Latency in your PC Control Panel.
Try the different Anti-Aliasing settings available to see which you prefer. Sometimes getting rid of it can help, but it might also be too frustrating to play without it depending on your graphics.
Make sure the Texture Streaming Budget is set to the same amount of memory that your GPU has or less. If you have it set higher, you may experience more lag issues.
Adjust your settings to be lower. The Sun Shadow Coverage and Detail, Volumetric Lighting, Dynamic Spot Shadows, Details, Impact Marks, and Ragdolls should all be turned down. Try them in different configurations in various matches to find the sweet spot for your machine. Sometimes you can get away with having higher Model Details and less lag just by reducing your Shadow settings, for example.
While some people will recommend setting an Adaptive Resolution FPS Target to maintain your frames at the expense of resolution, it isn't worth it. Instead, you should adjust your settings to be as good as they can be.
You should also set APEX to run as administrator, especially if you're using chat apps or streaming your gameplay. Changing a few of the startup launch options will also help.
Navigate to the APEX executable file in APEX's installation folder. It should be called r5apex.exe.

Right-click r5apex.exe and select Properties.
Check the Run This Program as an Administrator box on the Compatibility tab.

Click Apply.
Click OK.
Open the launcher you use for the game, and then navigate to its properties. You're looking for a setting that lets you create Launch Options.
Add -high +fps+max Unlimited to the launch options. It will uncap the frame rate and make the game run on high priority.
Doing these may help APEX reduce some of its lag.
Changing PC Settings
Adjust a few things to help improve your APEX performance and cut lag.
Make sure you aren't using overlays that aren't necessary. Overlays like the Steam overlay or NVIDIA overlay may negatively impact your game's performance.
Use a high-performance power plan on your PC when APEX is active. Eco plans and plans meant to preserve battery life don't give as much performance as a game like APEX needs.
Turn off Full-Screen Optimization. Navigate to Properties on the r5apex.exe file, choose the Compatibility tab, and check Disable Full-Screen Optimization. Save your settings.
These minor tweaks can make your gameplay much more smooth.
Troubleshooting the Game Files
Sometimes your game needs a repair or to have corrupt files replaced. You can do this without a full reinstall to save time, though sometimes a complete reinstallation is required.
On Steam:
Navigate to your Steam Library and right-click on APEX Legends.
Click Properties and then Choose Game Files.

Click Verify Integrity of Game Files.

Wait for the process to complete and try relaunching APEX.
On EA App:
Navigate to APEX in your collections.
Click the three-dot icon on the game listing.

Click Repair and wait for it to finish.
Now try playing again to see whether it's working correctly.