Most Fortnite errors are easy to fix, and this is no exception. Whenever you see the "Failed to Download Supervised Setting" error message, it means there's a random bug on your system, network, or game.
You'd see the error on a screen when opening the game. The notification will give you no other option but to close the game and open it again.
Generally, a simple system restart can get your game back in shape. Besides, let's find out how you can fix this error message.
Check the Server Status
The Fortnite/Epic Games servers could be facing issues. The servers become unstable during peak hours or around new updates.
Additionally, Epic Games may be fixing bugs or disabling the servers for maintenance.
You can verify the state of the servers like so:
Open your web browser
Open the Epic Games server status page
Check Fortnite's status as well as "Epic Games Online Services." Both categories must be "Operational." Otherwise, you'd have to wait until it is.
You can also keep tabs on Fortnite's social media to see if there're any other errors in the game:
Reset Your System and the Router
What Fortnite needs in these cases is a system refresh. A restart erases buggy temporary files in the cache, closes background apps and processes, and gives your hardware a fresh restart after hours of work or play.
Regardless of the platform you're using to play, close the game, and turn the system off. While the system is off, do this:
Go to your router or modem
Turn off the router or modem
Disconnect all of its cables
Wait for 10 seconds
Connect back all of its cables
Turn the device back on
Restarting the router or modem refreshes IP conflicts on your devices and lets the device rest from overheating and other environmental threats.
Anyhow, after you reset your system (PC, console, or smartphone) and the router, go back to your system, turn it back on, and test Fortnite again.
Verify the System Files on Epic Games (PC)
You can use Epic Game's verification tools to fix potential corruption in the game files. Here's what you can do:
Open Epic Games
Click the Library tab
Click the options icon ("…") icon beneath Fortnite
Click Manage
Click on "Verify" next to "Verify Files."
Epic Games will re-download corrupted files and let you know if it fixed anything.
Update Epic Games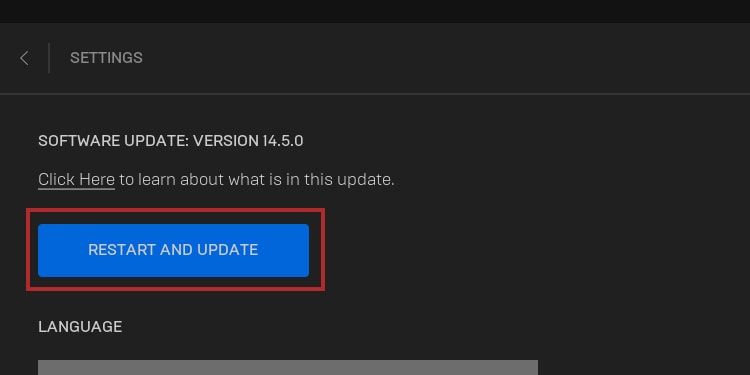 You can play while the launcher is not up to date, and it causes random errors.
To check if you need a launcher update, follow these steps:
Open Epic Games
Click your profile icon at the top
If there's an update available, there's going to be a "RESTART AND UPDATE" button next to Settings. If this is the case, click it
Follow the instructions to update the launcher
After you update Epic Games, try playing Fortnite again.
Update Fortnite (PC)
Epic Games auto-updates games, but if you disabled the option, that might be the cause of your troubles.
Back on Epic Games, click on your profile icon
Go to Settings
Scroll down and expand Fortnite
Check "Auto-update Fortnite."
Close Epic Games. You can right-click its icon on the taskbar and select Exit
Open Epic Games again
If Fortnite requires an update, you'd see "Update" on the left side, rather than "Launch." Click it, and wait until the game updates.
After the game updates, launch it.
Here's a video tutorial: