Fortnite continues to be the most successful live-service game available. We play it, you play it, and it seems everyone else does. Do you want to be competitive against everyone else, though? Then let's check ways to fix Fortnite lag on PC. 
Because it's a multiplayer game, the quality of your experience depends on your bandwidth. The faster your connection is, the faster the game responds to your input, and vice-versa.
Fortnite lag can break your chances of winning or enjoying a game. Luckily, we know ways to lessen the lag without changing your internet service provider or internet speed.
We're tweaking some settings on your Windows PC to improve connectivity. However, it would be best to have at least 6Mbps download and upload speeds. Otherwise, you won't see a significant upgrade.
Why Does Fortnite Have Lag?
If you can pinpoint why Fortnite lags on your PC, you may fix it quickly. Fortnite has low graphical demands and high optimization for computers. So, lag is not as common as you'd think. That said, we know of the common causes for lag:
Your PC doesn't meet Fortnite's graphic requirements
Outdated Windows
Outdated GPU drivers
Slow or unreliable internet
Outdated Epic Games launcher
Outdated Fortnite App
Corrupted Fortnite files
Fortnite servers are down
Misconfigured graphics settings
As you can imagine, these causes are easy to manage. We don't need to change your internet speed, but if you still face Fortnite lag spikes after the changes, you might have to.
How to Fix Fortnite Lag on PC?
Let's run down the fixes to minimize Fortnite's lag. The solutions range from updating your GPU drivers to tweaking the in-game settings and adding a public DNS to your PC.
You recommend completing the entire troubleshooter to ensure the best possible result.
Check Fortnite's Minimum Requirements
First, let's start by checking your game's minimum requirements:
CPU: Intel Core i3-3255 3.3GHz or equivalent (2 cores)
RAM: 4GB
Storage: 16GB HDD
GPU: Intel HD 4000, Intel Iris Pro 5200 or equivalent (2GB VRAM iGPU)
OS: Windows 7/8/10 64-bit
Then, the recommended specs are: 
CPU: Intel Core i3-3255 3.3GHz
RAM: 8GB
Storage: 16GB HDD
GPU: NVIDIA GTX 960 / AMD R9 280 or equivalent (4GB VRAM)
OS: Windows 10 64-bit
If your PC doesn't meet these specs, and you can't play the game after lowering the graphics, you may try upgrading your PC. Generally, changing the RAM is the easiest and fastest. Next, you can change your old GPU for a slightly better one.
The launcher will let you know if it is found and fixes any problems. In any case, continue with the follow-up steps.
Use Ethernet Cable
You can start by connecting your PC to the router via an Ethernet cable rather than Wi-Fi (If possible). This simple solution will give you the total bandwidth without significant interruptions. If it's not possible, though (perhaps it's too slow), skip it.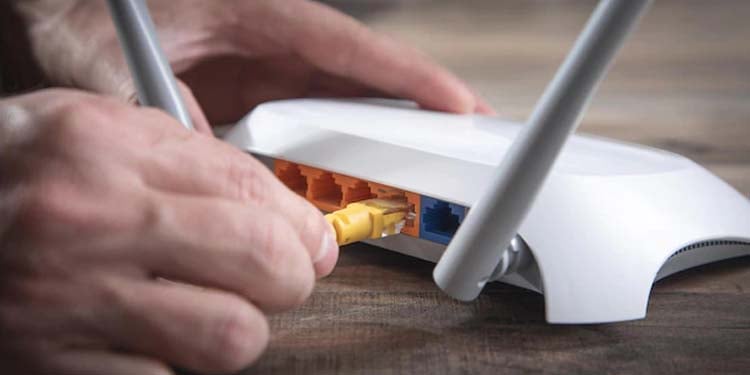 Check Fortnite Servers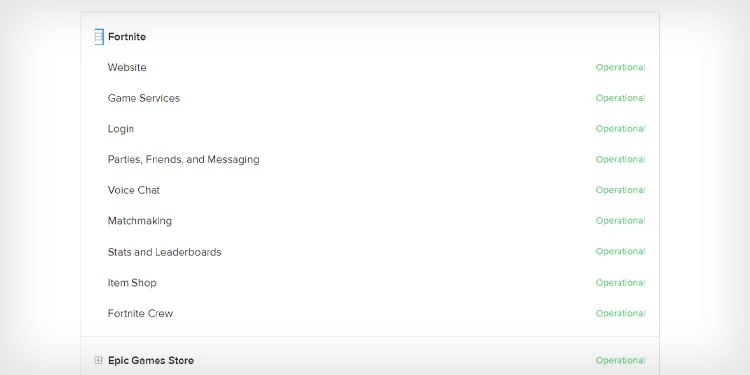 The problem may be that the Fortnite servers are down. Epic Games may be working on the serves as regular maintenance, or there might be an issue.
You can check the server on this page. If the servers are down, wait until they go back up.
Try Public DNS
Your internet may be slow or unreliable (your connection gets interrupted often). Whatever the case, you may test the speed on this site.
If the speed is above 6Mb (download/upload), then changing a public DNS can make a difference.
Tech companies share these DNS addresses for free to improve worldwide connections. A DNS translates servers and IPs into something devices can understand. A better DNS can make things faster.
Here are some of the best public DNS available for free:
| | | |
| --- | --- | --- |
| Server | Primary DNS | Secondary DNS |
| Cloudflare | 1.1.1.1 | 1.0.0.1 |
| Google | 8.8.8.8 | 8.8.8.4 |
| IBM Quad9 | 9.9.9.9 | 149.112.112.112 |
| OpenDNS Home | 208.67.222.222 | 208.67.220.220 |
| SafeDNS | 195.46.39.39 | 195.46.39.40 |
| DNS Advantage | 156.154.70.1 | 156.154.71.1 |
| Dyn | 216.146.35.35 | 216.146.36.36 |
| NTT | 129.250.35.250 | 129.250.35.251 |
| Verisign | 64.64.6 | 64.6.65.6 |
| Level3 | 209.244.0.3 | 209.244.0.4 |
Changing the DNS is the same on Windows 10 and 11. Here're the steps:
Click the Windows button on the keyboard.
Type "Control Panel."
Open the Control Panel.

Go to Network and Internet on the left.
Click on "Network and Sharing Center" on the right.

Next, click on "Change adapter settings" on the left.

Right-click your network and click Properties.

Left-click "Internet Protocol Version 4 (TCP/IPv4)" to open the advanced internet settings.
Check "Use the following DNS address" at the bottom.
Type a public DNS. We choose Google's option:
Primary: 8.8.8.8
Secondary: 8.8.4.4

Update Windows
The first step is updating your Windows PC. Otherwise, it presents compatibility issues with Fortnite.
Click on the Windows button on your keyboard.
Type "Windows update" on the Windows search bar.
Click "Windows Update settings."

Click on "Check for Updates." You'd see a "Download and install" button if there's any update available. Click it as well.

If Windows finds a new update, it will prompt the "Download and update" button. Click it, and your PC will download it. When the download finishes, it will ask you for a reboot.
Update GPU Drivers
Now, let's update your GPU drivers. Outdated drivers will translate into slower performance in games.
Let's update the drivers via the Device Manager:
Click on the Windows button again.
On the search bar, type "device manager."
Click "Device Manager" to open the tool.

Find the "Display Adapters bracket. Then, click on the arrow at the left to expand the category.

Right-click the GPUs you find on the list. It may be a single one (either Intel or AMD) or two (the second one may be an Nvidia or an AMD piece).
Once you right-click one of the GPUs, select Update Drivers.

Then, select "Search automatically for drivers." Your PC will let you know if there's an update available and download it.

Repeat the process with the other GPU on the list. We're doing this because we're not sure which GPU you have or which one is running Fortnite.
We can also update the GPUs by using the proprietary software of the GPU you're using. Depending on the units you saw on the Device Manager, download one of these programs:
Whichever you need, the process is going to be the same. You must use the page's tools to match your GPU model with a driver program.
Then, download and install the driver, and open it. Each program has an easy way of identifying driver updates and downloads.
Update Epic Games Launcher
To keep Fortnite in top-tip shape, you must keep the launcher up to date. That should happen automatically, but if your internet is slow or unreliable, here's the way to update it manually:
Open Epic Games.
Go to your profile icon at the top right.

You'd see an update next to the Settings button if there's an update available. It would be an "Update Available" button, and you'd have to click it.

Finally, click on "Restart and Update."

Update Fortnite
Similarly, let's update Fortnite:
Go back to the Epic Games launcher.
Click on the profile icon at the top right.
Go to Settings.

Scroll down until you find the Fortnite category.
Check "Auto-Update Fortnite. "

Restart the launcher.
Verify Fortnite
The last part of the tutorial within the Epic Games launcher is verifying the game. If there's any corruption on its files, it may cause lag.
Luckily, we can fix potential corruption with the launcher's tools:
Go back to Epic Games.
Go to the Library on the left.

Click the three-dots icon ("…") on the game.
Click on "Verify" and wait for the process to finish.

Adjust Fortnite Graphical Settings
Your game's performance depends on the GPU you're using (which you already saw on the Device Manager).
So, while you're in the game, go to Settings and the Video tab.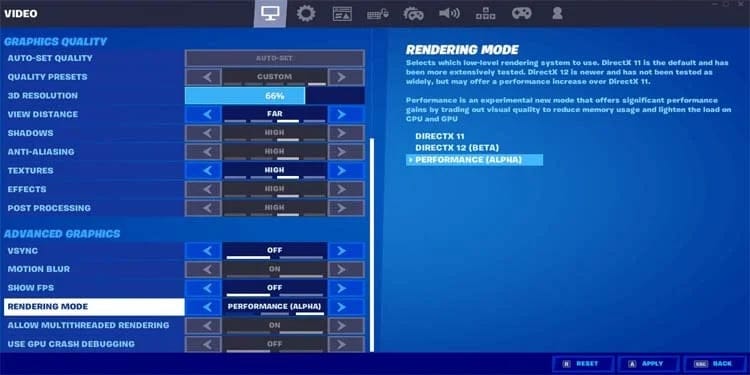 Here're some of the settings you can lower:
Textures: Low
Effects: Low
Post-processing: Low
Shadows: Off
Anti-aliasing: Off
View distance: Medium
V-Sync: Off
Motion Blur: Off
Rendering Mode: DirectX11
Ray Tracing: Off
Regardless of your PC hardware, these settings will boost Fortnite's performance by delivering more FPS.