As you progress through the Act 1 of the main campaign in Diablo 4, you'll come across Vhenard. She's a campaign boss you have to defeat in order to progress through the story.
She is also the first boss that many players, especially beginners and newcomers, have deemed very difficult to face.
Challenging as it might be, defeating this boss is simple if you learn her attack patterns and develop the right strategy.
You cannot deal damage to Vhenard directly as she surrounds herself in a bubble that makes her immune to all sorts of damage. Instead, you'll have to take out her minions to defeat her.
Let's discuss how she behaves in combat.
Attack Pattern
Learning her attack pattern is the best way to strategize your move. Vhenard basically has two sets of attacks. I.e., summonings and spells.
During the entire boss fight, she'll spawn three different types of enemies, Hell Spawns, Hell Stormers, and the Pit Lord. You can predict the summoning of the enemies by the red glowing markers on the ground. The number of summoning will increase as you continue through the multiple stages of the boss fight.
Her second move is the spinning spell move. It's a line of magic with two energy orbs at both ends. You'll take damage if you come in contact with the spinning orbs at the sides. The line of energy between the orb is safe. Getting hit by this spell will make you vulnerable, so do be careful.
The Bossfight
Besides these attacks, she also has a three-tier health bar. Depleting a tier of health bar will progress the battle into the next phase.
There are three phases in total, and every phase becomes increasingly difficult as she adds slight variation in her attacks.
Phase 1
The first phase is easy. She'll send out two Hell Spawns that you'll need to defeat in order to proceed to the next stage. You'll also have to dodge her spell during this phase, as getting caught will make you vulnerable.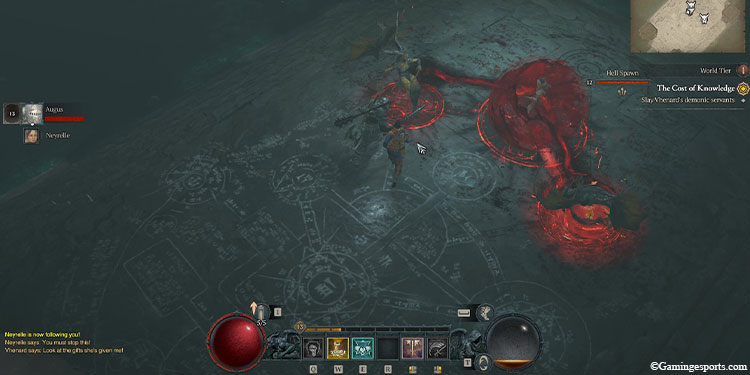 Defeating both of her spawns will deplete the first chunk of her health bar.
Phase 2
Now this is where things start to heat up. During the second phase, she'll summon multiple Hell Stormers in addition to three Hell Spawns.
And like before, she'll continue to use her spell, but her attacks would be more frequent this time around.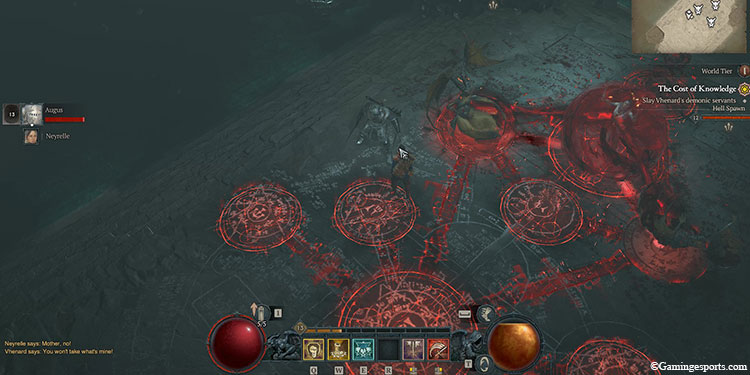 The arena will get crowded as there are more enemies in this phase. The best strategy would be to focus on eliminating the three Hell Spawns, as you'll only need to defeat them in order to proceed. You can completely ignore the Hell Stormers.
However, if you're playing on higher difficulties, focus on quickly dealing with the Hell Stormer first. Ignoring them for too long can be fatal as they can kill you unsuspectingly.
Defeating all three Hell Spawns will deplete the second portion of her health bar.
Phase 3
The last phase is the most hectic one which the majority of new players fail to complete. All hell breaks loose as she summons five Hell Spawns, numerous Hell Stormers, and a Pit Lord. On top of it, she'll also start using her spell attacks very frequently.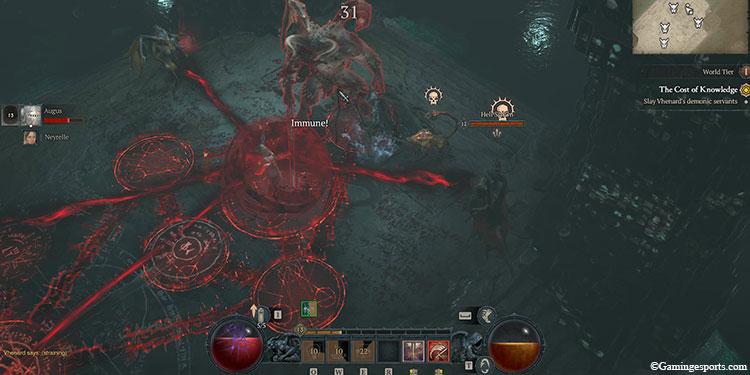 The strategy remains the same here; you'll have to kill all five Hell Spawns in order to defeat her.
If you're starting to get overwhelmed by the sheer number of enemies in the arena, then focus on finishing off the smaller enemies first. But as soon as you can get a breather, focus your attention on eliminating the Hell Spawn immediately.
If you take too long to kill the Hell Spawns, she'll continue spawning even more Hell Stormers and Pit Lords.
The boss fight will conclude once you've defeated all five Hell Spawns. Any remaining enemies that you've ignored during the fight will disintegrate. You will also get a rare gear item along with some gold.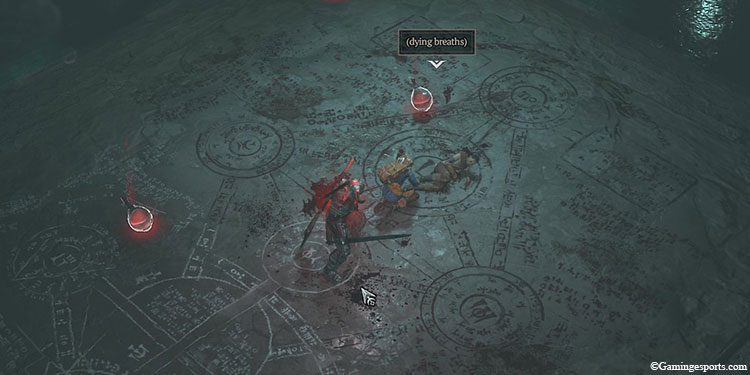 Tips and Tricks
The best way to defeat her would be ranged attacks as you can attack her while giving yourself enough time to dodge her projectiles.
Spell casters like Sorcerers and Necromancers or even the Rogue class can complete this boss fight easily, whereas melee classes like Barbarian and Druid might face a hard time.
If you're playing a melee class character, you should focus on using your crowd-control abilities to knock down or stun the enemies. Then, you can dish out as much damage as possible during this small time window.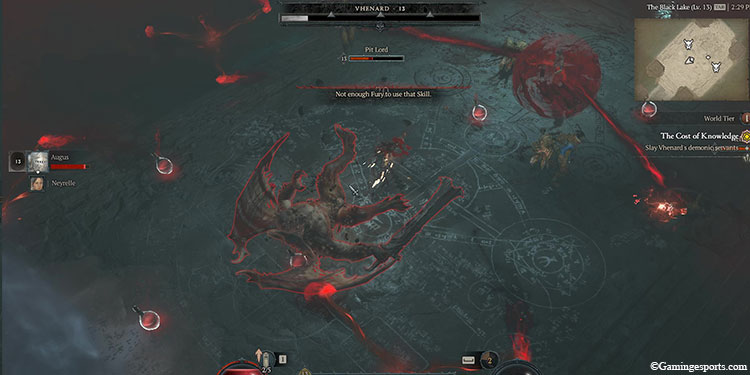 Here's a video where we've beaten Vhenard playing as the Barbarian class,