You might have accidentally inserted the wrong date of birth or want to enable various other features only available for those over thirteen. Under Children's Online Privacy Protection Act(COPPA), you cannot change your birthday if you are under thirteen. One requires parental guidance to change their age.
But there are some workarounds for those who are getting stuck at below thirteen. Changing your Birthday to over thirteen can result in many benefits including mesh unlocks on Roblox Studio, entering Experience that requires +13 accounts, login to the developer form, and many more. So, How do we change our birthday?
It's simple for a +13 Roblox account and a bit tough for those under thirteen. Nevertheless, we will guide you on changing the age on both accounts.  
Changing Birthday for Thirteen Age or Older Accounts.
You can simply go to your Roblox and change your birthday. Roblox will ask for your account password verification and Voila! You have just changed your date of birth on Roblox account. Let me show you the steps if you are still confused. 
Open the browser, go to Roblox's official website, and log in with your ID.
Click on the gear icon on the top right and select Settings.
 
Change your Birthday details and the Password Verification will pop up. 
Enter the correct password and click Verify.
Now change the date accordingly. 
Remember, changing your account below thirteen will get you a warning that it cannot be undone. Although I am an adult, I am changing my age to below thirteen for content purposes. We will be discussing more of this below.
Changing Birthday for Thirteen Age and Below Accounts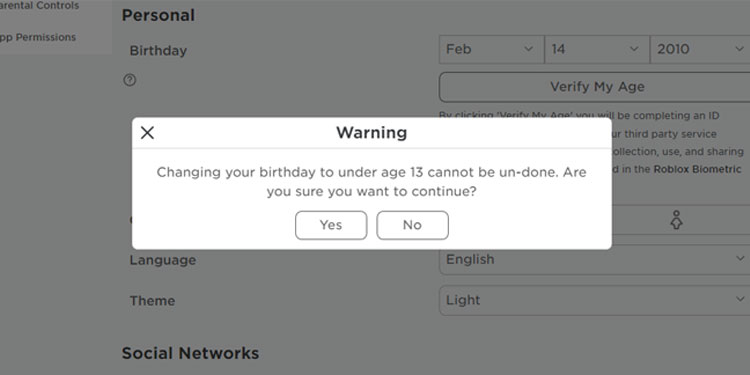 This is a tricky part because it has the probability of not working, depending on the message you are about to send to customer support. Yes, there is no other way but to contact customer support.
Many people have accidentally changed or put the wrong date of birth just for fun only to realize that it cannot be changed. So here are the things you should do to change your date of birth. 
Open the browser and go to Roblox customer support.
Fill out the Contact Information and Issue Details, Give a reason for changing your account birth date. If you are a parent, explain why your kid's date of birth is mistaken and wants to switch to the correct birth date.
Set the Type of help category to Chat & Age Settings
Click on Submit and go through verification.
After the Request Received window pop up, you will now receive mail on your account.

There is no other way except to reach out to customer support. There is another, however, it takes you to grow up and cross that thirteen mark, Roblox will automatically regard you as over thirteen.
Make sure to give a legitimate email address as you may be asked to verify your action via email.