Skyrim's no stranger when it comes to re-releases and adding new content with each release. It's one of the reasons why the game is still going strong even after a decade.
The recent release of the Anniversary Edition added a lot of content to the game, including fishing. The fishing mini-game started as a creation club content but has now become a part of the game.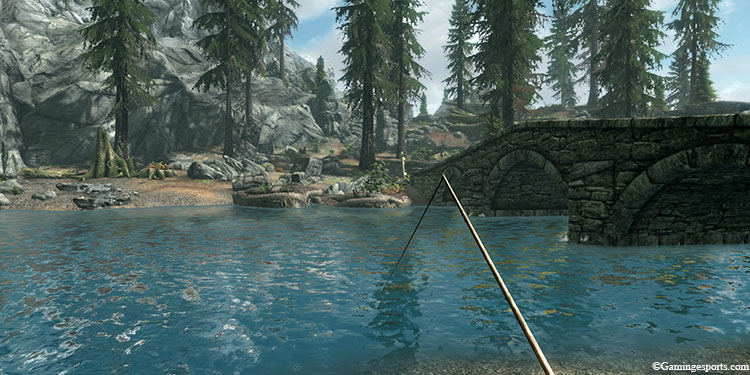 To start fishing, you'll need to get a fish rod and head to the designated fishing spot on the map. Then, cast your fishing line by interacting with the fishing supplies. We'll go over the details below.
Note: Although the fishing update is part of the Anniversary edition, you can download it for free if you already own the Special edition 
Step 1: Get the Fishing Rod
Before becoming an angler, you'll need to get yourself a fishing rod. There are multiple ways to obtain a fishing rod. You can buy a basic rod from a merchant, craft it yourself, or find it lying near a fishing spot.
However, To get the more advanced fishing rods, you'll have to progress through the fishing quest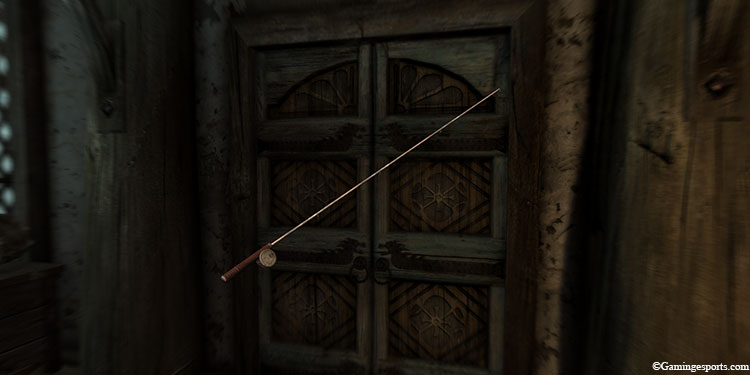 You can buy a basic fishing rod from Belethor's shop in Whiterun.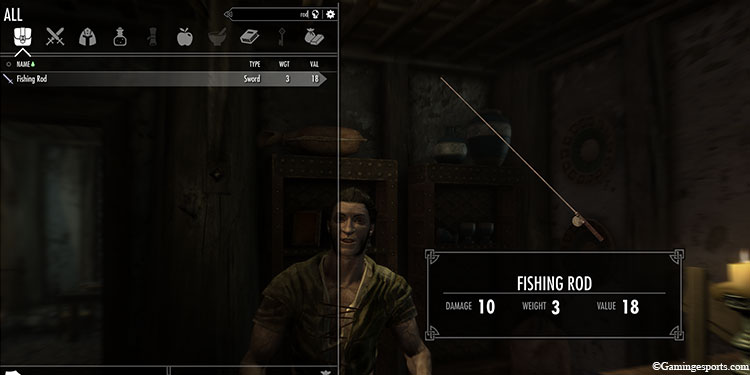 If you're looking to craft your rod, head to a blacksmith forge. It will cost you a single iron ingot and firewood to craft a basic fishing rod.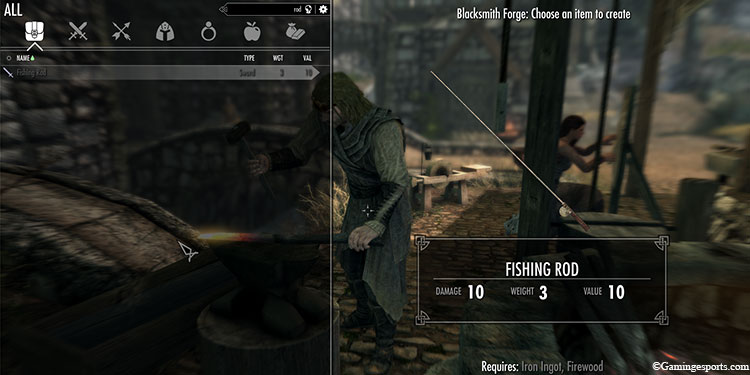 There's also a good chance that you can find a fishing rod lying near fishing sites.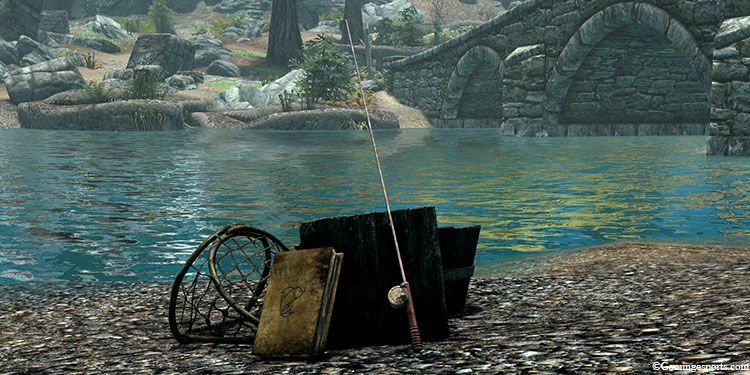 Step 2: Go to a Fishing Spot
Although there are a lot of water bodies like the rivers and lakes in Skyrim, you can't throw your fishing lines at random places. You're only allowed to cast your lines at designated locations where fishes actively spawn.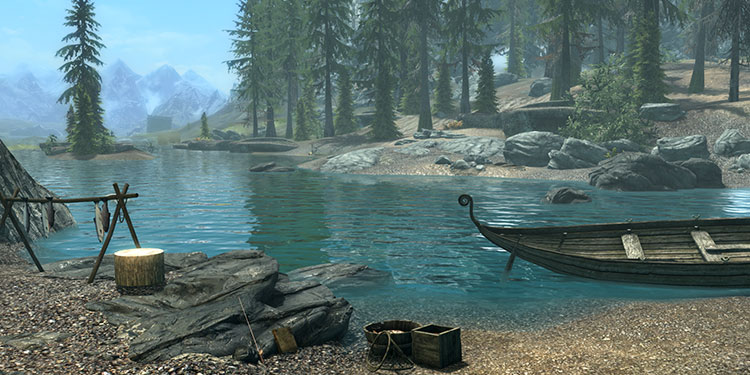 There are a whopping 70 different fishing locations in the game. This can make tracking every fishing location very difficult. Instead, you can buy fishing spot maps from vendors in the major cities.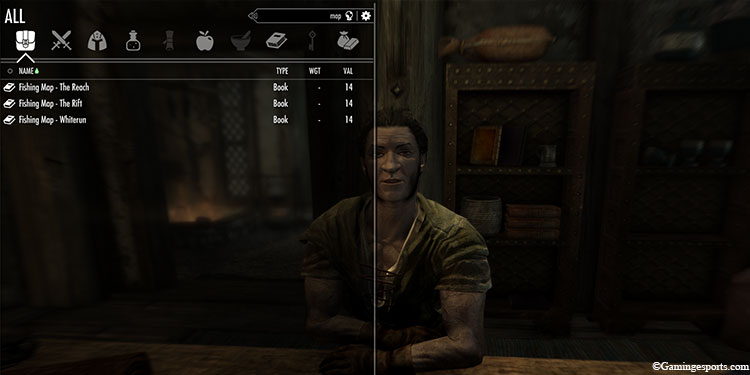 If you just want the most accessible fish spot, head to the bridge outside of Riverwood or at the campsite just below the Guardian Stones hill.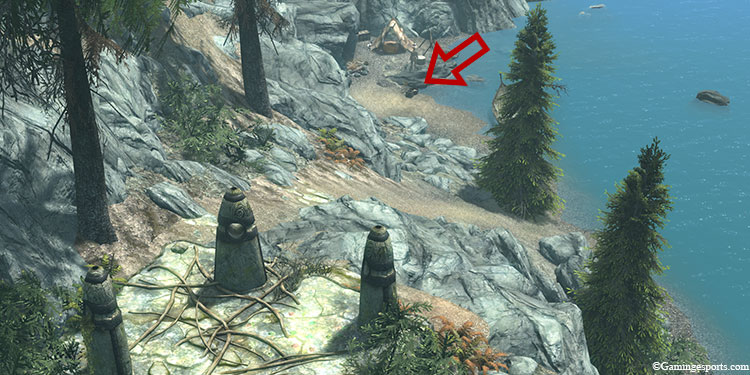 Step 3: Throw your Fishing Line
Once you've reached the fishing spot, equip the fishing rod on your character. Then, interact with the Fishing Supplies item to cast your fishing hook.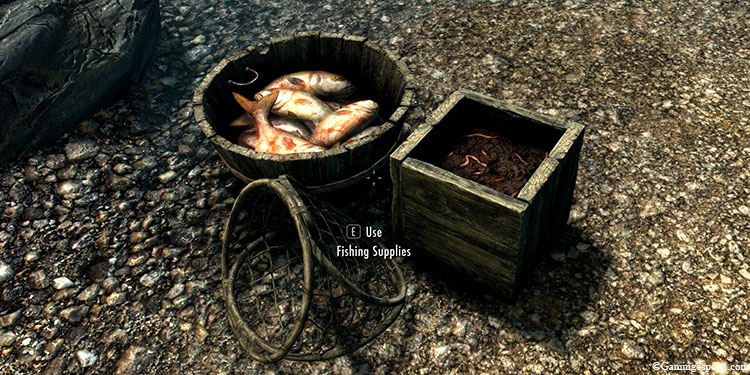 Pay close attention after you've thrown the fishing wire. Soon after you've thrown the line, there should be water splashes around it.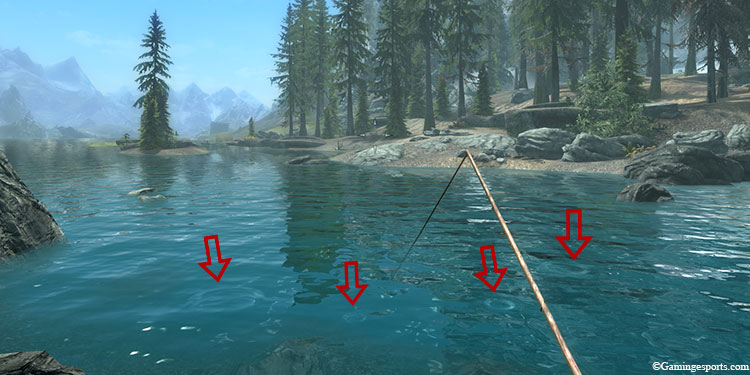 The lack of water splashes means no more fish are on that fishing spot. So you'll need to move to another site or wait for 24 in-game hours to replenish the fish spawns.
Step 4: Reel the Line
You must be patient after casting your line. Timing is critical to catching a fish successfully. Don't pull the line if the fishing hook dips frequently. You will often miss your catch if you do so.
Instead, reel the line only after it starts moving vigorously with water splashes. If there's no splash while you reel the line, you'll catch items instead of fish.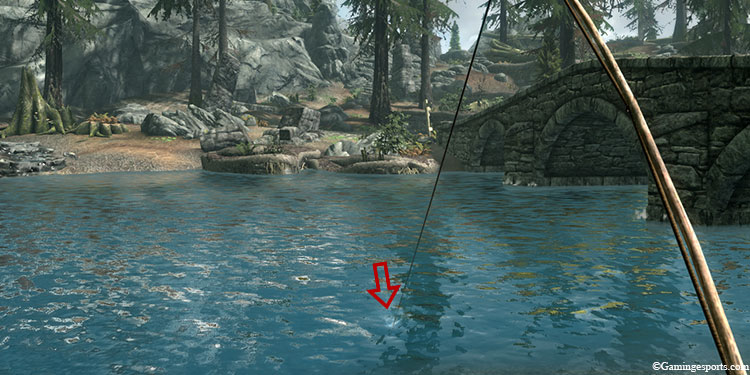 Types of Fishes
There are a total of 24 fish species in Skyrim. You can catch common and uncommon fish using the basic fishing rod or by hand. But if you're looking for rare catches, you'll need more advanced fishing rods and equipment. 
The list of all fishes and their respective locations are given in the table below:
| | |
| --- | --- |
| Fish | Location |
| Angler | At Pilgrim's Trench, use the Argonian Fishing Rod |
| Angelfish | Can be caught by hand at Ancestor Glade, |
| Artic Char | Pilgrim's Trench |
| Artic Grayling | North of the Wreak of Brinehammer |
| Angler Larvae | Pilgrim's Trench |
| Brook Bass | Can be caught by hand at Morthal's Harbor, near Mixwater Mill |
| Catfish | Lakes near Falkeath and Riften, Geirmunds hall |
| Cod | Windhelm harbor, near Bronze Water Cave |
| Carp | Solitude Harbor, River under Dragonsreach bridge |
| Direfish | In Embershard Mine, In Broken Oar Grotto |
| Glass Catfish | Pond in Great Lift at Aldtand, Blackreach |
| Glassfish | Great Lift at Aldtand, Blackreach |
| Goldfish | Mara's Eye Pond, Stony Creek Cave, Clearpine Pond |
| Juvenille Mudcrab | Near Gjukar's Monument, west of Broken Fang Cave |
| Lyretail Anthias | Can also be caught by hand in Evergreen Grove, use the Alik'ri fishing rod at Evergreen Grove |
| Pearlfish | North of Dawnstar, streams at Riverwood while raining |
| Pygmy Sunfish | Ancestor Glade, a hot spring near the Atronach Stone |
| Pogfish | Stream near Riverwood, stream outside Markath |
| Salmon | The most common fish, it can be caught everywhere |
| Scorpion Fish | Waterfall in theDarkfall cave, use the Argonian Fishing Rod |
| Slaughterfish | The Lady Stone, near the Hjaal River |
| Spadefish | Ancestor Glade, Eldergleam Sanctuary, Evergreen Grove |
| Tripod Spiderfish | Darkfall cave, Broken Oar Grotto, Embershard Mine |
| Vampire Fish | Around Castle Volkihar, Dimhollow Crypt. |