Firewood is a miscellaneous resource that has very specific uses in the game. You can either sell it to Mill owners or Inn keepers to get a steady supply of gold coins or use it to craft items like Arrows and Camping supplies.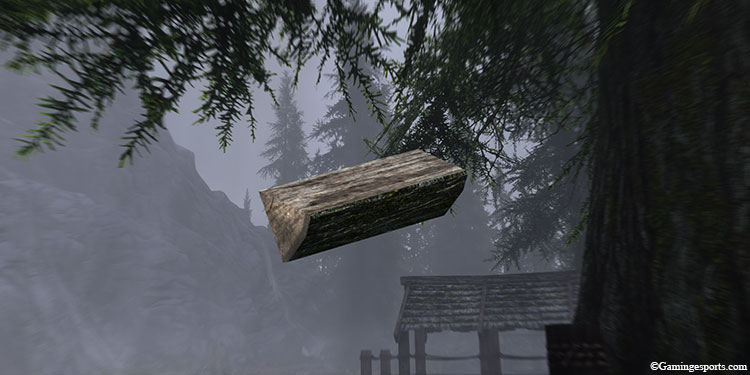 Furthermore, selling Firewood to the Lumber Mill owner will also give you permission to use their Mills. Having access to the Lumber Mills can be very useful, as it essentially gives you free Sawn Logs. 
So, if you're looking to get some Firewood, you'll need to get a woodcutter's axe and use it on the woodchopping block.
Let's discuss in detail.
Step 1: Get a Woodcutter's Axe
Before you go chopping firewood, you'll need to collect the Woodcutter's axe. Now unlike other items in the game, you cannot buy the axe from any merchants or craft it yourself at the forge.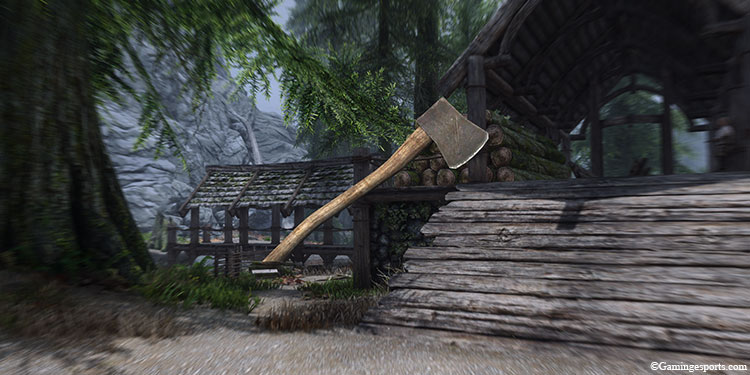 Instead, you must look for them at very specific yet easily accessible locations. Usually, you'll find them near Lumber Mills or Woodchopping blocks.
Here's a list of some of the most accessible locations,
Riverwood
It's the first village that you encounter in the game, which also happens to have multiple woodcutter axes in it.
You can find one lying on the table beside the Lumber mill.
There is one by the fireside in Faendal's house.
There's another one in the basement of Alvor and Sigrid's House.
Embershard Mine
This mine is located southwest side of Riverwood. Here, you'll find a woodcutter's axe right outside the Embershard Mine.
Step 2: Use the Woodchopping Block
After getting the axe, you'll have to find the wood chopping block to start chopping up some firewood.
Simply interacting with the chopping block will play the chopping animation three times, adding a total of six Firewoods to your inventory.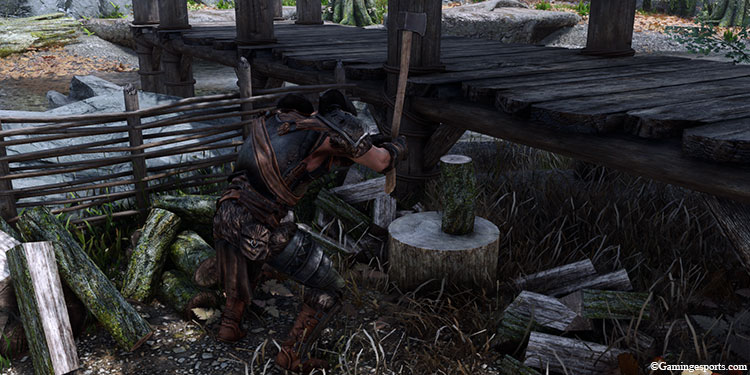 Like the axe, chopping blocks can also be found near lumber mills or inside towns and villages. We've listed some of the convenient locations below.
Riverwood
In Riverwood, you'll find three chopping blocks by the Lumber Mill. You'll often find Faendal or Gerdur using the blocks.
One's located by the pile of logs. 
Another one's next to the ramp.
There's one more next to the Grindstone. 
Whiterun
There are two wood chopping block locations inside Whiterun.
The first one is by Belethor's General Goods store, where you'll often find Sigurd using the chopping block.
The second location is by the Bannered Mare. More specifically, it is located on the front left side of the inn.
Use Console Command to Get Firewood
If you're playing Skyrim on the PC, you can use the Console Command to add Firewood directly to your inventory. To use the Console menu, press the tilde key (~) on your keyboard. Then,
Type in player.additem 6F993 <number of Firewood needed> and press the Enter key. For example, if you need 20 pieces of Firewood, you should type player.additem 6F993 20.
Exit the Console menu by pressing the tilde key again.
Refer to our video guide below for more explanation.
Is There a Faster Way to Get Firewood?
Unlike mining, there really isn't a way to speed up the wood-chopping process. However, you can yield double the amount of firewood at the same time with a little help from your follower. Let me explain.
So in this method, you'll be chopping firewood while simultaneously commanding your follower to chop firewood for you as well.
By the time you're both finished, you can collect the firewood from their inventory, giving you double the amount of firewood.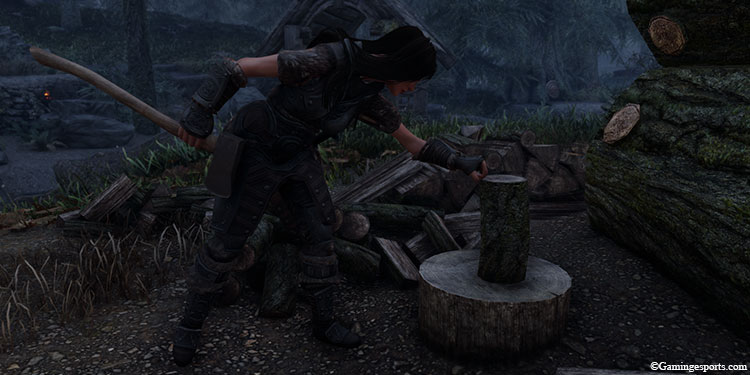 Since you and your follower will be chopping wood simultaneously, you'll need to find a location that has two chopping blocks in close proximity.
Luckily, there is such a place in the game. i.e., Riverwood. Let's put this plan into motion.
First, get yourself a woodcutter's axe and a follower. You don't need to give your follower an axe.
Head to Riverwood and locate the chopping block.
Speak with your follower and choose the "I need you to do something for me" dialogue option.
Assign your follower to use the chopping block.
Move to the adjacent block and start chopping firewood as well.
Repeat the process as needed, and then collect the firewood from your follower's inventory.