The guards in Skyrim are very diligent at their work. If you're caught pickpocketing or accidentally hitting a chicken, they will hunt you down and make you pay for it.
The only way out is to either pay the bounty, stall it for a while or serve jail time.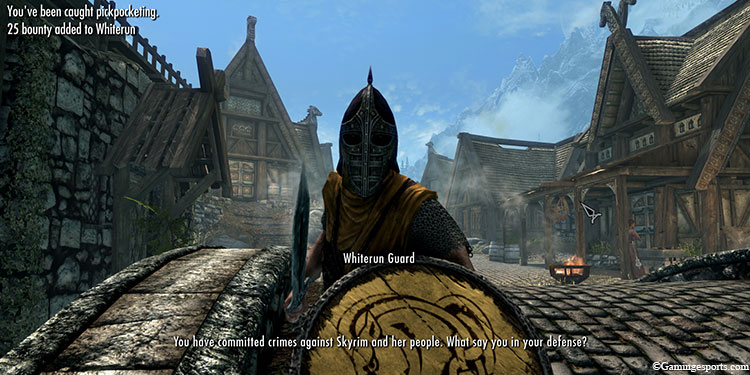 The bounty system in Skyrim is a familiar game mechanic where every crime you commit adds a bounty to your name.
The amount of bounty will depend on the severity of the crime. Crimes such as lockpicking have the lowest bounty of 5 gold, whereas a murder will raise the bounty to 1000 gold.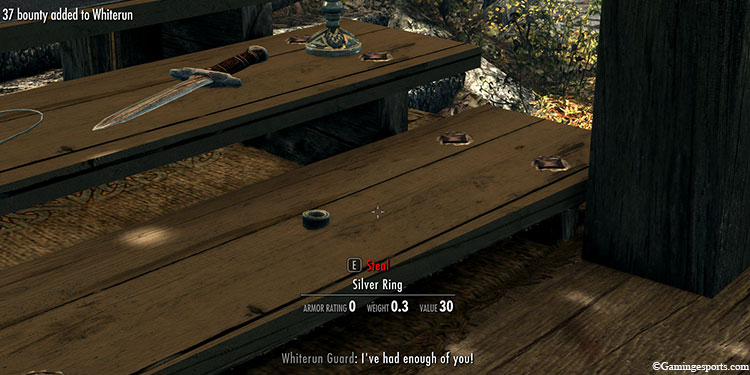 There are several ways to get rid of your bounty. The most straightforward one is to pay the amount or use your thane influence to clear your name.
If you don't have enough gold coins to pay your bounty, serving time in jail will also clear your name. However another viable yet risky way to get rid of your bounty is to eliminate all witnesses.
Note: You can also load a previous save file to revert your bounty.
Pay Your Bounty
The easiest way to clear your bounty is by paying it off. After you're caught by the guards, simply choose the "You caught me, I'll pay my bounty" dialogue option.
The amount of gold you have to pay will depend on the crime that you've committed.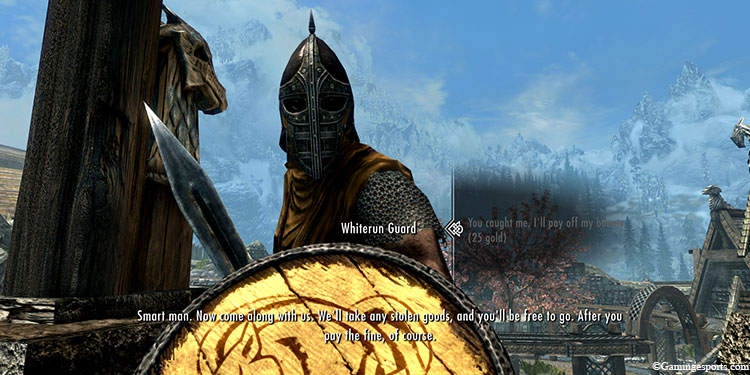 Paying off your bounty will also remove all the stolen items in your inventory and will move you outside Jarl's palace.
If you're part of the thieves guild, you can significantly lower the amount that you'll have to pay to clear your name.
You'll get the option to pay a smaller amount after joining the guild and having a sufficient influence on the stronghold.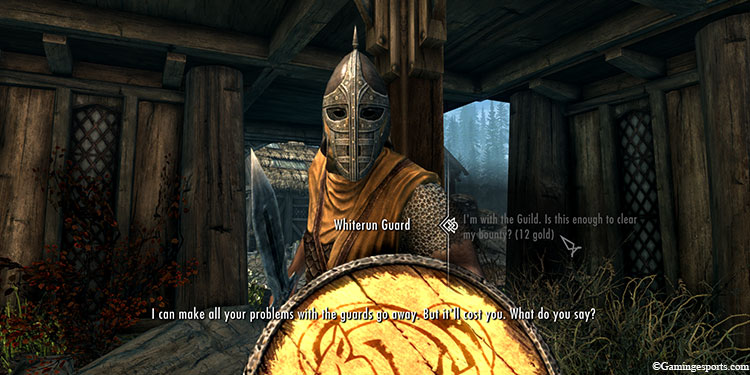 For example, if you've accumulated a bounty on Whiterun, then you must increase the thieves guild influence in Whiterun.
To increase the guild's influence on a stronghold, you must complete five small jobs from the guild for Whiterun.
Negotiate With the Bounty Collector
If you have a bounty of more than 1000 gold, then there's a good chance that you'll encounter a bounty hunter in the wild.
He can spring out of anywhere and will stop you on your track. If you proceed to give him money, your bounty will be cleared.
If you refuse to pay up, he will turn hostile against you and will start attacking.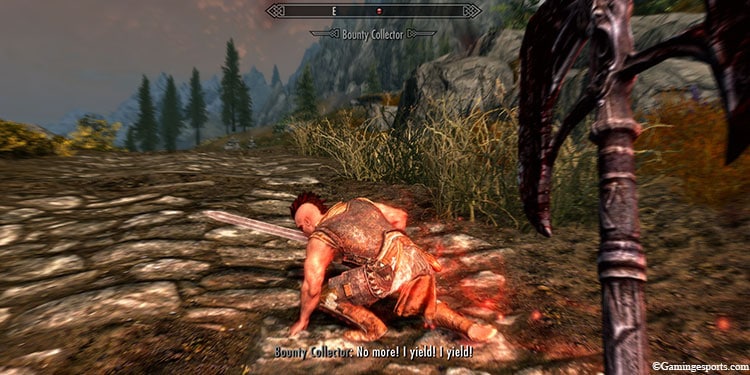 Eliminate all Witnesses
When an NPC or guard catches you committing a crime, there is a short time window before they inform the others. You can finish them off during this time frame to clear your name.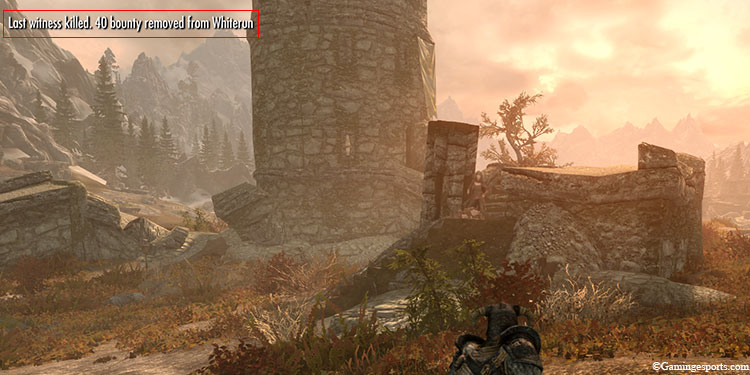 However, there's also a chance that this method might not work. For instance, if there are too many guards or NPCs that have already witnessed your crime, killing them all will not work. Instead, it will increase your bounty.
Use Your Thane Influence
After completing several favors for the Jarl and helping out the citizen of a stronghold, the Jarl will appoint you as the Thane of the hold.
As a thane, you'll get a one-time Get Out of Jail Free card whenever you're caught committing a crime.
To use your influence, simply choose the "I'm the Jarl's Thane. I demand you let me go at once" dialogue option whenever you're stopped by the guards.
After using your thane influence, you won't be able to use it again for that particular hold.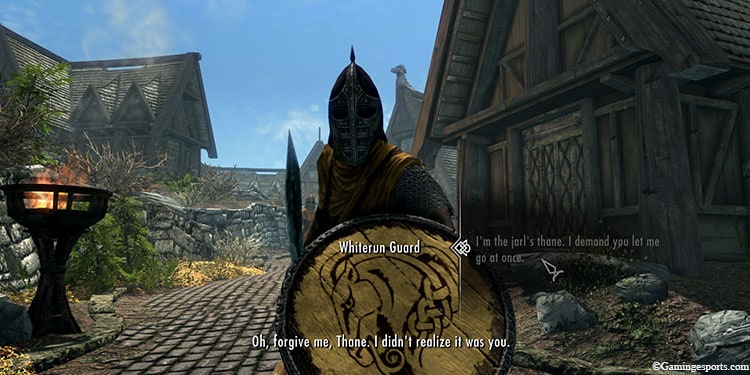 Serve Jail Time
Now, if you cannot pay your bounty nor influence your thaneship, then the only option you have left is serving jail time. Choose the "I submit. Take me to jail" option after getting caught.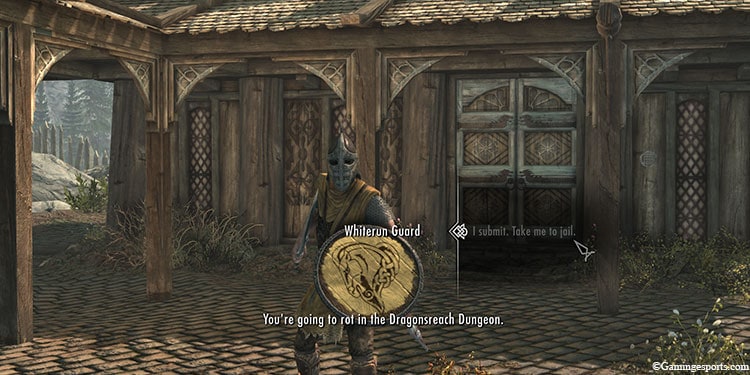 Soon after, you'll be teleported to a cell with only a lockpick in your inventory. You can either escape your cell or serve your time by sleeping in bed.
After completing your time, you'll be allowed to go, and your bounty will be cleared.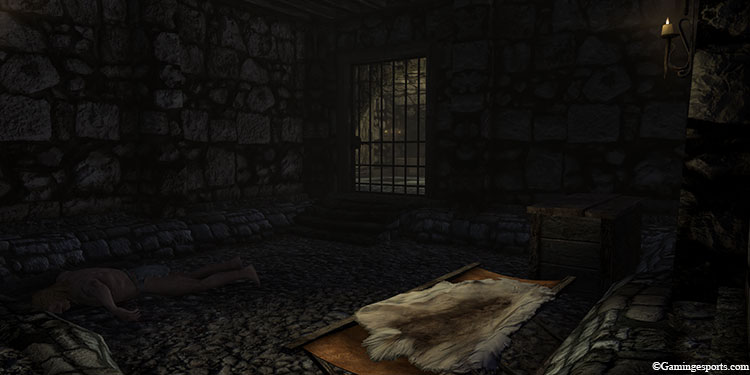 Via the Civil War
The Civil War is a late-game questline where you must capture a stronghold for either the Imperials or the Stormcloaks. When you capture strongholds, the bounty accumulated for that particular stronghold will be reset.
Using Console Command
In addition to the aforementioned methods, PC players can also use the console command to get rid of their bounty quickly.
Open the Console Command by pressing the tilde key ~.
Click on a guard and type in paycrimegold 0 0 and press Enter.
Exit the console by pressing the tilde key again.
How to Escape Bounty Temporarily?
There are instances when you don't have enough gold coins to pay your bounty, so the guards continue to be hostile toward you.
In such cases, you can temporarily throw off your persuader by bribing or persuading them. This will give you enough time to deal with your bounty later.
Bribing
If you've only committed small crimes like pickpocketing or lockpicking, you can bribe your way out of the situation. It will not clear your bounty, but the guards will stop actively looking for you.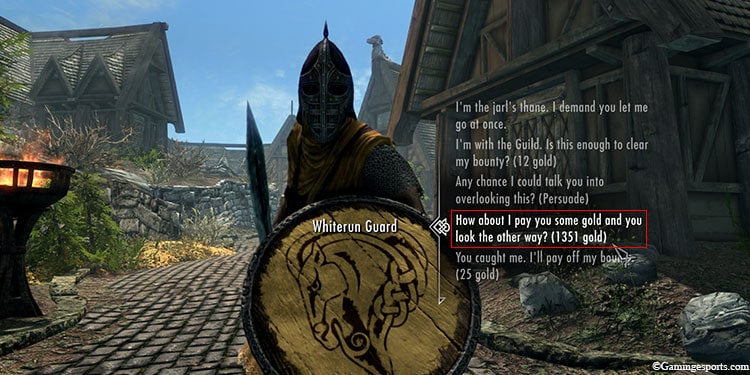 You'll need to unlock the Bribery perk to unlock the option to bribe the guards.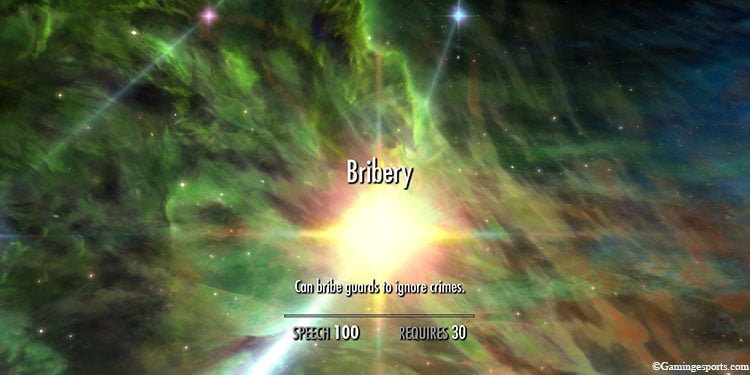 Persuading
Persuading guards works similarly to bribing. You can simply convince the guards to look the other way.
But in order to unlock this ability, you must be at the speech level of 75 or above. Additionally, the bounty amount should not be greater than 100.
After getting confronted by a guard, choose the "Any chance I could talk you into overlooking this?" dialogue option.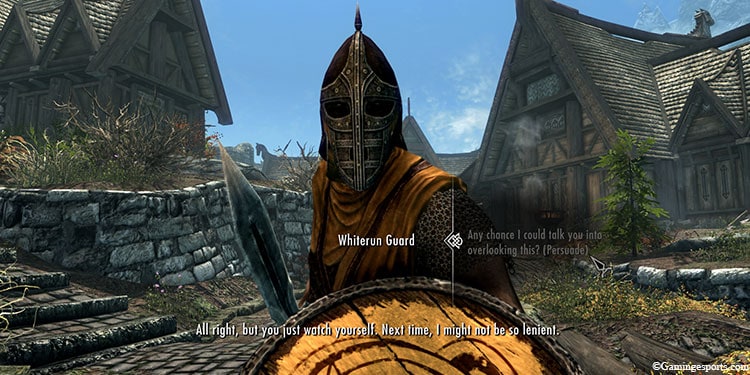 How to Stop Guard Hostility?
If you accidentally tabbed out while the guard stopped you or picked the "I rather die than go to prison" dialogue option, then all the guards in the stronghold will turn hostile towards you.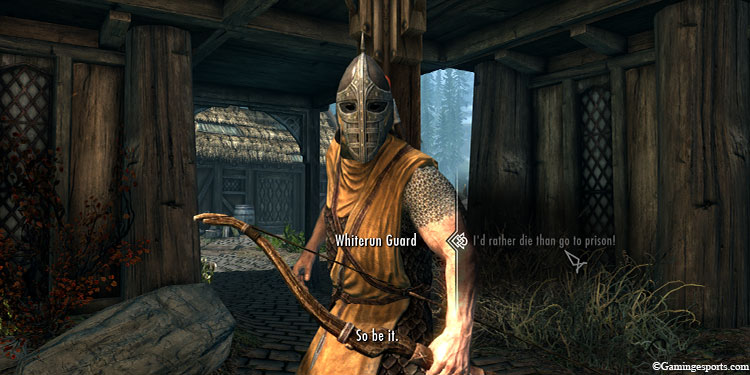 You'll need to sheath your weapons or spell to make them stop attacking you. Re-sheath your weapon if you haven't drawn it out.
Alternatively, you can also use a calm spell or Bind Will shout to remove the hostility temporarily. Then, talk with the guard to get rid of your bounty.