Renown is the prestige points you collect as you complete various tasks or perform specific exploits in the open world of Diablo 4. The more Renown you have means, the more your infamy has spread through the realm of Diablo 4.
Diablo 4 has five separate regions in-game, and each region has its own separate Renown. These can be gathered as you complete tasks for that specific region making you more renowned in that particular territory.
When you collect a certain amount of Renown, you unlock upgrades for your player character. These includes increase in the amount of potion you carry, additional skills points(upto +10), and bonus exp to level up your character.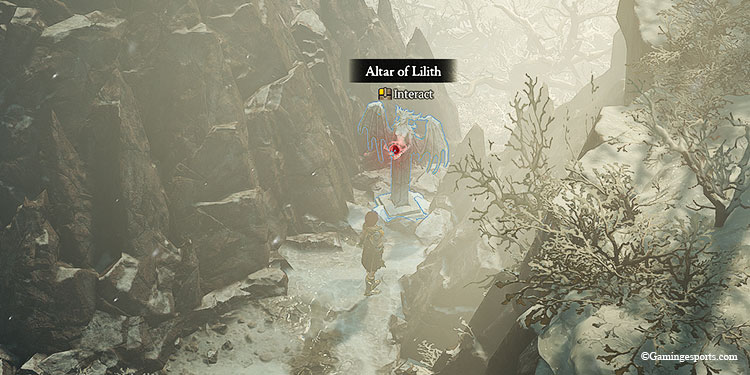 You can increase Renown by finding out new locations or completing optional tasks found throughout the sanctuary. All the ways you can use to obtain and increase Renown in Diablo 4 are,
Discover New Areas – Gives 5 Renown
Discover Altar of Lilith – Gives 10 Renown
Activate Waypoints – Gives 20 Renown
Complete Side Quests – Gives 20 Renown
Complete Side Dungeons – Gives 30 Renown
Complete Strongholds – Gives 100 Renown
Renown System Explained

Each region has its own Renown system and gives a separate set of rewards when you gather specific Renown points.
To check your gathered Renown, go into the Map and check the number.
Each separate region has five tiers for each Renown upgrade, but you might have to gather varying amounts to reach a certain tier depending on the region. 
You will need to upgrade your World Tier to 3+ to unlock the rewards from Tier 4 and Tier 5. The rewards you get are the same for each tier upgrade of the Renown.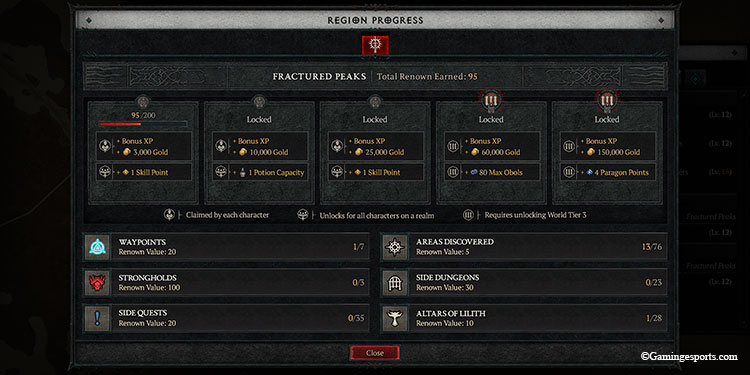 Tier 1:
For the current Player Character- Extra XP, 3000 Gold
For all Player Characters across the realm – +1 Skill Points
Tier 2:
For the current Player Character- Extra XP, 10000 Gold
For all Player Characters across the realm- +1 Potion Capacity
Tier 3:
For the current Player Character- Extra XP, 25000 Gold
For all Player Characters across the realm- +1 Skill Points
Tier 4:
For the current Player Character- Extra XP, 60000 Gold
For all Player Characters across the realm- +80 Max Obols
Tier 5:
For the current Player Character- Extra XP, 150000 Gold
For all Player Characters across the realm- +4 Paragon Points