There are many tough enemies you'll have to face while venturing through Skyrim. They have plenty of health and can also put out some severe damage if you're not careful. A great way to safely encounter these enemies is by stacking up on healing potions.
While buying or looting is a viable way to hoard healing potions, the quantity of potions you get from these methods is limited. Instead, you can craft endless healing potions from the alchemy lab as long as you have the necessary ingredients.
The healing properties of these potions depend on the type of ingredients that you use.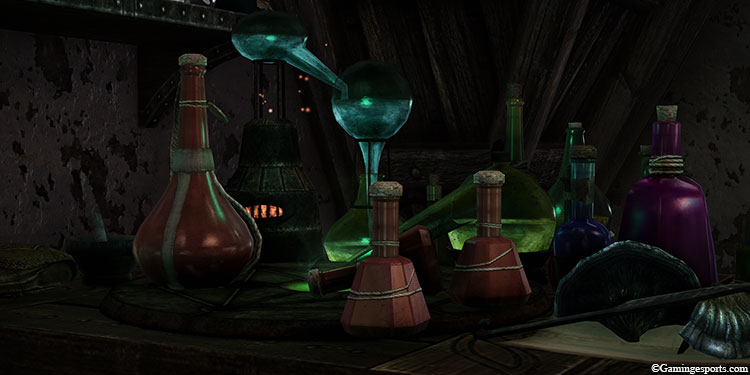 Healing potions are relatively cheap and easy to make. To make one, you'll need to gather a couple of ingredients that have healing properties. Then, combine those ingredients in the Alchemy lab. Let's Discuss !
Gather the Ingredients
You'll find a lot of different crafting ingredients while venturing through Skyrim. Every ingredient has multiple special effects that you can find out by consuming it. Some ingredients can restore your Health, Stamina, or Magicka, whereas others can have adverse side effects.
There are a total of 13 different ingredients that are capable of restoring health. Combining any two of these ingredients will make a healing potion.
We've listed all the ingredients along with their location below:
| | |
| --- | --- |
| Ingredients | Location |
| Wheat | Generally found in farms, at Fellglow Keep in Whiterun, near Windhelm |
| Blisterwort | Caves and Mine, can be bought from Arcadia's Cauldron in Whiterun |
| Blue Dartwing | Near water bodies, the Apprentice Stone or Abandoned Shack |
| Butterfly Wing | Nightcaller Temple, Talking Stone Camp, Rorikstead, Broken Fang Cave, Autumn Shade Clearing |
| Daedra Heart | Nightcaller Temple, Hall of the Vigilant, also dropped when looting Dremora |
| Imp Stool | Mostly in caves such as Chillwind Depths and Halldir's Cairn, can also be bought from Angeline's Aromatics |
| Charred Skeever Hide | Mostly found on the campfire in giant's camp, can also be found while looting bandits |
| Ash Hopper Jelly | Severin Manor, dropped by Ash Hoppers |
| Swamp Fungal Pod | Arch-Mage's Quarters in Winterhold, Movarth's Lair, near swamp areas in Morthal |
| Eye of Sabre Cat | Froki's Shack, can be found while looting Sabre cat |
| Blisterwort | Chillwind Depths, Blackreach, Arcadia's Cauldron |
| Felsaad Tern Feathers | Felsaad Terns, Caerellius House, Glover Mallory's House |
| Rock Warbler Egg | In bird nest near Valthume, Reach Stormcloak Camp, can also be bought from Grave Concoctions |
Find an Alchemy Lab
Once you have the necessary ingredients, head over to an Alchemy lab to start making the healing potions. There are many places where you can find alchemy labs in Skyrim, such as The Hag's Cure in Markath, the Grave Concoctions in Falkreath, or even in the wilderness, like bandit camps or lairs.
However, the most convenient location is by Arcadia's Cauldron in Whiterun.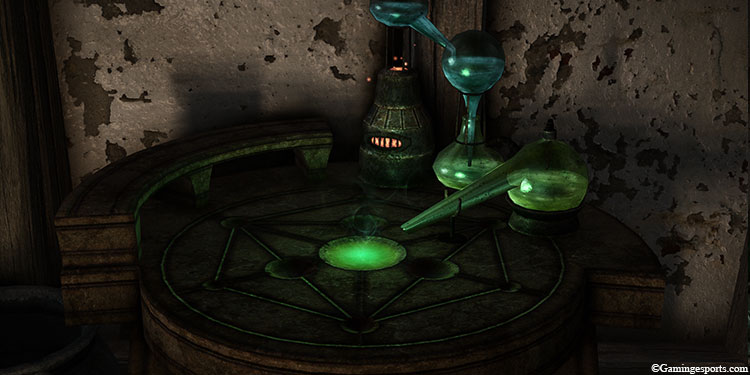 Note: If you've already purchased a home in the cities or built your manor, you can even add an Alchemy lab to your living space.
Fast travel to Whiterun.
Head straight till you reach the marketplace and turn right.
Enter the alchemy shop.
Craft the Potion
Making the potion is relatively easy. You'll need to choose any two ingredients from the table above and craft the potion in the Alchemy table.
The recipe for an easy healing potion is the combination of Blue Mountain flower and Wheat. These ingredients are found in abundance in the wilderness and are also cheap compared to other ingredients.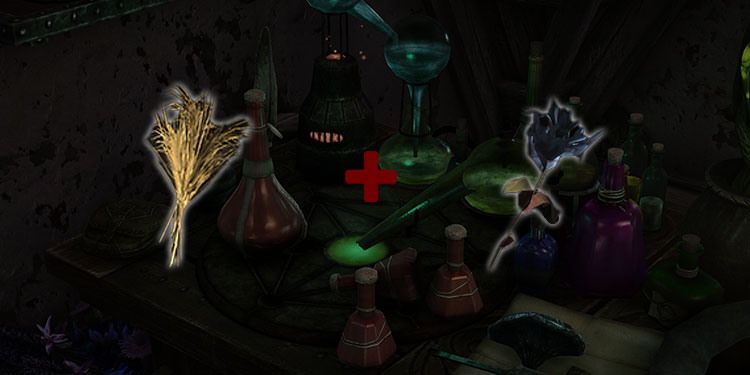 There are mainly two different types of craftable healing potions in Skyrim. i.e. Normal healing potion and the Multiple effect healing potion.
Normal Healing Potion
These are the most basic health potions which will only restore your health by a certain number. Few such combinations are:
Blue Mountain Flower + Blisterwort
Blue Dartwing + Wheat
Imp Stool + Blisterwort
Multiple Effect Healing Potion
Combining an optional ingredient while crafting your basic health potion will result in a multiple-effect potion. These potions typically have an extra effect in addition to restoring your health.
Wheat + Blue Mountain Flower + Lavender
Wheat + Charred Skeever Hide + Bear Claws
Felsaad Tern Feathers + Ash Hopper Jelly + Tundra Cotton
There are also a few exceptions where combining two ingredients can result in a multiple-effect healing potion. Combining Wheat and Blue Mountain flower will make the potion of fortifying health which will heal you and will also increase your health points temporarily.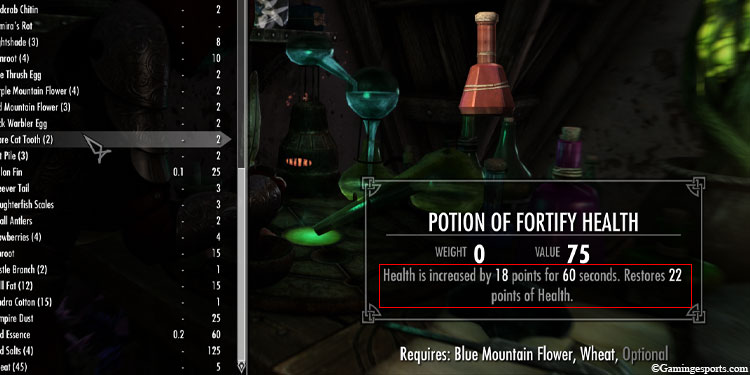 Crafting Health Potion More Efficiently
By now, we have covered the necessary ingredients, their combination, and the place where you can make a healing potion. However, you can further enhance the effects and effectiveness of the potions by acquiring perks from the skills tree and by using enchanted items.
The Alchemist and the Physician perks in the skill tree increases the strength of potions that you make in the alchemy lab. The strength depends on the level of the perk. It starts at 20% and reaches up to 100% when fully maxed out.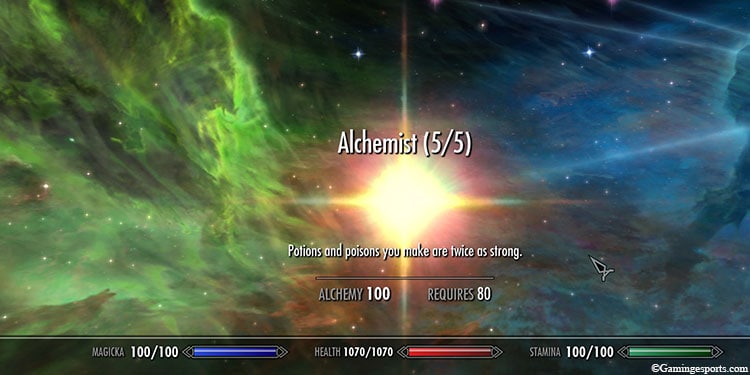 Besides skills, there are also enchanted items and artifacts that you can wear to further boost your potion's strength. The Ring of Pure Mixture, Muiri's Ring, or the mask of Krosis are quest reward items that can boost your Alchemy skill, resulting in more powerful healing potions.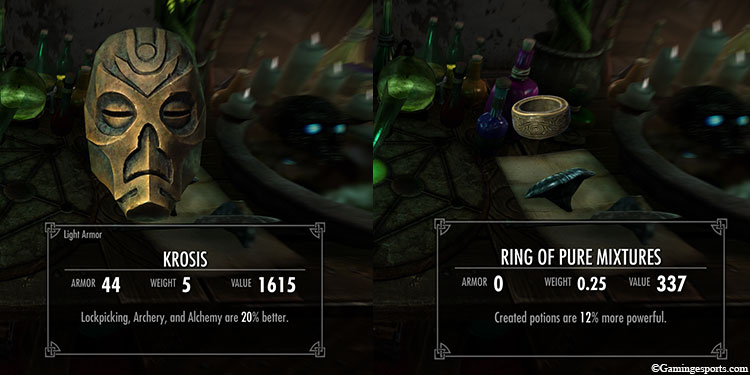 You can also add the Fortify Alchemy enchantment to different armor pieces such as headwear, gloves or gauntlets, jewelry, etc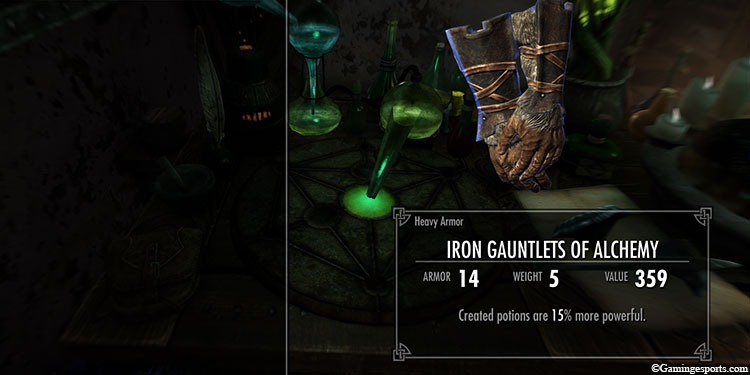 Combinations to Avoid
As we've mentioned previously that every ingredient has a special effect. Some ingredients have a stronger negative effect (like damage to Stamina, Magicka) than the healing effect. Combining two ingredients with stronger negative effects will make a healing potion with a greater negative effect.
For example; Wheat and the Daedra heart, both have stronger damage to Stamina regen side-effects. Mixing both of these ingredients can result in a healing potion that can decrease your Stamina regeneration.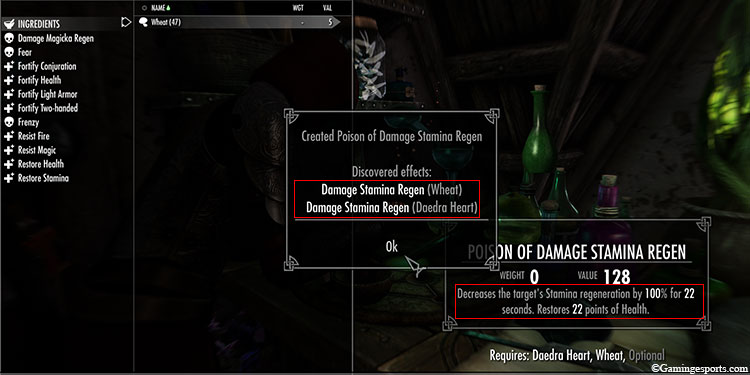 You can nullify the negative effect by the Purity perk from the skill tree, but you can only obtain this perk in the late game. So for now, we've briefly listed the ingredients you should avoid combining while making a healing potion.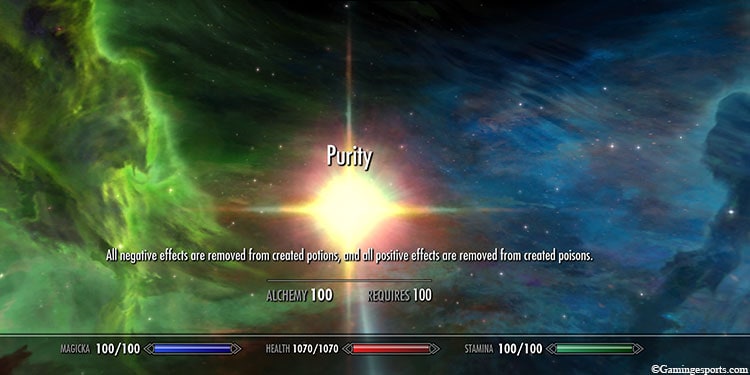 Daedra Heart + Blue Dartwing
Daedra Heart + Wheat
Daedra Heart + Butterfly Wings
Eye of the Sabre Cat + Daedra Heart
Eye of the Sabre Cat + Butterfly Wings