Fortnite is a growing free-to-play behemoth, and every update adds to its already successful formula. Ever since Chapter 2, boars have been a part of the game. So, it is quite essential to know how to tame a boar in Fortnite?
Aside from taming boars, you can hunt boars and wolfs. These features are not new, but you may need some help understanding how it works.
The process is easy, but you may require some practice and patience. Also, there's a degree of luck, as we can't tell you exactly where to find one.
Why to Tame a Boar in Fortnite?
We're currently on Chapter Three, Season Four in Fortnite, which kicked off in September 2022. Boars have changed slightly since their introduction, so knowing their mechanics will help you later in the game.
In essence, boars are part of Fortnite's hostile wildlife. You can hunt them for Meat. Alternatively, you can only tame a single animal at a time.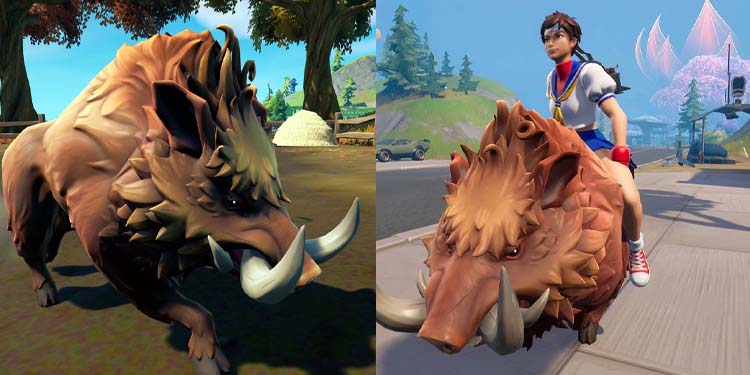 If you tame a boar, you can ride and ram enemies with it. And as you ride, you'll be able to use your items, build, and shoot. The Boar can also follow you and help you. They will attack other players on sight and dig items from the soil.
In particular, it has 12 points of health and deals 15 points of damage. Meanwhile, the wolf is stronger, as it has 250 health points and deals 15 points of damage. None of these animals are present in competitive modes, though.
Overall, it's a good idea to tame a boar when playing solo, as they can be a means of faster mobility and an extra partner for attacking. It's a strong beast to command, it can protect you, and it's cool.
How to Tame a Boar in Fortnite?
Taming boars on Fortnite is easy enough, but you need some patience, some sneaking, and some fruits.
Before we begin, here are some key stats to understand:
Boars can spawn anywhere on the map, so finding one depends on your luck and exploration skills.
There're 20 boars in each game. The number is always the same.
Boars roam alone, and they will remain passive until you attack them or until they spot you.
Wolves will hunt boars when they spot the animal.
Boars drop two Mushrooms and two Meat when they die.
Alien Parasites may attach to boars. Boars with alien parasites have visual distortion and can deal extra damage per second on the hit.
Boars (and wolves) don't appear in competitive game modes. By that, I mean limited-time cups and tournaments.
You can tame boars and wolves with the same steps.
Now that we know how boars work let's see how to tame them. There're a couple of methods to do it.
Jump on Top of The Boar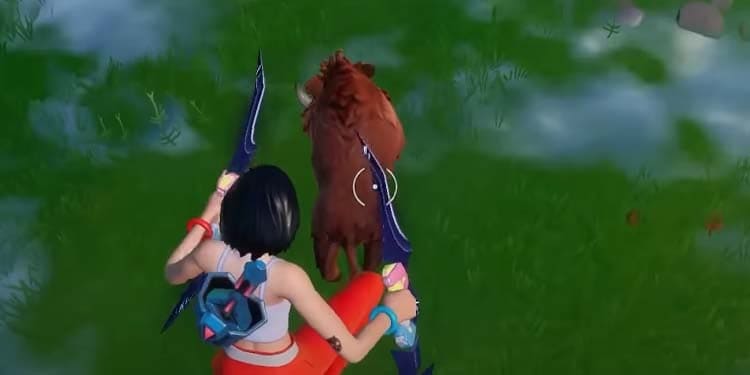 The first method is relatively straightforward and requires refined skills from you, the player.
All you need to do is jump right on top of the Boar. If you aim correctly, you'll land on the boar's back. This will automatically tame the animal and enable you to ride it, even if the boar is already hostile.
If you jump out of the animal, the animal will follow and help you. It will remain yours until you or the boar dies. And to ride it again, you only need to jump on top of it. Alternatively, approach the animal and press the interact button.
Feed the Boar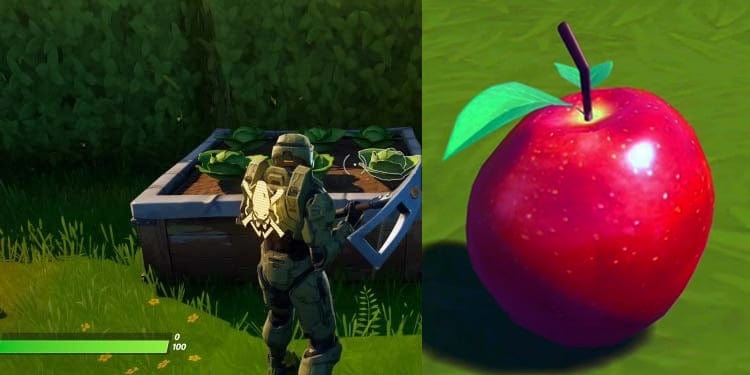 Boars sometimes are hostile on sight, but they prefer to stay neutral. However, you can't tame them with a straightforward approach. You need some extra steps.
So, the second method is about feeding the boar. You must pack vegetables and fruits, such as apples and corn, to make them happy. Once you find a boar, you will throw vegetables and fruits near between them and you. Your mission is luring the boar towards you.
When the animal becomes interested in your lure, it will glow with a transparent shine. Afterwards, the Boar will begin eating. By then, all you need to do is approach the animal and press the interact button.
Before you test it, make sure you have enough fruits and vegetables. Boars eat fast and can become hostile when food runs out. So, it would help if you had a lot of fruits to make this process work.
Use the Hunter's Cloak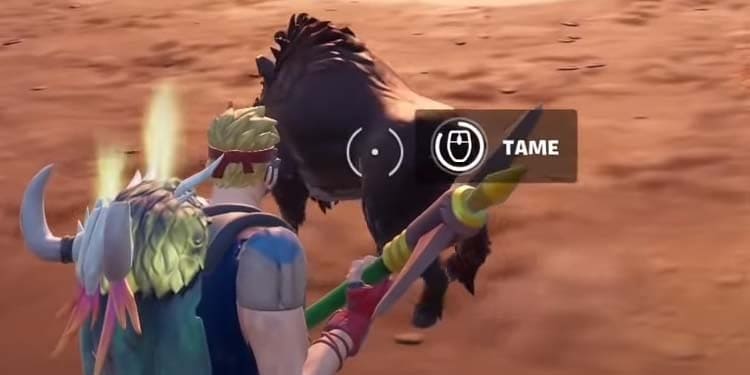 The alternative method is crafting Hunter's Cloak to tame a boar. You can craft it with two bones and one Meat. Once you have these items, you can make them on the crafting menu -you can loot bones from dead wildlife.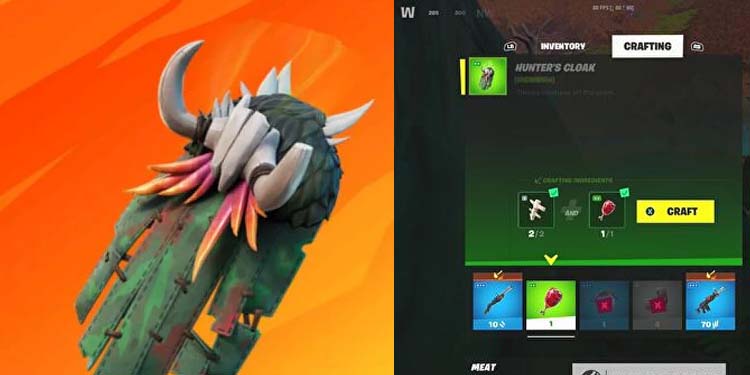 The Cloak is an uncategorized item that essentially makes you invisible to animals for three seconds. If you craft the Cloak, you can use its ability to sneak upon a boar. And once you sneak on the boar, you can press the interact button to tame it.
Where to Find Boars?
Boars spawn randomly on the map, but there's a place right in the middle where two or three boars will always spawn. Most people know about this, but you can still dive directly to the location upon spawning and fight others for the boar.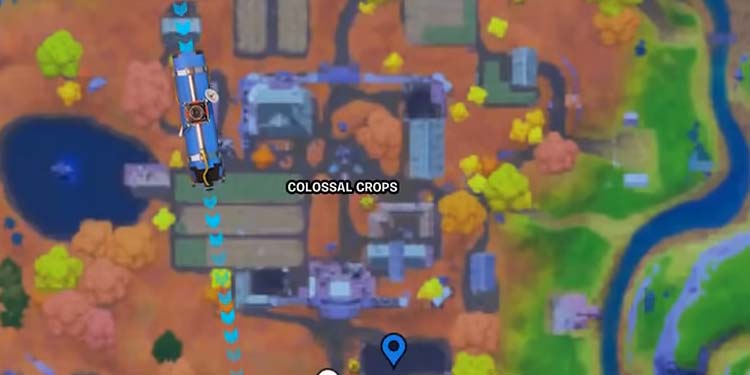 The place is next to "Colossal Crops," a common landing place for most people. So, we don't recommend it for beginners, solo players, or beginner solo players! The reason why it's a popular landing place it's because it has multiple chests with nice weapons and healing items.
In particular, the location we're looking for is a pin, a barn just south of Colossal Crops. You can search the entire area for boars and loot. That's the only go-to location we know about to find boars all of the time.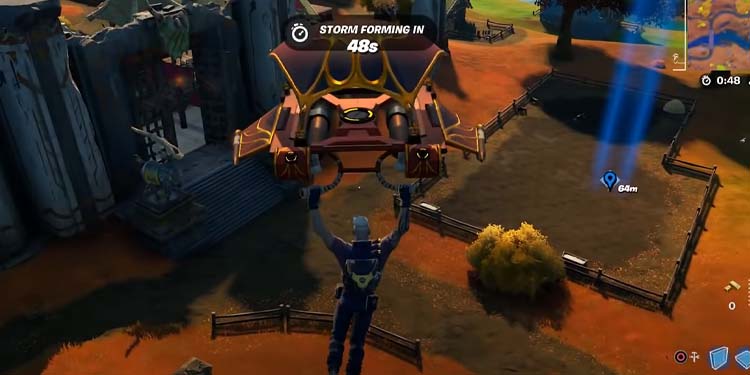 If you decide to spawn here, you'll find three boars. You can hunt for Meat and bones to craft the Hunter's Cloak. Then, you can tame the third one with the Cloak's sneaky powers.
Boars take about six hits with a basic melee weapon to go down. Moreover, they are fast, but you can box them in with quick walls to make the task easier.
Things You Can Do With Meat
Let's wrap up the article by explaining the various uses of Meat, which you can loot from dead wildlife:
It refills the stamina bar of animals, which drains as they move and attack.
It's also a healing item, as it can patch you up for 15 points of HP. It heals faster than regular bandages.
If you throw the Meat, it will ping its landing location to your squad mates. It doesn't sound very logical, but we're talking of a game that includes "Klombos" as part of their wildlife.
You can craft the "Hunter's Cloak" with Meat. The apparel will hide your scent to help you hunt animals faster.