In Minecraft, Parrots imitate sound of nearby mobs and alert their master of any potential threats. Due to their friendly behavior, parrots gather around any mobs.
They are also one of those most curious ones. These birds come in five different colors and have an adorable behavior. Taming a parrot is a relatively easy task. All you need to do is feed them with seeds.
But before taming, you actually need to find a parrot first.
Where Can I Find the Parrot ?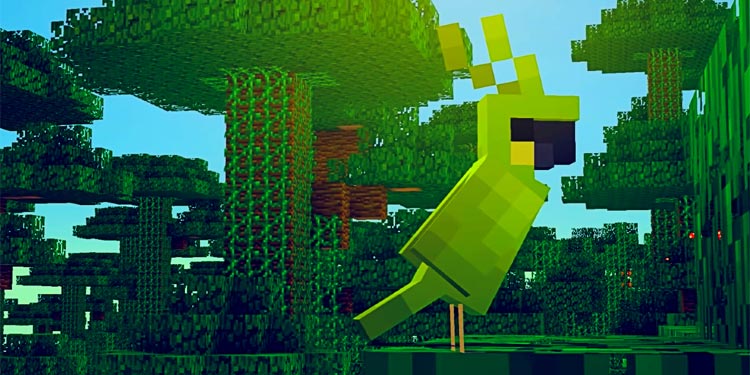 Although taming parrots is relatively simple, finding one is very difficult. They are rare and can be found only in jungle biomes. So, if you have searched for a parrot for a very long but still haven't found any of these colorful birds, we are here to help.
As we are aware of how dense a jungle biome is. Keep your field of view up to quake pro level that is at level hundred so you don't miss anything on the field of view aspect. And more specifically, keep your ears open for audio clues because they generally tweet around if they are around. 
Don't forget to bring as many seeds as possible to feed them. Also, never feed your parrots with cookies because they poison your parrot in-game and in real life too. While your real-life parrot may survive, your virtual parrot will die instantly. 
You finally found a single parrot chilling in the leaves of a tree, but you wanted more. Worry not because parrots usually stay together, so there is a high chance to spot two or even three parrots around.
There are five colored parrots in the game, and catching them by chance is the only option in survival mode because you can't breed them yet. 
Now, lets learn how to tame a parrot in Minecraft and make them stay in our cozy little home.
How to Tame a Parrot in Minecraft ?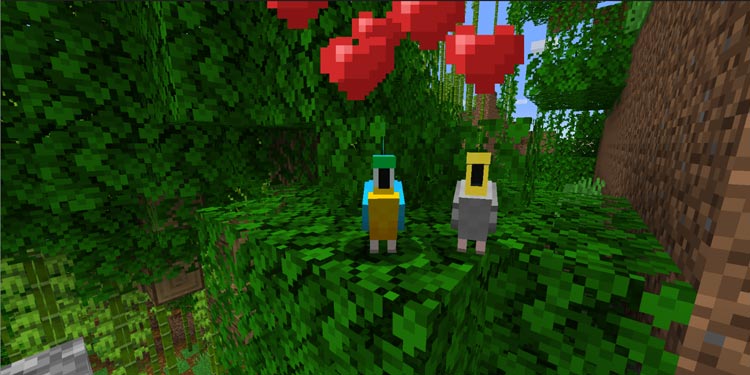 After spotting these parrots, you can approach however you like because although they can fly away, they tend to get tired quickly and will fall back to the ground after flying seven or eight blocks away. Just keep your sword away in your inventory to avoid killing them accidentally. 
Once you are near, feed as much seed as possible until the black smoke turns into a red heart shape. You can tame parrots with any type of seeds. Voila! You have now tamed a Parrot. 
Walk over the parrot, and they will perch on one of your shoulders once they are tamed. You can carry two birds on your shoulders, but they will dispatch when you fall from a high or try to swim.
Once tamed, they follow you just like tamed wolves, and if the parrots like you, they will fly towards you and rest on your shoulders. You can either carry them or let them follow you.
Although they are slow, they can teleport close to you when you are far away from them. Just make sure they don't sit anywhere, or else they will stay there and won't follow you.
There you have it. Your own parrot. You can name these parrots by giving them a name tag. They also mimic villagers' and other mobs' voices if the mobs are near.
FAQs
How Do I Breed Parrots in Minecraft?
Unfortunately, you cannot breed parrots in Minecraft. There was the feature of breeding parrots with cookies when the game first introduced parrots. But relating environmental concerns, Mojang replaced the breeding system and turned cookies into poisonous food, which instantly kills your parrot mob in Minecraft. 
What Do Parrots Drop When They Are Killed?
Parrots will drop one or two feathers and some exp when they are killed.
How Many Types of Parrots Are There in Minecraft?
Although there are five different colored parrots in Minecraft, their attributes of doing things remain the same. We can find Blue, gray, cyan, red, and yellow parrots in Minecraft. One cool thing is they can change their colors while dancing near the Jukebox.