Imagine playing Diablo 4 in hardcore mode. There are times, when in the heat of the battle, monsters surround you from all directions and you cleave and blast through them.
Doing so, may leave countless enemies dead in your wake but you may not remain unscathed. In a desperate move, you grab your last potion and gulp it down.
Although a sliver of your health fills back, it may not be enough and a single blow upon your return to battle could prove fatal.
Only if you had more health or if your last potion had healed you back to full health, you could have seen the end of the dungeon. And this was only possible if you had upgraded your potions.
Upgrading your potions isn't that hard but you can only perform these upgrade after reaching level 10. After that, you can upgrade at level 20 and then finally at level 90.
Follow the steps and perform your first potion upgrade,
Reach level 10 and automatically get the key quest- Healing Potion Upgrading.  
Follow the quest marker, get to the Apothecary in Kyovashad, and upgrade the potion; you must use up 2x Gallowvine for the first upgrade.
Potions can be further upgraded every few levels. The quests will trigger when you reach the required level.
All Potion Upgrades in Diablo IV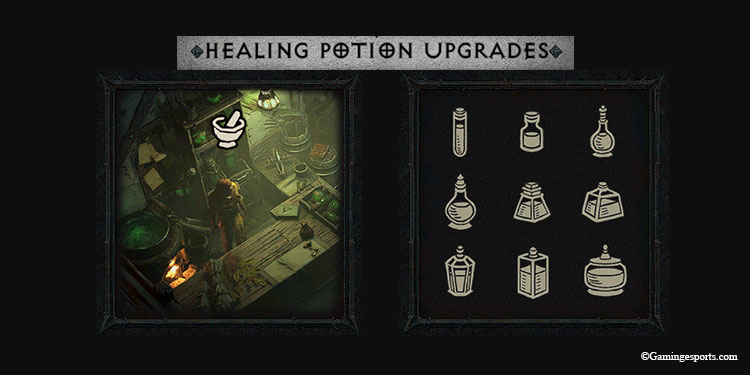 Level 10 Upgrade- Weak Healing Potion to Tiny Healing Potion.
This upgrade uses 2X Gallowvine.
Level 20 Upgrade- Minor Healing Potion
This upgrade uses 15X Gallowvine, and 5X Biteberry.
The upgrade costs 400 Gold.
Level 30 Upgrade- Light Healing Potion
This upgrade uses 20X Gallowvine, 10X Biteberry, and 5X Crushed Beast Bones.
The upgrade costs 470 Gold.
Level 45 Upgrade- Moderate Healing Potion
This upgrade uses 20X Gallowvine, 12X Howler Moss, and 5X Demon's Heart.
The upgrade costs 900 Gold.
Level 60 Upgrade- Strong Healing Potion
This upgrade uses 27X Gallowvine, 15X Reddanime, and 5X Plaetongue.
The upgrade costs 1700 Gold.
Level 70 Upgrade- Greater Healing Potion
This upgrade uses 36X Blightshade, 18X Lifesbane, 5XGrave Dust, and 5X Angelbreath
The upgrade costs 2500 Gold.
Level 80 Upgrade- Major Healing Potion
This upgrade uses 5X Fiend Rose,10XAngelbreath, 27X Reddanime, 27X Biteberry, 27X Blightshade, 27X Lifesbane, and 27X Howler Moss.
The upgrade costs 5000 Gold.
Level 90 Upgrade- Superior Healing Potion
This upgrade uses 10X Fiend Rose.10X Forgotten Soul, 20XAngelbreath, 20X Grave Dust, 20X Demon's Heart, 36X Blightshade, and 36X Howler Moss,
The upgrade costs 12500 Gold.