These massive landscapes are starting to bore you, so you want something else. How about spawning on gorgeous and interesting islands? Let's find these Minecraft Seeds.
A Seed is the code number that identifies a Minecraft Realm. Every world has a Seed. If you did not pick one, the game would pick one for you randomly. However, you can pick one when you start a new game on Java or Bedrock editions.
The benefit of picking Seeds is the starting location. In particular, we're looking for island starting locations, which give you a unique and thematic playstyle. Explore the island, conquer it, and reach the mainland!
Best Minecraft Island Seeds
Small Starting Island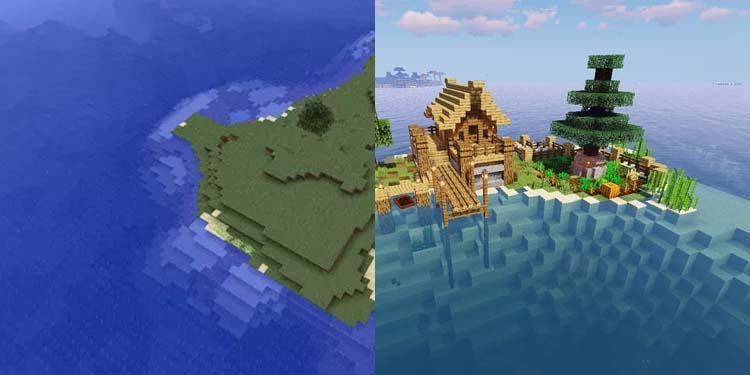 Seed: 5410842429551422910
This seed takes you to a small island with a taiga biome. It has lots of trees, cows, cobblestones, and other starter resources. It makes it a perfect place to start your journey and build an initial farm.
The nearby areas are different on Bedrock and Java, though, but you can expect villages, shipwrecks, ruined portals, and Underwater Ruins around the island and the oceanic biomes.
Lonely Snowy Island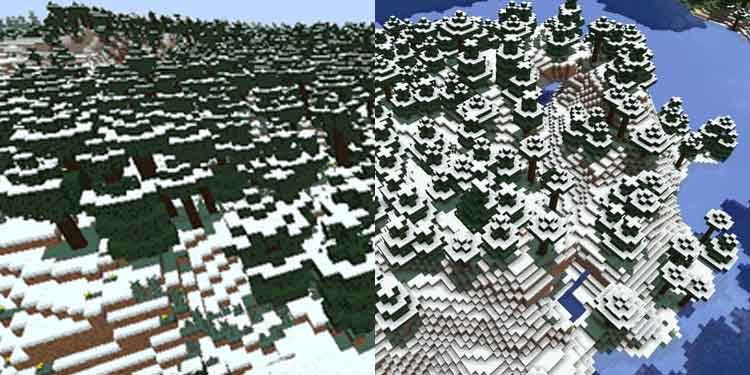 Seed: 2218715947278290213
You spawn on a snowy taiga biome, which is part of a medium-sized lonely village. The lack of resources and the vast presence of mobs will test your survival skills.
However, some villages nearby will make the journey easier. For example, the blacksmith could sell you some starting gear plus high-quality materials on their chests.
Pillage Outposts and Villages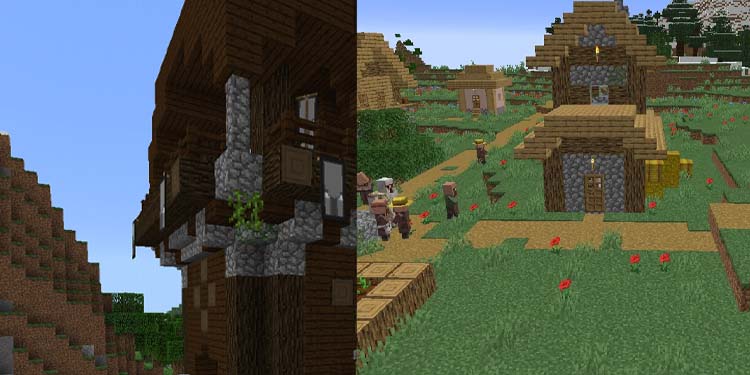 Seed: 5435599396249318685
This seed spawns you near a Pillager output. You can conquer it and turn it into your home after you beat it. There're also materials on the chest at the top of the outpost.
Additionally, there're a couple of villages nearby, plus a Ruined Portal you can use to go to The Nether.
Small Plains Island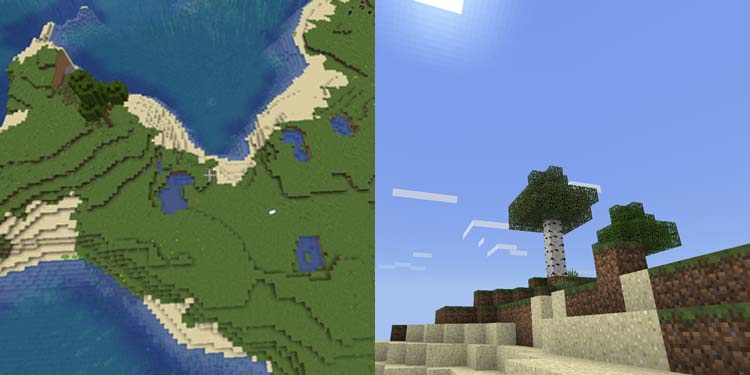 Seed: -1381486679527427600
You spawn in a peninsula on a plains biome, close to the coast. If you go to the east side, across the water, you'll find a couple of small and beautiful islands. One of these is plains, and the other is plains and deserts.
Both islands will be tough, though, as there're no chests or key locations to loot. Instead, you'd have to build an initial base on this safe spot, and then continue further to the right to find an area brimming with mineshafts, dungeons, and caves.
Creative Jungle Island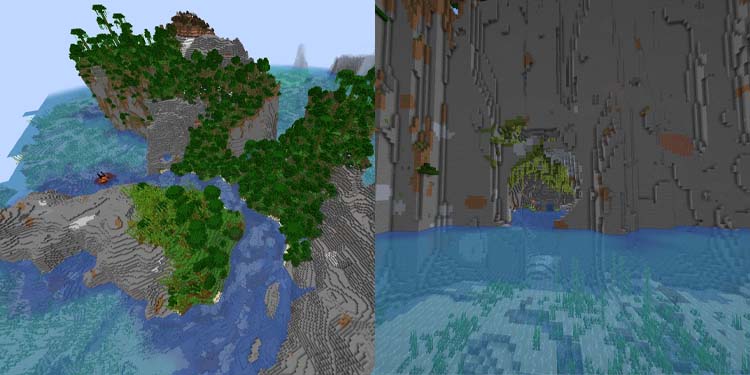 This seed puts you on a Jungle island. It's a mountainous location with a couple of mineshafts and a ruined portal. In other words, if you dig down and find diamonds and obsidian, you won't have to go anywhere else to visit The Nether.
On the Java Edition, there's also a Jungle Temple on the island with potential high-end loot. On Bedrock, though, the island is hiding several treasures. On either version, the nearby ocean (lukewarm/deep) is also full of mineshafts and other key locations.
Forest Island With Villages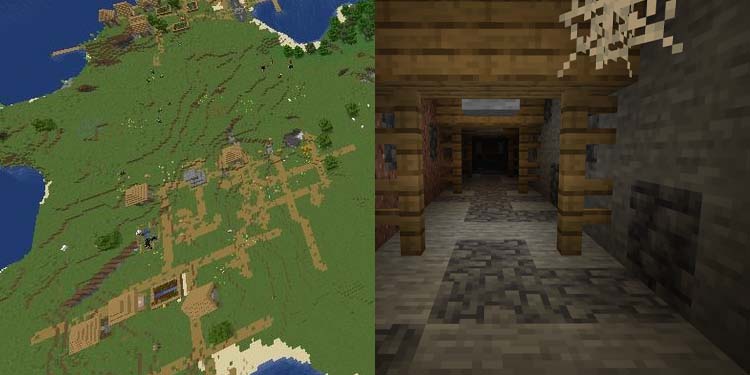 Seed: -3870882946413947434
This seed puts you on an island full of flowers, a mineshaft, and two villages. These villages will allow you to get some starting gear and a loot chest with potential treasure.
Then, the island has a few animals and plenty of resources to build your initial seed. Overall, it delivers a straightforward Minecraft experience.
Swim to Forest Island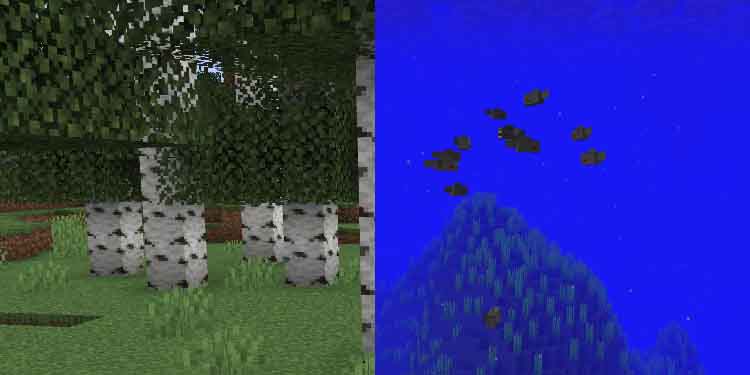 Seed: 2083756577080324635
You spawn in a Cold Ocean biome, which is your first challenge. They're going to be cave entrances, Mineshats, and ruins near you. However, your highest chance of survival is swimming south.
You'll find a small island to the south. The island has various biomes, a river, multiple animals (like turtles), a Ruined Porta, and other key locations. It's quite generous on resources, which will allow you to build a powerful base.
Small Rich Island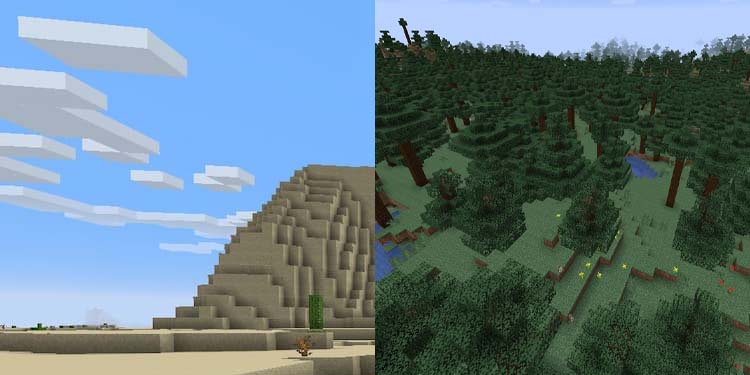 This seed puts you on a survival island packed with resources and key locations, even though it's small. It's a way to get easy access to rare materials.
And once you're ready, you can swim southwest to a rich dessert, or east for taigas and forest. The world is yours for the taking.
Twin Small Islands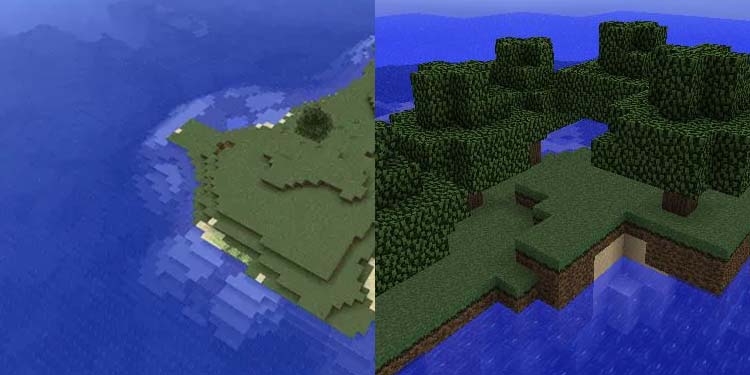 Here's another pack of twin lonely islands for you to craft a paradise. The starting island is flat, but it's full of trees you can use to build your first cabin. It also has animals, some of which you can tame.
If you adventure to the west, you'll find another island for additional resources. Nearby, you'll also find chests, ruins, an Ocean Monument, a Shipwreck, a village, and more.
Snowy Mountain Island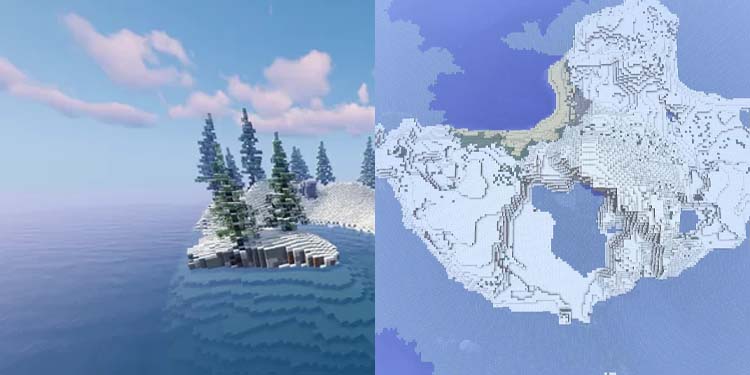 This seed spawns you on a big island covered in snow and mountains. It has gorgeous waterfalls, slopes, and flowers at the top. Also, you'll find an Ocean Monument nearby.
The island is large and full of resources, so it's a nice place for beginners. However, there're no villagers on the island, although there're tons of chests (Bedrock) and various caves and dungeons (Java).
River and Ocean Island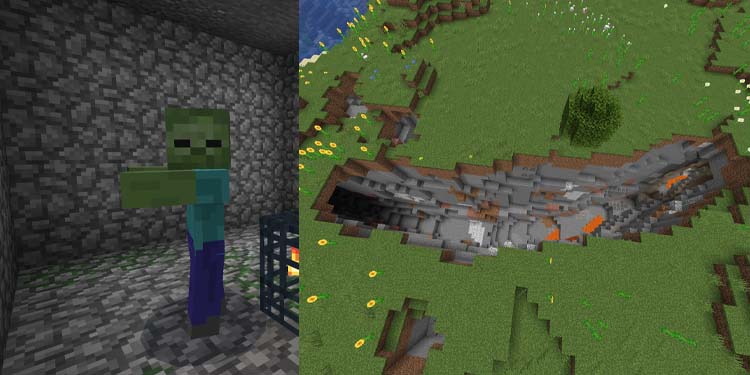 This seed puts you on a huge island nearby the beach. The main biome of the area is a plains biome. A river separates the island on one side, and an ocean on the other.
The best part is how you spawn near zombie dungeons, but you'll need to craft some gear to explore it. Additionally, there's a ravine to the south of the starting location, but only on the Bedrock edition.
Jungle Cove Island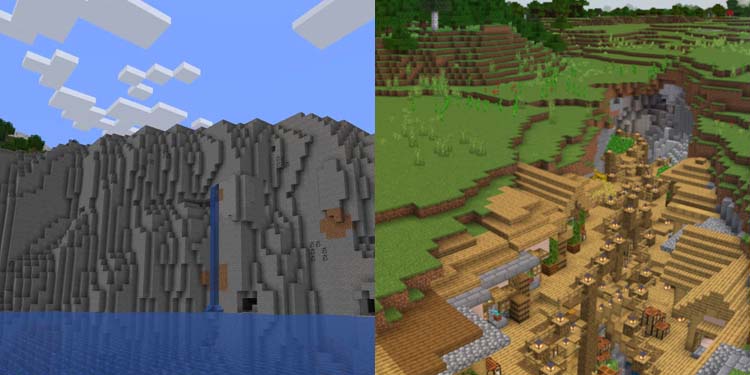 The next island is better on Java than it is on Bedrock. On Java, you spawn next to a zombie dungeon, and nearby another one. The starting biome is in-between a jungle and a stony show, near a Lukewarm Ocean. These conditions are difficult on their own.
On bedrock, it can be more challenging, as there's nothing of particular interest where you spawn. However, the island has a dungeon and a ravine up to the northeast. The latter gives you easy access to deepslate to pack up resources and craft early-game gear.
Simple Starting Island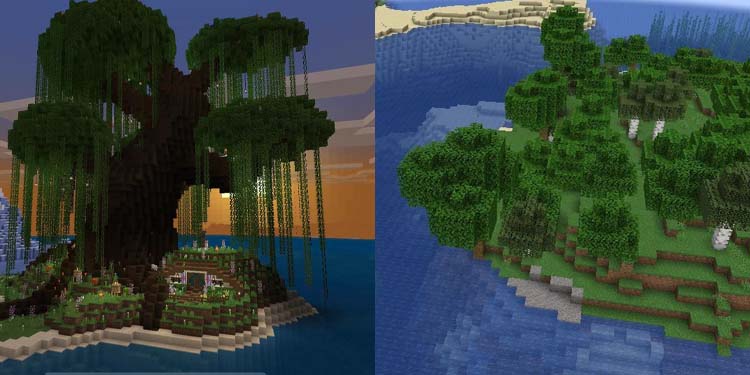 This seed puts you on a small island with a big tree, but the terrain is challenging to build on. Staying alive and building a base will prove to be a challenge.
However, you have to swim to the east, because you will spawn in an oceanic biome. And once you reach the island, you'll find a couple of dungeons and monuments.
In-Between Islands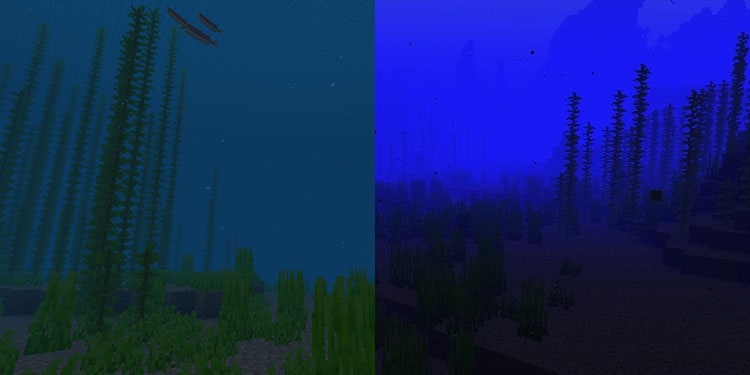 Seed: 6964544338594645336
Those looking for an extreme experience can use this seed and spawn in a deep ocean. There's a small island to the north and the smallest one to the south. The one has many chests on the Bedrock Edition. On Java, though, you spawn right next to mineshafts, and close to a Large Cold Ruin.
You can also swim to the south, for another island. This one is smaller and simpler, but it has enough resources to craft your initial gear. It also has a beach with turtles to prepare a Turtle Shell and enjoy some extra underwater time.
Desert Island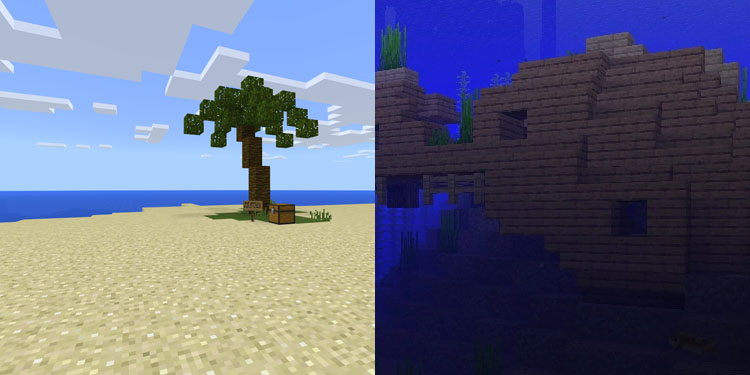 The next seed spawns you on a river, close to a dungeon on either Minecraft version. If you swim to the south, you'll find a medium-sized desert island, which is an interesting place for a thematic experience.
The island itself has various chests and dungeons. Over to the east of the island, you'll find an ocean biome full of animals, resources, ruins, and a ravine to access deepslate ores.
Snowy and Dark Island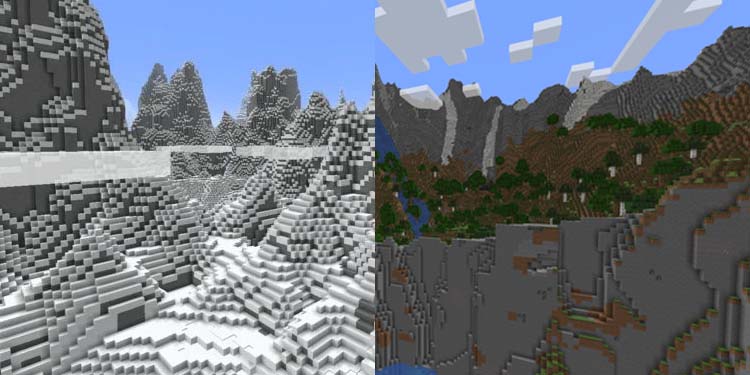 Seed: 1000459683486344283
This seed puts you on a mystical and beautiful island. You spawn on jagged peaks and mountains, and if you climb down, you'll find a dark forest and a stony shore. Across the mountain, though, you'll find various mineshafts, dungeons, and other locations.
On Bedrock Edition, you also spawn south to a ravine. The area gives you access to ores and, if you're lucky, diamonds and obsidian. If you find the latter, you can go to the south-eastern peak of the island to repair a Ruined Portal (on either edition).
Lonely Island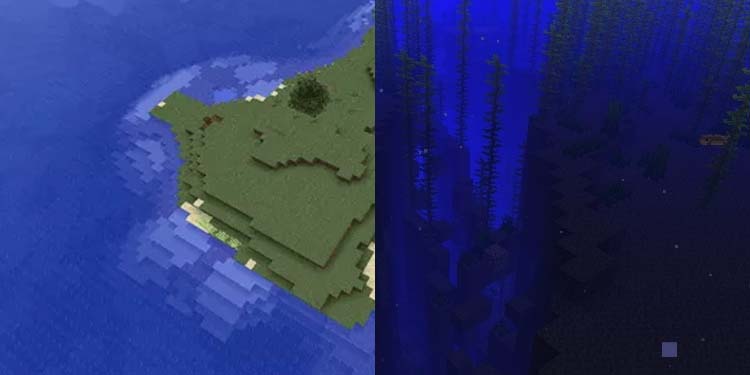 This Seed puts you on another thematic adventure. The starting location is a Deep Ocean biome, and you can go either left or right to find islands. Surviving the initial moments can be tough, though.
Either way, these islands are small and lonely, but flat. That makes them nice spots to build a luxurious house. Some animals also spawn on this island. And if you want to venture further, you could find a nearby village, an Ocean Monument, and various shipwrecks.
Floating Island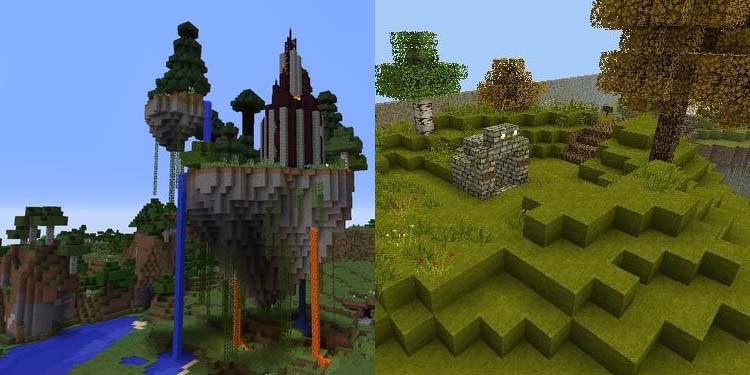 Seed: 2860514908902235157
This Seed will spawn you on a place where you can see a floating island, which is on top of a bigger island. You can explore the floating one and see beautiful vistas while keeping farms below.
Ice Island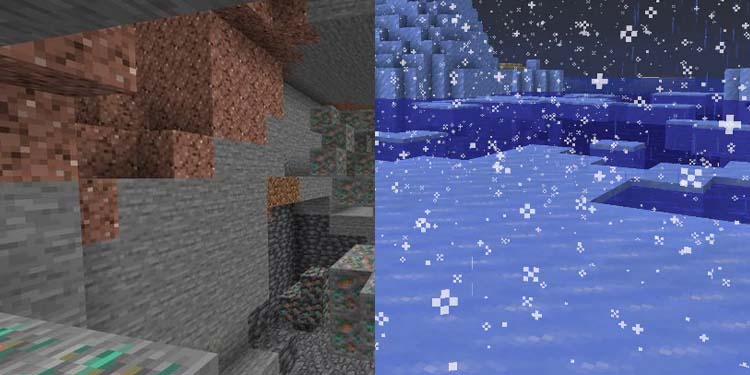 Seed: -723857422376254760
This puts you on a Frozen Ocean island full of key locations. There're ravines, ruins, monuments, reefs, caves, and dungeons. However, there're not many blocks to mine.
You'll need to find a way to survive the cold and the lack of resources and animals. The one thing that could help you is a Copper Vein, which is right there on the spawn coordinates.
Starting Twin Islands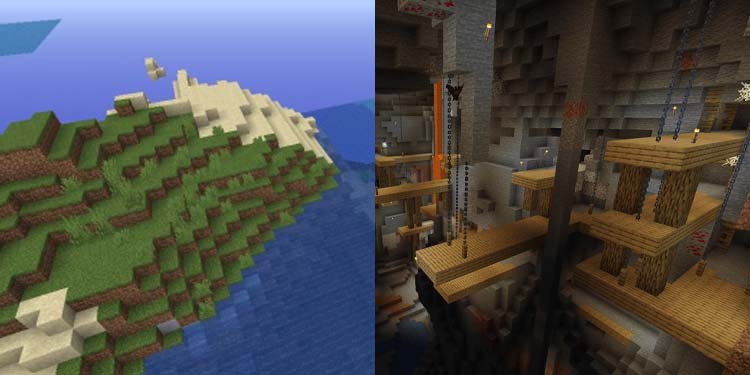 Seed: 6647031575022142850
Our last recommendation spawns you near two islands full of essential resources. One of these islands has an entrance to a mineshaft, where you could find diamonds, emeralds, and other ores.
There're no villages, ruins, or other vital locations nearby, though. Consider it as a basic and somehow challenging survival experience.