Call of Duty: Warzone tries to re-invent the various aspect of the game to give players a different experience every time they play the game. The game has added various modes and themed crossovers to entertain and excite players.
The Haunting event was one of the most popular modes added to the game. Both Black Ops Cold War and Warzone featured it. The mode introduced the scariest scenarios and a dark environment during the Halloween season.
In addition to that, new and spooky skins were added to the game. Most importantly, however, was a unique scare package that only appeared rarely. Many players invested significant time in locating the scare package for the exclusive skins it contained.
What are Scare Packages?
Scare Packages are those special package released to celebrate the festive Halloween season. It is colored with pumpkins orange color and plays a Halloween jingle when you get near it. The package contains spooky and creepy cosmetics for guns.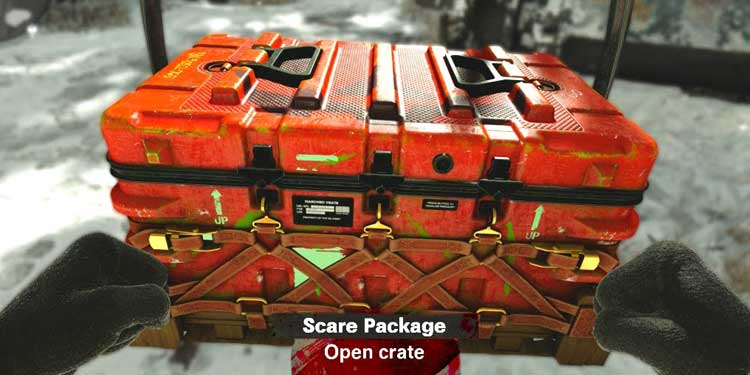 How to Find Scare Packages in the Haunting Event
You can get the scare package in both Multiplayer and zombie modes. You have to do a certain task and complete some spooky challenges to unlock the Scare package. Many players have reported that the scare package is extremely hard to get in multiplayer mode but is easy to get in zombie mode.
How to Open Scare Package in Multiplayer Mode
It is a great hassle for players to get the Scare package in multiplayer mode. Players have claimed to play many hours to get the package. Although it is very tough, it is not exactly impossible. First of all, you must have the required Scorestreak. It is the score that the player earns in one life.
In multiplayer mode, not every care package is a scare package, so you must collect the Scorestreak before calling the care package. Even though you can call the care packages, the scare package will not drop if you don't have enough Scorestreak. Furthermore, You need to find a safe place to call the package; otherwise, your opponent can kill you or your team and loot it.
How to Open Scare Package in Zombie Mode
It is comparatively very easy to get the Scare Package in zombie mode. Unlike the uncertainties of the Multiplayer mode, you can get the Scare package in random places in the zombie mode of the game.
You just have to be aware of the place where you can find the package as you can't see them in the mini-map. But finding the package is not that difficult because of its pumpkin orange smoke.