Valorant is an online FPS tactical game that depends on game servers and your internet connection to run smoothly. As it is an online game, it is more prone to many bugs and errors than offline games. Offline games have glitches, but online games have many bugs that make them game unplayable.
In Valorant, some errors are without a message like black screen error, crashing of the game, and many others. However, some errors in the game come with a message. The error message sometimes gives the exact reason, and some error has a code.
When Valorant shows an error, it is up to you to know why the game is showing an error code and what it means. One of the most common error codes that you can see in Valorant is Val 39 error code. If you are facing the same error code, we will tell you everything about it and help you solve it.
What is Val 39 Error Code?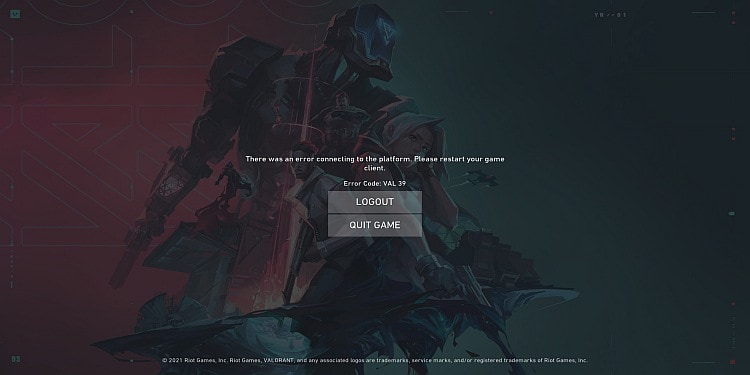 Val39 error code in Valorant is related to connection issues of the game. Mainly the game shows this error when the Valorant server is not working or is under maintenance. The game should tell you the problem directly, but it does not. So, it confuses players. But now you know.
When there is a huge update coming that changes the game, developers must take the server offline to work on it. And when you try to log in at this time, the game will show you the Val39 error.
Many players think reinstalling the game will solve this problem, but it won't, as the error is not associated with their gaming system or riot client.
Causes for Val39 Error Code
Whenever you get a huge update and you finish updating the game, you may see this problem. However, you don't need to panic. The issue will solve itself when the server is back online.
There are two other reasons that you may get this error:
Your internet connection is not good.
Your firewall is blocking the game from connecting to the internet.
Other than these, there are no other reasons for this error code. You will see many fixes on the internet showing you to change many system settings. We recommend you not to do that as the issue will solve itself, or you need to allow the game on Windows Firewall.
How to Fix the Val39 Error Code?
As mentioned, this error often goes away when the server is again up. So, unless you are a game developer, you cannot do anything in this case. If you want to check the server status, then you can check the Downtime of the Valorant server and Server Status to be sure.
Now let's see some of the fixes you can try to solve the Val39 error code in Valorant.
Check Your Internet Connection
If the server is fine, then check your internet connection. You may have a problem with your internet connection. If you are using Wi-Fi, then switch to ethernet or vice-versa. Also, you can try to restart your router and check.
Whitelist Valorant, Riot Launcher and Riot Vanguard in Windows Firewall
Another way is to whitelist the game in your Windows Firewall. If you are unaware of this process, here is how to do it:
Press the Windows key on your keyboard and type "Windows Defender Firewall."
Open "Windows Defender Firewall" by clicking on it.
On the left, navigate to the "Allow an app or feature through Windows Defender Firewall" option.
Then, select "Change Settings."
After that, click on "Allow another app."
Search for "VALORANT.exe," generally located in "C:\Riot Games\VALORANT\live," and click on "OK".
Tick the boxes for both Public and Private options.
Don't forget to do the same for Vanguard located in "C:\Program Files\Riot Vanguard\vgc.exe" and Launcher located in "C:\Riot Games\Riot Client\RiotClientServices.exe".
Check Whether Riot Vanguard is Running
This error can also occur due to the Riot anti-cheat software called Riot Vanguard. When Riot Vanguard is not responding or not running, Valorant can show the Val39 error. To check whether Vanguard is running or not, go to the system tray and check if there is the Riot Vanguard icon or not.
If Vanguard is running and its icon is in the system tray, you need to restart Vanguard. Here are the steps for this:
First, right-click on the Vanguard icon in the system tray and select "Exit Vanguard."
Then, go to "C:\Program Files\Riot Vanguard" and open "vgc.exe."
If none of the above-mentioned fixes work, you can generate a support ticket from this Valorant support page. So, folks, this is all you need to know about the Val39 error code in Valorant.