Valorant is one of the best FPS (First-person Shooting) game right now. Although the game is small compared to other games like Call of Duty Warzone, it has top notch graphics and awesome gameplay. So, to properly run this game, you need a gaming system that can handle it. But, sometimes due to the low-end system, Valorant can show only a black screen during start up.
Are you one of the players facing this problem? If yes, this article will discuss about all the causes and fixes for the Valorant black screen on startup.
Causes of Valorant Black Screen Problem on Startup
In addition to the low-end system, there are various other reasons for a black screen while starting valorant. We have listed them below for you:
The internet is not working or is too slow.
The graphics card driver is not up-to-date.
The Windows version you are using is outdated.
Cache files of Valorant may be corrupted or overloaded.
Already, an instance of Valorant may be running in the background.
The game may be out-of-date.
So, these are some major issues that may cause a black screen problem. You can easily tackle and fix them with the fixes we have mentioned below.
How to Fix Valorant Black Screen on Startup ?
Before going directly to the fixes, let's discuss the main issue here, i.e., Valorant's Minimum PC Specification. Like every other game, the developers of Valorant have given a minimum system requirement to run Valorant without any problem.
The minimum requirements set for Valorant are:
CPU: Intel Core 2 Duo E8400 or AMD Athlon 200GE
RAM: 4 GB
OS: Windows 7 or Windows 8 or Windows 10 64-bit or Windows 11 64-bit
VIDEO CARD: Intel HD 4000 or Radeon R5 200
PIXEL SHADER: 3.0
VERTEX SHADER: 3.0
INTERNET: Broadband Connection
So, before trying any of the fixes below, check the specification of your gaming system. If it does not meet the requirement, change the system; else, try the fixes mentioned below.
Check Your Internet Connection
After checking your system specification, check your internet connection too. Valorant is an online multiplayer game and is very competitive. So, the game needs a good internet connection to run properly. Sometimes, the screen can get black on startup when your internet is not working.
If you are using Wi-Fi, connect Ethernet and check or vice-versa. Also, you can check your internet connection speed.
Restart Your PC
We always restart our PC if it hangs or something goes wrong. Although it has become a habit, it has its benefits. Restarting the PC will terminate any kind of process that is hanging your computer or making it slow.
Similarly, if you restart the PC, it will terminate the processes that are causing the problem. This will solve your problem in an instant. But it is not always easy for everyone. If this does not solve your problem, try another fix.
Run Valorant as Administrator
Like every other application, Valorant needs to access some Dynamic-link Library (.dll) files to run. These files are installed in the drive where you have installed Windows (generally in the C drive). However, to access these files you need special permission which only an Administrator user has.
So, you may have to run Valorant as an Administrator to access the files and avoid the black screen on startup. For this, these are the steps:
Search for the "Valorant.exe" file on your PC and right-click it.
Then, click on "Properties."
Navigate to the "Compatibility" tab.
At last, click on "Run this program as an administrator."
Now, every time you start the game, it will run as an administrator and can easily access any file on your system.
Run Valorant in Window Mode
Valorant needs high power from your graphics card when you play it in full-screen mode. But your system may not be that powerful. In this case, a black screen is common. So, running Valorant in WIndow mode can be the solution to this. To run Valorant in Window mode, follow these steps:
Open Valorant and click on the gear icon on the top right side.
Then, click on "Settings."
Navigate to the "Video" tab.
Under the General tab, search for "Display Mode" and select "Windowed."
This will open Valorant in window mode and possibly solve the black screen problem.
Set High Priority for Valorant
Every running process or application on your PC gets a designated power or memory. The PC automatically sets the priority for the applications on how much power the application should get. So, if Valorant is not running properly it can be due to the low power it is getting.
You can solve this by setting the priority of Valorant to High or above normal. If you don't know the steps, this is how you should do it:
Press "Ctrl + Shift + Esc" on your keyboard and Task Manager will open.
Navigate to the "Details" tab.
Find "Valorant.exe" and right-click on it.
Then, select "Set Priority" and click on the "High" option or any option upward of Normal.
Close All the Background Processes Related to Valorant
Do you keep clicking on the play button while trying to open Valorant? Sometimes Valorant does not open as soon as we click the play button. We can be very impatient and keep on clicking on the play button multiple times.
This can lead to a bugged instance of Valorant running in the background. When a bugged instance runs in the background, the game will not start properly and show you a black screen. So, you must end the bugged instance of Valorant before trying to open the game.
If you do not know how to do this, here's how you do it:
First, open Task Manager by pressing "Ctrl + Shift + Esc" on your keyboard.
Go to the "Processes" tab.
Search for Background Processes and right-click on the processes related to Valorant like "Valorant.exe" and "Riot Vanguard." Then, click on "End Task."
Remember to run Riot Vanguard again from the game installation folder and open "vgc.exe," as, without Riot Vanguard, the game will not run.
Update Windows.
Not all Windows updates are necessary. You can skip some updates. However, when it comes to Windows version updates, it is necessary for compatibility with the game.
Online games are constantly getting updates. Some updates may ditch the old version of Windows. So, you need your Windows up-to-date.
To update Windows, follow these steps:
Search for "Windows Update Settings" in the start menu.
Open Windows Update Settings and the Windows update window will open.
Then, click on "Check for Updates" and download the update if there is one.
After finishing the update, restart your PC.
Update Your Graphics Card Driver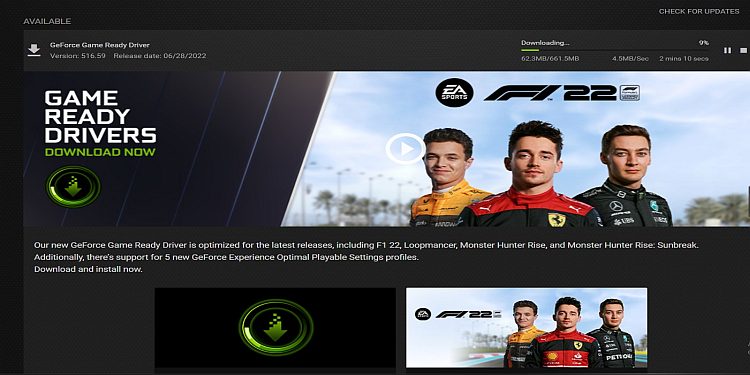 Do you update your graphics card driver as soon as new updates come? If yes, then you don't have to try this fix. If not, you must update your graphics driver. Out-of-date graphics drivers can cause conflict with the game or may not support the game, due to which black screen problems can occur on startup.
Regularly updating Windows will give you updates for graphics drivers too. However, these updates may not be recent. You can get up-to-date and reliable drivers only from the official sites of graphics card manufacturers(Nvidia and AMD) and their applications.
You can download up-to-date drivers and corresponding manufacturers' applications from their official site. It helps get frequent download notifications for new drivers and will keep you up-to-date.
Update Valorant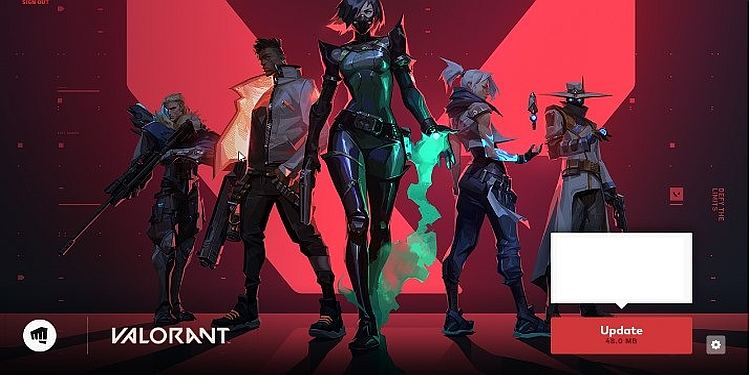 Every online game gives out new updates to its users for bug fixes or new content. If you do not install the updates for an online game, you will not be able to play the game as the game client is out-of-date.
Also, the bugs will still be in the game if you don't update the game. So, update the game from the Riot Client and try to open the game.
Change Environment Variable
A lot of players were complaining about the black screen problem. The Riot officials saw the complaint. The black screen bug was somehow similar to the crashing and not launching problem of Valorant.
As per the officials, these bugs may have been due to the OpenSSL bug in some CPUs. So, the officials gave a solution to change the environmental variable of your system. Here is how to do it:
Go to the start button, search for "Edit the system environmental variables," and click on it.
Click on the "Advanced" tab.
Search for "Environmental Variables" under the Advanced tab and click on it.
You will see two main topics, "User variables for ADMIN" and "System Variables." Click on "New" under the System Variables topic.
In the Variable name, type "OPENSSL_ia32cap."
In Variable value, type "~0x200000200000000."
Then, click on "OK."
After editing the system environmental variables, restart your PC and try to start the game. If the problem persists, try another fix.
Delete Cache Files of Valorant or Riot Games
Every game you install in your gaming system creates a cache file folder. If you have noticed, the game boots a little slow when you first play a game. However, after playing for some time, the game becomes faster.
This is due to the cache files, which help keep the game's temporary files. This can help in the fast startup of the game and keep files for future purposes. However, these cache files can be corrupted. So, when the game starts and tries to use the cache files, the corruption won't let the game start.
So, you should delete the cache files first and try to open the game. Don't worry; deleting cache files won't affect the game. If you don't know where the cache files are, follow these steps:
First, end all the processes related to Valorant as shown in Fix 3.
Then, open the Run command and type "%ProgramData%" and press Enter.
Search for the "Riot Games" folder and delete it.
After deleting the folder, restart your PC and launch Valorant.
Reinstall Valorant
This is the last and most time-consuming fix on this list. If none of the fixes above work, you should reinstall the game. First, uninstall the game entirely. Do not keep any files or applications related to Valorant. Then again, download the game from the official site.
Also, you can try to install the game on another drive. So, if you had installed the game in the C drive earlier, install it on the D drive.