The first thing to do after loading up any game is to look at the settings and keybinds. This helps you understand the layout of the game and availability of in-game actions. 
Valorant like others is no different. You as a player need to know beforehand what setting works best for you.
As such, here are few settings that we have tried and tested in-game and has worked wonders. These might be helpful for you too.
General Settings
Mouse Settings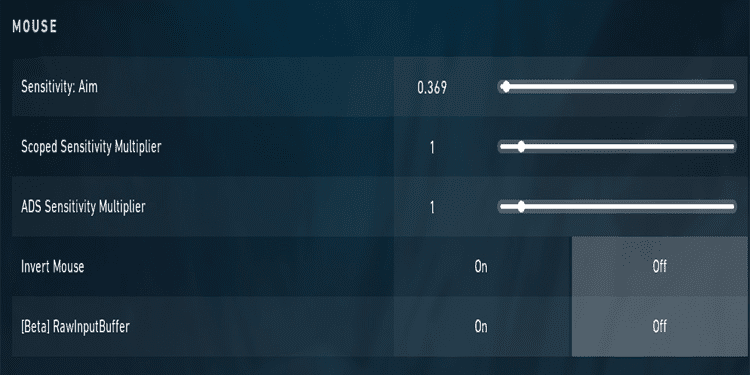 Sensitivity – Aim: The most important setting for your games. This value determines the speed at which your crosshair moves within Valorant. Although you are better off adjusting this option to your comfort, having an overall lower value means a precise aim. This number also depends on your Mouse DPI settings. My preferred mouse setting would be 0.369 with 800 DPI for a 24'' Monitor.
Multipliers: This setting is better left in its default value of 1. It means your scoped and ADS value remains the same as your sensitivity for better aiming consistency.
Invert Mouse: Keep this default as Off. There is no use of dragging your mouse downwards while the in-game screen moves upward. 
Raw Input Buffer: This setting disables any mouse sensitivity value added from your pc settings into your game. If you prefer having a faster mouse value while using your system but have a habit of playing the game in a very low setting, keeping this ON might be for you.
Map Settings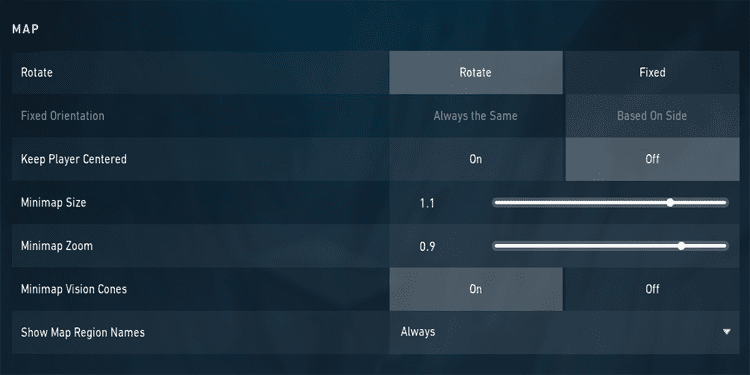 Rotate: This option determines if your mini-map rotates or remains fixed with respect to your in game movements.
Keep Player Centered: When this option is off, it shows the whole map in your mini-map. Keeping this on applies a zoom on your mini-map depending on the part of the map you are at.
Minimap Size/Zoom: Adjust to your preference.
Minimap Vision Cones: It's recommended to keep this option on at all times. It will help you see what section of the map your teammates are holding. You can make better judgement by rotating faster. Or you can play complimentary with your teammates by holding the other angles and not letting enemies backstab your team.
Show Map Region Names: This option is recommended to be kept On at all times. It gives you a good idea on enemy positions by calling out to your teammates. For example: pizza or dugout relates to a specific part of the map which, when called, means every player understands where to look at.
Privacy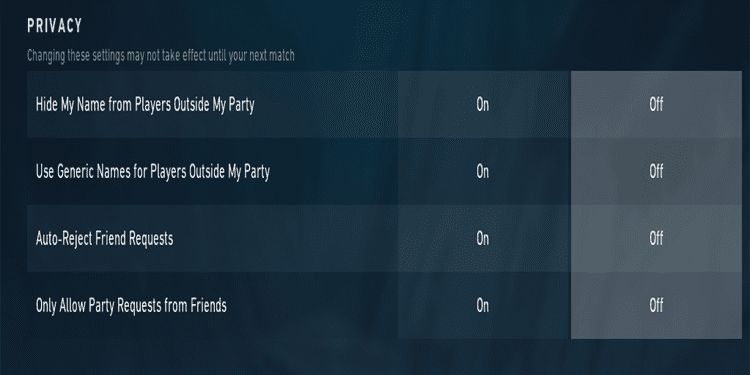 Hide My Name from Players Outside My Party:  With this setting on, instead of your IGN(in-game name), the game only displays your agent's name which is being played.
Use Generic Names for Players Outside My Party: This setting enables you to hide all names and replaces it with agent names instead.
Auto-Reject Friend Requests: This setting does as it says by auto-rejecting all friend requests. Keeping this On is recommended if you are a famous content creator. 
Only Allow Party Requests from Friends: Optional.
Other
First Person Handedness: This setting determines if your weapon and ability are used with the left hand or the right.
Note: I personally opt using the left option being right eye dominated in real life. This helps me to see the right side of the screen clearly without clutter and helps me be more precise in gunfights.
Show Mature Content: This option is better left off if you are a content creator. However, prefer to keep this on so that you can track players better. It helps you determine players who are toxic and should be muted/reported in a game. 
Note: Since there is no way to avoid certain players in your match, I use the mute text and voice option in-game for individual players.
Show Corpses: If you are having trouble as a frequent Sage player, maybe turning this on will work for you. While this option is off, all dead bodies will have a circular gadget in the ground. It will also help you get rid of useless clutter filling up your screen.
Show Blood: This option is really good to confirm damage given to enemy targets. All it does is display blood particles on enemies when hit by your weapons. It is an important setting of the game to help you gain confidence and be aggressive.
Show Bullet Tracer: An absolute addition to the game to see your bullet projectiles in a line in front of you. This option helps you make adjustments to your shots.
Show Spectator Count: This option displays the number of allies watching you after they have fallen in a round. It is shown in the top right corner and is really helpful to understand teammates.
Rest of the settings inside "Others" should be left as default unless you know what you are doing with the options.
Video Settings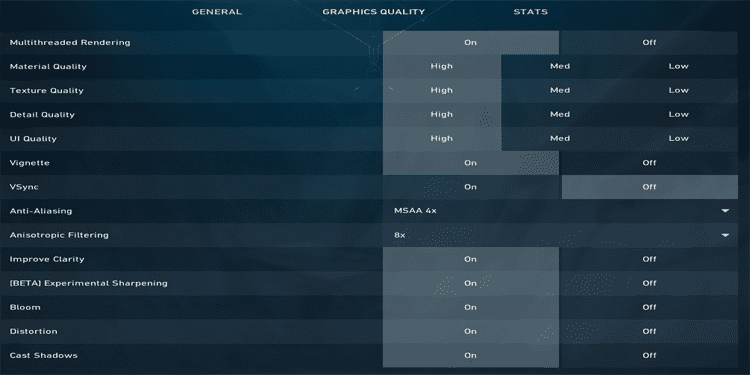 Multithreaded Rendering: An overall video processing option for a smoother fps. This setting allows dividing multiple processes by utilizing free CPU for a faster render.
Material Quality: This setting affects the in-game materials that consist of edges, walls and weapons. Keep this in High if you have a powerful PC. Medium is also a decent value as it does not have much of a visible difference.
Texture Quality: Affects the textures of your game. In technical terms, this setting works on the amount of polygons associated with any object.
Detail Quality: This setting is purely for aesthetic reasons. It affects the details of objects in the game.
Vsync: Turning this setting On means your system synchronizes refresh rate and frame rate for a smoother experience. You can opt to keep this off too if you have a powerful PC.
Bloom: Affects the lighting of the game to give it a more atmospheric visual.
Cast Shadows: Allows shadows to be deeper in materials and objects.
Improve Clarity: As this says, it improves the clarity of objects in the game by removing some level of blur.
Conclusion
Getting to know which keyboard button allows you to jump or walk slowly in a game gives you an advantage than simply jumping straight into your first match.
Similarly, adjustment to your graphic settings as per your system might also boost the overall performance in your matches.
It is not necessary to keep the video quality settings at high all the time.
Giving your PC/Laptop a room to breathe with a stable 60-90 fps is better in most cases.
Good Game!!