Fade is the newest addition to the Valorant roster. A Turkish bounty hunter, Fade uses her raw nightmare power to haunt down her targets. She brings a new feel to the game with innovative mechanics and abilities.
Her kit feels like a hybrid of existing agents such as Sova and Skye. This is why her abilities are familiar to the players in some ways. Saying that, lets talk more about Valorant Agent Fade's role, abilities, counters and others.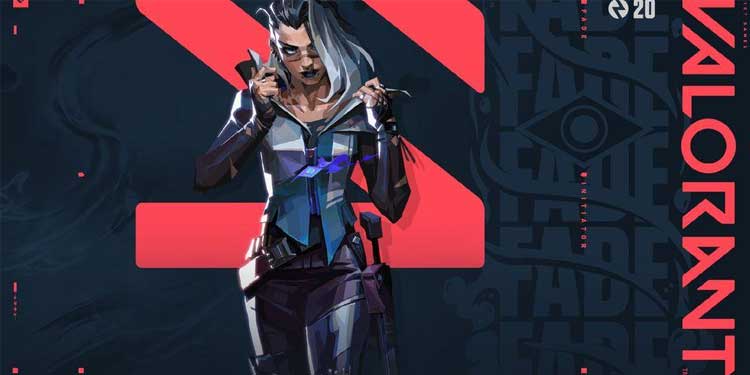 Role
Fade is an initiator agent. She helps her team to enter a contested site and reveal their position. Her abilities help gather information on the enemy position for the team to set up.
Like most initiator agents, she excels on the offensive more. She assists the team by pinpointing the enemy's location for a few seconds. Afterward, flush them out from their current position if revealed.
The addition of the agent has made new metas in some maps. Besides, her playstyle is a mix of both aggression and tactics. You can execute and retake the site effortlessly by using her abilities.
Abilities
Fade has four special abilities and a passive ability. Her expertise complements each other and can be a great asset on numerous situations. All skills assist in making team or solo plays more effective.
However, all her abilities do not inflict direct damage like other initiator agents. But is still capable of having a high impact on a match.
Terror Trail
Terror trail is a passive ability which marks enemies and leaves a black trail that can track their movement and position. Both Fade and her team can see the enemies' trail.
Seize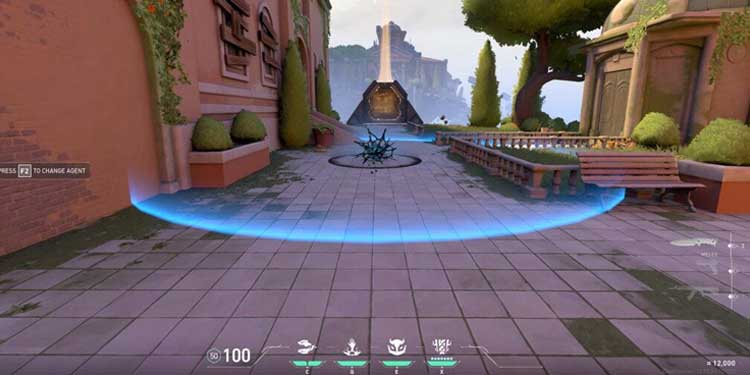 Seize is a grenade-like projectile ability. The orb can be thrown at any horizontal surface. It activates and explodes as soon as it hits the ground creating a radius. The enemies inside won't be able to escape for approximately 4 seconds.
Not only does it chain you to the ground but also decays your health for a brief moment and deafens you. There is no possible way to counter after the orb hits the ground.
Avoiding it is the only counterplay to it. The cost of the ability is 200 creds and consists of 1 charge. The default command key for Seize is assigned as Q.
Haunt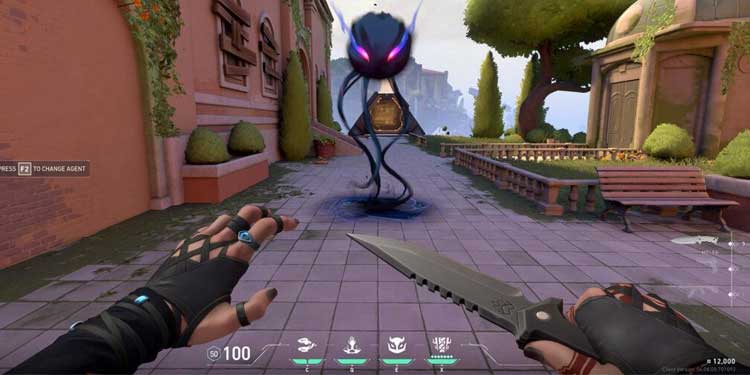 Haunt is a signature ability you can cast for free without having to purchase the ability. You can throw the orb like a projectile on any given surface. A dark entity with pair of eyes is summoned after hitting the ground.
It will reveal any enemies in its vicinity or line of sight for 2 seconds. Enemies revealed by it will be marked and leave a black trail on the ground that can be tracked.
The ability can be countered and destroyed if the opponents shoot at the entity as soon as it lands. There is no cost for this ability and has a cooldown of 40 seconds. The default command key for Haunt is assigned as E.
Prowler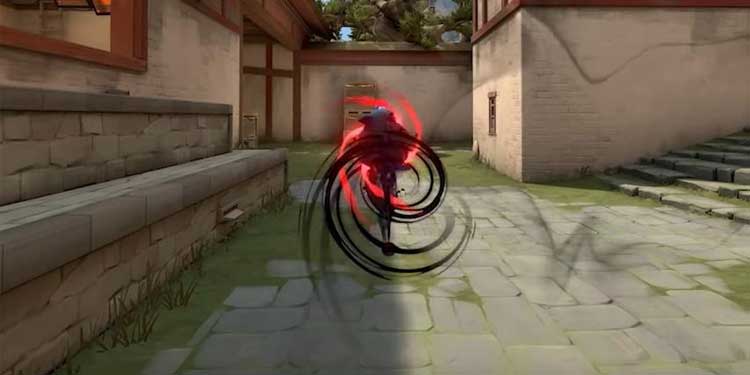 Prowler lets you guide a nightmare-fueled entity to blind and deafen the target. The entity will chase down the target if it is in their frontal vision. This ability is best used with Haunt.
You can mark the enemy with haunt and use prowler next as it chases them down by tracking the black trail on the ground. If the prowler catches the target, it will obstruct their vision and deafen them for 3 seconds.
You can counter it by shooting a few bullets at it. The cost of the ability is 250 creds each and consists of 2 charges. The default command key for Seize is assigned as C.
Nightfall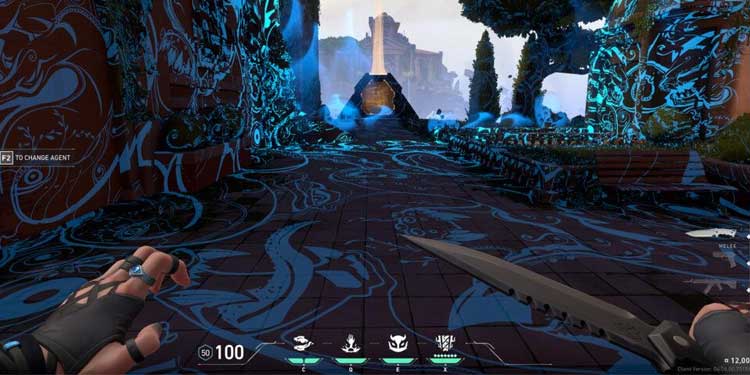 Nightfall is Fade's ultimate ability that sends waves of nightmare energy through walls to the entire site. Enemies hit by the waves will be deafened and decayed.
Furthermore, a black trail is left behind that can be tracked for 12 seconds. The only way you can counter the Ult is by avoiding the wave's path. The cost of the ability is 7 Ult points. The default command key for Seize is assigned as X.
Strategies
The main objective of a Fade player is to gather information on enemies by using her abilities. Fade's ability should be used very efficiently as it can directly impact the outcome of the round.
Skills such as haunt will help her gain intel on the enemies' position. This can help your duelist and team execute the site or get the first pick. You can be creative with your Haunt ability and where you throw for the max value.
Prowler ability can also be used to chase down enemies that are marked by Haunt and flush them out. This way the team will have the upper hand while engaging them.
Also, other agents' abilities can be used as a combo with Seize to inflict high damage. For instance, Sova's shock dart and Raze's grenade are a few of the abilities that can be combined with Seize.
Likewise Seize can slow down aggressing enemies. This ultimate ability is very high-value as it helps the team secure the round. The ability not only deafens enemies but also decays their health. A trail is also left behind which can be tracked by her and her teammates. The entire site is locked down by her Ult and gives your team an advantage while you execute the site.
The role she plays in a team is vital and works well with every other agent. She can disrupt an opponent's strategy using her abilities to gain early information on the enemies pushing in a site.
In other words, her abilities can slow down opponent aggression and buy time for the team to back her up.
Counters
Facing Fade in your match and to counter her can be difficult. But like everyone and everything else, she too have a few weaknesses and counters. Limiting her abilities is one of the best counter plays.
Baiting Seize and destroying Haunt as soon as it hits the ground denies any intel or position. This will result in Fade having less impact on the game compare to other initiators.
However, it's easier said than done. Larger Maps such as breeze can make her kit less impactful and weak as she has a restricted range to use her abilities. Few of the agents such as Chamber, Omen, and Yoru can use their ability to Teleport to cancel out Terror Trails.
Prowler's ability can have less impact if the opponent agents consist of these mentioned agents or Neon. She can use her ability to outrun prowlers when she is marked and chased.
Viability
For a newly released character, Fade has a high pick rate compared to other Initiators in Ranked. The learning curve of the agent is not that steep. Also, her playstyle is suited best for aggressive players as well as team play.
If played right, the agent can be considered the best initiator agent in both competitive and casual play.
The ultimate she provides can change the tide of the round. It is great for both executing a site and in a clutch situation. She is a great solo queue agent and her kit is useful to her teammates in ranked. If her abilities are correctly used, she can have a high impact on almost every map.
Nonetheless, being good at it can take some time. You will need to learn line-ups to bring out the most value of her abilities. Knowing her timing, and abilities duration can level up your play as her.
Likewise, Fade has quickly adapted to the Esports scene. The agent is also one of the most picked agents in every region. The utility she provides for her team determines their success to secure the rounds.
Having her on a team lets the team be aggressive and play off her info. Due to this, many teams pick her as the primary initiator is most maps. A new agent that already has shaped different metas in the competitive scene shows that the character design is well thought out.