The term "Minecraft seeds" can be confusing, but in essence, it refers to the "code" for each of the millions of available worlds in the game. And because each world is different, we can help you find the most fun and creative areas.
Each numbered code generates a specific Minecraft world. This would be a "seed," which carries a code that dictates what you'll see—using particular codes will always generate the exact same worlds. 
So, if you're thirsty for new Minecraft experiences, we compiled a list with the best seeds across different types of biomes. The options are vast and range from overworld darkness to woodland horror mansions.
Multi-biome Valley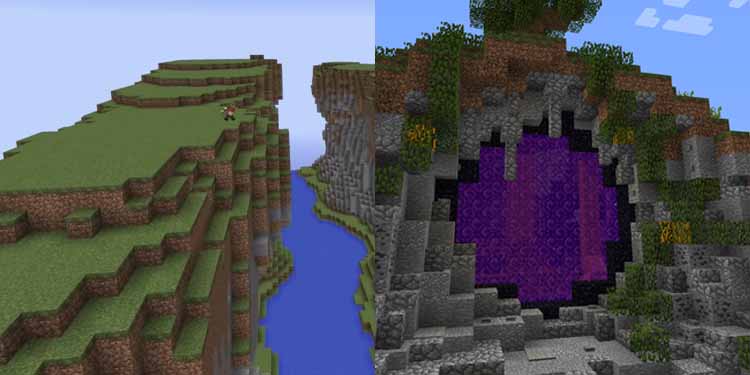 Seed: 6346334364994434137
No main biome
Our top recommendation is a huge seed world with thousands of blocks. It includes almost all climate and biome types available in Minecraft Bedrock. Particularly, walking across the edges of the valley is how you'd find the different areas.
Then, you'll find a mountainous ring in the middle of the valley. It's the perfect spot to create a castle and kickstart your kingdom. Other locations in the biome include villages, a Nether Portal (344 -312), and an Ancient City.
Large Mushroom Island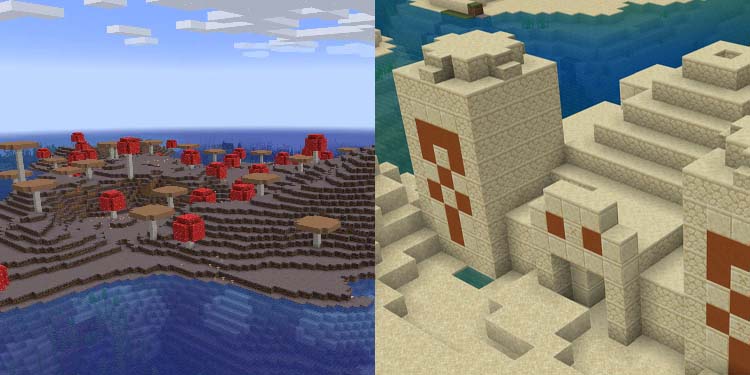 Seed: -3832188667730420108
Main Biome: Mushroom island
Mushroom islands/mushroom fields are one of the rarest biomes in Minecraft, which immediately makes this seed juicy. Once you spawn, you can find a large Mushroom island at the following coordinates: -307, 63, 210.
Aside from the island, there's a Desert Temple and many common and rare mobs. You'll spawn close to the island, though, and you can explore the temple for key resources and fast gearing up.
Starter Woodland Mansion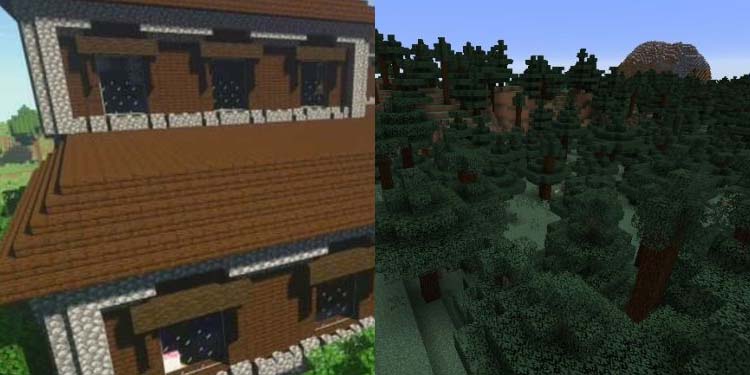 Seed: 1663935988
Main Biome: Taiga
The early-game grinding can be a bit tedious if you've already done it multiple times. Perhaps you want to skip your initial base and get on with the adventure.
The solution is this seed which spawns you close to a Woodland Mansion. You can clear it to claim it and also claim the landmass and resources around the mansion. Lastly, this is a taiga biome, but it's a large world. Other locations it includes are:
| | |
| --- | --- |
| Location | Coordinates |
| Woodland Mansion | 264 616 |
| Pillager Outpost | -792 504 |
| Village | -936 760 |
| Village/Stronghold | 824 1320 |
| Ocean Monument | 1256 152 |
Lush Coral Cave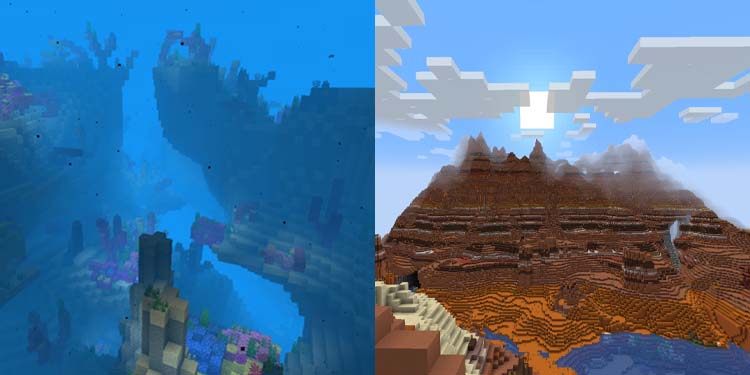 Seed: 599282705
Main Biome: Badlands/desert
This is one of the most beautiful Minecraft Bedrock worlds we've found. It spawns you on a badlands/desert biome, and you start close by a multi-layer Lush Cave.
The cave is on a cliff on Badlands Mountain, and it overlooks a Coral Reef Lake and a Coral Reef biome. Other key locations include villages, Large Ruins, a shipwreck, monuments, temples, and more.
The Twin Islands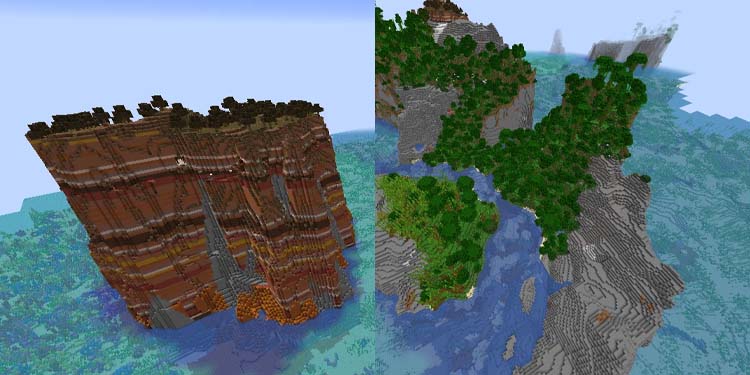 Seed: 7850875
Main biome: Badlands, sea, and jungle
The highlight of this seed is two vertical islands on one part of the map. One of these is a Badland island with trees, while the other is a jungle island. You'll spawn next to this area.
Particularly, the jungle island has a ruined Nether portal, a jungle temple, a lagoon, and a lush cave. Then, the sea has a coral reef biome.
Underwater World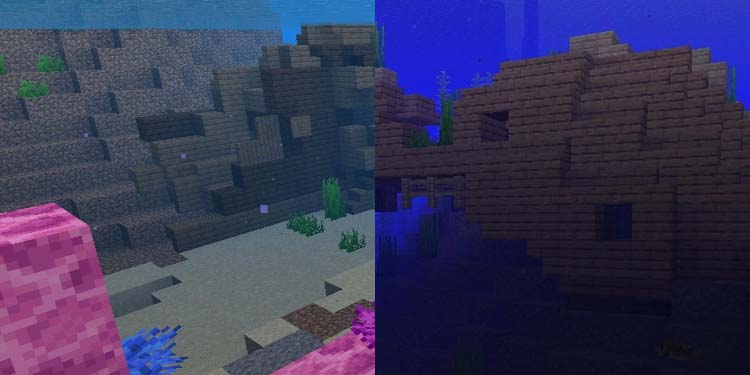 Seed: 2607133457590840792
Main Biome: Ocean
If you want to turn Minecraft into Subnautica, you can spawn a completely underwater world and try your chances. Granted, you may die in the first couple of minutes, or you may face the challenge or survive and, eventually, claim the ocean as your own.
The seed has no land, so if you play in survival mode, you may starve, drown, or die to underwater mobs. You may also find a lush cave as you explore underwater.
Deep Darkness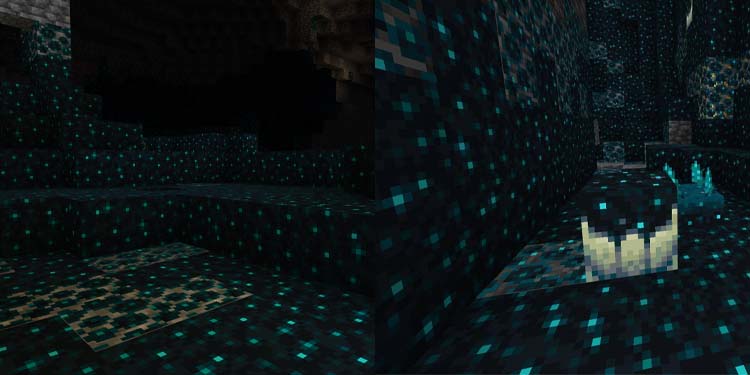 Seed: 2795636475449950194
Main Biome: Overworld deep dark
You may spawn in a deep dark biome with no Ancient Cities to explore. Instead, the darkness covers hundreds of blocks, which makes this seed unique.
However, like most seeds in Minecraft, this is a full biome with many areas to explore outside of the overworld's darkness. The world on the surface is mainly a plain biome.
Plains Crater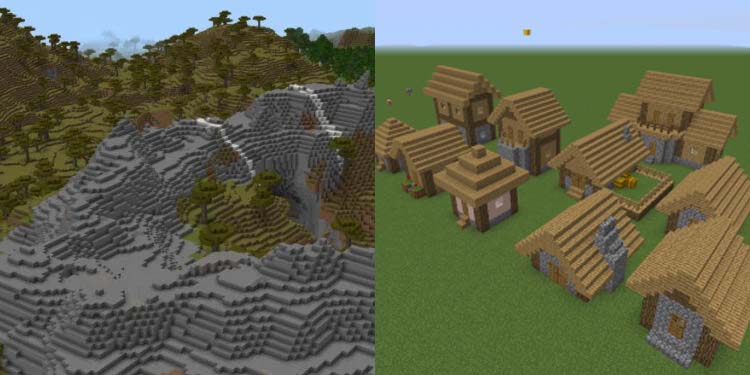 Seed: 4284333691774547722
Main Biome: Plains
This seed spawns you on a great starting point. You'll start on a large crate, and there's a Plains Village and a Woodland Mansion inside the crater, plus tons of vegetation.
Additionally, there's a Pillager Outpost nearby the mansion, but you'd need to take the guards to loot gear, tools, and resources. Other key locations nearby include an Ancient City and a Ruined Portal.
Lush Taiga Sinkhole
Seed: 340883181811974
Main Biome: Taiga
This Minecraft Bedrock seed generates unique phenomena and abnormalities. It takes you to a regular and large taiga biome, and the first thing you'll notice is a massive sinkhole.
The pit leads you to a Lush Cave at the bottom. Elsewhere you'll find villages, an outpost, and an Ancient City. There're also plenty of animals and resources in the open space, plus many opportunities for adventure.
Woodland Mansion Taiga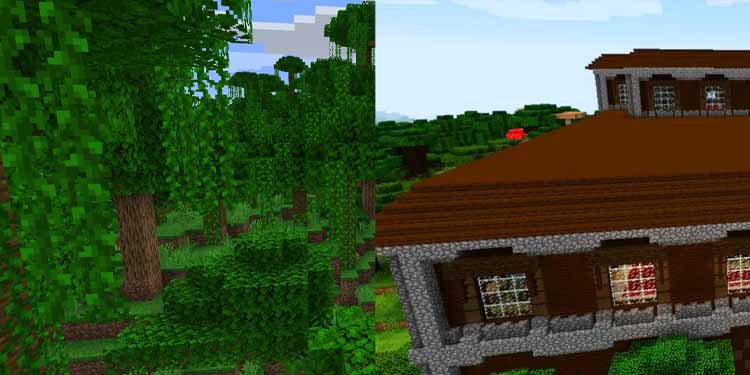 Seed: 9052976841900068914
Main biome: Taiga
This seed code spawns you on a beach with an inland sea. The area is full of hidden treasures, diamonds, shipwrecks, and similar.
There's also a village with traders, tools, weapons, food, and valuable resources to collect. On top of all that, the world has a woodland mansion, but finding it can be difficult.
Mountain Valley Villages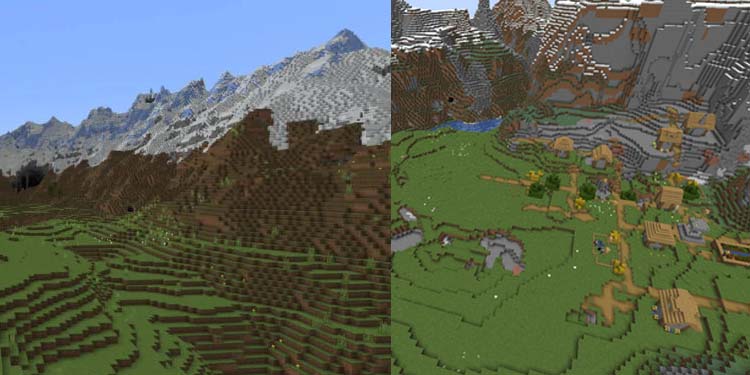 Seed: 10532435
Main Biome: Taiga
Mountain villages and lakes are the staples of Minecraft, and it's perhaps why you're curious about seeds. That's because these areas, often taiga biomes, are brimming with resources and animals such as bees and foxes.
Moreover, villages are full of traders, farms, and animals. They offer a quick way to get the basic tools you need to survive in the game's Survival mode. Aside from villages and mountains, the seed offers caves, villages, lakes, and forests to explore and explode.
Large Swamp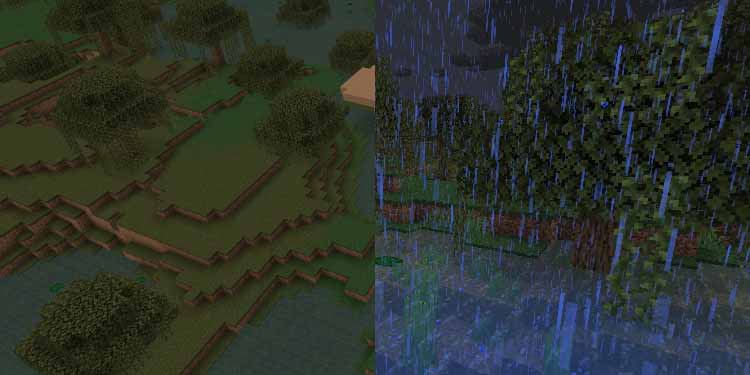 Seed: 8040866539899091321
Main Biome: Taiga
This is a large swamp biome. It includes several ruined portals, other smaller biomes, and five witch hunts.
Also, the latest Minecraft Bedrock update revamped swamps. One of the new additions is the frog mobs in these areas. So, frogs will be the most common mob on this particular seed.
Brennenburg Castle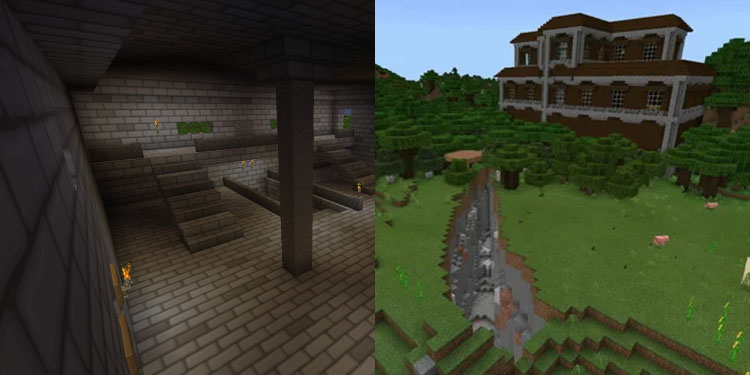 Seed: -577384543
Main Biome: Taiga
There're Minecraft Bedrock seeds that include large NPC structures, although not as many as you'd find on Java Edition. Either way, the one we recommend is a tribute to Amnesia: The Dark Descent's horror castle (Brenneburd Castle).
The seed allows you to explore the fortress and find secrets, loot, easter eggs, and mobs on its interior. Now, the castle itself is a woodland mansion within a taiga biome. You'll also find a couple of villages and other minor biomes to discover.
Village with Nether Portal
Seed: -567784840
Main Biome: Taiga
There're various Minecraft seeds with Nether portals, but we found the one with the easiest access to the otherworld and right into the game's action-heavy areas.
This seed will spawn you on a village full of animals and a giant Nether portal. You can collect tools and resources on the taiga biome and then process to the underworld for combat and loot.
Desert With a Dripstone Cave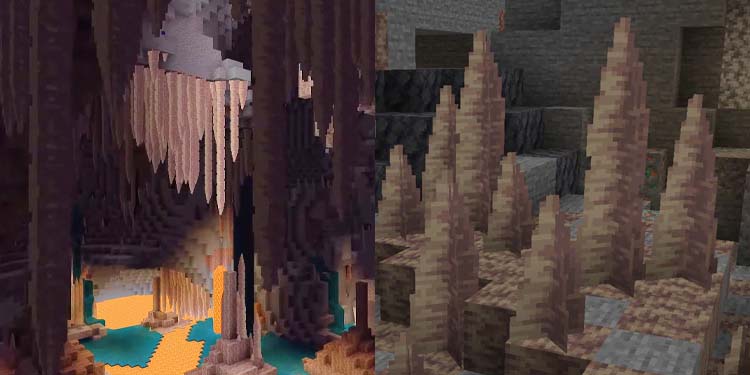 Seed Code: -2363055906115447481
Main Biome: Desert
We're recommending a desert biome seed that spawns with three nearby villages. Two of them don't have many resources, but the third one is close to a Pillager output plus an Allay Cage. You can free and tame the friendly Allay easily and explore the mangrove swamp together.
Additionally, the seed has a dripstone cave. These types of caves are rare and contain high-tier building materials. It also exposes you to lava sources and some nasty mobs. Even so, you'd be able to get great loot and lava for a Nether portal.
Mangrove Swamps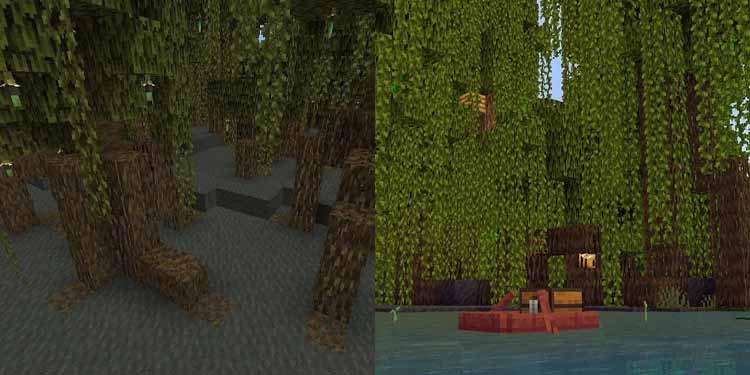 Seed: 865485470365011767
Main Biome: Mangrove swamp
The mangrove swamp biome is new to Minecraft Bedrock 1.19 update. You may want to explore it to see what it offers.
The seed we're recommending spawns large areas of mangrove swamps, but these merge with other types of biomes for extra resources. It can be difficult to explore and survive, though, so approach it with some experience.
Dark Tower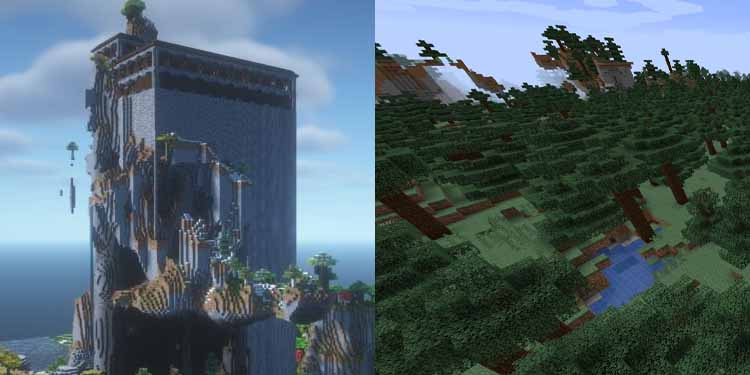 Seed: 3477968804511828743
Main Biome: Taiga
This particular seed spawns an NPC tower at the top of an island. The tower is full of mobs, powerful enemies, and loot. You can conquer the location and make it your home, though.
Aside from a fun survival "story mission," the world includes a gorgeous taiga island full of resources. Additional areas offer easier ways to get resources, tools, and weapons to ultimately conquer the fortress.
Jungle Island for Beginners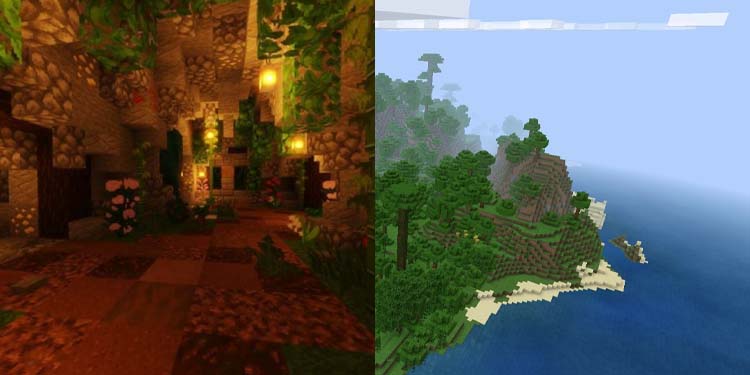 Seed: 968565878525959881
Main Biome: Jungle island
The last Minecraft seed we're recommending is a huge world, and it contains all of these locations:
| | |
| --- | --- |
| Location | Coordinates |
| Jungle Temple | -152 40 |
| Ancient City | 184 -51 104 |
| Ancient City | 216 -51 136 |
| Shipwreck | -232 -120 |
| Shipwreck | 168 -344 |
| Ocean Monument | -200 -776 |
| Ocean Monument | -264 -712 |
| Village | -904 -424 |
| Village | -944 48 |
| Village | -1312 272 |
| Ocean Monument | -200 -776 |
All of these locations are within a friendly island with easy mobs and small perils. It's a simple and beautiful location for casual playing, and it's a great starting location to explore the game's mechanics and crafting systems.
Also, there's a Lush Cave beneath the island, and you can use it to build a safe and cool underground base.