Slicing enemies with style and performing spin attacks to cause AOE damage is so much fun with Twinblade. It is a weapon with sharp edges on both sides and is wielded from the middle. It is most effective when surrounded by normal enemies and getting out of sticky situations. 
Twinblade might not have long-range attacks or may not be great at dealing with physical damage, but you can infuse Twinblade weapons to deal with status damage. As they hit enemies multiple times, the status build gets multiplied with each hit. 
Twinblade Playstyle
There are only two setups to use with Twinblade. You can use a two-hand Twinblade to perform a spin attack in rapid succession or dual-wield the weapon to perform multiple jump attacks. If you are going for the bleed build, then dual-handing Twinblade is the best option, as the weapons hit multiple times with one single jump attack. 
Make sure to use talismans such as Rotten Winged Sword of Insignia, Millecent's Prosthesis, and Godfrey Icon to increase the damage of each successive hit. 
Best Twinblade on Elden Ring
There are fewer Twinblade compared to other weapon types, such as katanas or greatswords. Most are obtained much further into the game, so it's challenging to use when you have fewer Twinblade to fight with.
Nevertheless, this article will provide you with everything you need to know about Twinblade and guides to obtain them. 
Eleonora's Poleblade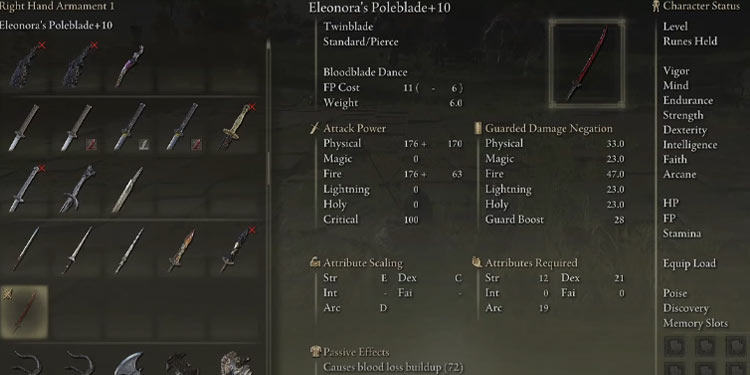 Eleonora's Poleblade is the most powerful Twinblade when used alone. Between its native bleed build-up on every hit and its weapons skill, Blood Blade Dance hits rapidly and often staggers enemies. It's one of the deadliest weapons when applying additional bleed and paired with an attack-multiplying talisman. 
How to Obtain Eleonora's Poleblade 
To get Eleonora's Poleblade, you must complete Yura, Hunter of Bloody fingers. You can begin his quest from the West of Agheel Lake South site of grace, under the huge curve structure. If you have already defeated Bloody Finger Nerijus, he will be waiting for you under the bridge-like structure in Murkwater river.
After completely exhausting dialogues with him in Raya Lucaria academy, you have to unlock the Altus Pleature region and go to the Second Church of Marika. Here, Eleonora, Violet Bloody FInger, will invade you. Defeat her, and she will drop the Poleblade.  
Twinblade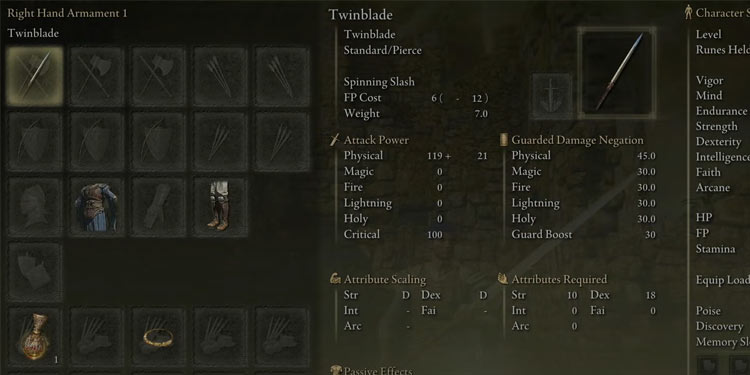 Twinblade is a decent non-unique Twinblade that can be buffed with talisman and war ashes to create unique and powerful attacks. You can acquire this weapon early in the game to level up your Twinblade and experiment with different ashes of war.
Twinblade is also extremely effective when applying status effect damage on your weapons, such as Lightning and fire damage.
How to Obtain The Twinblade? 
You can find Twinblade down the dungeon in Dragon-Burnt Ruins. You don't have to defeat any giant monsters or bosses to obtain it. Simply search for the area covered by damaged walls from all four sides and go down the stairs to obtain Twinblade from the chest.
Twinned Knight Swords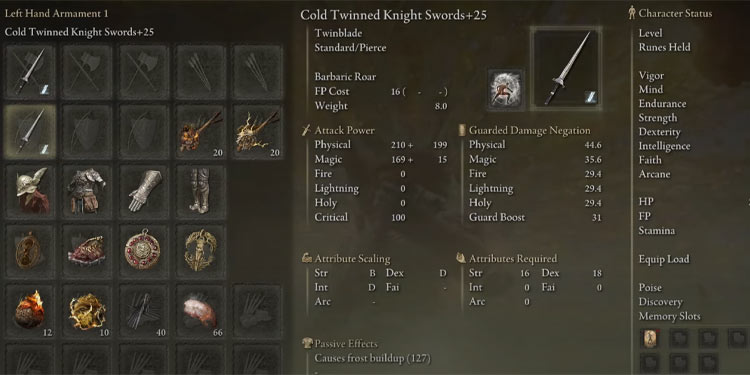 Twinned Knight Swords is a well-rounded Twinblade that scales with strength and dexterity. It is also the longest Twinblade for extra small reach. Due to its non-unique attributes, you can apply a number of Ashes of War and can also change its affinity. 
How to Obtain the Twinned Knight Swords
Twinned Knight Swords can be found in East Windmill Pasture, North of Altus Pleatu. You can either head straight north from the Road of Iniquity Side Path site of grace or use a portal near Forest-Spanning Greatbridge.
Either way, you will reach the windmill, where you will see a bunch of people dancing around the fire. Head into the fire and pick up the Twinned Knight Swords along with other Noble's attire. 
Godskin Peeler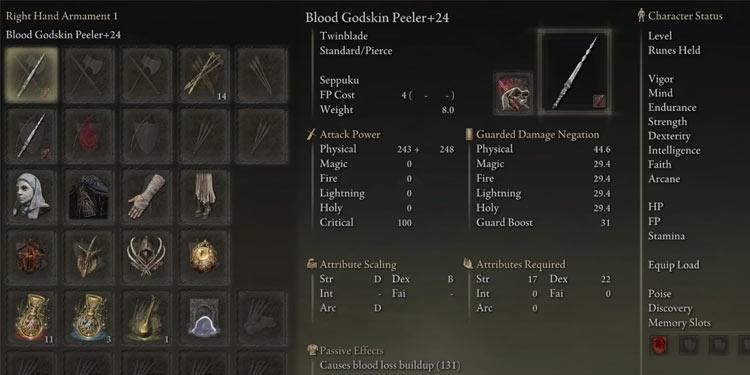 Godskin Peeler is an ideal weapon to be dual-wielded as it has the best scaling in Keen and Occult affinity. You can create a bleed build-up frenzies by pairing up with another Twinblade and applying ashes of war, such as Seppuku. 
How to Obtain The Godskin Peeler
From the Windmill Village site of grace which is located at the top of Altus Pleatu, head to the top of the windmill passing all the creepy dancing people. You then need to defeat Godskin Apostle to acquire the weapon.
Gargoyle's Twinblade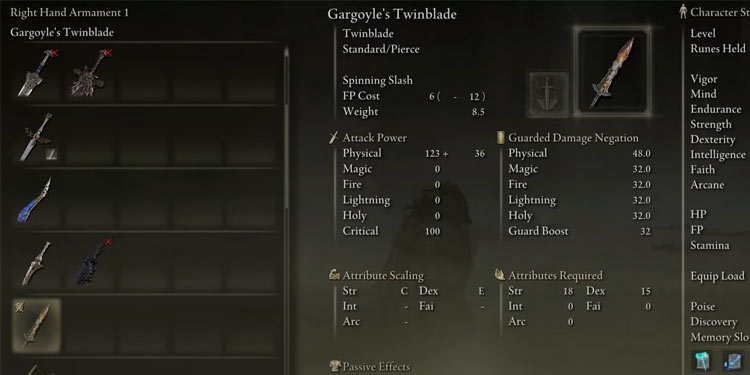 Gargoyle's Twinblade is best with strength scaling; therefore, the total damage is highest when applying Heavy affinity with this weapon. You can also change the ashes of a war that suits your playstyle.
Because the Gargoyle's Twinblade leans towards the strong side and has the best strength scaling of all Twinblades, it makes an ideal candidate for a single-handed setup that boosts the damage with strength. 
How to Obtain The Gargoyle's Twinblade
First, you have to defeat the Starscourge Radahn. Defeating him unlocks an entirely new area called Nokron, Eternal City. Head Southeast of Mistwood miner Erdtree, and you will see a giant crater that will lead you to Nokron.
Head to the Aqueduct-Facing Cliffs site of grace after defeating Mimic tear boss. Defeat the two Valiant Gargoyles, and you will receive the Gargoyle's Twinblade along with Gargoyle's Greatsword.