Staggering giant enemies is really fun with Greatswords, especially when you have the most badass-looking skill moves. Greatswords are medium slow but their unique skills are what separates Greatswords from other weapons.
Greatswords keeps the balance between stamina and equip load for players to have speed with attack power. It also provides you with a fair amount of poise when performing skill-based attacks. Just as the name suffices, Greatswords are great at dealing damage, and here is the list of the greatest swords to whip enemies out of existence. 
Best Greatsword on Elden Ring
Welding these heavy swords requires an increase in strength level. After leveling up enough strength, you can then experiment with a different playstyle. Be ready to stack up your skill points because here are the best Greatswords for your strength and magic build.
Iron Greatsword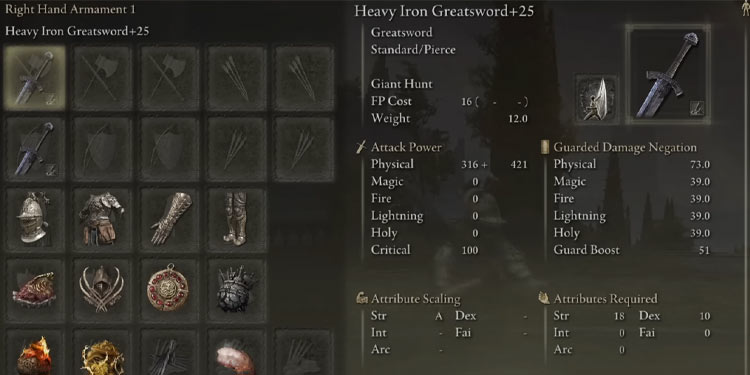 With the highest base physical damage, Iron Greatsword is one of the best non-special Greatswords, which is also great at infusing with ashes of war. Unfortunately, Iron Greatsword is only available in the later part of the game. 
How to Obtain Iron Greatsword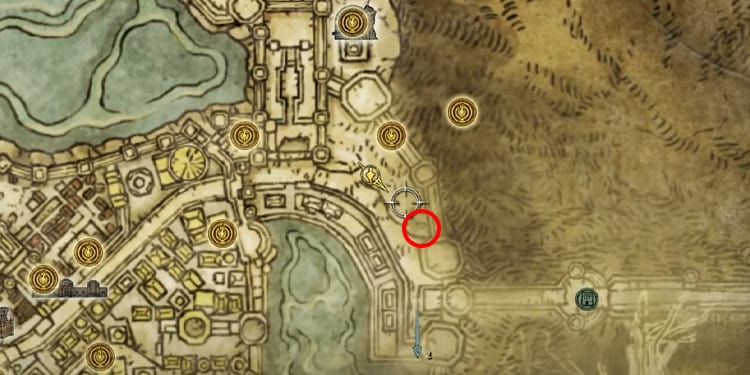 The Iron Greatsword is a weapon dropped by Leonine Misbegotten in Lyndel Capital. You can use Silver-Pickled Prowl Foot and Silver Scarab talisman to increase the Iron Greatsword drop chance. From the East Capital Rampart site of grace, head left to the big gate and up the stairways, where you will find Leonine Misbegotten.
Gargoyle's Blackblade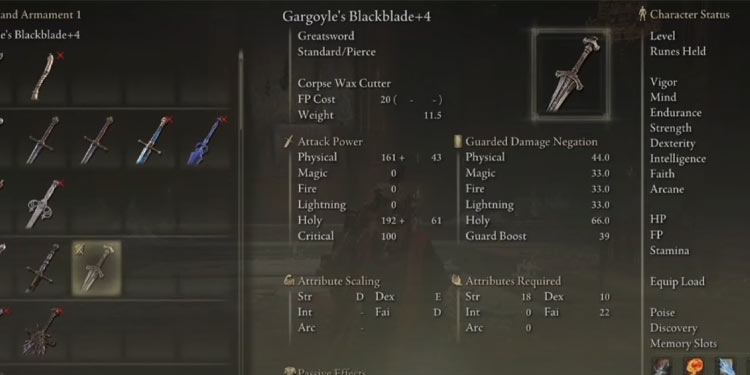 Although this weapon is non-infusible with Ashes of War, its unique skill, called Corpse Wax Cutter, can hit the most common enemies. Gargoyle's Blackblade scales up with Strength along with Faith and Dexterity, providing holy damage. 
How to Obtain Gargoyle's Blackblade
To get this weapon, you need to reach the Beastial sanctum and Kill the Black Blade Kindred standing in front of the stairs. The Bestial Sanctum is located in Dragonbarrow, Caelid region. You can go through our previous article, where we have a detailed explanation of the place and how to reach there through a portal. 
Blasphemous Blade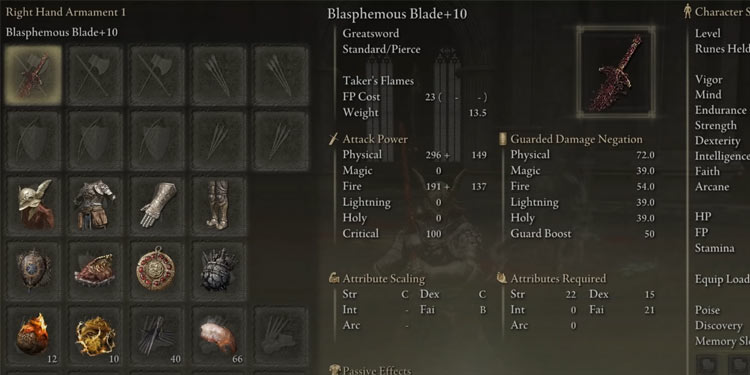 Blasphemous Blade is one of the unique and crazy-looking swords with grotesque moving veins covering its Blade. It has the highest attack rating compared to other Greatswords. The Taker's Flames not only does incredible damage but also provides ten percent heals on each kill. 
The weapon does both physical and fire damage which can be buffed with Incantations such as Flame, Grant me Strength, and Fire scorpion charm talisman.
How to Obtain Blasphemous Blade
To get this weapon, you need to defeat the God-Devouring Serpent located under Volcano Manor. Once you complete Raya's quest, she will be waiting for you at the entrance of Grand Lift of Dectus to teleport and escort you to the Volcano Manor.
Get the keys, hit the fake wall near the corpse at the dining hall, and navigate through the volcanic lava platform till you reach the portal that will teleport you to the boss area. Defeat him and get his remembrance to finger lady at the Roundtable hold to receive Blasphemous Blade.
Marai's Executioner's Sword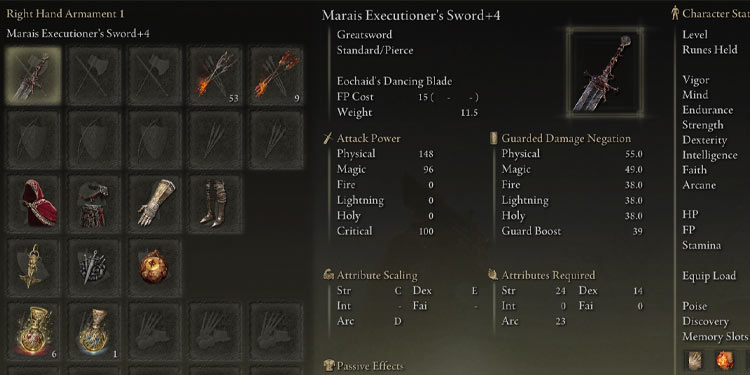 You can see professional players using this sword and absolutely shredding enemies with its unique skill move.
The Eochaid's Dancing Blade skill can be a devastating skill, especially when it's buffed with Winged Sword Insignia, Millecent's Prosthesis, and Rotten Winged Sword Insignia Talisman. You can also infuse this sword with Ashes of war to deal Magic damage. 
How to Obtain Marai's Executioner's Sword
This weapon is dropped by the boss Elemer of the Briar. He is found at the Shaded Castle, North of the Altus Plateau Region. From the Shaded Castle Inner Gate Site of Grace, reach the very top by climbing the ladder and ignoring the two Rotten strays.
Defeat Elemer of the Briar, and he will drop the Marai's Executioner's Sword along with Briar Greatshield. 
Dark Moon Greatsword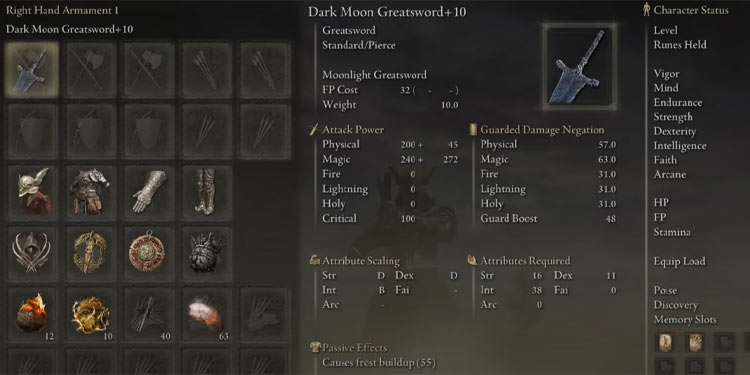 Instead of a higher level of Strength, you need to level up your intelligence up to level thirty-eight. It's a lot of points for a Greatsword, but it's all worth spending skill points because it does physical damage that builds up frost and also has the greatest magic damage.
Its skill Moonlight Greatsword has a high staggering, which can be buffed with the Magic Scorpion charm talisman and Terra Magica spell.
How to Obtain Dark Moon Greatsword
You need to complete Ranni's quest to get this weapon at the end. It's a long and tedious task but worth it. You need to grab the Dark Moon Ring, which is locked in the chest inside Raya Lucaria Grand Library. You will meet Ranni's actual body, and after a cutscene, she will drop the DarkMoon Greatsword before disappearing.
Sacred Relic Greatsword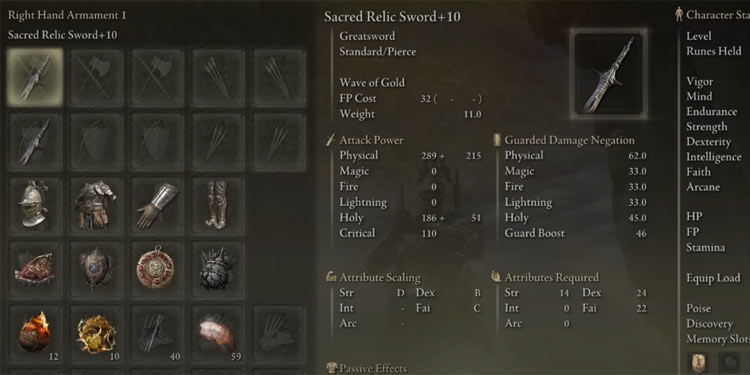 Sacred Relic Greatsword is the weapon used by Elden beast, which you know can only be obtained by defeating the end-game boss. But you can choose to wield this weapon in the new game plus. Its Wave of Gold is one of the best weapon skills that send dealing holy damage reaching far and wide. 
How to Obtain Sacred Relic Greatsword
Once you defeat the Elden beast and get the Elden Remembrance, teleport to the Roundtable and talk to Finger Reader Enia, and use the Power of Remembrance to convert Elden Remembrance into Sacred Relic Sword. It will cost you two thousand Runes for the conversion.
Greatsword Playstyle
When you have enough skill points for all the attributes in your stats, you can choose to play with different styles. You can pair with different attributes in your secondary hand while wielding Greatswords as your primary weapon. 
Greatsword and Shield
This is a typical dual wield where you attack with your primary weapon and block/parry with your secondary wield. You can carry a light shield such as Buckler for parry to compensate for equipment load because Greatsword is heavy and can take much equipment load.
Greatsword and Incantation
Greatswords infused with incantation can be an effective way to deal additional status damage upon enemies. Incantations such as Bloodflame Blade can make your Greatsword blazing hot to deal fire damage upon enemies.
You can also buff your fire attack by using Flame, Grant Me Strength to deal an additional twenty percent fire and physical damage. 
Dual Greatswords
Dual Greatswords wield deal powerful physical damage but require a higher equipment load as they are the heaviest swords besides Colossal Swords. This playstyle is for players who want to beat the crap out of enemies with their raw physical Strength.