Oceanic exploration needs some preparation. Namely, you'd want to extend your underwater breathing, increase your underwater movement speed, and, perhaps, take a Trident weapon with you.
The Depth Strider enchantment does one of these three things. It is an enchantment for boots of all materials that increase your speed while underwater.
There're three ways to add a Depth Strider enchant to your boots. You can use the enchanting table, you can use an anvil, or you can use a game command.
The Depth Strider Enchant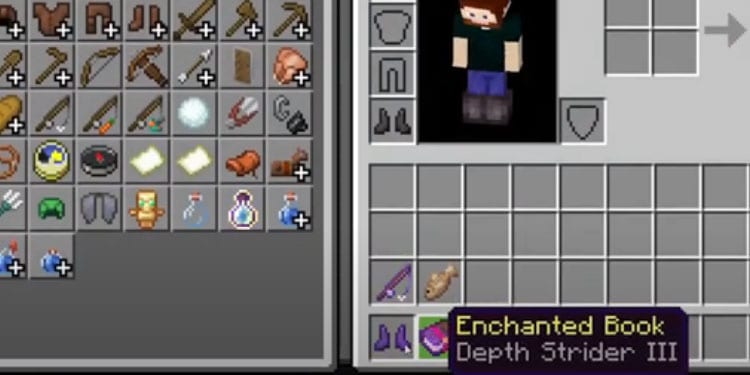 Moving underwater slows characters by 1/3rd of the speed. If you stand still, the water can also push you for 1/3rd of your moving speed.
Boots with Depth Strider allows you to walk and swim faster underwater, and the enchantment has three levels. Level 1 gives a moderate boost, while level 3 speeds you up to move underwater as you can walk on land.
In specific, each level reduces the resistance water has on you by 1/3rd of its level. This will also make it easier to move against the current, but the current won't speed you up as much when moving in the same direction. Also, the enchantment only affects horizontal speed, not vertical speed.
You may combine the boots with Dolphin's Grace, an automatic effect that happens when a Dolphin is swimming nearby. The buff will increase your swimming speed. Particularly, without Depth Striter, Dolphin's Grace makes you swim at 9.8 m/s, which is faster than a boat.
Lastly, you can combine the enchantment with any other enchantment except for Frostwalker. But here's an idea: you can combine it with Soul Speed, which increases movement speed when walking on soul land or soul soil.
So, the maximum speed you could get underwater is Depth Strider III plus walking on soul blocks underwater, and whilst having a Dolphin nearby.
Here's what we're looking at:
| | | | | |
| --- | --- | --- | --- | --- |
| Enchantment | Gear | Max level | Description | Incompatible with |
| Depth Strider | Boots | III | Increases moving speed while underwater. | Frostwalker |
Finally, you can enable the buff by equipping the boots with the enchantment.
How to Craft Depth Strider on the Enchanting Table?
The Enchanting Table is a block where you can enchant weapons, armor, and tools. The Enchants you get on the block are randomized, so it's not a sure way to get the Depth Strider buff.
However, there're ways to refresh the randomizer and to save enchants on books for later use.
First, let's see how to craft and use it. These are the ingredients you'd need:
1 book
2 diamonds
3 Obsidian blocks
Lapis Lazuli stones
Up to 15 bookshelves. The recipe for each bookshelf is 3 books and 6 planks of wood of any type (like Spruce, Mangroove, or Oak)
Diamonds, obsidian, and Lazuli blocks spawn in the underground near Bedrock. The lower you go, the higher the chances of finding these items. You'd need a diamond or netherite pickaxe to mine obsidian, but you can use stone and iron pickaxes for the rest.
Additionally, you can find Diamond Blocks and Lazuli Blocks on Woodland Mansions as well.
Lastly, bookshelves spawn in some village buildings, stronghold libraries, and woodland mansions.
As for the table recipe, it's as follows: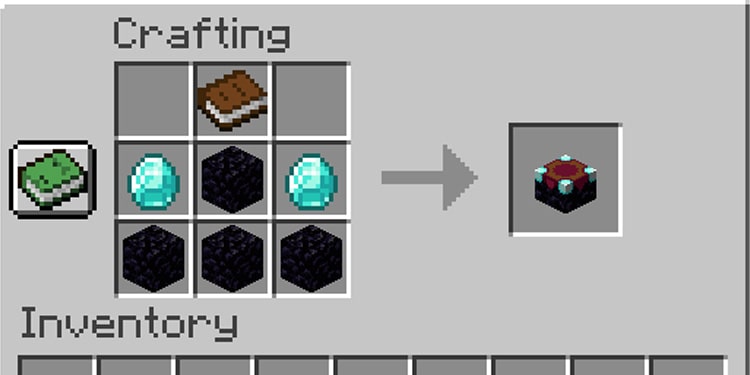 Proper placement of an Enchanting Table block has 15 bookshelves around it. Bookshelves increase the possibility of getting better enchantments.
You'd want to put the enchanting block two blocks away from the wall, and up to 15 bookshelves around 1, with a single block of space in between. If you don't respect these spaces, it won't work.
In specific, each bookshelf raises the table's level by 2, up to its max level, which is 30. The highest level tables will deliver higher-level enchants more often.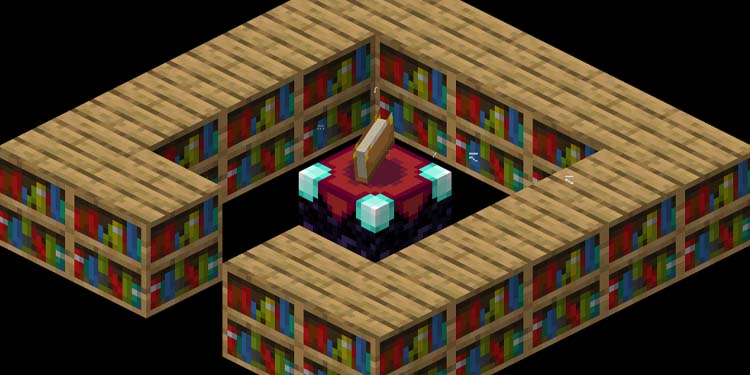 How to Use the Enchanting Table?
Each time you enchant an item, you pay Lapis Lazuli as well as character levels. You'd need to be level 30 at least to get the max level enchants:
Open the table and put the boots you want to enchant on the left spot.
Put Lapis Lazuli in the right spot. Each stone you use unlocks a random enchant (up to 3 possible options.
Hover the mouse to the enchantment you want and select it. In this case, you're looking for Depth Strider, which can be level I, II, or III.
If you don't see Depth Strider on the table, you need to "refresh the enchantment seed." You can do so by placing a single enchantment on any other item and then trying again.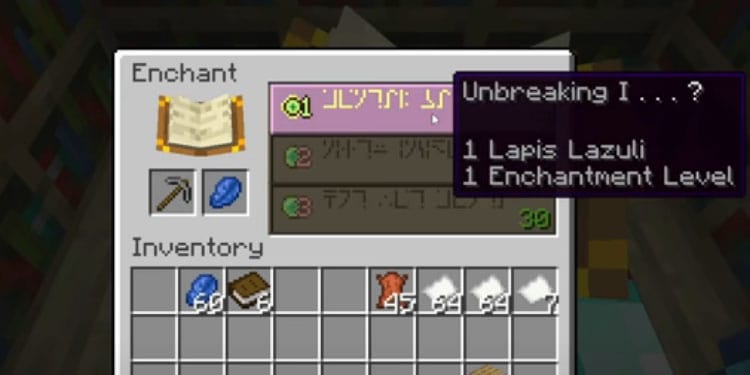 Beware, because you generally get the worst enchantment on books. Also, to enchant an item with the book, you need to you the anvil instead.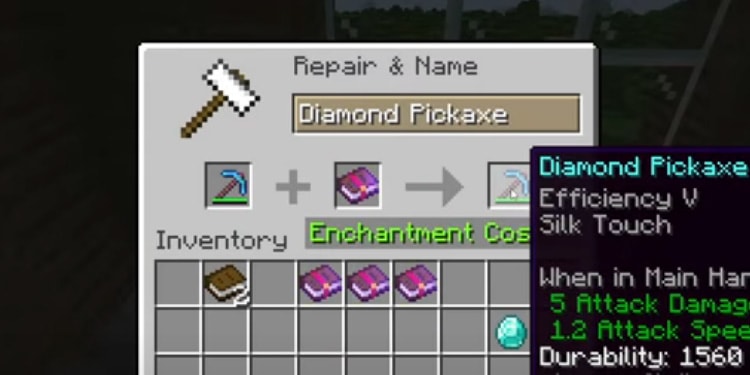 How to Craft Depth Strider on the Anvil?
The second method of getting a Depth Strider is by using the Anvil. The anvil allows you to combine armor, tools, and weapons with an Enchantment book, but you would need to have the Depth Strider Enchantment book.
You can find the book by trading with librarian villagers, on loot chests, fishing, or by the book method we showed you below.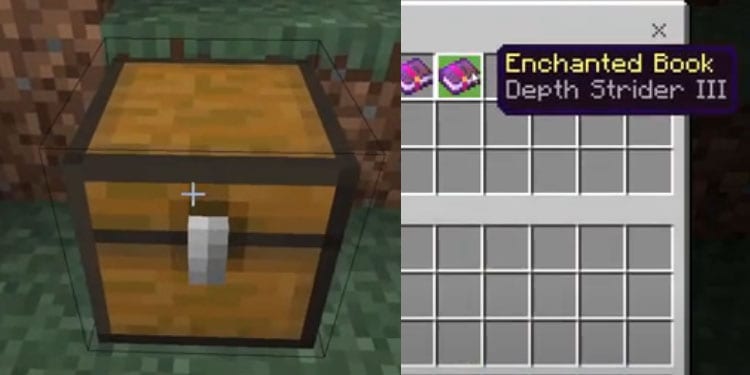 Afterward, simply combine the boots with the enchanted book in question.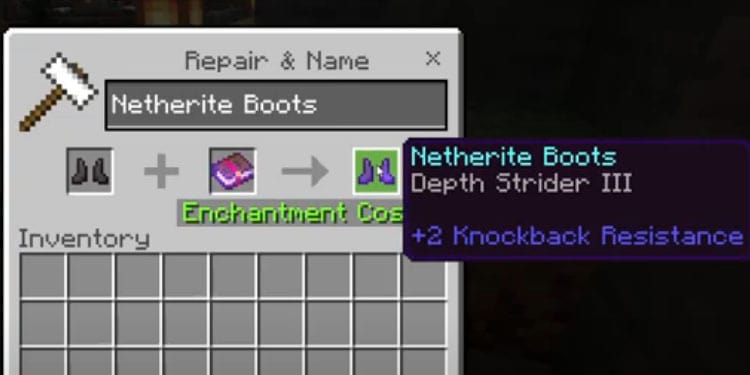 How to Craft an Anvil?
Anvils are expensive but easy to craft. But if you don't know how to craft one, the ingredients are three Iron Blocks and 4 Iron Ingots. The pattern is as follows: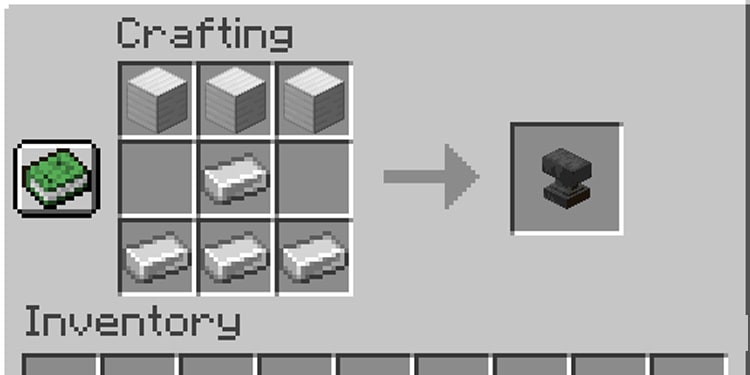 How to Use Commands To Get Depth Strider?
Finally, you can use the enchant command with the console to enchant whatever buts you're using with Depth Strider I, II, or III (or any other enchant, for that matter).
To use the console on Java, press the "T" button. On Bedrock, go to the Chats & Commands menu. Finally, type one of these three codes, and confirm:
Depth Strider I:
/enchant @p depth_strider 1
Depth Strider II:
/enchant @p depth_strider 2
Depth Strider III:
/enchant @p depth_strider 3
How to Level Up Depth Strider?
Finally, there're three ways to level up an enchantment, in other words, turn Depth Striding I into Depth Striding III.
The first method is placing the boots on the enchanting table, over and over, until you find the highest-tier enchantment. The chances of getting the best option increase when you have the 15 bookshelves, and after your character hits level 30.
The second method is by combining two Depth Striding books of the same level in the Anvil. It will give you a book of the next level.
The final method is by combining two boots of the same material with Depth Striding of the same level in the anvil. It will give you a single booth with a higher tier of the Depth Striding buff, repair the boots, and keep other enchantments.