Diablo 4 offers one of the most comprehensive multiplayer experiences amongst similar titles. You can play online with a group of four friends or opt-in for a split-screen couch co-op session with your buddy.
You can form a party with your friends to take down difficult bosses, farm rare loot, clear out dungeons, or experience the entire campaign together. 
So, how soon can you expect to play Diablo with your friends? Well, the good news is, you can join your friends as soon as you create your character and set foot in the Sanctuary. 
Adding Friends
Before you can start playing together with your friends, you must first add them to your friends list from the Social tab. The Social tab will be only available after you've created your character and started your playthrough.
Pause the game and switch to the Social Tab. If you're on a PC, you can also open the Social tab by pressing the O key on your keyboard.
Press the Add Friend button.
Enter either your friends' email address or BattleTag and hit the Send Request button.
Once they've accepted your request, their profile will appear on your Friends list.
Note: You can also add local players to your Friends list. But first, you must complete the prologue quest and reach Kyovashad.
Playing the Game Together
After adding your Friend to your Friends list, all you are left to do is send them a request to form a party. You can either invite them to join your party or send a request to join theirs.
As the game also supports cross-play and cross-save, you can play Diablo 4 with your friends regardless of the platform you choose to play on. 
Follow the steps below.
Open the Social tab.
Select the friend's profile that you wish to form or join the party with.
Select Invite to Party or Request to Join Party option.
What You Need to Know About Playing Together
While the feature-packed co-op gameplay offers many perks that encourage players to play together, there are few limitations that may ruin your experience. 
Starting with the progression. When you form a party with your friends, the quest and world progression will be carried over from the host's world.
While all party members will receive experience points and quest progression, the loot that you'll receive in that session will differ from your friends.
If you've already completed a quest in your playthrough, then replaying the same quest in your friend's world will not grant you the quest reward again.
The difficulty level while playing in a party will scale according to the level of all party members. This means enemies will be equally challenging to all party members regardless of their character level.
Playing in a party will give all the members a 10% experience points bonus. This can be very handy if you're trying to level up your character quickly.
Currently, the split-screen co-op feature is only exclusive to consoles.
Where Can I Find People to Play the Game With?
While Diablo 4 has everything you'd want from an online multiplayer game, it lacks the built-in LFG feature to form a party. This can make it difficult if you want to play the game with players other than your friends or if none of your friends play Diablo 4.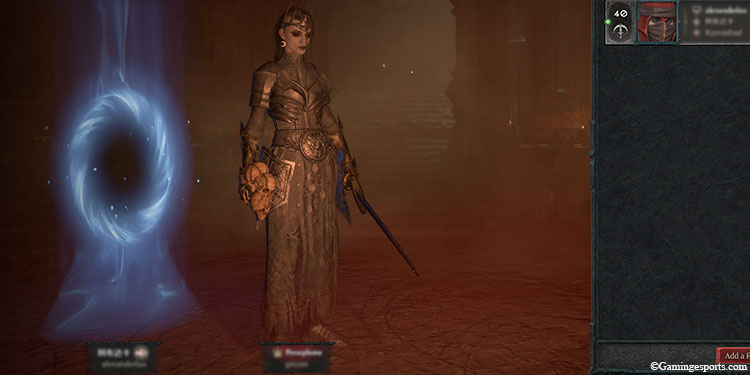 The best way to find new friends is by joining the community-made Diablo 4 Discord server. You'll find thousands of players on this server. You can ask for help from other players, discuss builds, add friends, join a party, or even a clan.