Callouts are the particular place within a map used to give information about the player's location and to exactly pinpoint throwables or ADS at the enemy. Just like the open-world game has key landmarks on its map, Dust 2 map has a name for every corner and a key place within its tiny map.
Dust 2 is one of the oldest and most influential maps that has not been changed over the course of its time. It still holds many competitive matches and players are still finding many ways to counter enemies. Regardless of new ways to kill, callouts are the most important terms team players use to communicate and claim victory.
Callouts are like a universal language in Counter Strike Global Offensive and learning about areas of the arena will boost your performance and helps coordinate with your team effectively. Below are all the Callouts of the Dust 2 map.
B Side Area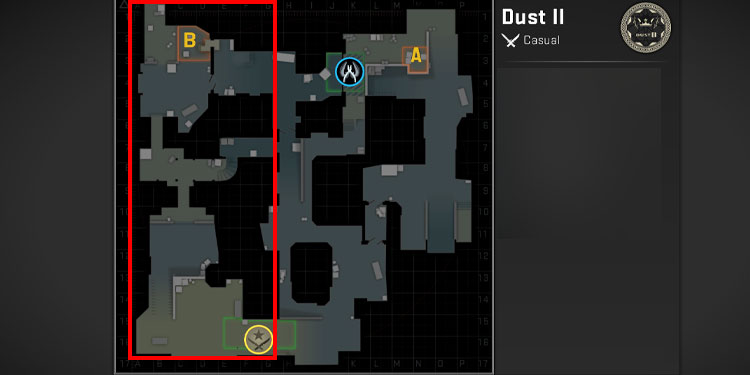 B side area is the left side of the map separated from the mid. From the T platform to the B back platform, it includes every callout located within the boundaries of the left-side arena. We will be starting from T spawn(terrorist spawn) and ending with the B bombsite area.
T Spawn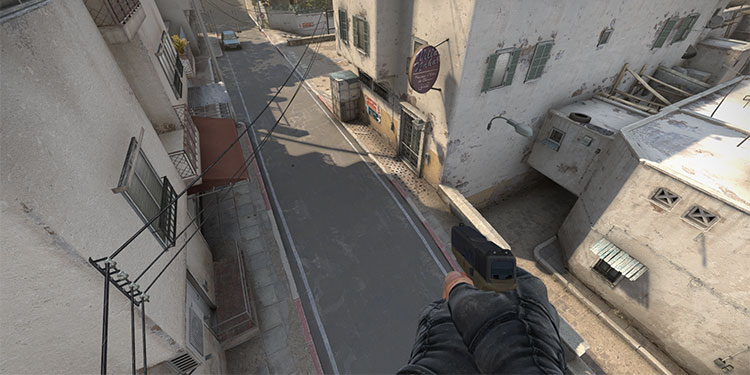 This is the area where Terrorist spawn. Purchasing throwables and weapons happen within its range of area.
T Cub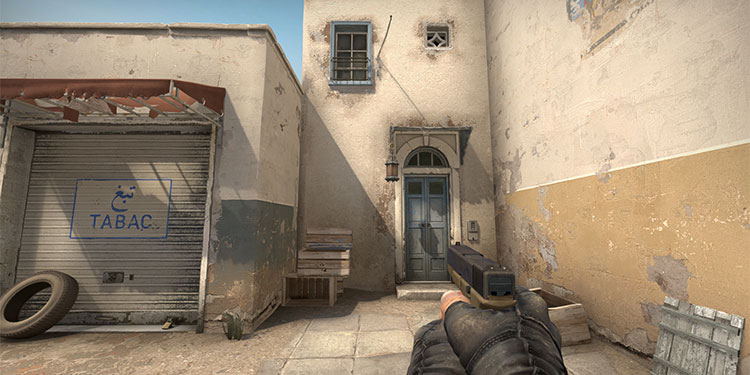 You can stand above the box in T cub and wait for CT to approach from T Plat. It is really effective to catch CT players off guard and take down enemies. Players usually check T Plat first and you can take the opportunity to your advantage.
T Plat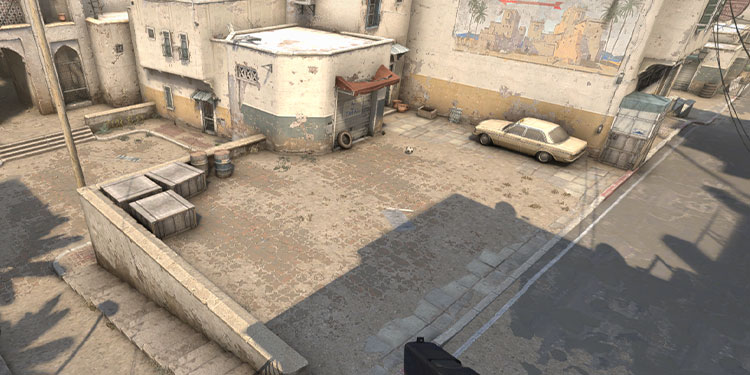 This is the closest Area of T spawn. You can take down enemies approaching from the Upper B tunnel from T plat. Make sure to buy AUG or SG 553 for they come with a scope attached and take down farther enemies with precision.
You can also play football with your friends here in T Plat because this place has a football which is invincible.
T Ramp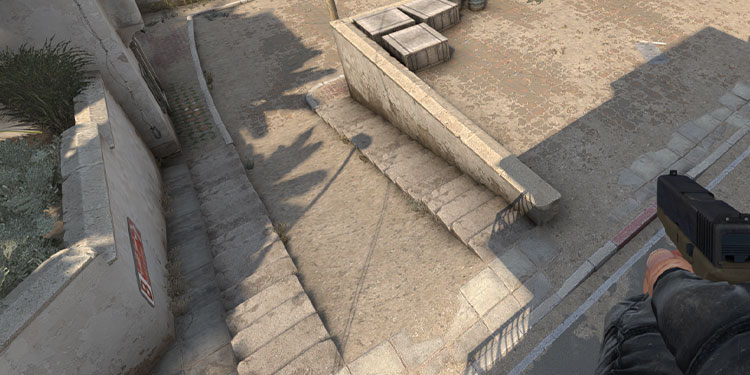 The inclined part between T Plat and Outside Tunnels is called the T ramp. You can peek through the cover of the Ramp wall To T spawn.
Outer Tunnels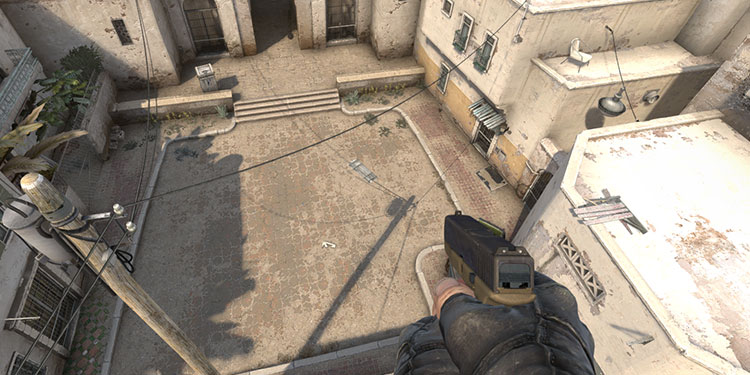 The big open area that connects Upper B tunnels to T Ramp. Terrorists pass through this place or take cover when approaching Upper B tunnels.
Terrorists can surprise CT who are approaching from Upper B tuns because the field of view is not much within the walls between Upper B tuns and Outside tuns. The same goes the other way too.
Upper and Lower Tunnels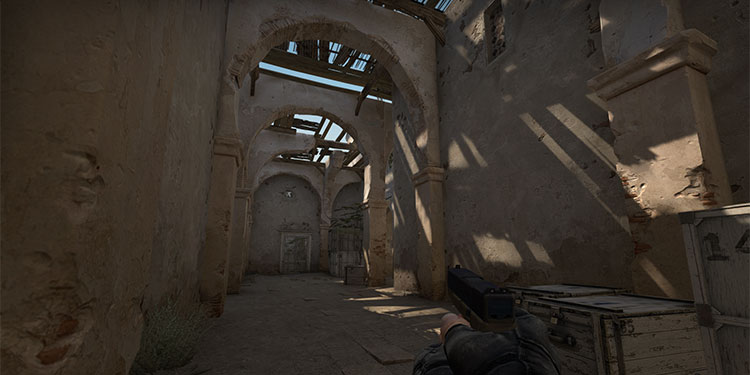 You can either approach lower B tuns or B bombing side from here. CT players can enter through Mid to Lower B tuns and gets in action with the terrorist.
Fence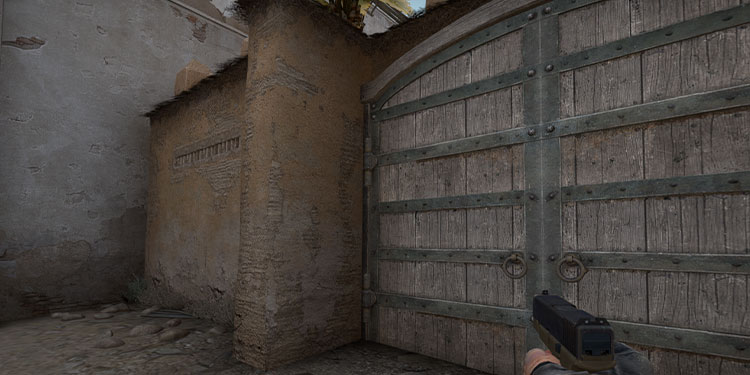 You can ambush the Fence from the Upper B tunnels. There are a lot of ways to ambush the Fence.
The opening of Upper B tunnels leading to the B bombing site is most dangerous for CT players so getting a good smoke to block the opponent's view can be very beneficial to get to the other side.
B Platform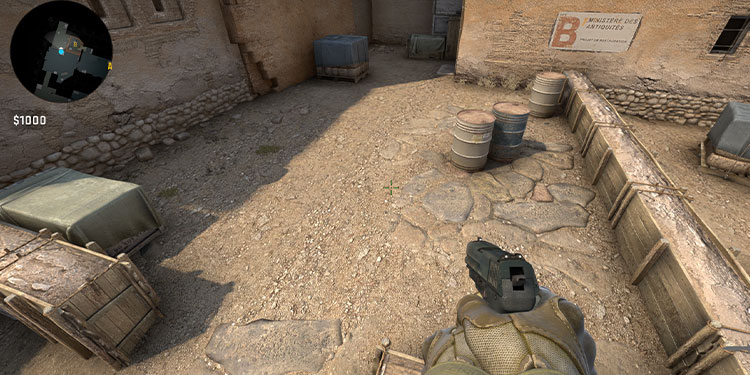 The B Platform is the first thing you can see while peeking from Upper B tuns. This is the area closest to the B bombing site.
Back Plat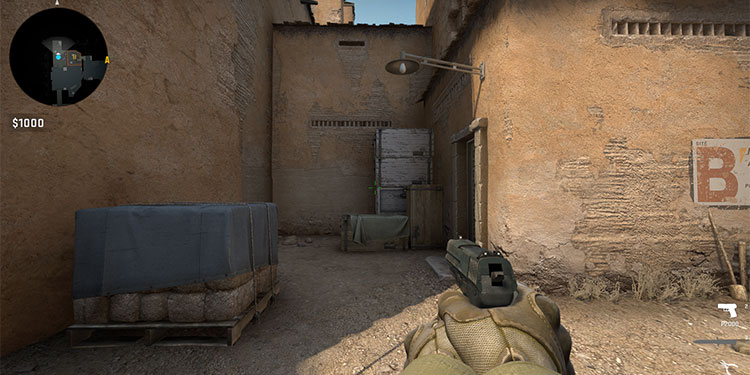 Back Plat is a suitable place for covering both B doors and Upper B tuns. Players can take down enemies approaching both ways from a safe distance and with cover.
B Bombsite Area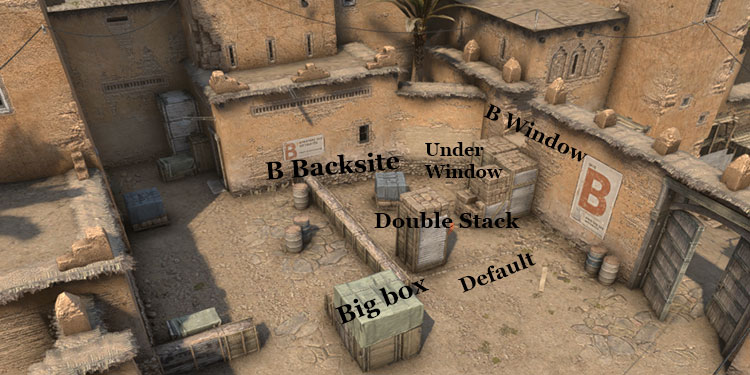 The B bombsite area has many callouts and all are important CT players to exactly locate terrorist players' positions. Having effective communication with players and giving callouts information is crucial for effective encounters.
There are six important Callouts inside the B bombsite area and they are.
Big box
Double stack
B Back Site
Under Window
B Window
Default
B car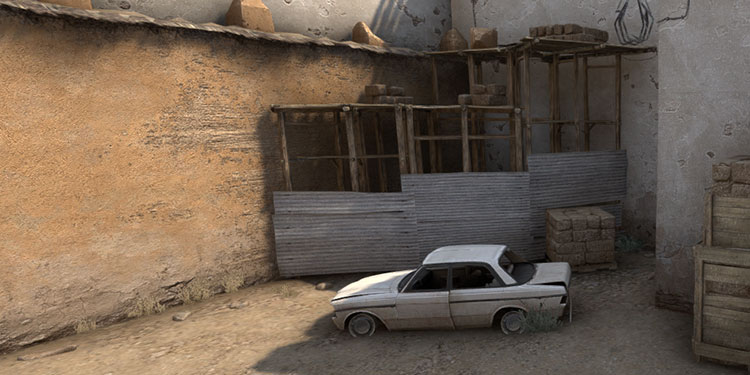 The unusable vehicle you see between B door and Boost boxes is called B car. The damaged car near B closet is really effective in shielding against incoming bullets.
Close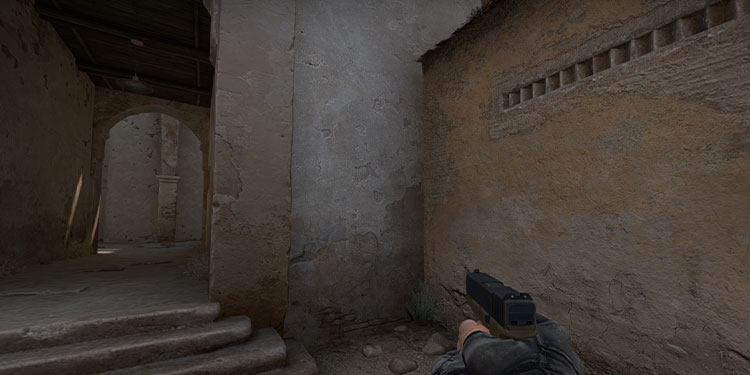 The corner between Fence and B car is called Close. The first enemy you can encounter while exiting the upper tunnel is the player standing on Close.
B Closet
The area behind B car is B closet where the player can safely take cover and take down B window and B doors enemies. However, this place is vulnerable to high explosive grenades.
B Boxes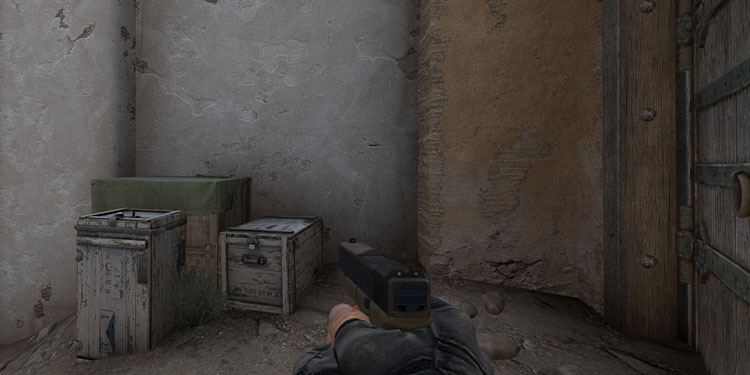 These Boxes are near B doors, which is why they are called B boxes.
Scaffolding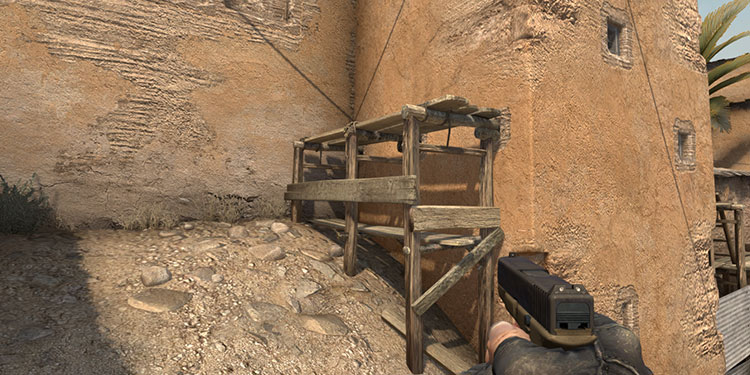 Right next to B window, on the other side of the wall is a wooden platform called Scaffolding.
B Doors
Counter-terrorists can use B doors to snipe terrorist approaching from upper tunnels.
A Side Area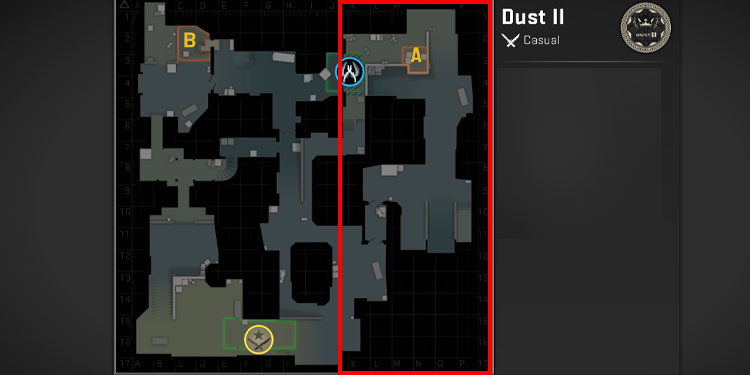 These are the Callouts situated on the right side of the map. We have CT Spawn at the upper right and A bombsite in this area.
This is really effective for terrorist players taking the right side of the Dust 2 map and CT players defending the A long or A side area.
CT Spawn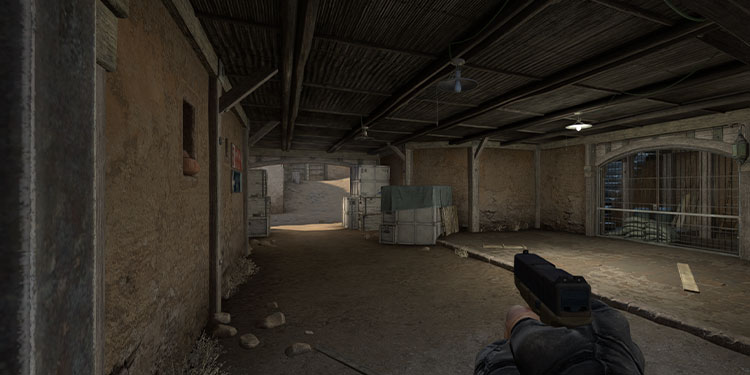 This is the place where Counter terrorists spawn. CT players can reach the B-bombing side from CT mid as well as the A-side because both are within the short reach of CT players.
One difficult decision for CT players is to defend both sides as terrorists can approach from any side.
Long A Corner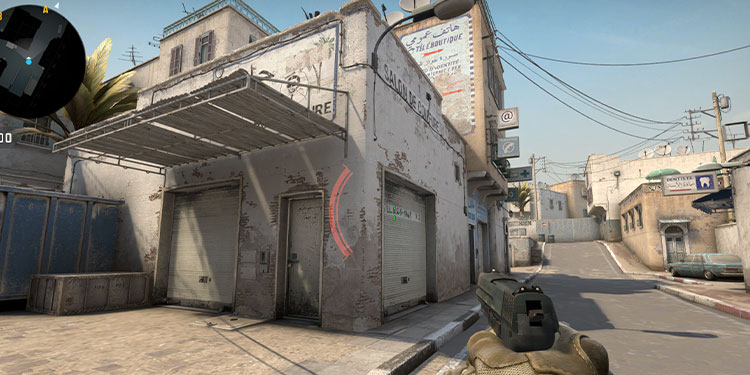 If you are playing as a Counter-Terrorist you can hide in the corner and throw a grenade or Molotov on Long Door and surprise the enemy and disrupt their team play formation.
Short A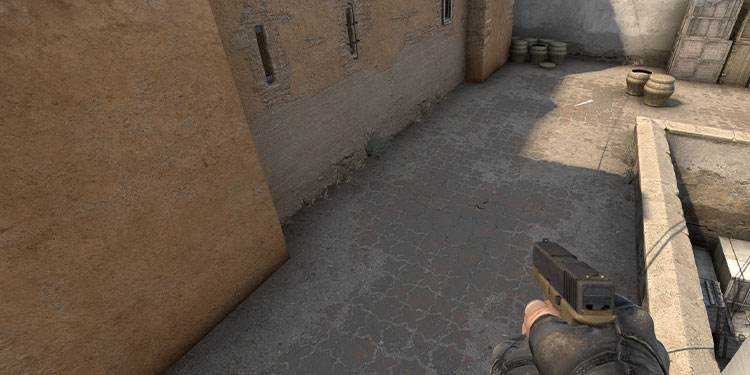 Short A is a location to reach mid. It is really easy to take on an enemy in Long A, who is hiding behind the car. Snipe down your enemies smoking on Short A. Hide until the effect remains.
A Bombsite Area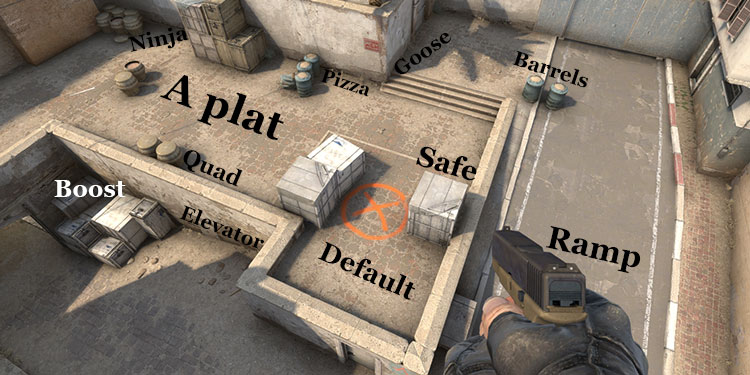 I have included all the important callouts within the range of A bombsite area although they are sparse. Unlike B bombsite, these callouts have an area covered to a different location. These are the callouts for A Bombsite in Dust 2.
Quad
Ninja
Pizza
Default
Safe
Barrels
Goose
A plat
Ramp
Elevator
Short Boost
It's the boxes near CT Spawn. It's called Short Boost because players can boost their teammates to reach A platform by jumping on one shoulder.
A Car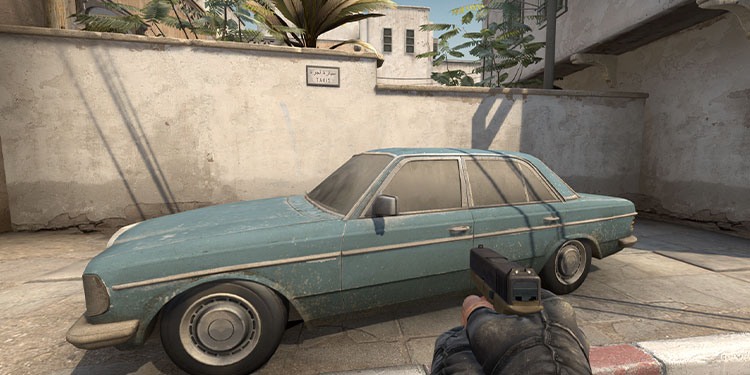 Counter-Terrorists can cover both long A and short a in this specific location. This place is also very susceptible to throwables, especially Molotov from A corner.
However, you can mostly avoid Molotov fire if you position yourself close to the corner near the car.
Long A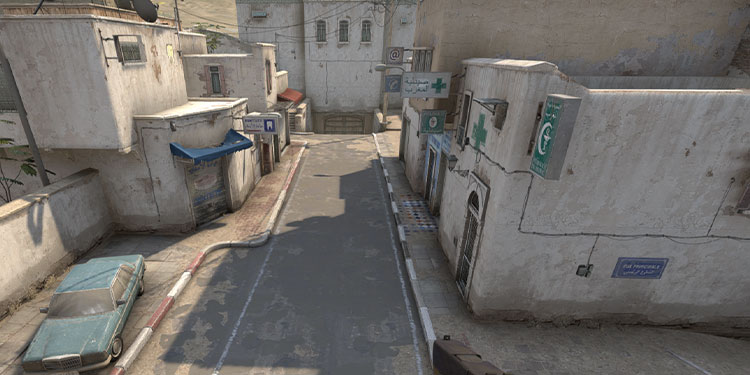 The street connecting A bomb site to the Pit side is called Long A. This is where a sniper can show off their long-range skills.
Side Pit, Pit, and Pit Plat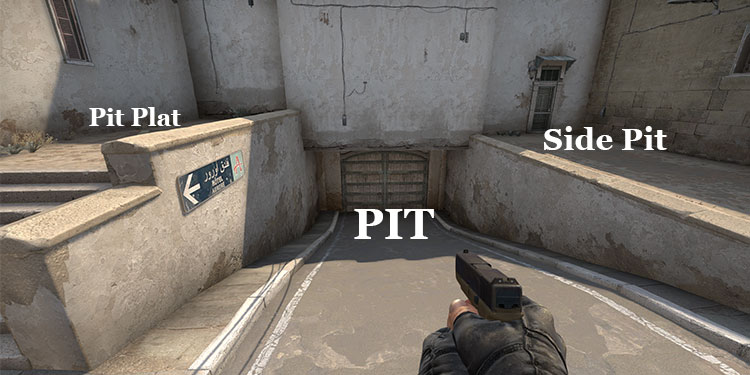 These are the three locations with different heights. The pit is where players use a sniper rifle to take enemies at Long A and up to Barrels and Ramp.
Blue Box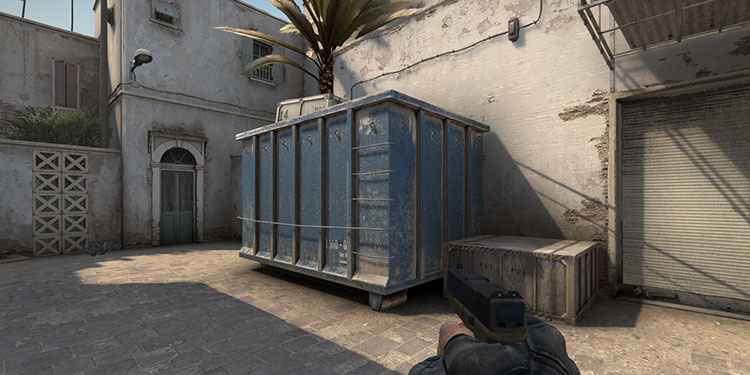 Blue box or blue is the blue colored trash box opposite Long Door. When someone mentions Blue, they usually say the player is hiding behind the blue trash box.
Long Doors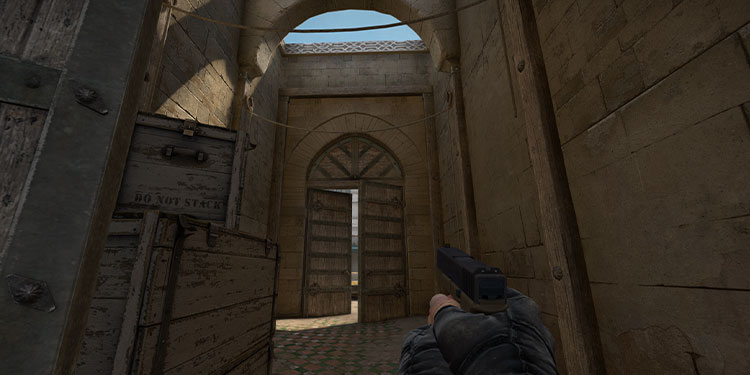 The place between two slightly open doors is the Long Doors area. Entering Long Door is a risk so players usually use explosives before entering in case of any surprise encounters.
Outside Long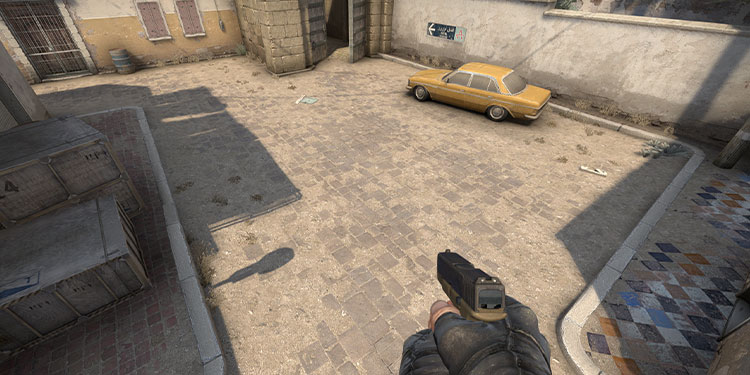 Outside Long is directly accessible to terrorist players as it is connected to the T spawn area. This open place is connected by top mid and long doors. You can easily change your path to mid while on Outside Long.
Cross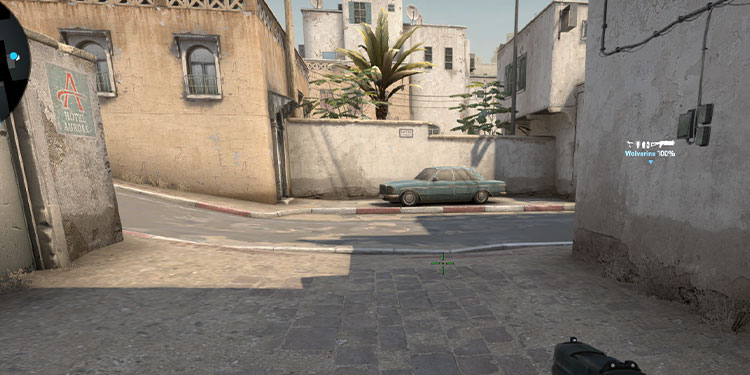 The opening between Ramp and Long A is called Cross. When a player says, "smoke the cross", they mean to block the Counter Terririost vision because CT players can easily take down players trying to get to A bombsite area from Long A.
A Ramp
The incline between the Cross and CT Spawn is the A ramp. Some people also call CT Ramp instead of A Ramp.
Mid Area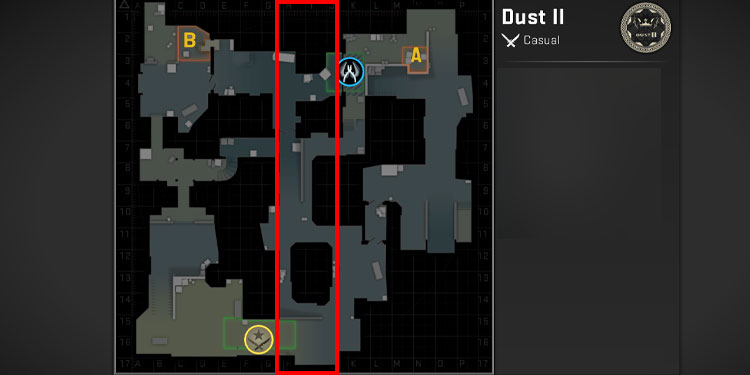 Mid is actually a Callout name that connects lower tunnels with Cat. Terrorists can also use mid to peek at enemies all the way to another side of CT mid. It's a great tactic but requires a high skill level. Callouts situated in the mid area are.
CT Mid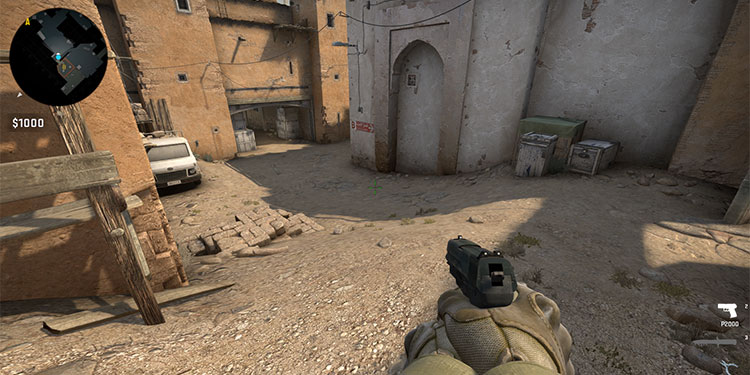 CT mid is directly accessible to Counter terrorists but they should be very careful while crossing the Mid Doors as Terrorist players can snipe through the small opening to view opponents on CT Mid. This area connects CT spawn to B bombsite area.
Mid Door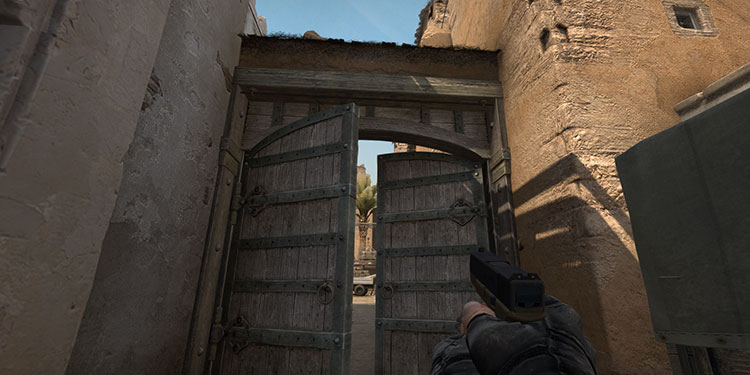 Mid Doors connects CT Mid to Xbox where Counter terrorists can access Lower tunnels. Terrorists can scope through the mid door to CT mid and take down Counter terrorists from Green. The mid door is a dangerous area the area is open to Cat, top Mid, Xbox, and Lower tunnels.
Suicide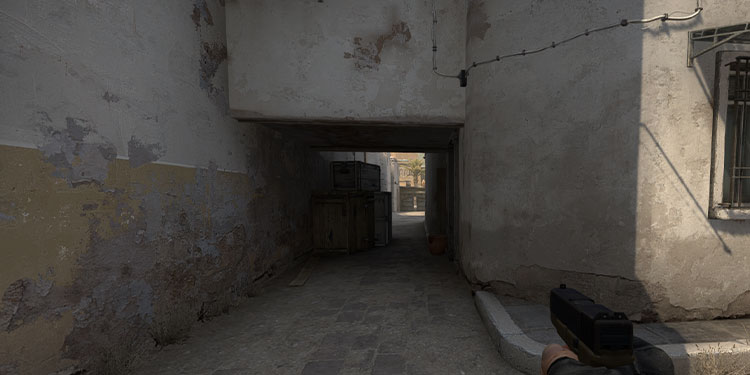 The narrow alleyway leading to mid from T Spawn is called Suicide. It's called Suicide because, without smoke or flashbang, you are pretty much dead if you get encountered by enemies.
Green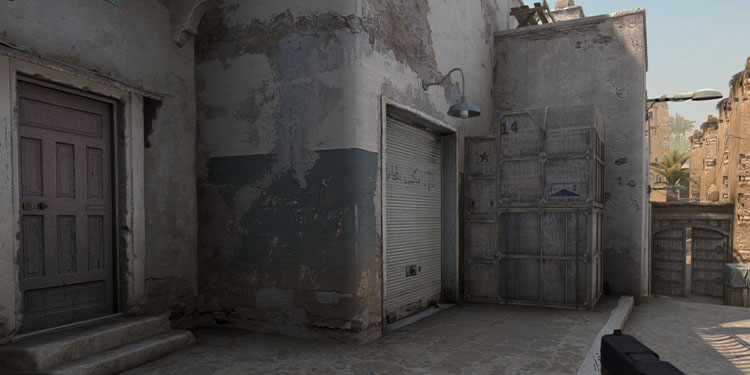 There used to be a green box on an older version of dust. Now it's replaced by just wooden boxes. The Green Is the place the part of Top Mid where Green boxes are situated. The exact hiding location if CT players approach from cats or terrorists from outside long.
Mid Cubby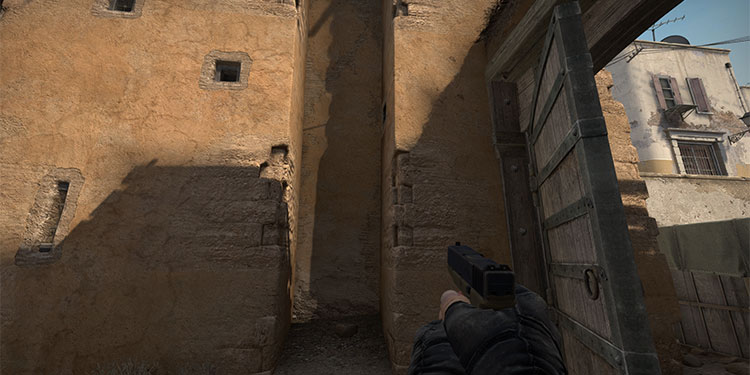 The small gap between CT Spawn and Mid Doors is the mid-Cub. It is a small area so if your team player gives you info about the enemy location on Mid cub then you can take him down from a truck or scaffolding.
Top Mid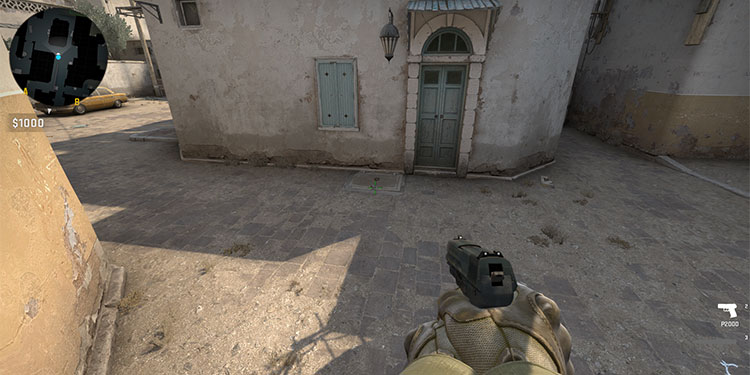 It's the place that connects mid with outside long. You approach Top Mid from suicide or catwalk also.
Palm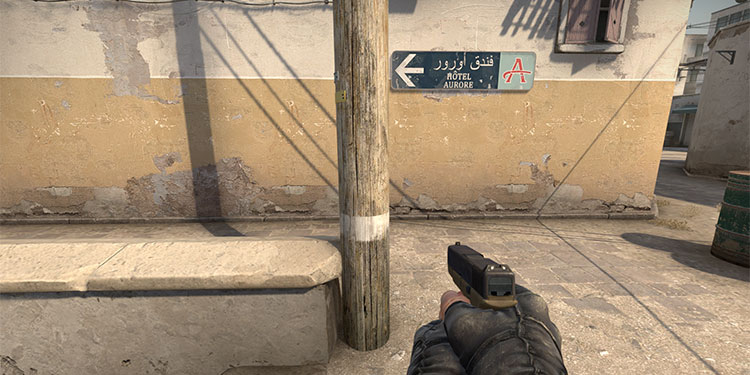 It's an electric pole between Catwalk and Mid. It used to be a palm tree in the old dust 2 map but now it is replaced with an electric pole with wires attached.
Xbox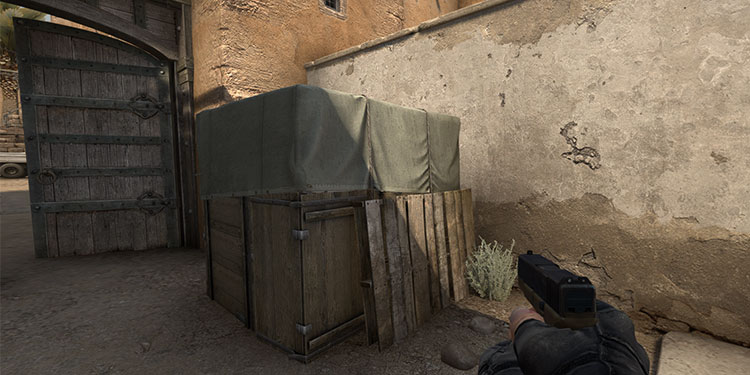 Xbox is the big box situated in mid. This box has varieties of usages. You can jump boost and peek through the walls of Catwalk to take enemies approaching from the cat. Precise bounce throwables to reach the other side of Mid doors and take cover from enemies from the top mid.
Cat Boost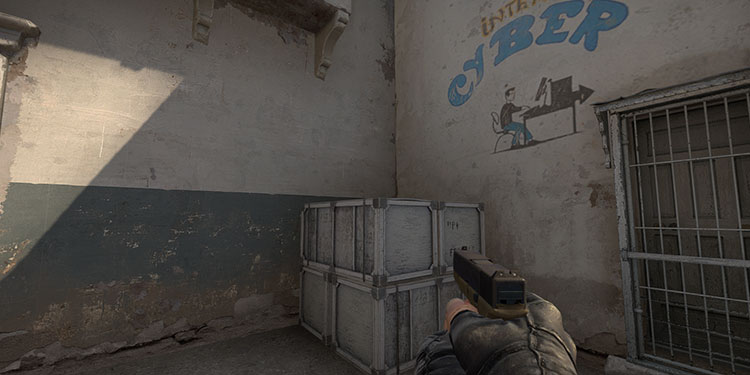 The box in the corner of the cat is called Cat boost. Getting on Cat boost can view the situations of short A and ninja.
Catwalk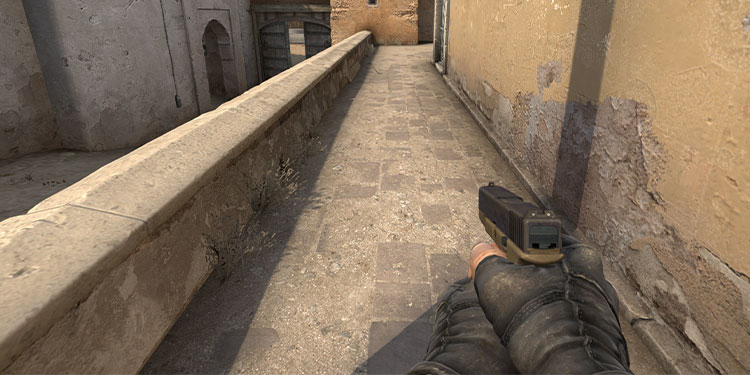 Terrorist uses catwalk To reach A bombsite area from mid. Unlike CT Mid Catwalk can be the safest option to reach A side.
Cat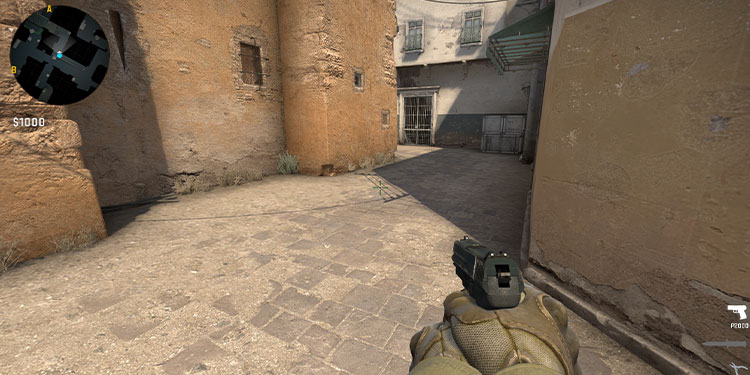 A suitable place to ambush Counter-Terrorists is Cat. This is the area that connects Mid with A bombsite. Cat is also vulnerable to explosives and players hiding in Xbox.
Stairs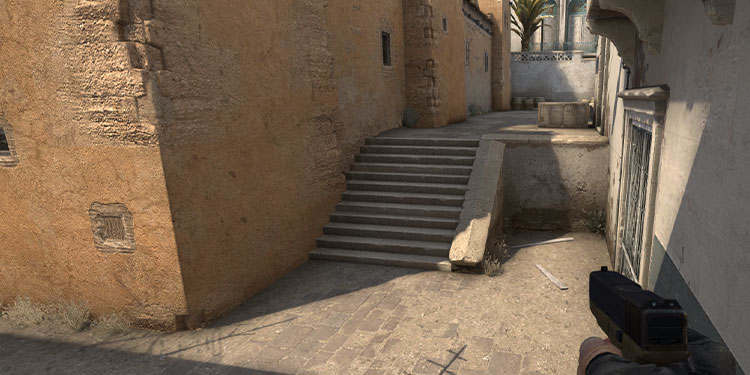 Stairs are what connect A short to Cat. You can peek at A bombsite area from here and warn your team if there are any players on A Bombsite.