Dodging Demigod combos requires as many fps as your PC can support. You may time your rolls, blocks, parries, and backsteps like a boss, but if your system doesn't comply, your reward will be a "You Died" screen.
Elden Ring still has performance issues because the game debuted with sub-par performance. Nevertheless, most players have improved their experience by updating software, tweaking some graphical settings, and checking for potential corruption in the game or the system. 
Why is My Elden Ring Crashing Randomly?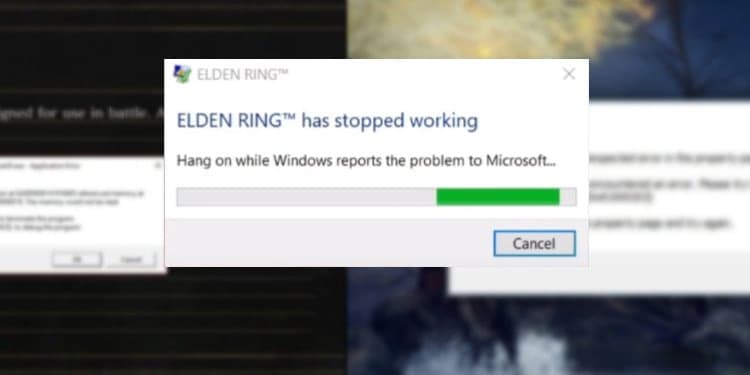 Constant crashes or failed startups could mean your system is out-of-date. Windows and the GPU drivers must be up-to date to keep up with Elden Ring's latest patches. 
Similarly, the game's performance is quite delicate, particularly on older PCs. The slightest corruption on your operative system, temporary folders, or Steam could crash it at any moment. That said, additional causes that tarnish the game include:
Improper graphical settings
Missing administrator rights
Incompatible background apps or in-game overlays
CPU and GPU overclocking
Faulty Windows security settings
Elden Ring Crashing Randomly Fixes
These fixes are easy to follow, but you probably need to complete various steps before testing Elden Ring. We'll tell you when it's time to open it again.
Update Windows
Updating Windows can slightly improve its performance and speed, which becomes paramount to running newer AAA games like Elden Ring.
Click the Windows icon on the taskbar and type "check for updates" on the search bar.
Open "Check for updates."
Click the following buttons: "Check for updates" and "Download and install updates" or "Install all" (if there's one). Also, you may have to click a "Download and Install" button after the system checks for updates.
If the system finds an update, it will ask you to reset the PC to install it. Do it as soon as you can, and continue with the troubleshooting.
Update your GPU Drivers
Keeping the graphic card drivers up to date is necessary for playing games and keeping up with the latest Elden Ring patches.
Back on the Windows search bar, type "device manager."
Click "Device Manager" to open it.
Go to the "Display Adapters" category. Click on the arrow at the left of the bracket.
Right-click your GPU and select "Update driver."
Click "Search automatically for drivers." If the system finds a driver, it will install it. Otherwise, continue to the next step.
You may also download and install the proprietary software of your GPU:
They offer an easy way to check, download, and install driver updates.
Activate "Radeon Anti-Lag" (AMD GPUs only)
AMD GPUs -and their drivers- have some issues with specific games, and Elden Ring is one of these. A small solution is to enable the Anti-Lag feature.
Open your AMD software.
Go to the Gaming tab.
Hit the "Advanced" button
Enable "Radeon Anti-Lag."
You need the AMD software for the solution. If you don't have it, visit this page and match your GPU model on the search bar. Then, download and install the program – you can see your GPU model on Device Manager – Display Adapters.
After you install the program, go to the Home tab, and check for driver updates. If there's a download button, hit it as well.
Lastly, we recommend disabling Radeon Super Resolution, Radeon Chill, Radeon Boost, and Radeon Sync to play Elden Ring.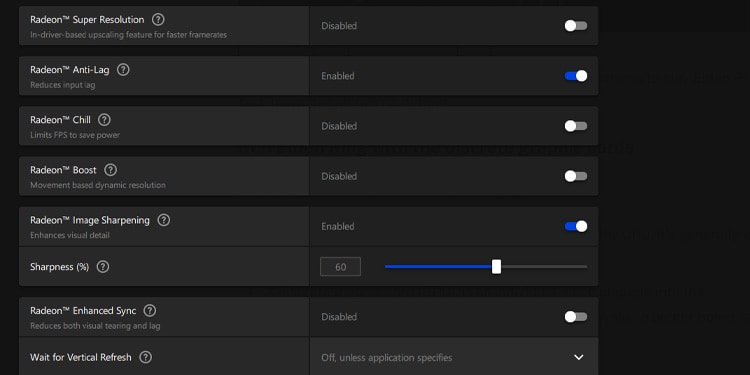 Run Elden Ring With the Discrete Graphic Cards
If you see two GPUs on Device Manager – Display Adapter, perhaps your laptop or PC is using the weakest one (the iGPU) to play.
To change the GPU your PC or laptop uses to play, do this:
Back on the Windows search bar, type "graphics."
Click "Graphics settings."
Click "Browse."
Find Elden Ring's folder, and add "eldenring.exe" to the list.
Click on Elden Ring, and then click "Options." If you're using Windows 11, you'd have to press the "…" icon instead.
Select "High-performance" and hit the "Save" button.
If you can't find Elden Ring's folder, check the Steam step below for the solution. In any case, it should be at the following address:
C:\Program Files (x86)\Steam\steamapps\common\Elden Ring
("C:" is the default name of the main storage (where Windows is located), but your Steam folder could be on another storage drive).
Run Elden Ring with Administrator Rights
Games and apps generally need administrator rights to run properly. Otherwise, Windows may block them entirely. Additionally, we're disabling the "full-screen optimization" option, as it may be creating too much stress on your system.
Delete Elden Ring's shortcut on the desktop, if there's one
Open Steam.
Go to "Library."
Right-click Elden Ring and click Properties.
Select Local Files on the left.
Select Browse on the right to go to the game's folder.
Right-click "eldenring.exe" and click Properties.

On the Compatibility tab, check "Run this program as an administrator" and "Disable fullscreen optimization."
Click on Ok and then Apply.

Right-click the .exe file again, and select Send to – Desktop (create shortcut).Windows 11 users will need to right-click the .exe file and select "Show more options" to find "Send-to."
You may try playing Elden Ring again by clicking the shortcut you created, or the .exe file. If it doesn't work, continue with the troubleshooter.
Disable Game Overlays
Three game overlays cause issues with Elden Ring. Let's disable these, starting by the Steam Overlay.
Go back to Steam's Library.
Right-click Elden Ring and go to Properties.
Go to the General tab on the left side.
Uncheck "Enable The Steam Overlay while in-game"
Next, let's disable the Discord Overlay, but only if you're using Discord as you play.
Go to your Discord's Settings. The configuration icon is next to your profile icon at the bottom left.
Select Game Overlay on the left-side menu.
Uncheck "Enable in-game overlay." Also, take note of the keyboard button combination you can press to turn it off (so you don't enable it by mistake).
Lastly, let's disable the Xbox game Bar, which is built-in on every Windows 10 and Windows 11 PC.
Press the Windows key + X on your keyboard.
Select "App and features" or "Installed Apps" on the cascade menu.
Find "Xbox Game Bar" on the list.
If you're on Windows 11, click the "…" icon and then "Advanced Options."
If you're on Windows 10, click "Xbox Game Bar" and then "Advanced Options."
Slide its permissions off.
Hit the "Terminate" further down below.
Check the Integrity of Game Files on Steam
The game files may be faulty after constant crashes or failed updates. You can use Steam to re-download what it needs to run.
Back on Steam's Library, right-click Elden Ring and click "Properties.
Go to "Local Files" on the left.
Click "Verify integrity of game files" on the right, and wait for the process to finish.
Steam will let you know if it fixes and re-downloaded anything. If this is the case, you should test Elden Ring now.
Delete Corrupted Temporary Files
There may be corrupted Elden Ring data on various temporary folders. It happens due to random bugs and crashes, but we can delete it to fix it.
Click the Windows button on the taskbar.
Type "disk cleanup" on the search bar.
Select the storage drive where Elden Ring is located.
Check the items on the list and click "Ok."
Lastly, click "Clean System Files."
The next step is cleaning the DX cache, which is inside the Local folder for AMD or Nvidia. Here're the steps.
Click the Windows button + R to open the "Run" box.
Copy-paste – %appdata% – and click "Run." It will take you to the Roaming folder, where you can find temporary DX files.
Click "AppData" on the search bar to go back to that folder.
Go to Local.
Search for the "Nvidia" folder or the "AMD" folder.
Open the "DXCache" folder.
Delete everything in the folder.
Lastly, we have to delete the files within the "TEMP" and "Prefetch" folders:
Back on the Run dialogue, copy-paste – TEMP – and hit "Ok." – the folder's address is "C:\Windows\Temp"
Delete everything in the folder.
Open the Run box again, copy-paste – %TEMP% – and hit "Ok." – the folder's address is "C:\Users\zeta\AppData\Local\Temp"
Delete everything in the folder.
Open the Run box once again, copy-paste – PREFETCH – and hit "Ok." – the folder's address is "C:\Windows\Prefetch"
Delete everything in the folder.
You should try playing Elden Ring again by this point. If it doesn't work, continue with the troubleshooting.
Disable the Anti-Virus as You Play
You can disable the anti-virus as you play Elden Ring to prevent the program from shutting down the game. Here're the general steps:
Open the Control Panel.
Click " System and Security" or " System and Security."
Go to "Security" and select your anti-virus under "Virus Protection."(We're continuing the tutorial with Windows Security, but you may find similar steps on the program you're using).
Go to "Manage settings."
Slide all of the toggles off to turn off the anti-virus. After you play, you can slide these ON again.
You should try playing Elden Ring again. Otherwise, here's what you can do.
Run the SFC Tool
We'll try to deal with random bugs on Steam or your PC by using the System File Checker tool. This is a built-in tool that can fix many problems in your system.
Restart your PC
Click the Windows button on the keyboard.
Type "Command Prompt" on the search bar.
Right-click "Command Prompt" and select "Run as administrator."
Copy-paste the following command and then hit Enter on your keyboard:
sfc /scannow
If the system corrects anything, it will let you know. If this is the case, test the game again. But if nothing happens or if the game does not work yet, continue the troubleshooter.
Reinstall DirectX
Another possible solution is reinstalling DirectX. This app packs languages and codes needed to run graphical apps, and it may be failing.
You'd need to re-download the software from Microsoft's official page and install it again. Afterward, restart your computer and test Elden Ring again.
Disable CPU and GPU Overclocking
Elden Ring appears to present errors if you play with any kind of overclocking. You have to disable it by using the same method you used to enable it.
That method may be MSI Afterburner, AMD Adrenalin, Nvidia Control Panel, the motherboard's UEFI, and others. Disable the overclocking in whichever way you used to enable it – leave the settings on default.
That said, the MSI Afterburner software is particularly troublesome for Elden Ring. Disable it, or uninstall it.
Tweak the Game's Graphics and Close Background Apps
Our last solution is tweaking the game's graphics. First, though, let's check Elden Ring's minimum requirements
OS: Windows 10.
CPU: Intel Core i5 8400 / AMD Ryzen 3 3300X.
RAM: 12GB RAM.
GOU: Nvidia GeForce 1060 3GB / AMD Radeon RX 580 4GB.
DirectX: 12.
Storage: 60GB.
If your system specs are lower or similar to these, that may be the problem. Alternatively, if you're playing on a laptop with similar specs, that may also be a problem. GPUs and CPUs on laptops are generally weaker than PC parts.
Those playing on underpowered computer should close every app before playing. You can click CTRL + ALT + DEL on your keyboard, and open the Task Manager. Then, right-click the program you want to close and select End Task.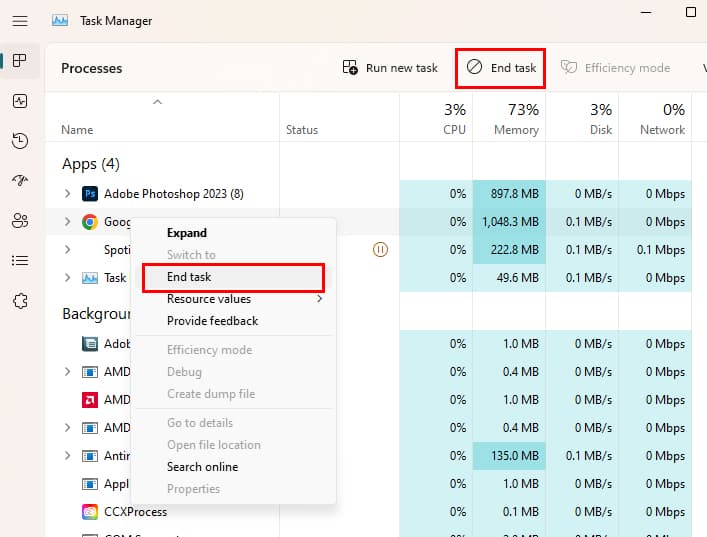 Common programs that cause issues with Elden Ring include:
The Epic Games launcher
Rivatuner
MSI Afterburner
RGB software
Next, you can try lowering Elden Ring's graphical specs. If you manage to reach its main screen, go to System.
Lastly, go to Graphics on the right, select Quality Settings, and select Low. You can test the game now, and tweak the graphical configurations from there.
Reinstall Elden Ring
If nothing else works, reinstall Elden Ring, and try again. Remember to add administrator rights to the title, and disable full-screen optimization before opening it again.