God of War Ragnarok has just been released across PlayStation 4 and 5, and people are going absolutely crazy over it. On top of having visually stunning graphics, the gameplay and world-building are also just as amazing in this new God of War game.
With a new game comes all-new armor sets. And I'm not gonna lie; the new armor sets in this game look sick. With more than 20 unique armor sets, it can be quite tough to choose the best armor for your most powerful build.
In God of War, the armor sets are quite different. Instead of increasing the defense as you progress through the game (It obviously increases your stats), they all give you certain perks which can fall off once you reach the higher-difficulty areas. So, to help you find the best armor for yourself and clear this game without any trouble, we have prepared a list of the best armors in God of War Ragnarok.
Best Armors in God of War Ragnarok
Berserker Armor Set
 When you're talking about the absolute best armor that this game has to offer, the Berserker armor set is your obvious answer. This beast of an armor will be your go-to choice when you've reached the end game.
Its perks are so juicy that you do not want to switch with any other armor sets once you've got your hands on them.
Although getting this armor set is also not a simple task. To get the complete set, you'll need to travel throughout different realms and fight the berserker boss there.
Only after defeating three berserker bosses you'll be able to obtain all the pieces of this set. And keep in mind that these berserker bosses are some of the hardest enemies in the game. But defeating them also rewards you handsomely.
When equipped, the Berserker armor, in particular, increases your outgoing melee damage massively but also causes you to take additional damage after using your relic.
But the best thing is there is a Luck chance that you'll trigger a Soul Expansion whenever you hit enemies or get hit by them, or block and parry them. This armor works great with the Hilt of Skofnung relic, as you can destroy enemies when activating this relic.
Tyr's Guiding Light Armor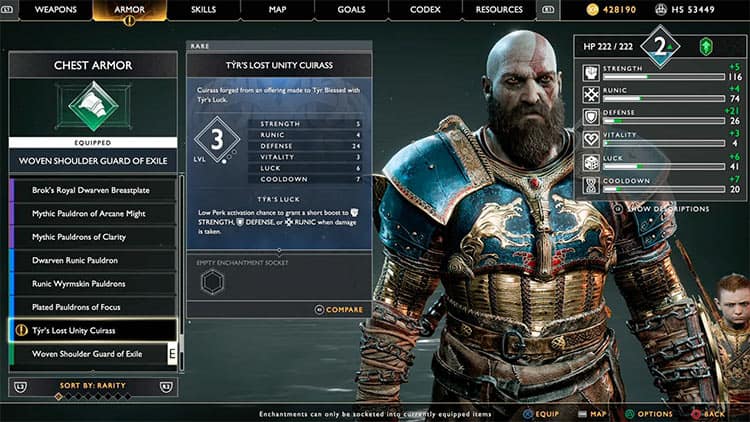 Tyr's Guiding Light armor is excellent armor if you want to focus your build solely on offensive abilities. On top of looking absolutely great, you also do insane damage when you equip this armor. Its perks are best suited for fast-hitting weapons, which can trigger its perks multiple times in a fight.
The reason this armor is so high on this list is that it is only obtainable around the mid-game but is also one of the easiest armors to get your hands on.
While equipped with this armor, Kratos has Luck-focused perks on all of his attacks. He has a moderate chance to trigger the Luck and increase his strength, luck or runic whenever he attacks an enemy. This is where the fast-hitting weapon comes into play. 
As you can trigger its perks on any attack, the more attacks you do, the better the chance gets. You also do massive critical hits when you trigger this effect.
Steinbjorn Armor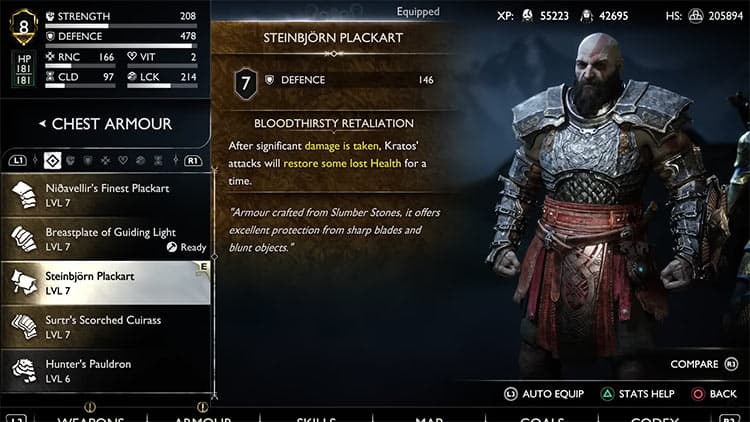 While the Guiding Light armor is solely focused on offense, the Steinbjorn armor, on the other hand, is an armor that is purely made for defense. This armor has the highest points in defense among all the armor in God of War Ragnarok.
While equipped with this armor set, Kratos will be an unstoppable tank that just refuses to die. Its perk is also equally amazing for late-game when enemies tend to hit a lot harder.
When equipping this armor, Kratos will get a chance to restore health from his attacks after taking enough hits. This, when paired with a strong and fast-hitting weapon, can restore your health to full after a full set of combos.
This armor is also good for those who are just learning the ways of the game. Since it takes time to learn the moves of each enemy and prepare against them, this armor can save you from many dangerous situations.
Fallen Stars Armor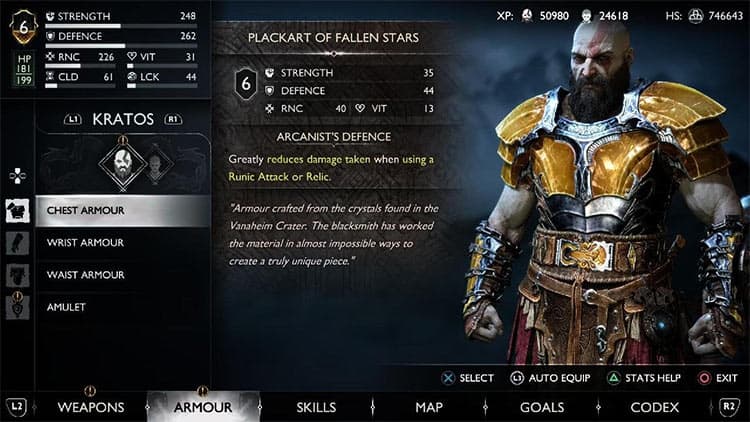 If you love using special attacks throughout your game instead of wasting your time doing normal attacks, then this is the armor set you should get. Fall Stars armor is great for both defensive and offensive play styles as it reduces your damage taken while also reducing the cooldown of your relic or runic attacks. 
This armor looks absolutely beautiful, and its perks are also very powerful. As mentioned earlier, this set is for players who love using special attacks. It grants you damage negation while doing runic attacks.
It also reduces the cooldown of those attacks. So you can essentially use your runic attacks each time it is off cooldown, dealing massive damage while also taking reduced damage.
Dragon Scaled Armor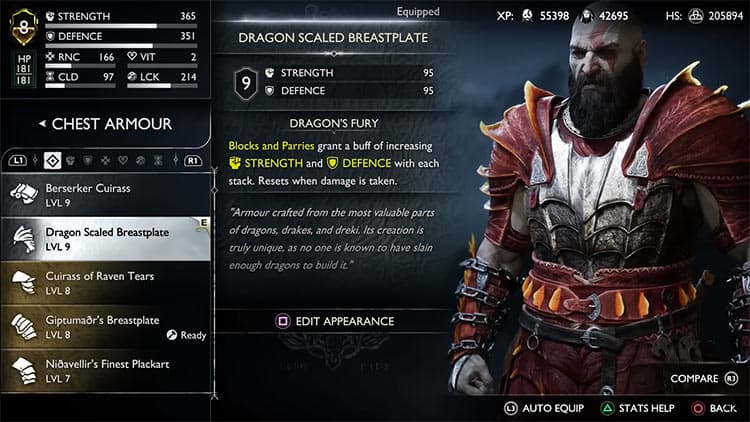 Dragon Scaled Armor is by far the coolest-looking set in God of War Ragnarok. This set is also a unique one as instead of buffing up your attacks or damage; it buffs up your blocking and parrying abilities instead.
This is the best set for players who love parrying enemies and deal massive damage when they are vulnerable. Unlike other armors that rely on luck or combo attacks to deal massive damage, this armor is purely for people who rely on their skills.
Crafting this item also isn't an easy task as it takes you exploring throughout the lands of Vanaheim to collect the required materials. But acquiring this armor can be well worth it if you love challenging gameplay.
Lunda's Armor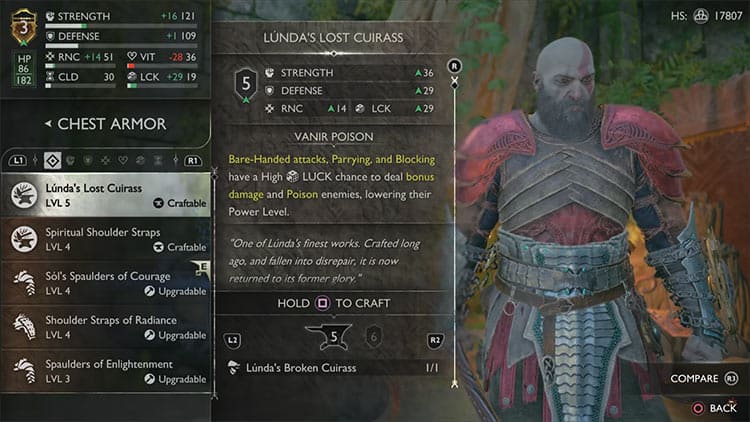 Lunda's Armor set is another armor set that you have to get your hands on if you want to shred enemies and bosses like nobody's business. This is the best set for mid-game and is absolutely bunkers when you get the full set.
Its perk allows you to deal an insane amount of damage to your enemies while they do very little. This armor set can also be found in Vanaheim after receiving the Labor from Lunda herself.
After collecting the materials and crafting them, you should be able to get through your mid-game with ease. If you upgrade it fully, you can even complete the game with this armor set.
When equipped with this armor, your bare-handed attacks have a very high chance to deal bonus damage to your enemies and also inflict them with poison. And the poison effect in this game is amazing as it reduces the power level of your enemies and bosses, allowing you to make quick work of them.
Lunda's armor is definitely one of my favorite armor in the game as it just melts your enemies and bosses.
Undying Pyres Set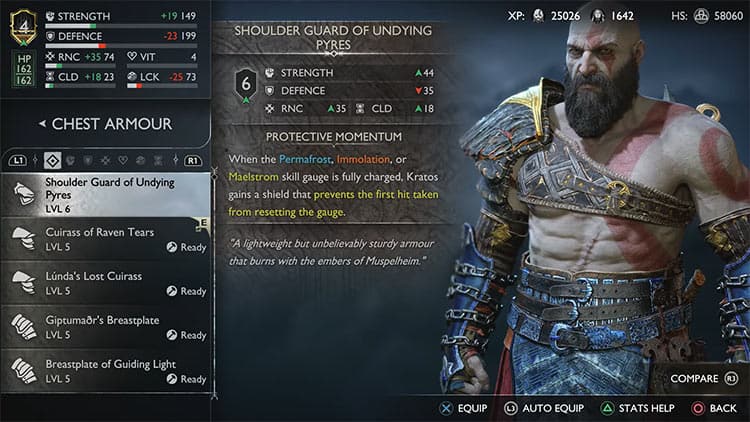 The Undying Pyres set is the best armor set for players who are going for the elemental damage build. There are currently three elementals in God of War Ragnarok with the introduction of Maelstrom, already existing Permafrost, and Immolation.
Kratos will charge up these elemental effects if you manage to land certain hits on enemies without taking any damage and deal massive damage.
The Undying Pyres set will help you fill-up the gauge faster while also buffing up the damage from these elementals. Not only that, but it also provides a shield that blocks the first hit from the enemies so that your charge won't be reset.
This makes it one of the best armors for elemental damage. It is also a very good armor for mid-game and will serve you better when you upgrade it.
Surter's Armor Set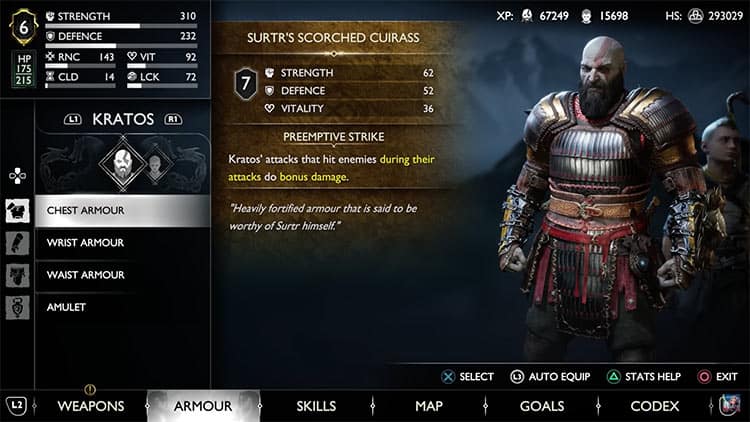 Surter's Armor set is another well-versed set in God of War Ragnarok. This set provides one of the best stats in the game and provides a good balance between defensive and offensive playstyle.
It's also one of the most time-consuming armor sets to get, but its stats and perks well make up for it. This set is more suited for players who like offensive gameplay. The defensive abilities are just another perk.
When equipped with this armor, you do bonus damage to your enemies when you interrupt their attacks. And in addition, you receive less damage when they interrupt you.
It is great against enemies who can't just stop charging at you like idiots. For those players who like smashing buttons, it can be a great armor set for you.
Nidavellir Armor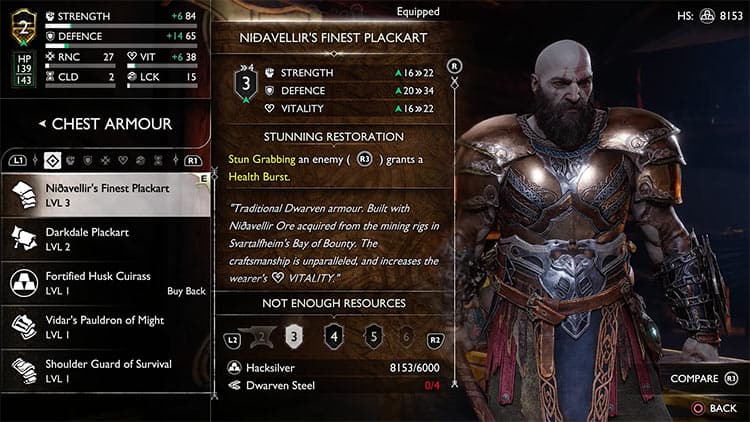 Nidavellir armor set is an optional set you can get early on in the game, and it is the best early-game armor you can find. It gives a good overall stat to get through the rough stages of the early game, and its perks aren't too bad either.
While this armor may not be as powerful as the other armor you get in mid and late-game, it will help you survive through tough bosses and enemies from the early stages of the game.
While equipped with this armor set, you get a huge amount of your health back when stun-grabbing an enemy. A stun grab is a powerful maneuver, which is unblockable and deals massive damage to the enemy.
Stunning enemies is a very satisfying maneuver in every game, but in terms of God of War Ragnarok, it also allows you to get your health back when you successfully manage to perform this risky move.
Radiance Armor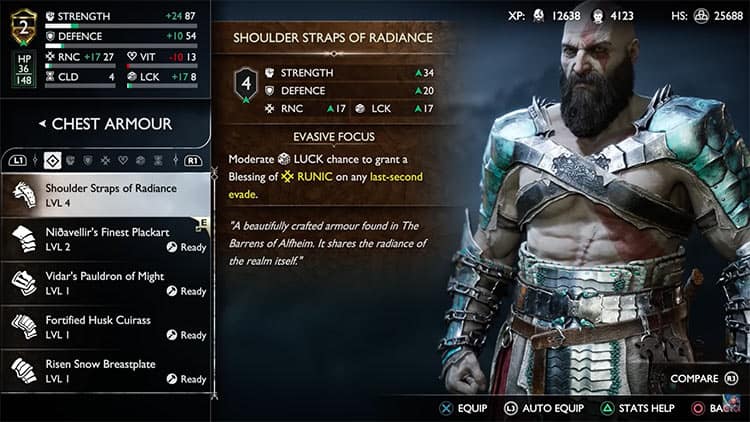 The Radiance Armor is for those players who are very confident in their blocking and parrying skills. On top of making Kratos look like an absolute chad, this armor also has one of the most unique and amazing perks in the game.
It does take a lot of practice to make proper use of this armor, so if you're a new player, you should probably find another armor.
When equipped, this armor set grants you a perk called Realm Shift which is just visually stunning to look at. When you perform a last-second dodge or parry, this perk will slow down the time which can be crucial to take down multiple enemies in fashion.
It also increases your Runic damage when you perform a last-second parry, which is even cooler to watch.