Vampires are one of the stronger creatures in Skyrim. They have good passives and abilities such as re-animate corpses, leech health from enemies, invisibility, and night vision.
While being a vampire does have its perk, it also has some significant downsides. Vampires are naturally weak and take extra damage against fire and sunlight. During the daytime, your Health, Magicka, and Stamina will no longer regenerate which can severely affect your gameplay.
Not to mention, if you've reached the fourth stage in the vampire progression, every NPC in town and cities will become hostile towards you. So, if you looking to cure your vampirism, here's how.
Use Potion
Once you've contracted the Sanguinare Vampiris disease you'll have a 3 days window before becoming a full-fledged vampire. Like any other disease, you can cure Vampiris disease by drinking the potion of cure disease.
You can buy the potion from the alchemy merchants in Whiterun, Markath, or Solitude. Aside from vendors, you'll also find the potion while exploring dungeons or looting enemies, etc.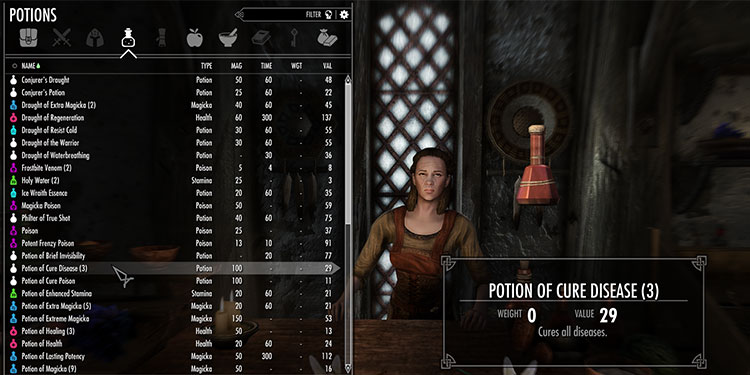 Pray at Shrine
Praying at a shrine will grant you blessings and will remove all diseases from your character. This inlcude the Sanguire Vampiris. However, praying at a shrine will only cure your vampirism if you've not crossed the 72-hour mark.
You can find shrines at temples or chapels in the major cities of Skyrim. E.g. Whiterun, Markath, Riften, etc. The most convenient shrine location is at Whiterun, below the statue of Talos.
Open your map and fast-travel to Whiterun.
Walk straight till you reach the market.
Turn left and head up the stairs.
You'll find the statue of Talos and Heimskr towards the right. Walk up to the statue. You'll find the Shrine of Talos below the statue.
Interact with the shrine to get rid of the Vampiris disease.
Complete the Rising at Dawn Questline
Now, what if you've crossed the 3 days deadline and have already become a complete vampire? Well, you can cure your vampirism by completing the Rising at Dawn questline.
You can repeat this quest multiple times as long as the essential NPC is still alive. This method will also work for you if you had chosen to become the Vampire Lord in the Dawngaurd questline.
You can start by visiting any inn and talking to the innkeeper. In the dialogue menu, select "Heard any rumor lately?" This will start the Rising at Dawn questline.
Head to Morthal to meet Falion. Depending on the time of day, you'll find him either in the town or at the summoning circle.
Talk with Falion and pick the "I'm looking for a cure" dialogue option. Falion will be hostile towards you if you are at vampire stage four. You can decrease your vampire level by feeding on NPCs or drinking blood potion.
Falion will instruct you to bring a filled black soul gem. You can buy the black soul gem from Falion for gold coins.
Once you have the black soul gem, you need to fill it with the soul of a human. There are a couple of ways to fill a soul gem. You can either kill an enemy with an enchanted weapon or cast the Soul Trap spell on an enemy before killing them. If you don't have the Soul Trap spell, you can buy it from Farengar Secret-Fire in Dragonsreach.
Return to Faelin after filling the black soul gem. He will instruct you to meet him at the summoning circle at dawn.
Head over to the summoning circle and skip time till 6:00 AM.
Speak with Falion to start the ritual. Once completed, you'll be free from vampirism.
How does Vampirism Work?
There are a couple of ways you can become a vampire. You can either catch the Sanguinare Vampiris disease while fighting vampires or become the Vampire Lord from the Dawnguard questline.
Vampirism progression begins after contracting the Vampiris disease. There are a total of four stages in vampirism. As you progress through the stages, you will gain new abilities alongside weaknesses.
How to Avoid Vampirism?
Although you'd freed yourself from vampirism, you're not immune against the Vampiris disease. You'll likely catch Vampiris on your next encounter with vampires. However, there are a few countermeasures you can apply to prevent catching the disease.
You can avoid Vampiris by wearing the Necklace of Disease Immunity. As the name suggests, this necklace grants you immunity against all forms of diseases. You can buy the necklace from the merchants in Solitude and Raven Rock.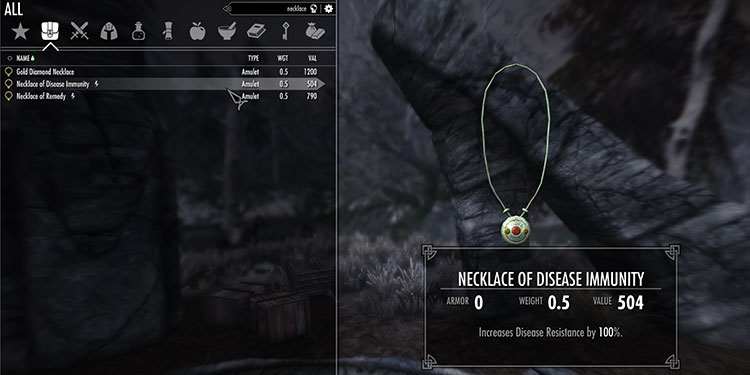 Another way to avoid vampirism is via playing the Argonian race or becoming a Lycanthrope. Both have the passive that makes you immune to all diseases. This method can be helpful if Falion, the essential NPC in the Rising at Dawn questline is dead or missing.