Animal Crossing is one of the top simulation games developed by Nintendo. As, the game does not have any specific objective, it is played openly, doing various activities like fishing, bug catching, cutting trees, and fossil hunting.
You collect different recipes for tools, furniture, etc., and build them. Everything that you collect in-game is very important as you can use them to buy other recipes. However, you need the right tools to collect materials in animal crossing.
One of the most important tools is Wood. For collecting Wood, you need an Axe. This guide will tell you exactly how you can get an Axe in Animal Crossing.
How to Get an Axe in Animal Crossing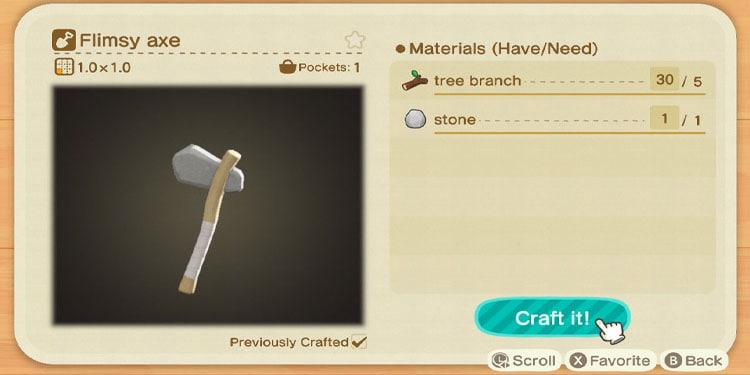 As wood is one of the most important materials you need in Animal Crossing, the first tool you have to get is an Axe. Luckily, you can get it easily.
However, go through these steps before getting an axe:
First, visit Tom Nook and talk with him. After the conversation, he will give you a Flimsy Net and Fishing Rod.
Using the Net, you can catch some bugs, and with the fishing rod, catch some fish.
 Now, you take your catch to Tom Nook and donate it to him.
After that, he will give you the recipe for the Flimsy Axe.
After you have the recipe for the Flimsy Axe, you can craft the tool. But the recipe alone is not enough for you to get your axe. You must have some other materials too.
For Flimsy Axe, you need to collect five tree branches and two stones which you can get lying on the ground around the island.
You can start crafting after acquiring these materials. However, you cannot craft tools anywhere you want. You must find a workbench for crafting purposes.
Tom Nook will teach you how to use the bench and craft after you talk to him. Although, you will have your own workbench, you can also find it in Community Center and other NPCs' homes.
After you get to the workbench and have all the materials needed for the Flimsy Axe, craft it. After getting the Flimsy Axe, you can cut trees, get wood, and upgrade the axe.
If, you are a fan of COD mobile and want to possess the coveted weapon, we also have a detailed guide on how to get an axe in COD mobile.
Types of Axes in Animal Crossing
As discussed, you can also upgrade your axe. But before upgrading them, let's first discuss their types. Every axe needs different materials and has a different process to unlock. In addition to this, all axe have different durability.
Keeping these things in mind, here are the types of axes that you can get in Animal Crossing :
| | | | |
| --- | --- | --- | --- |
| Type of Axe | Required Materials | Unlocking Process | Durability |
| Flimsy Axe | Flimsy Axe Recipe, Five tree branches, 1 Stone | Talk to Tom Nook and donate him bugs and fishes | 40 hits |
| Stone Axe | One Flimsy Axe, Three pieces of wood | Buy Pretty Good Tools Recipe from Tom Nook Shop | 100 hits |
| Iron Axe | One Flimsy Axe, Three pieces of Wood, One Iron Nugget | Buy Pretty Good Tools Recipe from Tom Nook Shop | 100 hits |
| Golden Axe | The Golden Axe Recipe, One Iron Axe, One Gold Nugget | Break Any 100 Axes for the Golden Axe Recipe | 200 hits |
How to Upgrade Axe in Animal Crossing
Now, after knowing about the axes and how to get the flimsy one, you can make new furniture, build new buildings, and get more woods. However, the flimsy axe is not durable, as it can only be used for 40 hits or uses.
So, for the durable axe, firstly acquire the required materials and then follow the unlocking process. To upgrade Flimsy Axe to Stone and Iron Axe, follow these steps:
For this upgrade, you must have the Pretty Good Tools DIY Recipe. You can get this recipe if you have 3000 Nook Miles. Nook Miles is a currency in Animal Currency that you can use to get Mystery Island Ticket, Changings Hairstyles, etc. You can earn this currency by completing challenges from the Nook Miles App.
After collecting 3000 Nook Miles, go to the Nook Stop Terminal and interact with it. Select Redeem Nook Miles.
Then, buy the Pretty Good Tools Recipe.
After that, collect the materials needed for your desired axe and find a workbench.
At last, craft the axe you want.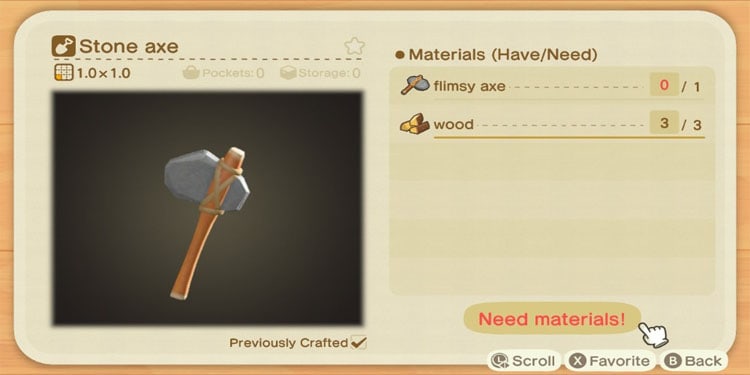 To upgrade to a Golden Axe:
First, get the recipe for the Golden Axe by using and breaking any 100 Axes. It is recommended to break 100 Flimsy Axe as they only need five tree branches and only one stone to craft.
Then, craft a single Iron Axe and collect a single Gold Nugget.
At last, find a workbench and craft the Golden Axe.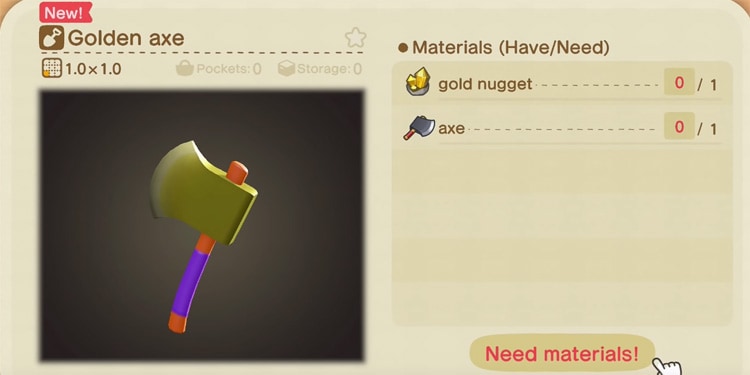 This way, you can get your first axe in Animal Crossing and upgrade it to three other better axes. All the processes we mentioned above are related to crafting only. But is there any way to directly buy the axes without getting the materials over and over again? Luckily there is.
Other than crafting axes, you can also buy them directly. Once you get the recipe for your desired axe, it will go on sale at the Nook's Cranny Store. So, if you need another axe, you can directly go to the Cranny Store and buy them with Bells.