So you've cleared all dungeons, defeated Alduin, saved the world from imminent destruction, and helped every citizen across Skyrim. Perhaps, now is a great time to let your Dragonborn settle down with a loved one and have their own family. It's about time you finally let someone carry your burdens.
Getting married is pretty simple, and you can do it with all the potential NPCs, regardless of their gender or race. To get started, you'll need to talk with the marriage officiant in Riften. Then, collect and equip the Amulet of Mara. Finally, speak with the marriageable candidate to proceed with the wedding ceremony.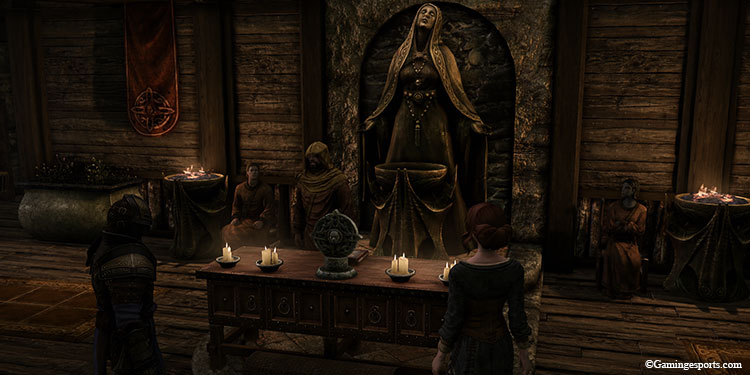 There are over 67 candidates that you can marry in Skyrim. Out of which, 30 are females, whereas the rest are males. Many of these NPCs have interesting lore and memorable storylines which can pull at one's heartstrings.
So, if you've already decided on your potential partner and are willing to tie the knot, look no further. We'll explain everything you need to know about getting married in Skyrim.
Step 1: Speak with Maramal
The first thing you'll need to do is talk with the priest. But, not just any priest, you'll need to speak with Maramal, the only marriage officiant who will give you the quest of marrying an NPC. You'll find him in the Bee and the Barb inn or at the temple of Mara in Riften.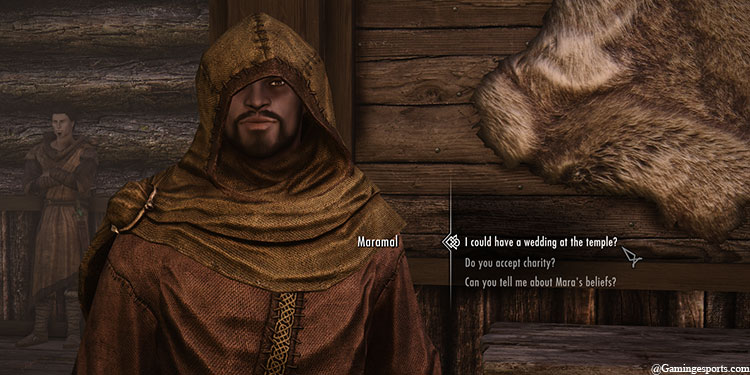 Step 2: Get the Amulet
The next step involves getting the amulet. The Amulet of Mara is the key item that you will need to get married in Skyrim. There are multiple ways to acquire this item. You can buy it from Maramal for 200 gold, discover it while looting and exploring the wild, or get it as a reward for completing the Book of Love questline.
After collecting the amulet, simply equip it on your character and move on to the next step.
Step 3: Speak with the NPC
Now you can't just pick a random NPC to marry. You'll need to complete specific prerequisites to win their favor, such as completing a radiant quest for them.
Speak with the NPC that you like and select the "Interested in me, are you?" dialogue option.
After their confirmation, choose "Yes, Yes I am."
Step 4: Attend your Wedding Ceremony
You're pretty much done here. All you need to do now is head back to Riften and speak with Maramal. Tell him you are ready for the wedding by choosing the "I'd like to have a wedding at the temple" dialogue option. He'll instruct you to come by the temple between dawn and dusk the next day.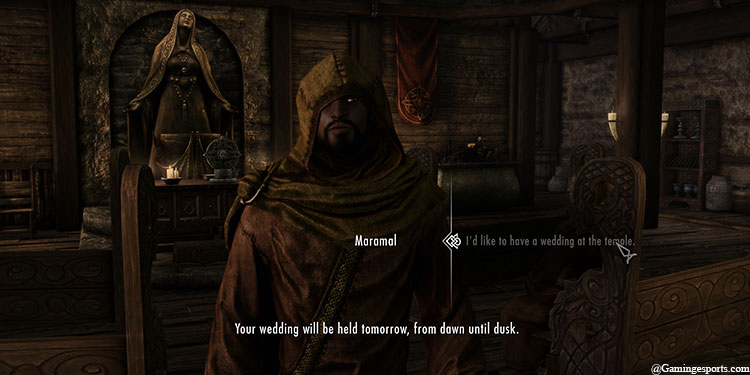 Enter the temple in Riften between 8:00 am to 8:00 pm. This will trigger your wedding cutscene. Choose the "I do. Now and forever" to complete the ceremony.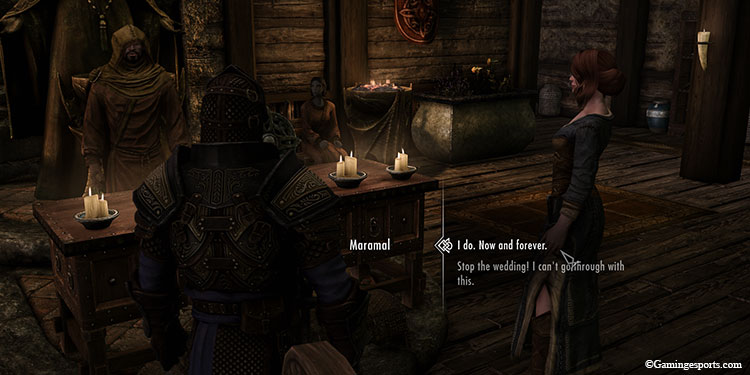 Note: If you've missed the wedding time window, you'll need to apologize to your fiance and talk with Maramal again to rehost the wedding ceremony. You can also make a new save before the wedding so that you can reload your save even if you mess up.
Life After Marriage in Skyrim
Getting married has a lot of perks and bonuses in Skyrim. Sleeping together with your spouse will grant you the "Lover's Comfort " effect. This effect will give you a 30% boost to your skills progression for 8 in-game hours.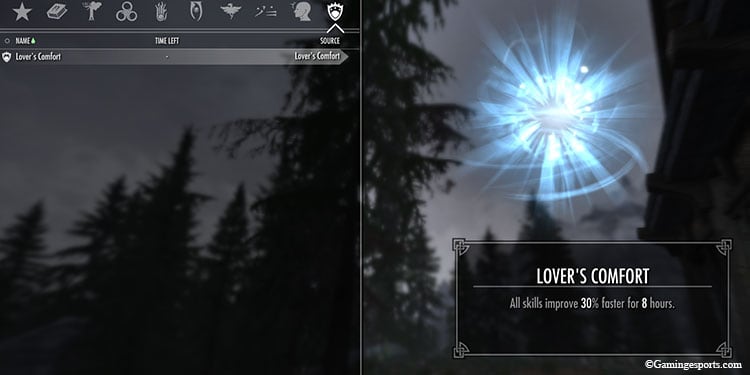 Your spouse will also cook a meal daily while you're at home or traveling together. Eating this meal will temporarily increase your Health, Stamina, and Magicka recovery rate. Besides meals, your spouse can also give you small presents ever so often.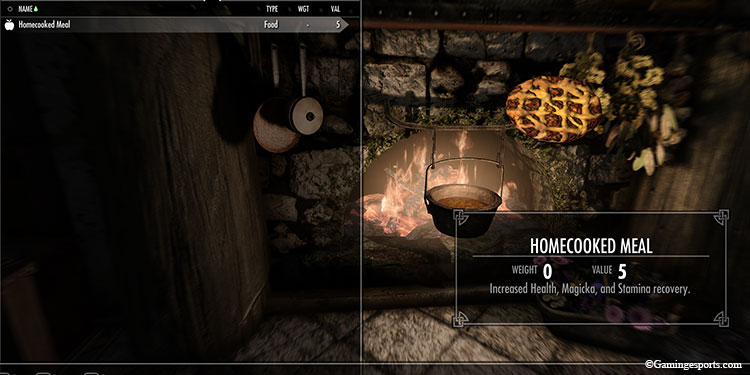 Who Can You Marry in Skyrim?
All characters in Skyrim are not marriageable candidates. If you're unsure whether or not you can marry a set NPC, here's a list of the ones you can marry,
| | |
| --- | --- |
| Female Candidates | Male Candidates |
| Aela the Huntress | Ainethach |
| Aeri | Angrenor Once-Honored |
| Anwen | Argis the Bulwark |
| Avrusa Sarethi | Athis |
| Borgakh the Steel Heart | Balimund |
| Brelyna Maryon | Belrand |
| Camilla Valerius | Benor |
| Dravynea the Stoneweaver | Calder |
| Ghorza gra-Bagol | Cosnach |
| Gilfre | Derkeethus |
| Hilund | Farkas |
| Iona | Filnjar |
| Jenassa | Gat gro-Shargakh |
| Jordis the Sword-Maiden | Ghorbash the Iron Hand |
| Lydia | Gregor |
| Mjoll the Lioness | Halbarn Iron-Fur |
| Morwen | Marcurio |
| Muiri | Moth gro-Bagol |
| Njada Stonearm | Octieve San |
| Orla | Omluag |
| Rayya | Onmund |
| Ria | Pavo Attius |
| Senna | Perth |
| Shahvee | Quintus Navale |
| Sylgja | Revyn Sadri |
| Taarie | Roggi Knot-Beard |
| Temba Wide-Arm | Romlyn Dreth |
| Uthgerd the Unbroken | Rulnik Wind-Strider |
| Viola Giordano | Scouts-Many-Marshes |
| Ysolda | Sondas Drenim |
| | Sorex Vinius |
| | Stenvar |
| | Torvar |
| | Valdimar |
| | Vilkas |
| | Vorstag |
| | Wilhelm |