Every year in the month of June, Valorant issues different pride banners for players to use. Players can equip Pride Cards and show their support to the LGBTQIA+ community. This initiation of Valorant is praised by many players as there are significant number of LGBTQIA+ community players playing Valorant.
Getting pride cards on Valorant is absolutely free. Anyone can get them. In this article we will discuss everything you need to know about Pride cards and how to acquire them.
How to Get Pride Cards on Valorant
Different individuals in the LGBTQIA+ community are represented by different color schemes. So, the Pride Cards in Valorant are the Player Cards with different color schemes on them. You can choose which color scheme you want to equip as your card.
There are seven color schemes for Pride Cards in Valorant. They represent different groups. The listed color schemes are:
Rainbow Card – LGBTQ
Blue, Pink, and White Color Scheme Card – Transgender
Blue, Pink, and Yellow Color Scheme Card – Pansexual
Yellow, White, Purple, and Black Color Scheme Card – Non-Binary
Pink, Purple, and Blue Color Scheme Card – Bisexual
Purple, White, Grey, and Black Color Scheme Card – Asexual
Orange, White, Pink, and Purple Color Scheme Card – Lesbian
Although you can get Pride Cards for free, they will only be available for you on the month of June. So, if you missed getting Pride Card this June, you must wait for another year to get your hands on the card. However, if you get the Pride Cards in June, you can use them for a whole year.
To get Pride Card, follow this process:
First, go to Redeemable Site of Valorant.
After the page opens, click on "Sign In" and enter your credentials to log in.
Here, enter the code for the pride card you want to get.
List of codes along with the card is given below:

Prismatic – For LGBTQ Card
Cotton Candy – For Transgender Card
Primary – For Pansexual Card
Galactic – For Non-Binary Card
Sunset – For Bisexual Card
Twilight – For Asexual Card
Sherbet – For Lesbian Card

After using these codes, the Pride Cards will be available on your account in 24-48 hours. Until 2021, this was the only way. And it was a rather long process. However, in 2022, Valorant made things quiet easy.
In 2022, you can directly go to the Store and find the Pride Card bundle, where you will get 8 Pride Cards and a Gun Buddy. The Gun Buddy is named Pride Buddy, and Pride Mint Card is the additional card added this year. You can get them for free and they will be available to you as soon as you make the purchase.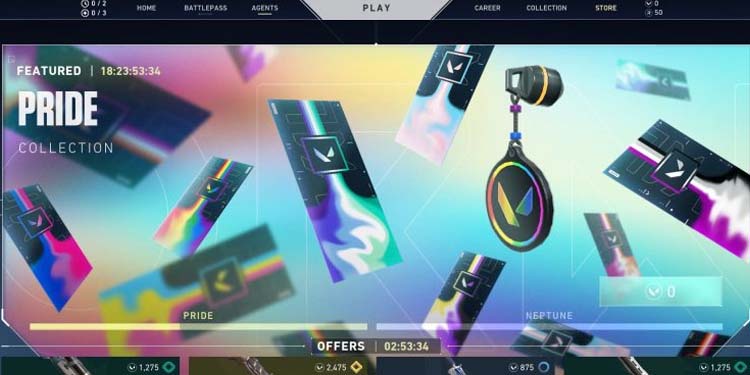 How to Equip Pride Cards and Pride Buddy
Now that you have purchased the Pride Cards and Pride Buddy, you must equip them. These cards and a gun buddy will not automatically equip themselves. So, you need to know how to equip them.
Here's how you can equip Pride Cards:
On the game's home screen, click on "Collection."
On the left side, click on "Player Cards."
You can choose the pride cards you want and click on "Equip Card."
For Pride Buddy, select any weapon under the Collection tab and go to "Buddies."

Choose the Pride Buddy and click on "Equip Buddy."
So, this is it for the Pride Cards. If you have any queries do message down below. Also comment if we have missed anything.