Serana is a unique follower and also a fan-favorite character in the Skyrim community. She was introduced in the Dawnguard DLC and is one of the main character in the storyline.
Unlike other NPCs, her character has a different voice actor, personality, distinctive appearance, and unique world interactions.
These small additions brought the character to life, as players were able to form a connection with her. No wonder many players consider her to be one of the best followers in the game.
The best way to see all her dialogue and interactions is by making her your follower. You can make Serana your follower after completing the Prophet quest in the Dawnguard storyline.
But there are a few questlines that you'll need to complete before starting the Prophet quest. We'll discuss them below.
Quest 1: Start the Dawnguard Questline
The first step you'll need to do is start the Dawnguard questline. There are a couple of ways to start the questline but ensure your character level is 10+.
You can either fast-travel to a city or a hold where you'll encounter Durak, a member of the Dawnguard faction. He'll ask you to join the faction.
When you walk past a guard, they often mention that the Dawnguard faction is recruiting new members.
Once you've activated the Dawnguard questline, head to the fort and speak with Isran, the leader of Dawnguard.
Quest 2: Awakening
After speaking with Isran, he'll send you to investigate vampire activities at the Dimhollow Crypt. This is the place where you'll encounter Serana for the first time.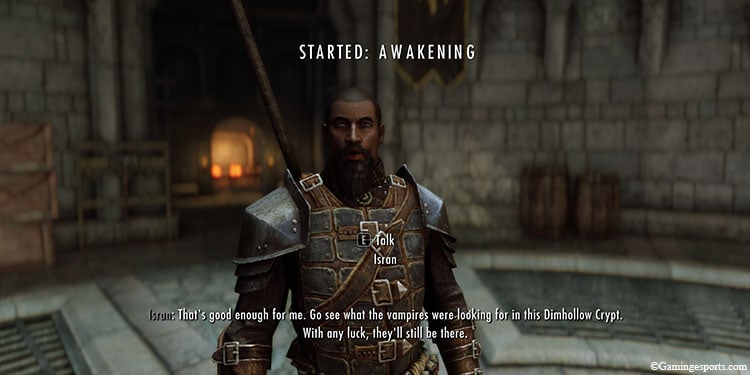 Dimhollow Crypt is a small cave filled with spiders, Draugrs, skeletons, and vampires.
You should note that fighting against vampires will have a chance of being infected with the Sanguinaire Vampiris. If left untreated for three in-game days, the disease will turn you into a vampire.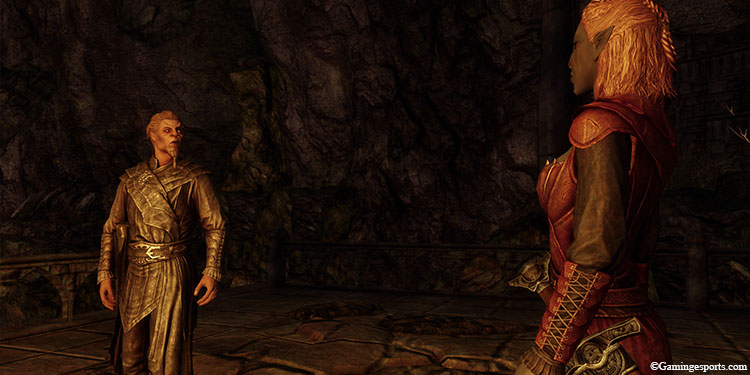 So, grab a few Potions of Cure Diseases, Garlic Bread, or even a Necklace of Disease Immunity to avoid vampirism.
As you progress through the Crypt, you'll eventually encounter a large room with an arena-like structure. Here, you'll have to solve a fairly simple puzzle.
To get started, interact with the pedestal in the middle of the structure. This will light up purple flames around the structure.
You have to push or pull all the Braziers until it's lit with purple flame.
After all the Braziers have been lit, the structure will collapse, revealing a Stone Monolith at the center.
Interact with the Stone Monolith to free Serana.
Speak with Serana; no matter which dialogue options you choose, you must escort her to Castle Volkihar.
Note: After this point, she will become your temporary follower. She will follow you around and assist you during combat, but she will lack the commands and interaction of a proper follower.
Quest 3: Bloodline
After escorting Serana to the Castle, you'll have to sit through a cutscene of the reunion of the Volkihar family.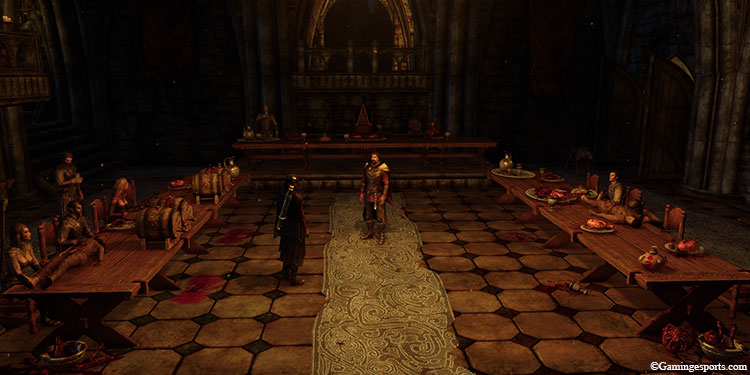 As a reward for rescuing Serana, Lord Harkon will give you the option to adopt the power of the Vampire Lord. You can either accept his offer and acquire the beastly transformation or turn him down to stay loyal to the Dawnguards.
Siding with the Dawnguard will banish you out of the Castle, whereas siding with the vampire will turn all the Dawnguard members hostile toward you. Regardless of the choice that you make here will not affect the option of Serana becoming your follower.
The questline doesn't end here, though. You still have to complete a few radiant quests for the faction that you decided to side with.
If you've sided with the Dawnguard, you must complete A New Order questline, where you'll need to recruit a few of his old allies. But if you teamed up with the vampires instead, Lord Harkon will send you to retrieve The Bloodstone Chalice.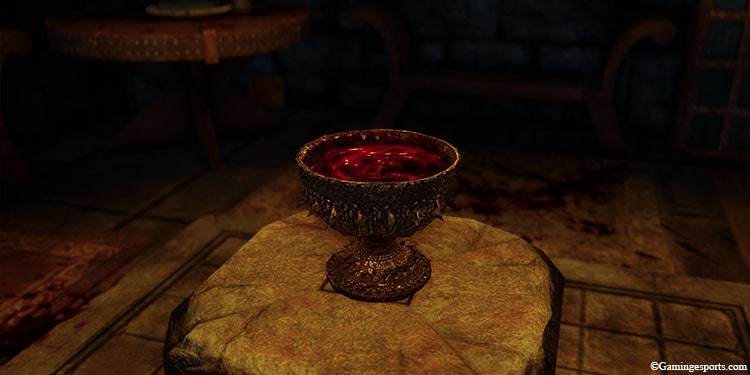 Note: Completing these factions' questline is important to progress further into the campaign.
Quest 4: Prophet
This is the quest where Serana will become your follower. Regardless of the faction that you've teamed up with, the main objective of this quest remains the same. You must seek out a Moth priest to decipher the Elder Scroll.
For the vampire faction, you have to speak with Lord Harkon to start the quest line. Then, as you leave the castle, Serana will approach you and join your party. From here, she becomes your follower and will follow all your commands like any other follower.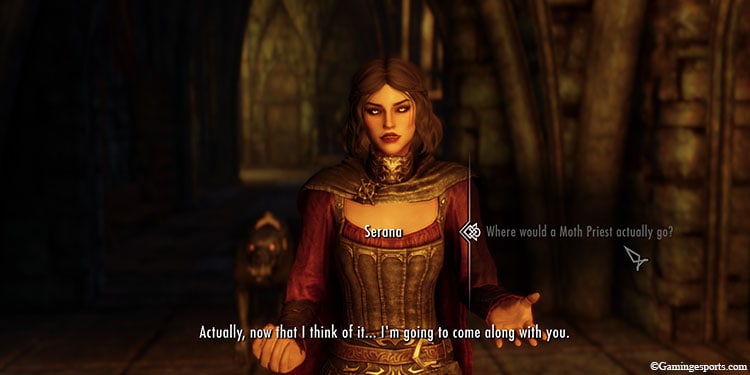 After recruiting all the old allies for Isran, he will ask you to follow him. He'll lead you to Serana, who've snuck her way into the fort.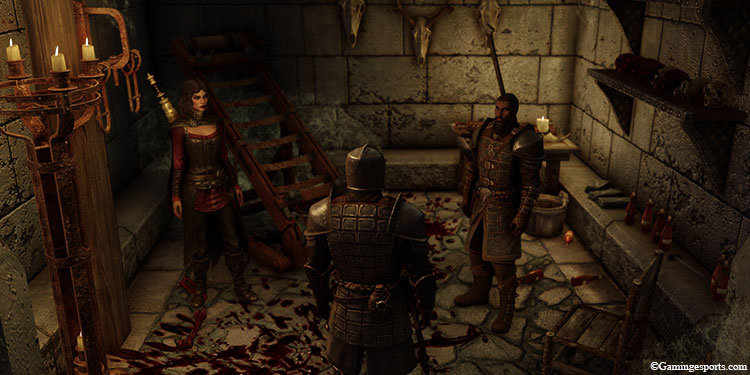 After speaking with her, she will join your party as a follower.
Serana's Abilities and Interaction
Serana is primarily a mage-class character. She prefers using Destruction and Conjuration spells as opposed to weapons. That being said, if enemies manage to get too close to her or if she runs out of Magicka, she will switch to her Elven dagger.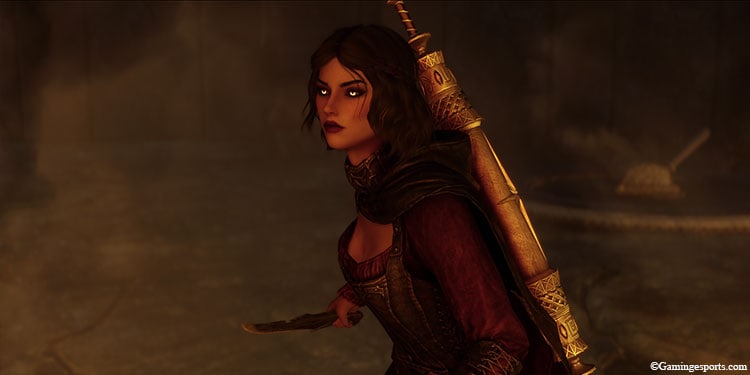 The spells that she uses depend on her level. For example, at level 15, she will use spells like Raise Zombie and Ice Spike. But after leveling her up to 50, she will switch to using spells like Revenant, Ice Storms, and Chain Lighting. As a vampire, she can also use the Vampiric Drain spell to heal herself.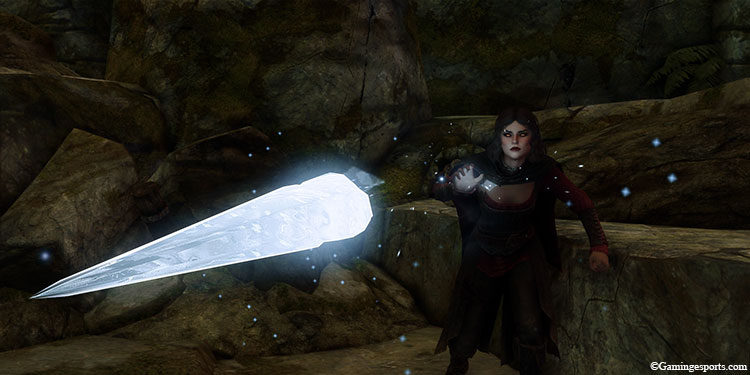 We've also listed some of her unique interactions below.
Unlike other generic followers, Serana can interact with different objects placed in the world, such as sitting, leaning, mining, using workbenches, etc.
Serana is an essential NPC, so she cannot be killed in combat.
Serana will always resurrect the nearest fallen NPC or creatures as soon as you engage with enemies. This increases your allies and support, giving you an upper hand in combat.
You can also ask Serana to turn you into a Vampire Lord if you've turned down the offer of Lord Haron during the Bloodline quest.
There's also an option to cure Serana's vampirism, but if you choose to let her stay as a vampire, you can ask her to make the Bloodcursed Elven Arrows for the Auriel's Bow.
Where can I Find Serana After Dismissing Her?
After dismissing Serana, she will return to two places in particular. First, if you sided with the Dawnguards during the main campaign, she would return to Fort Dawnguard.
However, if you complete the campaign while siding with the vampires, she will return to Castle Volkihar.