As a gamer, you'll know how important your character levels are if you want to succeed in battles and progress through the game. Whether you're just learning to play Skyrim or are replaying it for the nth time, leveling up quickly is a great way to become the fearsome Dragonborn that you're supposed to be.
There are many perks of being at an overall higher level in Skyrim. You'll breeze through the main campaign, crush bandits and other wild creatures, never have to worry about dragons, and completing quests will generally yield you more rewards.
However, if you've been playing the game at a natural pace, you might find that the level-up progression in the game is a tad slow. That's because the game's leveling system has a unique mechanic to it where your character's level is tied to your overall skills level.
So, if you want to level up your character quickly, you'll need to level up your skills quickly as well.
How Does Leveling Up Work in Skyrim?
Before moving on to the method, you'll need to know a bit about the leveling mechanic of the game as it's different compared to other RPG games. There are two main components to the overall leveling system. There's the level of your character and level of your skills.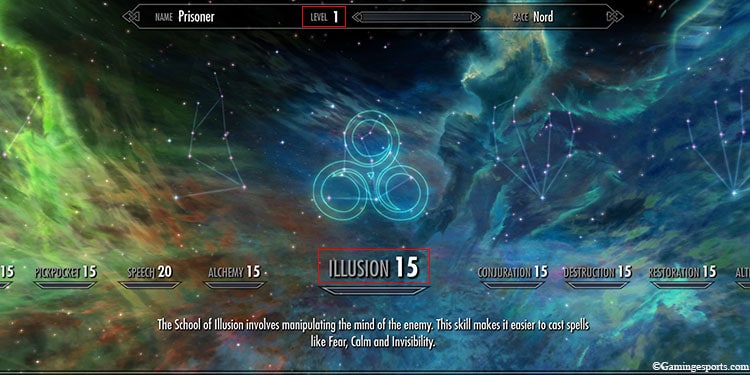 You can only increase the level of your character by leveling up your skills. Every skill point you gain will add a small number of experience points to your character's overall level. So the quicker you level up your skills, the faster you will level up in the game.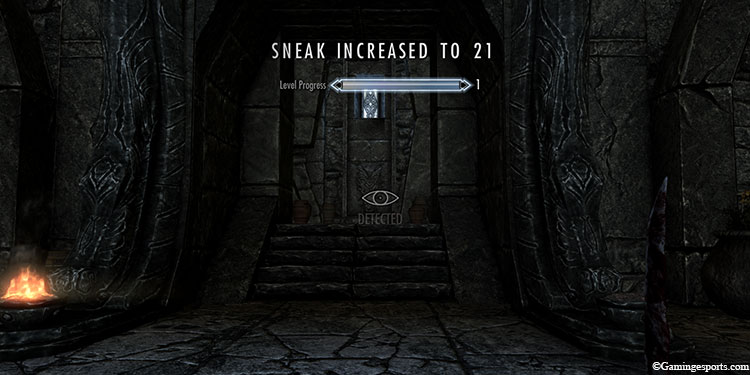 We'll start with how you can increase your skill progression rate,
Sleep in Bed
While it might seem that sleeping is just a means to skip time, it actually grants you bonuses. You'll get the 'Rested' bonus if you sleep in bedrolls or the ones owned by other NPCs. This effect lasts for 8 in-game hours and will boost the experience gain rate by 5%.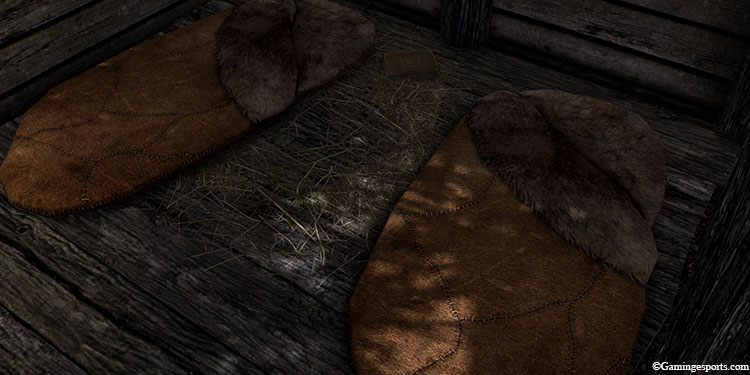 If you sleep in your own bed at your home or at an inn, you'll get the 'Well Rested' bonus. This effect grants you an additional 5% bonus, leaving you with a total of 10% skills gain rate.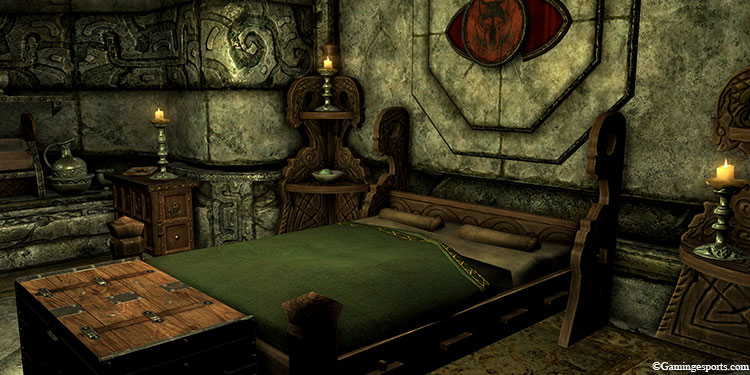 Note: You won't be able to get the Rested, or the Well Rested bonuses if you've chosen to become a lycanthrope.
Get the Lover's Comfort Bonus
Lover's Comfort is a slightly better version of the Rested/Well Rested bonus. This effect boosts your skill gain rate by 15% for eight in-game hours.
However, you can only get this bonus after getting married. Simply sleep together with your spouse to gain the Lover's Comfort effect.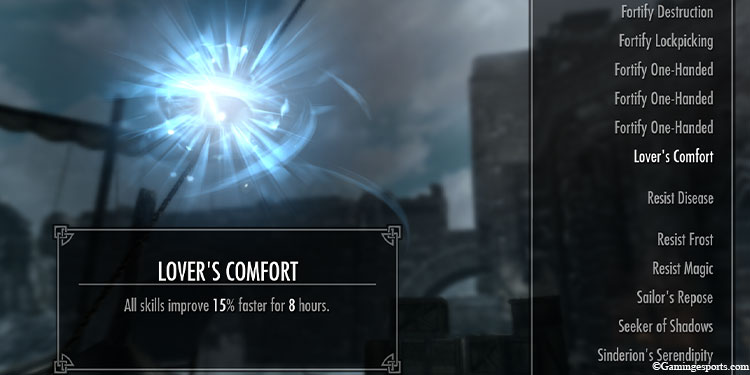 Activate the Lover's Stone
If you've yet to get married or have already become a Werewolf, you can use the Lover Stone bonus instead. This effect is an alternative to the Lover's Comfort bonus giving you the same 15% increase rate in all your skill progression.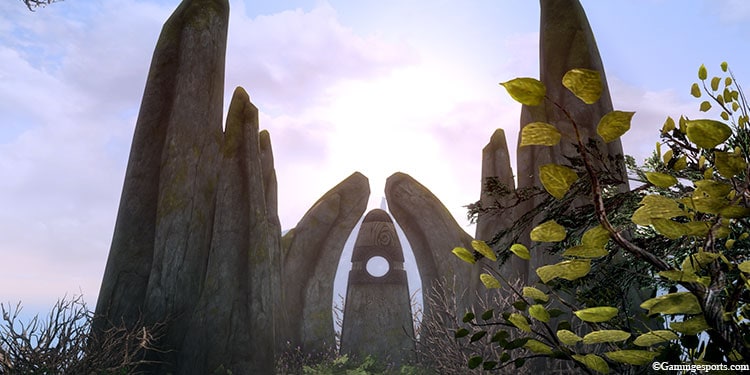 Increase the Game's Difficulty
This is a high-risk high-reward approach where you will need to play in the game at a higher difficulty (Legendary). In return, you will get a significant experience boost whenever you use your skills.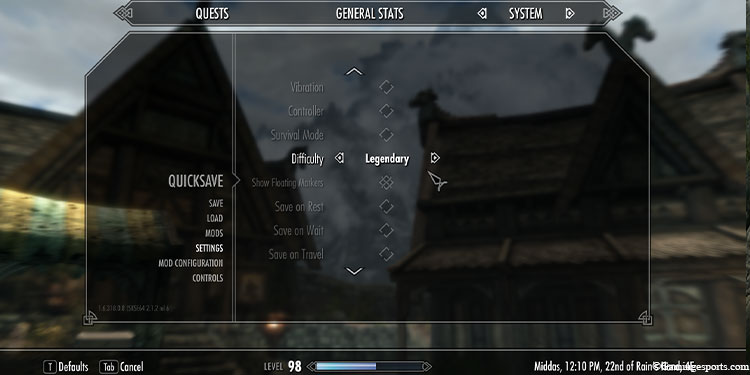 Use The Guardian Stones
Finally, we have the Guardian Stones. They are hands-down the most important artifact if you're trying to level up quickly in the game. Unlike others artifacts, the Guardian Stone grants you a massive 20% skill boost rate.
You can find them while traveling from Helen to Riverwood or vice versa.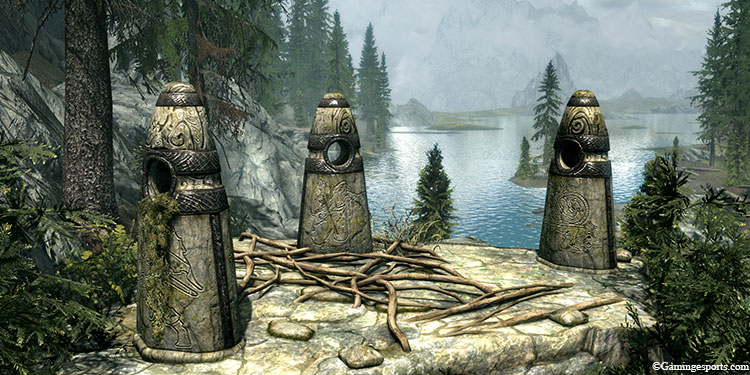 There are three different Guardian stones. The Warrior stone, the Mage stone, and the Thief stone. Activating any of them will boost all the respective skills within the class.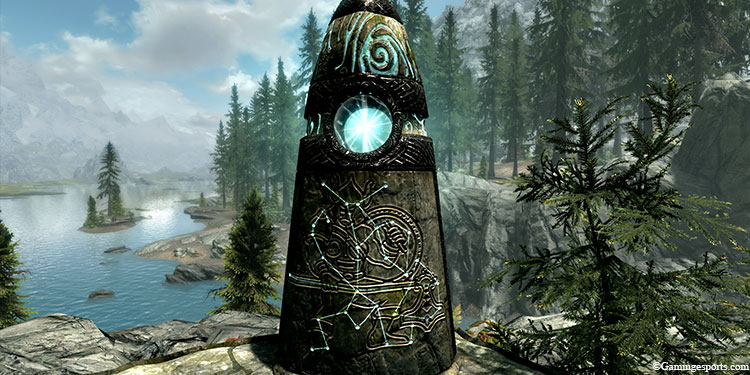 For example, activating the Warrior Stone will increase the experience gain rate for Two-Handed, One-Handed, Heavy Armor, Block, Archery, and Smithing.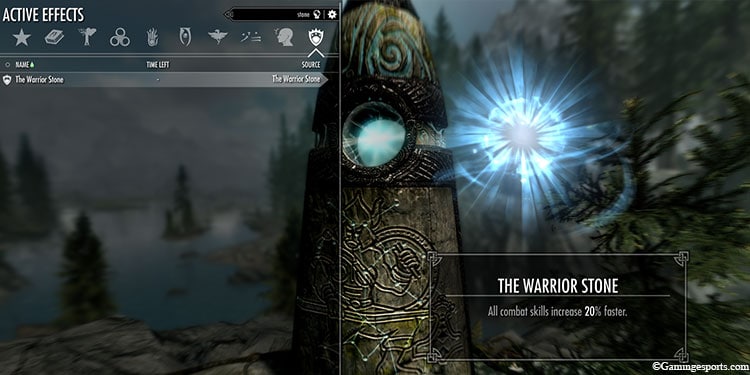 Unless you have Aetherial Crown, you can only activate only stone. Simply interact with the Guardian Stone of your choice to gain the skill progression boost for that class.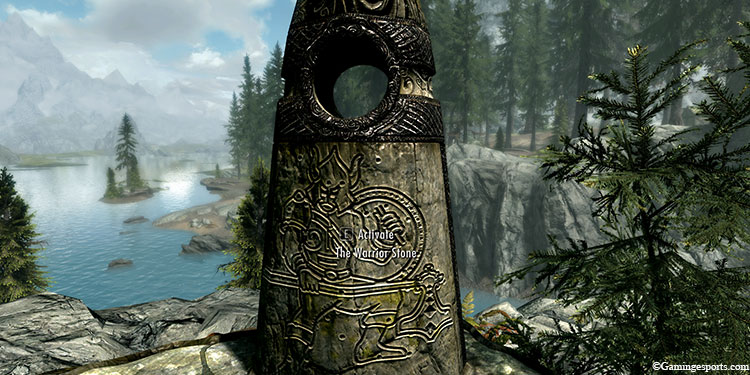 Types of Skills
There's a total of 18 skills grouped into three classes. I.e., the Warrior class, the Mage class, and the Thief class. Every class has six different skill types.
| | | |
| --- | --- | --- |
| The Warrior | The Mage | The Thief |
| Two-Handed | Restoration | Light Armor |
| One-Handed | Alteration | Pickpocketing |
| Heavy Armor | Conjuration | Sneaking |
| Block | Destruction | Lockpicking |
| Archery | Enchanting | Alchemy |
| Smithing | Illusion | Speech |
How to Gain Skill Points?
Now that we covered the rate bonuses to make leveling up easier, we can move on to how you can gain skill points. There are multiple ways to earn skill points and the most consistent way to level up is by using them frequently.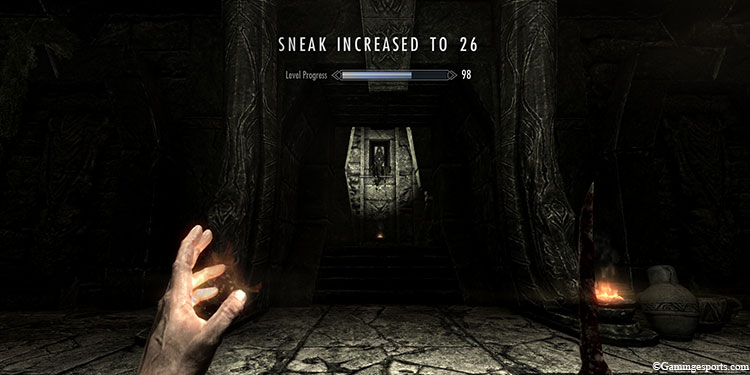 Other than that, you can also read skills books, complete main story quests, or pay experts to train you.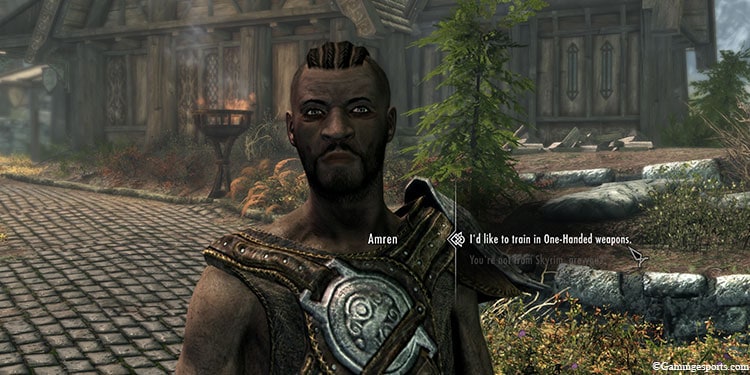 We've listed all the trainers and their locations where you can hone your skills.
| | |
| --- | --- |
| Skill Type | Trainers |
| Two-Handed | Vilkas in Whiterun, Torbjon ShatterShield in Windhelm, Fura Bloodmouth in Castle Volkihar, Wulf Wild Blood in Skaal (Solstheim)  |
| One-Handed | Athis in Whiterun, Amren in Whiterun, Chief Burguk in Dushnikh Yal |
| Heavy Armor | Farkas in Whiterun, Isran in Fort Dawnguard, Gharol in Dushnikh Yal, Kuvar in Bujold Retreat |
| Block | Chief Larak in Mor Khazgur, Njada Stonearm in Whiterun |
| Archery | Niruin in Riften, Sorine Jurad in Dawngard Fortress, Aela the huntress in Whiterun, Faendal in Riverwood |
| Smithing | Gunmar in Dawnguard Fortress, Ghorza in Markath, Eorlund Gray-Mane in Whiterun, Balimunf in Riften |
| Restoration | Florentius Baenius in Dawnguard Fortress, Aphia Velothi in Raven Rock, Keeper Carcetter in The Pale, Danica Pure-Spring Whiterun, Coletter Marence in Winterhold |
| Alteration | Tolfdir in Winterhold, Dravynea in Kynesgrove |
| Conjuration | Falion in Falkreath, Phinis Gestor in Winterhold, Talvas Fathryon in Tel  Mithryn (Solsthein), Runil in Falkreath |
| Destruction | Faralda in Winterhold,Wuuferth the Unliving in Windhelm, Sybille Stentor in Solitude |
| Enchanting | Neloth in Tel Milthryn, Hamal in Markath, Sergius Turrianus in Winterhold |
| Illusion | Drevis Neloren in Winterhold, Atub in Largashbur |
| Light Armor | Grelka in Riften, Nazir in DB Sanctuary, Scouts-Many-Marshes in Windhelm |
| Pickpocketing | Vipir the Fleet in Riften, Silda the Unseen in Windhelm |
| Sneaking | Garvey in Markath, Delvin Mallopry in Riften (Thieves Guild) |
| Lockpicking | Vex in Riften, Ma'jhad in Khajit Caravan |
| Alchemy | Babette DB Sanctuary, Arcadia in Whiterun, Lami in Morthal, Milore length in Raven Rock |
| Speech | Ronthil in Castle Volkihar, Giraud Gemane in Solitude, Ogmund the Skald in Markath, Ronthil in Castle Volkihar, Dro'marash in Khajit Caravans |