Minecraft has so many ways to progress your character, and you need all of the help you can get on Survival Mode. If you're looking for ways to resist extra enemy hits, Turtle Shell helmets present an easy way to improve your armor.
You can equip a Turtle Shell to gain 2 armor points, plus 10 seconds of Water Breathing. The breathing timer will reset when you come up to the surface. Lastly, you can use Turtle Shells to create a Potion of the Turtle Master, which gives you two different resistances.
So, these items can help you survive longer, and they can give you a way to explore underwater areas. For example, if you're struggling with oceanic realms, Turtle Shells should be one of your top priorities. The good news is that you can get these items at the beginning stages of your game.
Minecraft Turtle Shell Recipe
To craft a Turtle Shell, you need to find Baby Sea Turtles to get Scutes. The recipe is 5 Scutes.
Once you have the 5 Scutes, open the Crafting Table. Put three Scutes at the top positions, one at the middle left, and the last one on the middle right. It should look like this: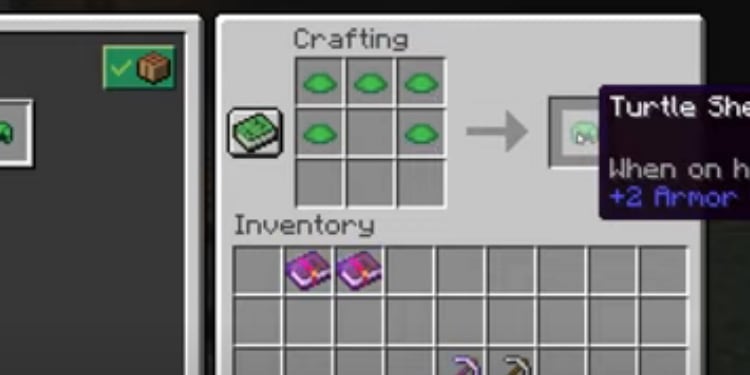 Let's continue the tutorial by telling you how to get Scutes, use Turtle Shells, and brew the Turtle Shell potion.
How to Get Scutes?
Scutes drop when a Baby Turtle drops into an adult. Each Baby Turtle drops a Scute when they grow, but killing adult or Baby Sea Turtles won't drop Scutes.
You have two ways about it—either wait patiently or make the turtles breed. The first option requires you to stay close to a Baby Turtle until it grows, and pick up the scute it leaves behind.
In specific, Scutes are the carcass Baby Turtles leave behind when they become an adult. Your job would be to find turtles and follow them back to the eggs. Then, wait for the eggs to hatch, and wait for the baby to grow.
The second option works like breeding other animals such as foxes. You have to find two turtles on a beach and breed them with Seagrass so they enter the romance mode.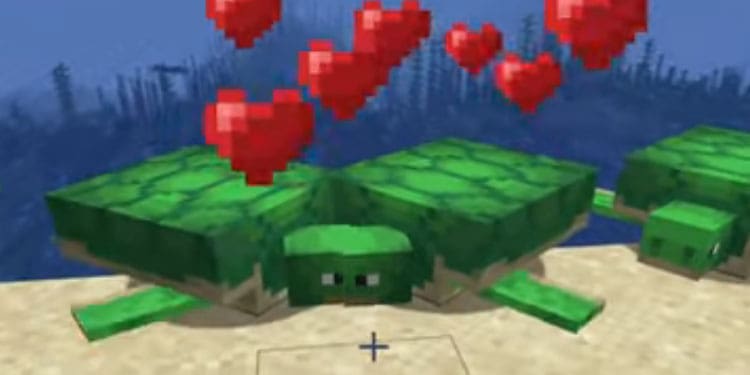 Minutes after entering the love mode, one of the turtles will return to the beach and leave up to four eggs in the sand. You'd know the turtle is laying eggs when it starts digging in the sand.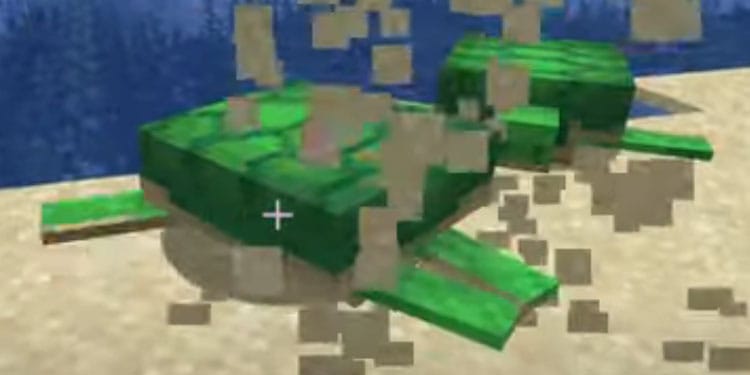 These eggs become Baby Turtles in minutes, but you can't force the birth process. However, you can feed Seagrass to Baby Turtles to speed up the growth process.
Without food, they take about 20 minutes to become an adult. Feeding the babies accelerates the process by 10% (2 minutes). You can feed them up to 10 times to make the process as fast as possible.
Anyhow, the Baby Turtle will leave a Scute behind when it becomes an adult. You'll see it as a small green item floating. Also, you'd know the Baby Turtle is eating when a green icon appears above the blocky animal.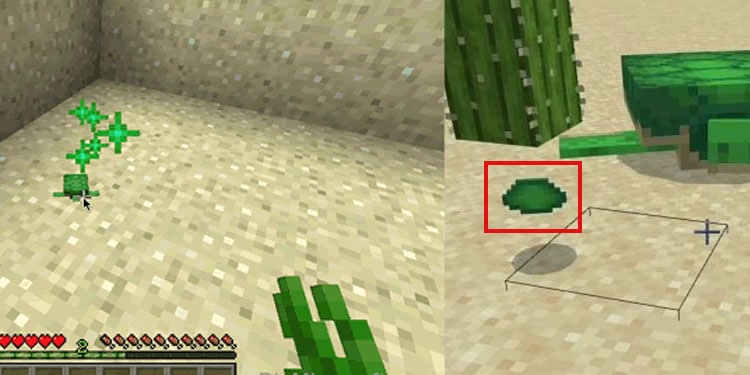 Where to Find Turtles?
The best part of crafting Turtle Shells is how easy it is to find and breed them.
Turtles spawn on Overworld beaches during daylight. That doesn't include stony shores or snowy biomes.
You'd find turtles on sand blocks on both Bedrock and Java. Typically, they come in small groups with up to 8 turtles.
Where to Get Seagrass?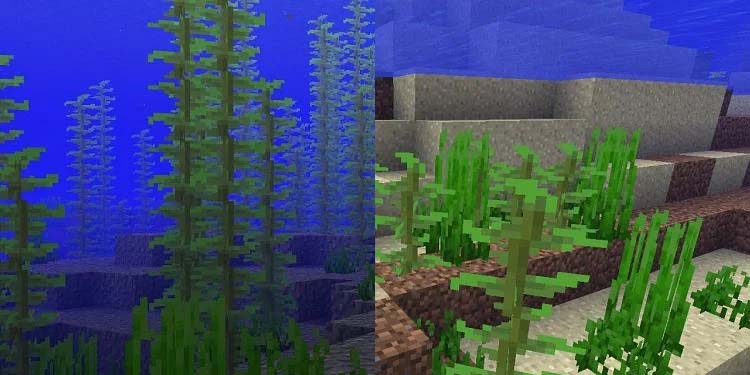 Seagrass is a common block in any underwater biome. It comes in tall and short versions, and you can harvest it with Shears.
You can craft Shears by combining two Iron Ingots on the crafting menu with the following pattern: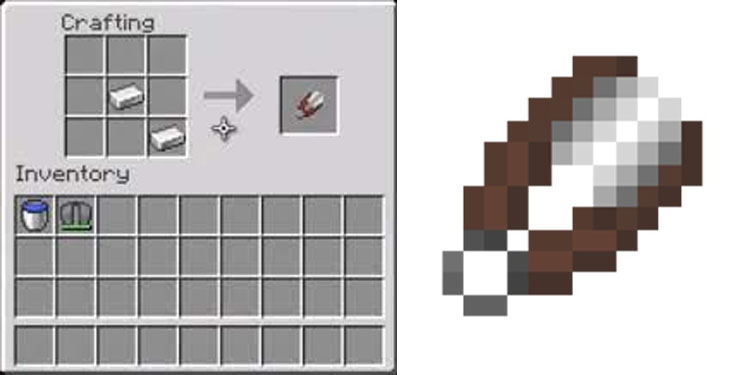 How to Use Turtle Shells?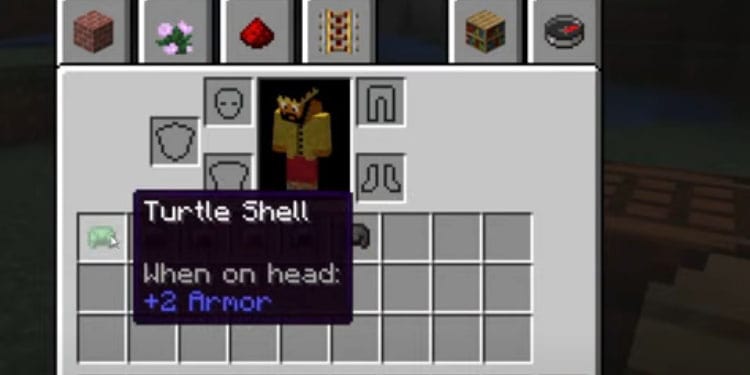 Turtle Shells are helmet armor. After you craft it, you can equip it on the character menu as any other armor in your inventory. These are the stats and perks:
+2 armor
10 seconds of Water Breathing
275 durability
10% Knockback resistance (just like any other helmet)
It can be Enchanted
It can be repaired in the Anvil with Scutes. Each Scute repairs 1/4th of the helmet's maximum durability (about 68 points).
You can also repair Turtle Shells by combining these items on the Anvil
You can combine two Turtle Shells in the Grindstone to get a new Turtle Shell with a 5% durability bonus. Doing so would erase all Enchantments, though.
These stats mean it offers as much armor as Golden, Chainmail, and Iron helmets. However, the durability and the armor are lower than Diamond and Netherite helmets, which are the best in the game.
Still, crafting a Turtle Shell helmet is hassle-free. It's not dangerous, but it doesn't require special resources or much time. Its stats are a massive win for how easy they are to get.
We also add that Water Breathing is a status effect. It allows you to stay underwater for 10 extra seconds. The base status is 15 seconds, so you could swim for 25 seconds without breathing. The effect recharges when your character goes back to the surface for air.
How to Create the Potion of the Turtle Master?
The Potion of the Turtle Master is one of the three brewable potions that add two status effects:
60% Slowness: It means players and mobs will move 60% slowly
60% Resistance: Players will receive 60% less damage
To craft the option, you need Brewing Stand, Awkward Potion, and Turtle Shell.
Let's start with the Brewing Stand. You can put a Blaze Rod and three stone blocks on the Crafting Menu. On the Bedrock Edition, you can put a Blaze Rod and 3 Cobblestones, Blackstone, or Cobbled Deepslate on the Crafting Menu. You can hunt Blazes in the Nether for Blaze Rods.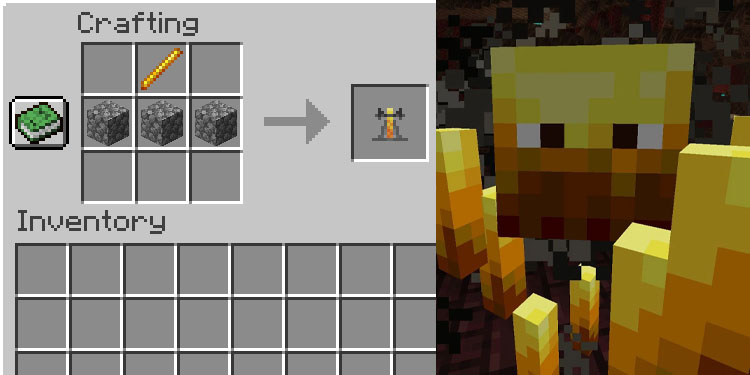 Then, to brew an Awkard Potion put three Water Bottles on the Brewing Stand, a Nether Ward at the top.
Nether Wards are the base ingredient of all potions, and it grows on Soul Sand blocks in Nether Fortresses. Then, Awkward Potions are necessary to create potions with special effects.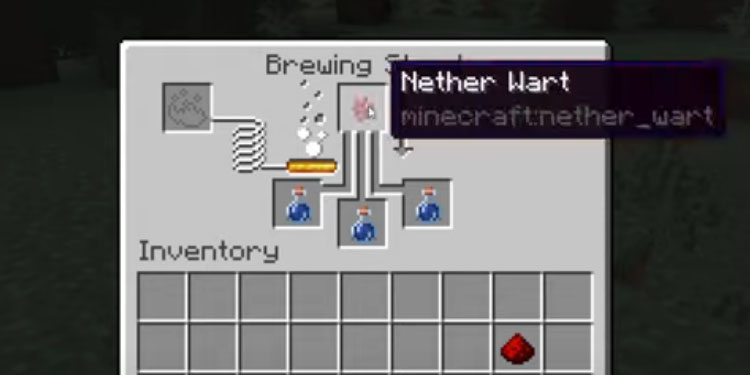 Then, put the Turtle Shell at the top, and three Awkward Potions at the bottom. It will distill the Turtle Master Potion.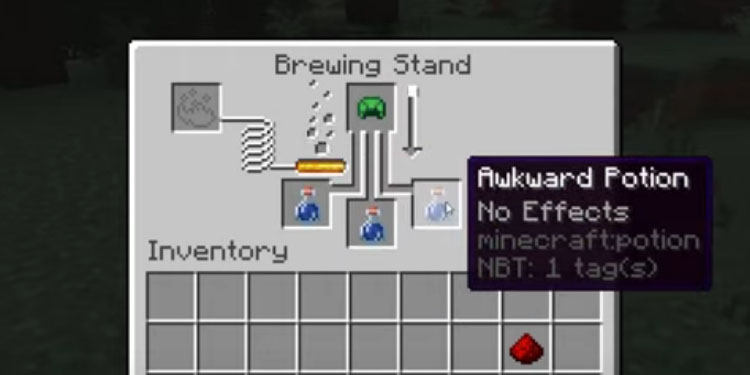 Lastly, if you don't know how to get a water bottle, just put three glass blocks in the Crafting Table for the bottle, and then use the bottle on any water source to fill it.