Fortnite Chapter 4 has a new Battle Pass, so you may want to gain XP as fast as possible to unlock the new skins. I guess you know about the Attack on Titan costumes available for Season One!
Like most multiplayer games, gaining XP on Fortnite requires some grinding. However, there're faster methods than others, and if you're not the best player out there, some ways are safer than others.
Currently, you can gain XP on the Save the World game mode as well as the standard multiplayer Battle Royale mode. Each level requires 80,000 XP, and it's a fixed rate up until level 201.
The Weekly Challenges set you up for different adventures, such as hiding in Giant Snowballs, finding locations, or taming animals. They are varied, and they vary every week.
Lastly, leveling up your character gives you Battle Stars (5 Battle Stars per level), which is a type of currency you can use to buy cosmetics on the Battle Pass. Additionally, every level you gain unlocks the possibility of buying more items with your Stars.
Complete Weekly Challenges
The Weekly Challenges set you up for different adventures, such as hiding in Giant Snowballs, finding locations, or taming animals. They are varied, and they vary every week.
Fortnite adds new challenges every Tuesday, and they reward between 12K and 15K experience points. It means you would need to complete six or seven of these to gain a level. And while this sounds a bit excessive, these quests are generally pretty easy to complete.
You can see the weekly challenges from the main menu on the Quest tab.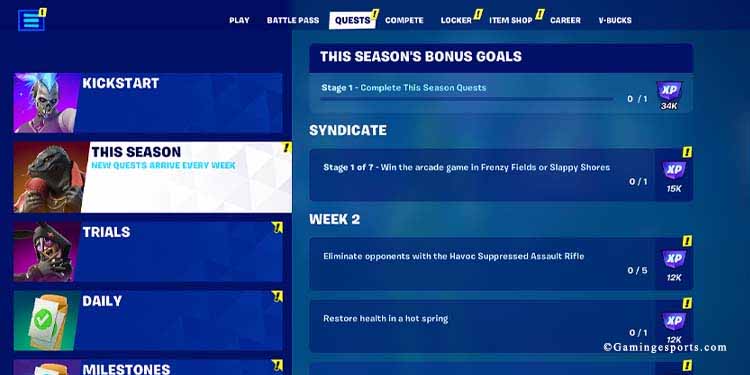 If you're in-game, open the map, and go to the Quests tab. On PC, you have to press the M button.
Complete Kickstart Quests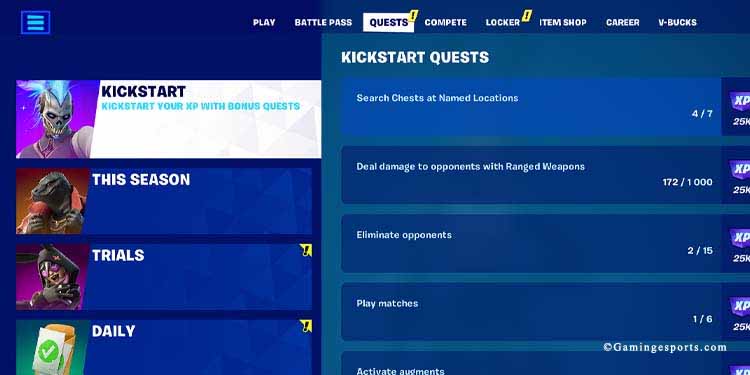 If you're starting on the Season or a new player, the best way to start is by completing the Kickstart quests. These are the initial type of challenges, such as finding a Named location (and there're 9), defeating an enemy, opening chests, or healing with bandages or medkits.
These are the easiest to complete, but these are few and run out fast. Either way, these quests can give you about 25K each.
As it is on the Weekly Challenges, you may need to play various matches to complete one of these quests.
Use Your Augments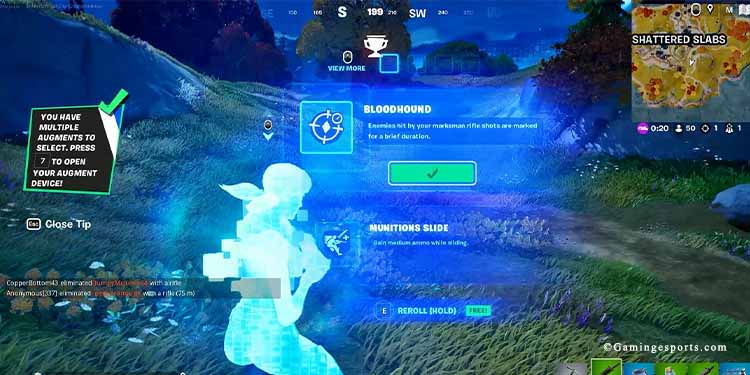 Augments are buff you unlock by playing matches in the Battle Royale, the Team Rumble, or the Zero Build mode.
These augments unlock naturally, and every time you unlock one, the game will pop up a message to use it immediately. Whenever you gain an augment, you'll get one of two random choices to select.
So, as you play, remember to select your augments for extra XP. You'll be able to access them by opening the Map and going to the Augment tab or by accessing the pop-up notification. 
You can also open the augments by pressing 7 on your PC or by opening the Inventory (left-ALT on PC) and then going to the Augment tab.
Claim Capture Points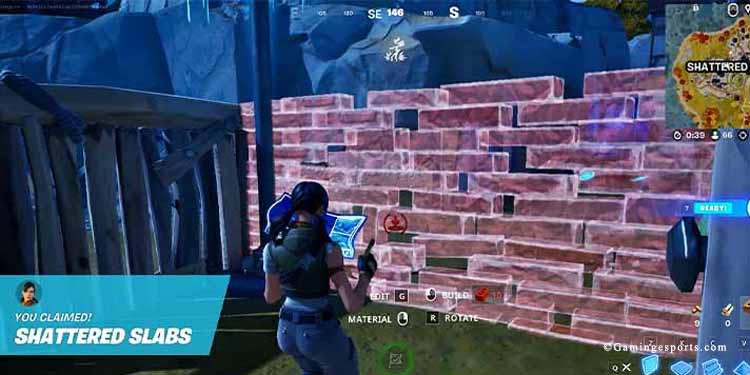 Capture Points are flags in the nine named locations on the map. A white circle surrounds these flags. You must stay in the circle for a few minutes to claim the point. Keep alert of other enemies, build walls if you must, and defeat anyone that approaches. 
Capture Points will give you 3200 experience points. It's been a weekly challenge before, and it could be again—it could give you 15K XP in the future. 
Defeat Enemies and Win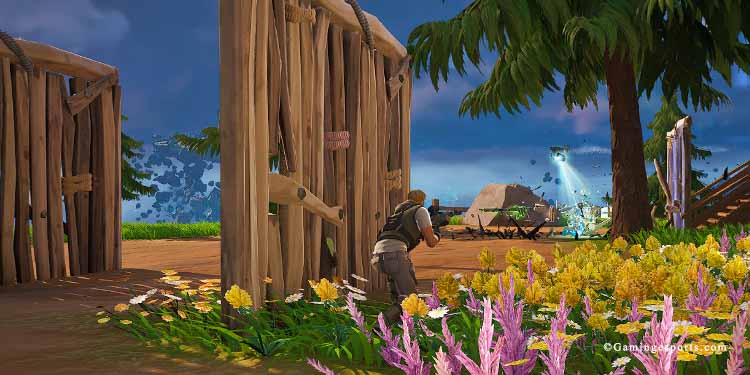 Needless to say, the best way of leveling up fast is by winning a game and defeating enemies. Fortnite is notably easier than Warzone, Overwatch, Counter-Strike, and other multiplayer shooter games, so your options for winning are higher, even if you're a beginner.
For instance, you have bandages to heal wounds and potions to restore shields. Don't forget to use these by selecting them and using them. Use them in a hiding spot while you're crouching.
The other significant option is building walls. I use walls to defend myself from upcoming players, and while they are destroying the walls, I run to higher ground for better combat.
So, here're a few tips:
Use walls to protect yourself from upcoming fire. If you're uncomfortable with building (I know I'm not!), skip walls.
Once you build the walls, go for higher ground. Always fight from higher ground.
Don't be afraid of running, swimming, and jumping your way out of combat. Surviving is more important than defeating an enemy.
Don't be too eager to find other players, let them come to you as you explore higher ground and structures. You can win a match just by killing a couple of enemies and hiding.
Notably, if you find an enemy using a shotgun in close quarters, and you don't have a shotgun, run away and don't look back. A shotgun can kill you in two shots.
Keep moving away from the circle. The circle shrinks in a random direction, and the map will let you know where it goes next. You can catch players off guard in-between map shrinking.
Mega City makes it easy for you to hide, as it has tons of buildings, zip lines, and a river. It makes it the easiest play to loot, hide, and fight.
Keep a long-range and a short-range weapon in your inventory, as well as medkits and shield items. Particularly, the Havoc assault rifle and the Cobra DDR long-range assault rifle are my favorite weapons currently.
Also, if you're fighting against one of those "jumping players," just fire at will with your rifle -shotguns are going to be too slow to hit them.
In any case, achieving "Victory Royale" gives you 80K XP. Additionally, you get 60K points as the Survivor Bonus as the map goes on and the map shrinks.
Claim Bounties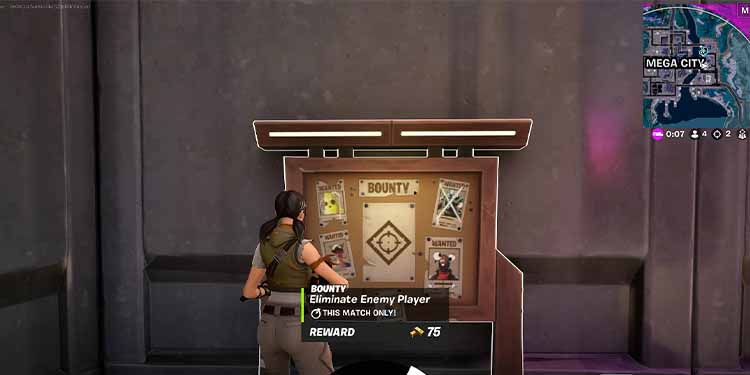 Bounties are one of the most challenging parts of the game but also one of the best. A bounty asks you to kill a specific player for 20K XP. The hard part is finding that player and then killing that player.
In any case, you can find various bounty boards in the game:
There're bounty boards at the center of Brutal Bastion, Slappy Shores, the Anvil Square, and Megacity.
There's one south of Breakwater Bay, another south of the Citadel, and another south of Humble Hamlet. Similarly, there's one south of Shattered Slabs.
Likewise, there's a bounty board in Pleasant Passage, which is between Frenzy Fields & Anvil Square.
There's a bounty board on the west of Lonely Labs and the west side of Falty Splits. Similarly, there's one west of Shattered Slabs—in the Rocky Docks.
There's a bounty board between Brutal Bastion and Breakwater Bay.
There's one north of Frenzy Fields.
Complete the Season's Quest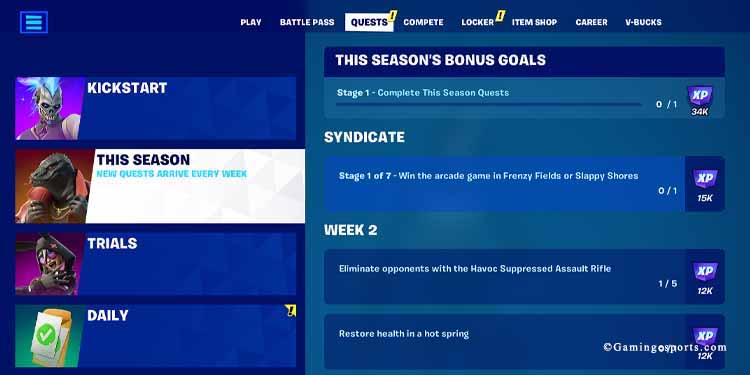 My least favorite method of gaining XP is completing the season's quests because I'm not that interested in Fortnite's lore. I just want to shoot and loot.
For instance, the starting quest for the Season One quest is about winning an arcade match in the Slappy Shores or the Frenzy Fields. After finishing the starting quest, you'll get six additional stages to complete.
To complete the particular initial stage of Fortnite's Chapter 4 Season One's questline, here's what you need to do:
Land near or within Slappy Shores, as it's an easy position
Go to the bar, which is marked with a white icon on the map. It says "Slurp Room."
Interact with the arcade machine (defeat nearby enemies before you do!)
The game is pretty self-explanatory. Just use the arrows to take the green ball to the X mark.
After you win, you will receive further instructions on where to go next for more XP. If you already complete this quest, check the status of the season's quest to see what you need to do next.
Play Naturally
In any case, playing the game naturally will reward you with points. Opening chests, using items, defeating enemies, finding locations, interacting with NPCs, hiding, taming animals, collecting gold bars, and most activities in the game will give you XP.
So, just have fun, and play! If you do, you will organically complete weekly challenges, daily challenges, and milestones.
So, a couple of good matches can get you up to level 5. At level 94, you'd unlock the final Battle Pass reward that you can buy with Battle Stars so that you could get there in no more than 20 matches. How often do you play?
Particularly, use your augments and trade with NPCs. The game gives extra XP to the first player in a match to do these things, and players tend to forget or skip these elements.
Extra Ways to Gain XP Fast
You have two different ways to level up your Battle Pass:
Play in Creative Mode or Save the World mode if you're bored of the Battle Royale or if you have completed all of your Weekly Quests. 
Purchase V-Bucks, and then use the currency to purchase levels. 
Anyhow, let me explain what I've said so far with a video: