There are over hundreds of weapons and armor that you can craft in Skyrim. But most of them require you to be at a higher smithing level.
You can increase your smithing level in multiple different ways. The most consistent way to increase your level is by spending time crafting items and upgrading them.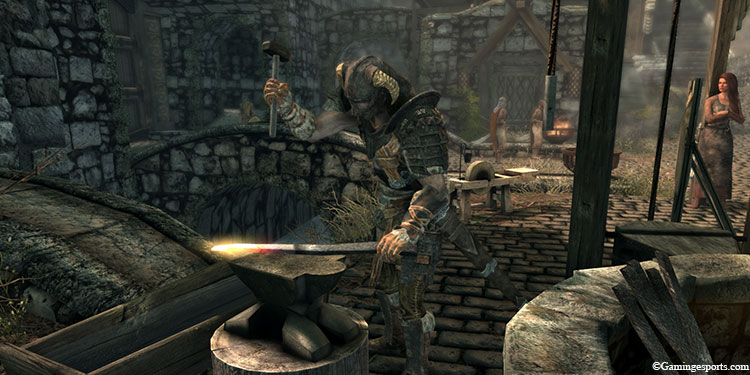 Alternatively, you can also buy smithing skill levels from trainers or experts for gold septims. If you rather prefer the free route, you can read smithing skill books. 
You can further increase the rate of leveling up your smithing by stacking multiple skill improvement bonuses and powers simultaneously.
Let's Discuss !
Note: Leveling up your smithing skill also adds experience points to your character's overall level, so this is also a great way to quickly level up your character.
Crafting and Upgrading Items
The most viable way to level up your smithing skill is by crafting and upgrading your weapons and armor. Performing any of this tasks will grant experience points to your smithing skill.
You can forge both the weapons and armor at the anvil.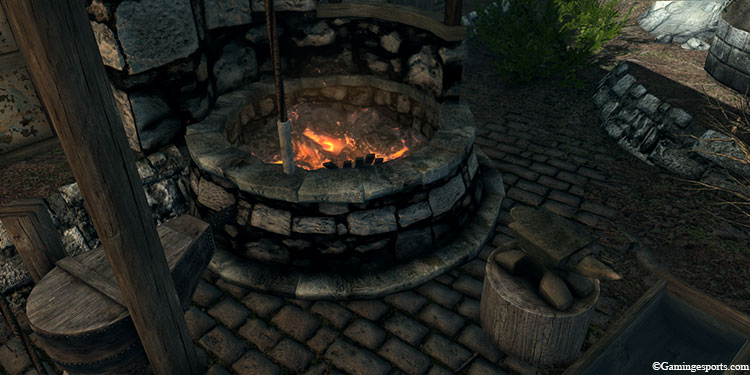 To upgrade your weapons, you must use the grindstone.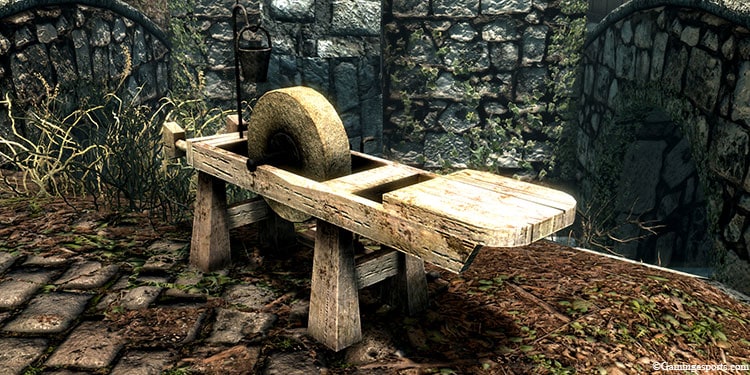 To upgrade your armor, you'll have to use the workbench.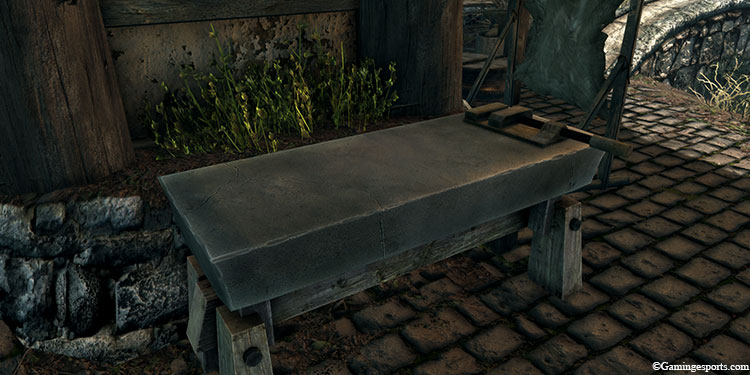 When you craft an item, it adds a certain XP to your smithing level. The amount of XP you receive depends on the value of the items you create.
For example, crafting a Gold Diamond Necklace will grant you more XP than crafting a Gold Necklace. Besides that, crafting each item also grants a flat 25 bonus experience points.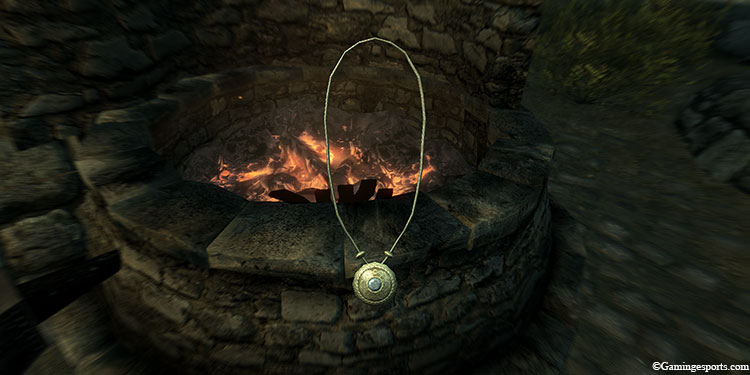 So, if you have access to rare resources like diamonds, emeralds, or sapphire, stick with crafting multiple copies of expensive jewelry.
But if you don't have any expensive gems, you should focus on getting as much bonus XP as possible by creating multiple cheap items.
Now, there are a ton of craftable items in the game. But we've only listed some of the most accessible items and the items that grant you the most XP.
Note: Upgrading items grants a small amount of XP compared to crafting, so we recommend crafting multiple items instead of upgrading them.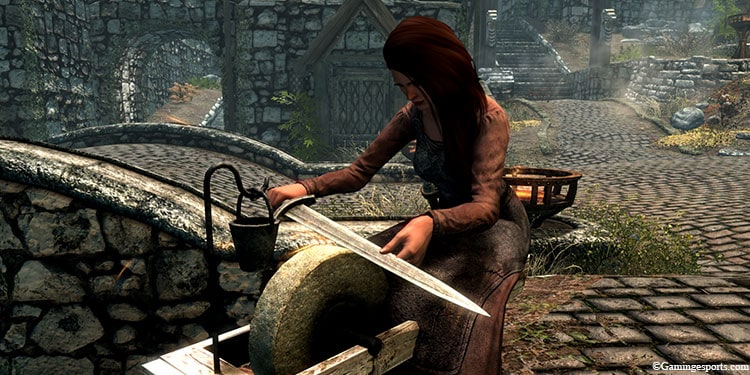 Iron Dagger
The most efficient to craft item is undoubtedly the iron dagger. Not only will you get the smithing XP but you can also sell the iron dagger back to the merchant to earn some gold.
You'll only need a couple of iron ingot and leather strips to make an iron dagger.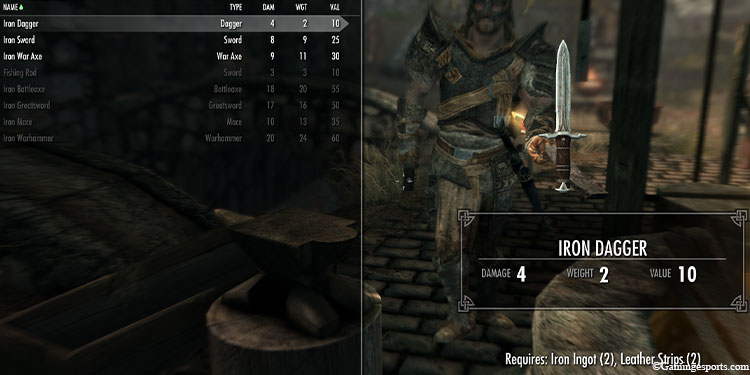 You can either buy iron ingots from the blacksmiths or mine iron ores and smelt them into ingots.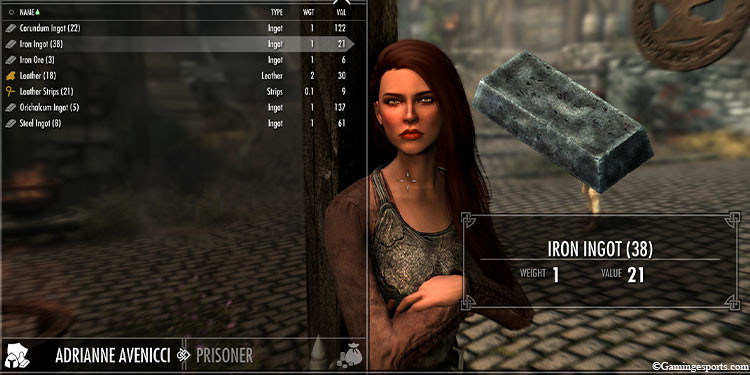 Similarly, you can buy leather strips from blacksmiths or make them at the tanning rack. Once you have the material, head to the forge to start crafting.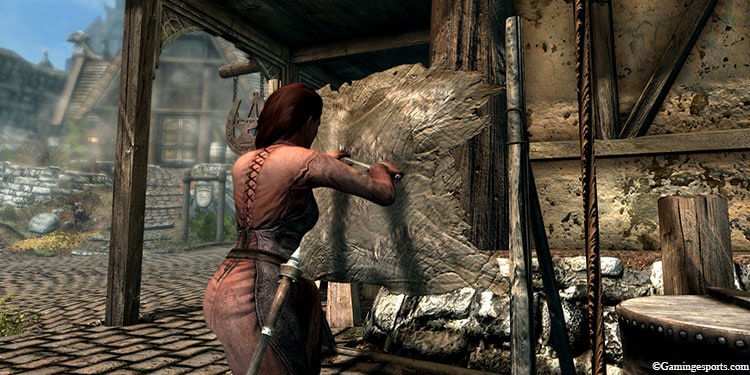 Nails
A much cheaper alternative to the iron dagger are nails. They were added as a part of the Heartfire DLC expansion, and you'll only really need them if you're looking to build your home.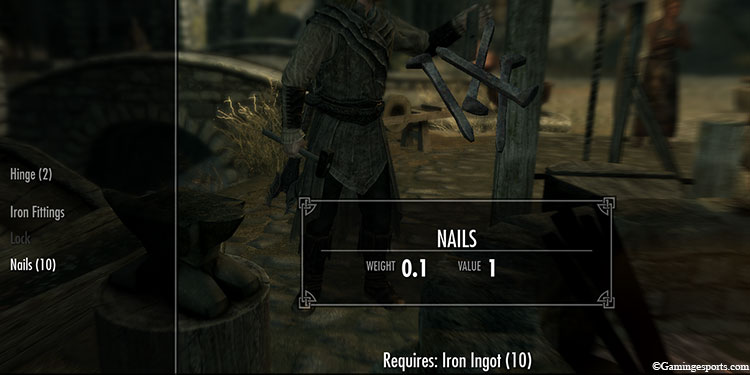 A major drawback in crafting nails is that you won't earn as much gold as you could by selling iron daggers to the merchants.
Gold Ring
If you want the most value out of leveling your smithing skill, you should focus on making gold rings.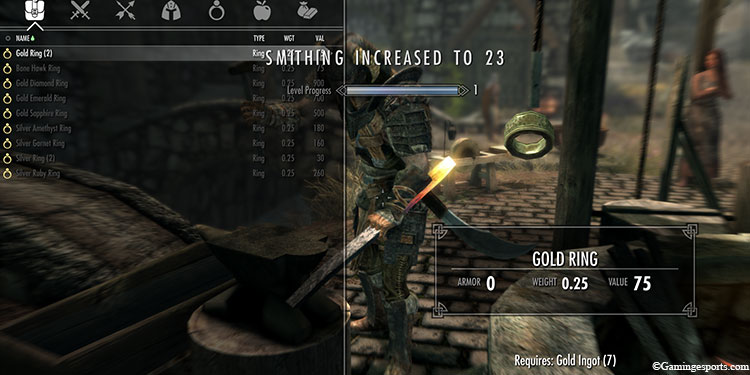 To make the gold rings, you'll need a lot of gold ores. You can either extract the gold ores from the mines or use the transmute spell to convert iron and silver ores into gold ores.
Afterward, you can use the ores at a smelter to turn them into ingots.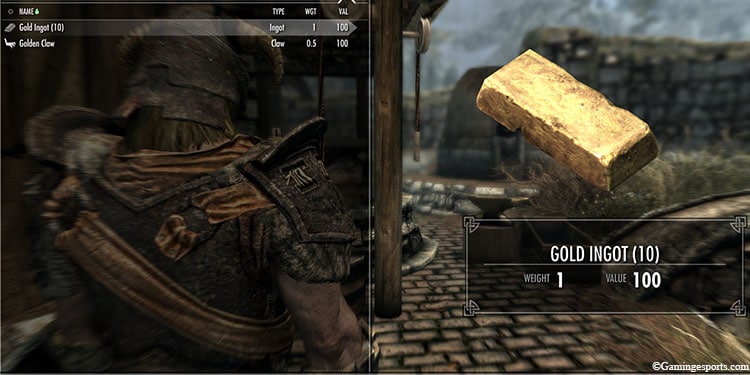 Every gold ingot will make two gold rings. Selling the gold ring back to the merchant will yield you a decent amount of gold septims and will also boost your speech skill.
Gold Diamond Necklace
The Gold Diamond Necklace is simply a better version of the Gold Ring. It will give you the most amount of smithing XP and you can sell it for high prices as well. 
The only downside is that you'll need a lot of flawless diamonds, which is'nt exactly easy to collect.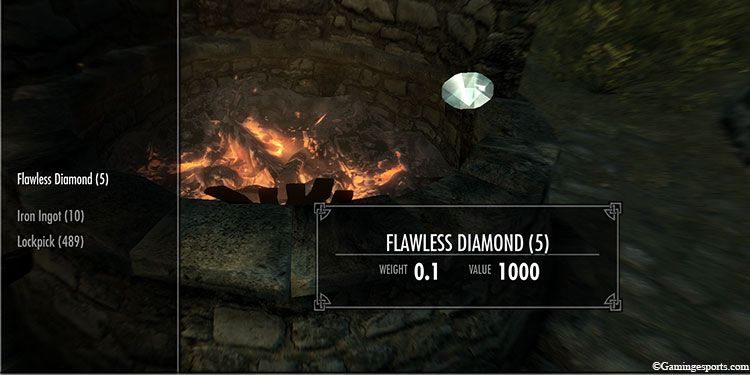 Learning the Skill From Trainers
Another great method of quickly leveling up your smithing is by learning the skill from trainers and experts. They can level up your smithing skills up to level 90. Every skill point will progressively cost you more gold coins.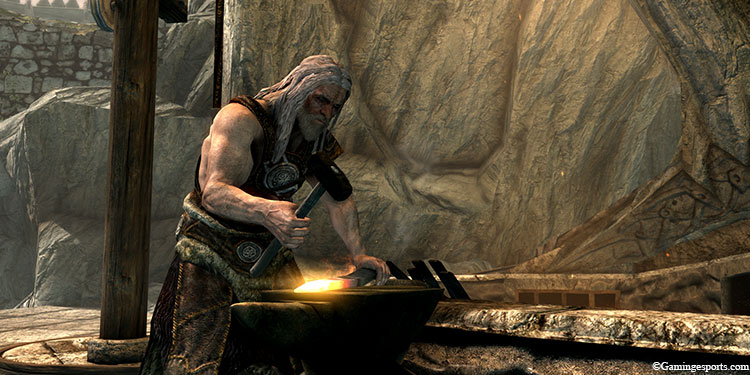 There are five different trainers to learn smithing in Skyrim. You may need to complete a few quests for them to unlock the ability to train.
Eorlund Gray-Mane in Whiterun
Balimund in Riften
Gunmar in Fort Dawnguard
Ghorza gra-Bagol in Markarth
Reading Skill Books
If you usually skip past all the books in Skyrim, then you could be missing out on some free skill points.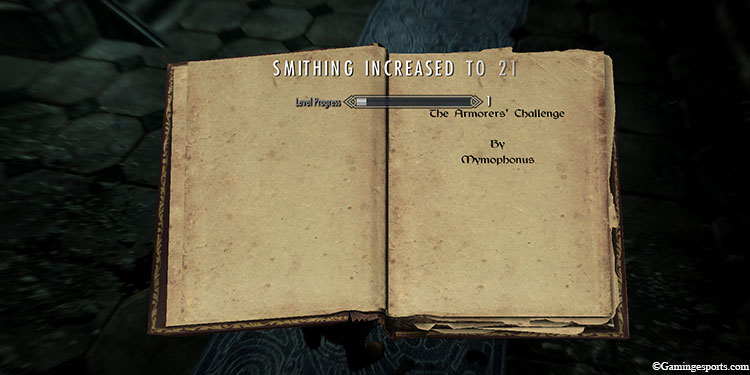 There's a total of five skill books that can grant you smithing skill points upon reading them.
| | |
| --- | --- |
| Name of the Book | Locations |
| The Armorer's Challenge | Bilegulch Mine, Skyforge, Tower of Mzark |
| Cherim's Heart | Morvunskar, Quicksilver Mine, Broken Oar Grotto, Purewater Run |
| Heavy Armor Forging | Hut near Gloombound Mine, Pinepeak Cavern |
| Last Scabbard of Akrash | Gallows Rock, Fort Sungard Muster |
| Light Armor Forging | Embershard Mine, Cracked Tusk Keep |
How to Level Up Efficiently?
We've now covered the basic of leveling up your smithing skill, we can move on to maximizing the leveling-up rate. 
The general gist of improving your skill rate is stacking up on all the skill improvement bonuses and crafting the aforementioned items.
We can acquire these bonuses as quests reward, activating power stones, and sleeping in beds., etc.
First, complete the 'Unfathomable Depths' to acquire the Ancient Knowledge power. This power increases your blacksmithing improvement rate by 15%.
Next, complete the 'Lost to Ages' questline and craft the Aetherial crown. Getting the crown is vital as it lets you hold the power of two stones.
Equip the crown and fast-travel to the Guardian stone.
Activate the warrior stone. This will grant you an additional 20% smithing skill improvement rate.
Next, head over to the Lover's stone and activate it. This will grant you a 15% all-skills improvement rate.
Unequip the Aetherial crown and sleep on your bed at home or at the inn. This will give an additional 10% skills improvement.
Finally, re-equip the crown to retain the sleeping bonus along with the stone bonuses from the crown. Now that you've accumulated a whopping 60% smithing skill improvement rate, head over to the nearest forge and start crafting.
Why is Smithing Level so Important?
You might've noticed that enemies grow significantly stronger during the end game. So, to keep up with their level increment, you'll need high-level weapons and armor like the Daedric weapons or the Dragonbone armor.
And the most viable way to get these powerful items is by crafting them at the forge.
But unlike other items, you'll need to be at a certain smithing level to be able to craft these end-game gears. Once you're at the required level, you can buy the perk from the smithing skills tree.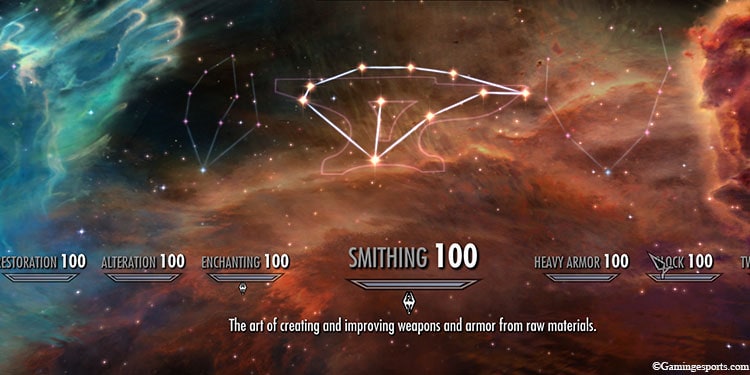 For a better understanding. We'll break it down with an example. If you want to craft an Ebony sword, you must first need to unlock the Ebony Smithing perk.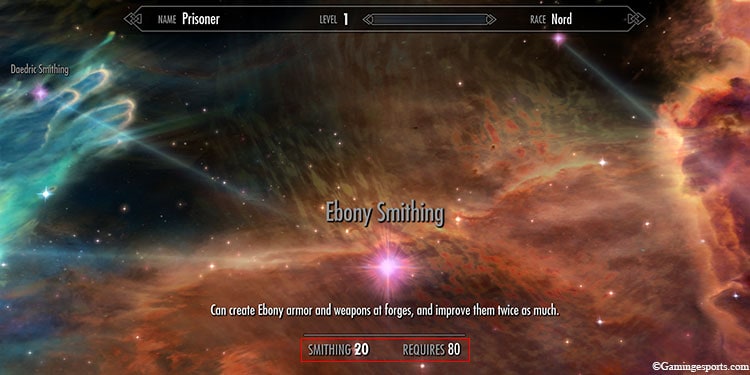 However, you can only unlock this perk after reaching level 80 in Smithing.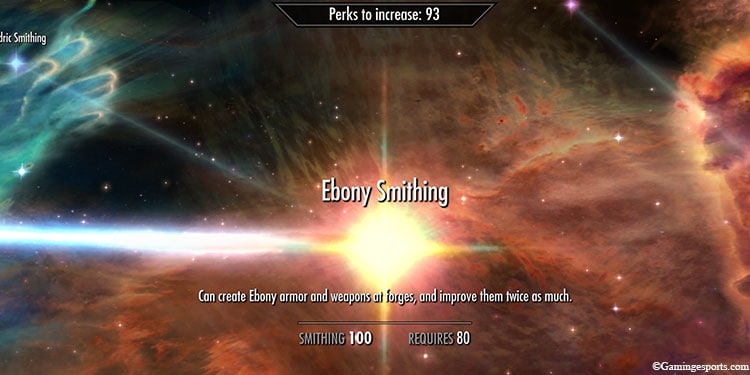 So, it's always a good idea to quickly level up your smithing as high as possible to be able to unlock all the smithing perks.