Game Pass is a great way to earn some sweet Robux. Players can buy a Game pass to access VIP areas inside an experience, obtain special abilities, or give players certain privileges in your game.
Besides this, players can buy Game Pass just for contribution. For creators game pass is all about monetization and creating a great player experience.
To create a game pass, you first need to create a game. It doesn't matter what the game is, you just need to create and publish your experience on Roblox.
Once you have your game under the My Creations tab, all you need to do is follow the below mentioned steps to make a Game Pass. Make sure your game is public for people to view and purchase Game Pass.
Remember, logging in with a browser is the only way to create a Game Pass. You cannot make a game pass in the Roblox app.
Below are the steps for creating a Game Pass and adjusting the amount of Robux for your pass.
Open the browser and go to Roblox's official page. 
Login to your account if you haven't already.
Click on Create option on the top.
Under My Creations, Click on your game's name beside Start Place.
 
Select Store and click on Add Pass. 
Choose the image and a Name for your Game Pass and click on Preview.

Click on Verify Upload to create your Game Pass. You can now view your Game Pass under Passes. |

Click on the gear icon and select Configure. 
Click on Sales.

Enable Item for Sale, decide the Robux amount inside the Price section and click on Save.
You have now officially created a Game Pass. You can view your game pass inside your game page under the Store tab. Roblox takes 30% of the total income. You can view your actual earnings at a small price under the specified Robux.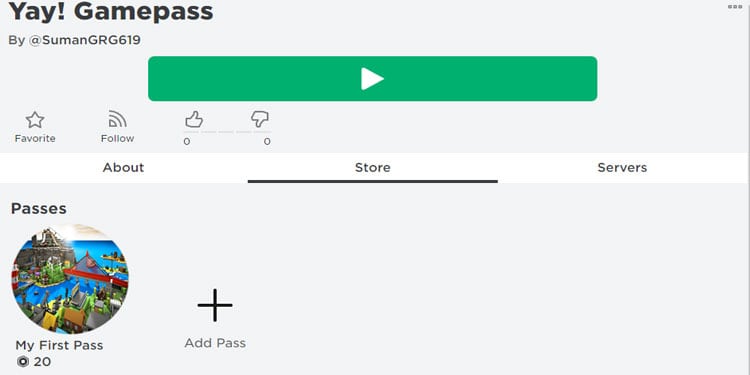 Now you can go to Roblox Please Donate experience and raise a stall to showcase your passes. Players can now donate or buy your pass and you will get seventy percent of the total earnings.
How to Make a Game Pass on a Mobile Phone?
It's not possible to make a Game pass on your phone Roblox app. However, you can make game passes on your mobile phone by logging in through a mobile web browser and switching to a desktop version. Here's how you turn your mobile version browser to a desktop browser.
Go to the browser on your phone.
Open and log in to Roblox's official website.
For iPhone users:
Tap on the two A's beside the Roblox site name.

For Android users:
Tap on three dots right beside the Roblox site and tap on the Desktop site to switch into desktop mode.

You can now proceed to follow the above steps as it's exactly the same but this time, you are doing it on your phone.
Is It Free to Create a Game Pass on Roblox?
Yes, it is completely free to create a game pass on Roblox. As you are creating a game pass for your own game, you do not have to pay anything to make one. Rather, you can earn from it, if other players buy those passes of you.