Having a glass of wine on your porch after a long day of farming is a lovely fantasy—and it will have to stay one. Wine in Stardew isn't a refreshing treat to reward yourself for all your hard work. Instead, it's an Artisan Good that has a minimal impact on your stats when consumed. The real value of the wine is in its selling price.
The selling price of wine is based on how much the fruit you choose to brew the wine with is worth. Fruits that command a higher price will naturally get a higher price once turned into wine.
If you want to get even more money for the wine you make, you can use casks to age it and increase its value.
Winemaking in Stardew
There are a few different steps you need to take to create wine. Once you have the Keg made, the entire process is incredibly easy—unless you want to go further and age your wine in a Cask.
Creating a Keg
To make a Keg, your Farming skill must be at Level 8. Continue working on your farm to increase your level if you don't know the recipe for the Keg yet.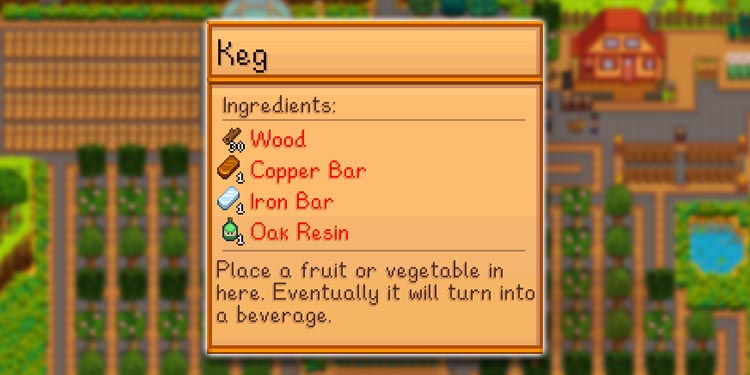 Gather 100 Wood. You can cut down trees on your farm or in certain parts of the world to gather the wood. The tree you choose to collect it from doesn't matter as long as you use base Wood and not higher-value types like Hardwood. Don't forget to plant seeds in the ground to have future trees available for other projects.

Create one Copper and one Iron Bar. You can create these in the Furnace, which becomes available after you gather Copper Ore and get the recipe from Clint. It takes five Copper Ore and five Iron Ore to create the respective bar. Don't forget to add coal to the furnace when you add the ore, or it won't activate.
Put a tap into an Oak Tree. If you don't have a Tapper, you can create one from 40 Wood and two Copper Bars at Foraging Level 3. Just place it on the tree and let seven nights pass. Once they do, you should be able to harvest the resin from it.
Ensure the Wood, Copper Bar, Iron Bar, and Oak Resin is on your inventory.
Enter your Crafting Menu and right-click on the Keg to create it. You need to have an empty inventory space for the completed item to go into.
Set the Keg down in a place where you can keep it. You don't want to have to move it during the Wine creation process. Many farmers choose to outfit basements or storage buildings as locations for many kegs that they keep brewing as often as possible.

Now you can make wine once you have the proper fruit.
In Search of Fruit
Getting the fruit you need to make wine can be easy or difficult, depending on which fruit you want to use.
Some fruits like Apples, Apricots, and Cherries can be found in the Farm Cave if you select the Fruit Bat option when it becomes available. You can also grow these fruits—and many others like Cranberries, Cactus Fruit, or Hot Peppers. Sometimes fruits are available in multiple ways while others, like Melon, only come from farming.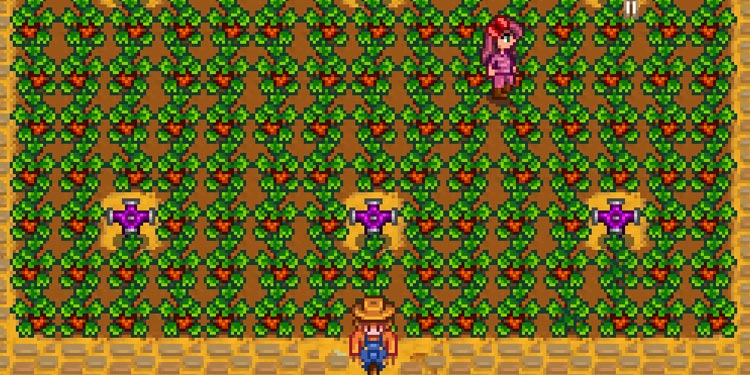 Other fruits come from fruit trees that you can purchase from the store and plant on your farm. These can be expensive but yield some high-value fruit. Oranges, Mangos, Peaches, and Pomegranates are some of the fruit that comes from trees.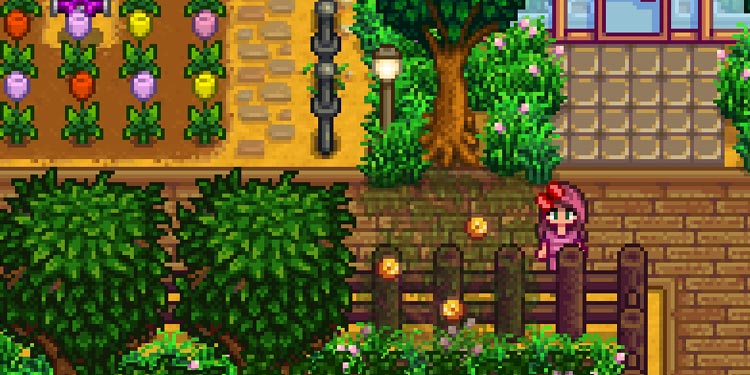 You can also forage for certain fruits at certain times of the year. Grapes, Crystal Fruit, Coconuts, Blackberries, and Wild Plums are some fruits you can find by foraging—though many are available from other sources.
However you choose to get fruit, you'll only need one piece per keg. You can have multiple Kegs running with multiple types of fruit at once.
Creating the Wine
Once you have the fruit and Keg, you're ready to make wine.
Put the fruit you want to turn into wine into the Keg. Other items can also go into the Keg, but only fruit will produce wine. You do not need to add any kind of substance to power the Keg. It only requires the fruit.

Wait seven days until an icon indicates that the Keg has spawned Wine. Click on it to put the Wine into your inventory. Now you can add more fruit to the Keg and create a new wine.

Making wine is incredibly simple once you have the entire process set up. Now you'll be able to increase the value of your fruit just by waiting a bit for it to age into wine. However, you can increase it even more by raising the quality with a Cask.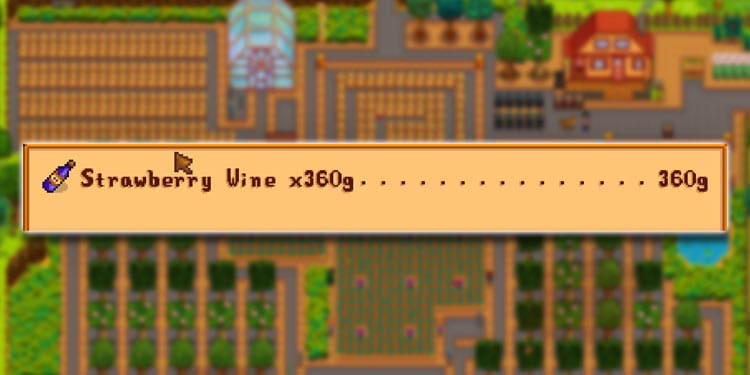 Aging the Wine
Aging Wine in a Cask is not a job for the impatient. It takes two seasons to take your wine from basic to Iridium-quality, which will double the selling price of the wine. At three times the fruit's value for switching it into wine, you're getting quite a lot of money by aging the wine, even if it takes a bit of time.
For example, a Crystal Fruit is easy to find or grow in Winter. It sells for 150 at the lowest quality. If you turn it into a basic bottle of wine, that selling price increases to 450. If you age the wine to be silver, it sells for 768, while gold sells for 945, and iridium-quality sells for 1260. You can make a lot of profit by just setting up your Cask with wine and leaving it to sit.
You get the recipe to make a Cask once you do the final upgrade to your house. Once you get it, it takes 20 Wood and 1 Hardwood to create it—though you will get 33 casks in the Cellar once you reach that upgrade level. It can be crafted from the Crafting tab as long as you have the ingredients in your inventory.
Once you have a Cask set down, add the wine to it like you added fruit to the Keg. Watch for the symbol to appear much later to indicate the quality of the wine as it changes with time.