No mercy for the enemies; don't let anyone escape. Either playing alone or as part of a team, you can mark the enemies you see and follow them until one of the two dies.
It's an amazing tool for teamwork, as it allows the entire team to be aware of nearby threats. And it's also useful when you're playing alone, as you'd prevent enemies from building walls to escape, sneak, or reposition for a headshot.
Aside from the classic ping mechanic, you can also mark enemies with other tools or by completing challenges on the Battle Royale's island.
Now, a Ping is a static marker, whereas highlighting the enemy player will create a red dot above its head, and highlight its body for 45 seconds around 14 tiles (about 70 square meters).
Ping Enemies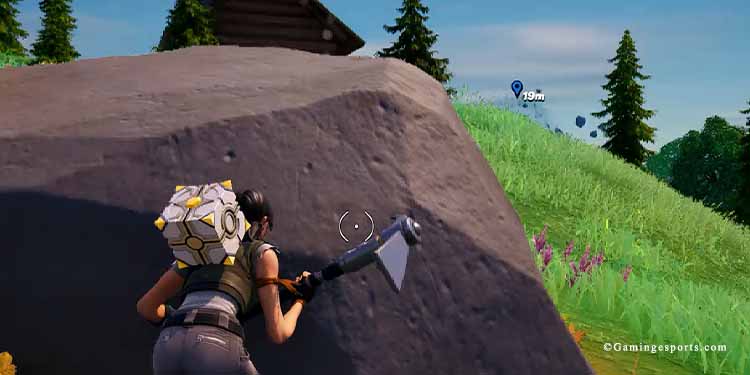 You can mark enemies you see with the "Place Marker" button. However, the marker is static. You place it on the ground or items, so it won't move with the enemies.
On a keyboard & mouse configuration, you have to press the middle mouse button as you're pointing toward an enemy.
If you're playing on consoles (Xbox, PlayStation, or Nintendo Switch), you have to point at an enemy and press the left arrow on the d-pad
The ping will place a blue marker, and it's part of the "Squad Comm" options. If you hold the Place Marker button, you'll see other forms of communication, such as "Loot," "Attack," or "Someone Was Here."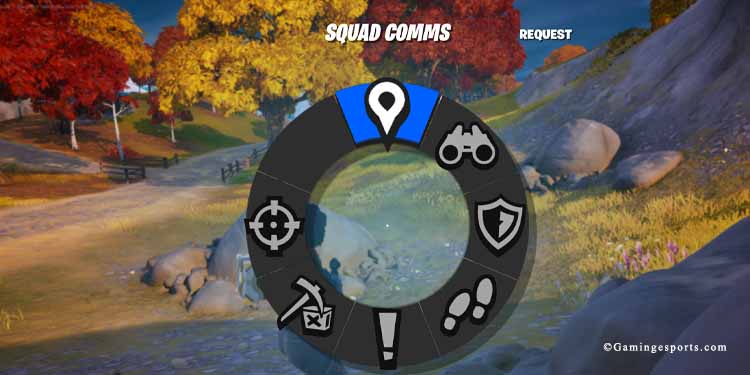 It's a rudimentary ping system, and you need a little more effort to ping a moving enemy.
Active Marking Augment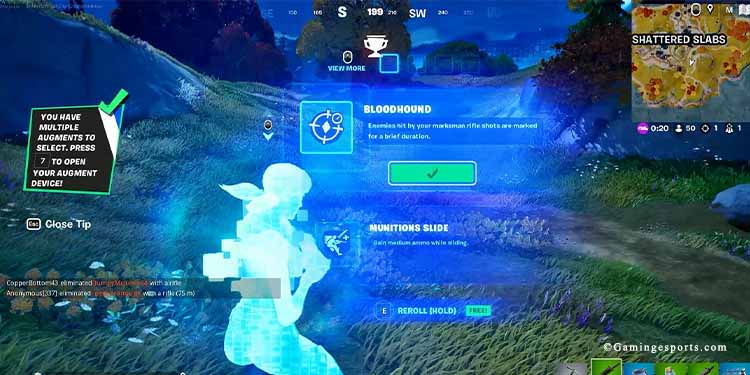 Augments are random perks you gain as you play as a match. You'll unlock arguments naturally simply by staying alive on the match, and every time you unlock one, you'll get the chance of selecting one of two.
To select an augment, open the bonus when the game prompts you to. It's a blue icon that says "Ready" and asks you to press a button to open the Augments (which is "7") on PC.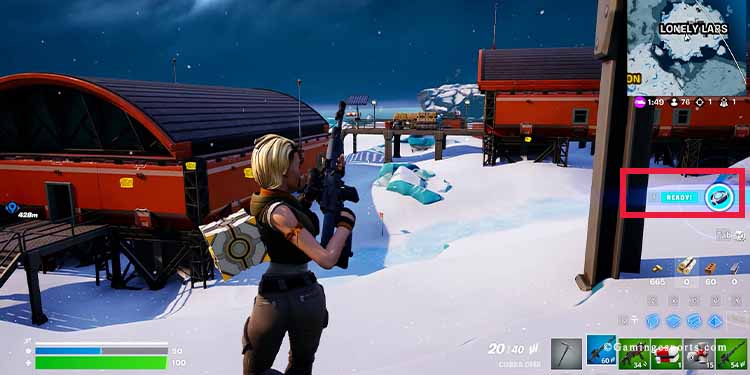 Alternatively, open the inventory (ALT on PC or the upper arrow on a controller's D), go to Augments, and select one.
There're two Augments that will mark the enemies:
Bloodhound: it puts a red icon above an enemy that you hit with a long-range rifle such as the DMR Cobra, or with a bow. It even marks the enemies if they are hiding behind walls.
Storm Mark: it will mark any nearby enemies when a storm begins.
Any augment you choose stays for the whole match and, notably, Bloodhound is a pretty common one. So, this is the best current way to mark enemies.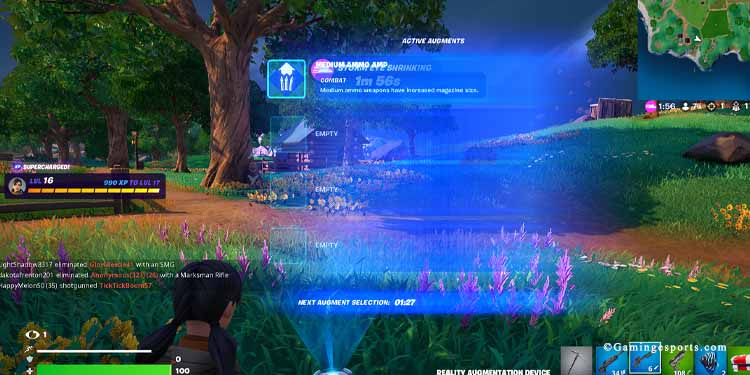 You can have up to four Augments per match. At any time, you can reroll the random augments you get to choose by pressing and holding the Use button ("E" on PC). The first reroll on a match is free, but the next ones will cost gold bars.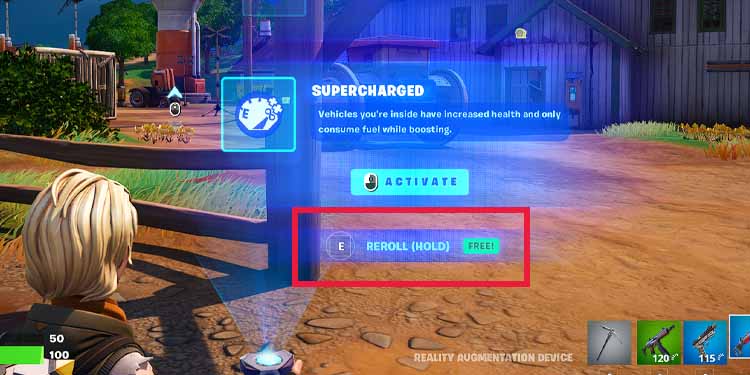 Claim Capture Points
Capture Points are areas of influence present on all named locations on the island except for Megacity. The named locations have a name on the map, or a "???" mark on the map if you haven't visited these during Fortnite Chapter 4 Season One.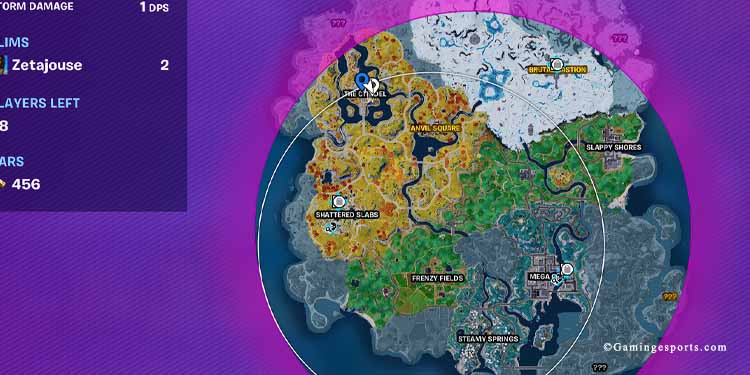 You'd recognize it as a makeshift flagpole surrounded by a white circle on the floor.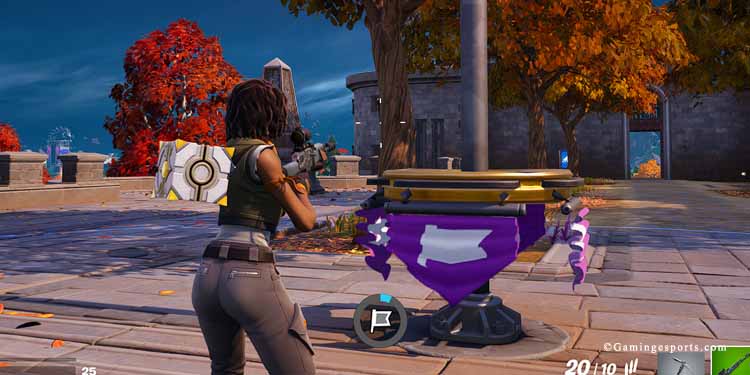 Capturing one of these points rewards XP, completes challenges, and gives you loot. More importantly, it will mark any nearby enemies (players and NPCs) in red for 45 seconds. It will also mark chests in yellow.
However, if an enemy approaches the Capture Point after you capture it, it won't mark it.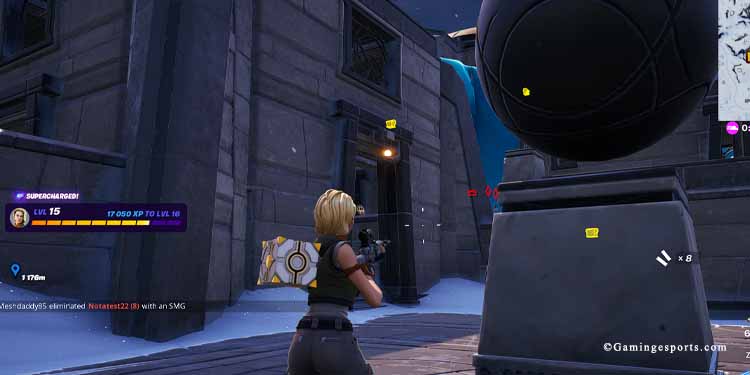 To capture the point, you have to stay within the area until the flag goes all the way up. It takes about a minute, it's loud, and nearby players will become alert of your presence. It's a high-risk / high-reward situation.
Use a Falcon Scout
The Falcon Scout is like a drone you can fly to spy and mark enemies. If you find it, equip it, use it, and move it with the regular move controllers.
The falcon has a "Scan for enemies" button, which will ping nearby enemies. The button is:
The left-click on the PC
RT on Xbox
R2 on PlayStation
ZR on Switch
Falcon Scouts can be hard to find. If you're lucky enough, you'll get one in a chest, supply drops, or fallen players. The best way to find it is on Oathbound Chests, though, which are the bigger ones.
Shattered Slabs, Faltu Splits, and The Citadel are currently the best places to find a Falcon Scout.
I haven't been able to find a Falcon Scout during Fortnite Chapter 4 Season One, so I didn't include it in the video example below: